Something that regularly surprises New Riders is how heavy motorcycles can be. Most entry level motorcycles are around 300 to 400 lbs, though they get a lot heavier from there.
There are plenty of Cruisers and bigger touring bikes that weigh upwards of 1,000 lb. If you're trying to manoeuvre this around your garage or making a tight turn, this amount of weight can get scary in a heartbeat.
Smaller Riders or those of you that aren't blessed with height could find these heavier bikes to be a problem. Maybe you don't have the strength or you're just not confident in your ability to hold up such a heavy motorcycle.
In this case you're going to want to look for lightweight motorcycles that are easier to handle and easier to ride. Generally, these smaller bikes will come with smaller engines, typically known as smaller bore engines.
Most of the smaller bikes will range in size from 250cc up to 650cc and weigh anywhere between 300 and 400 lb. these are the perfect metrics if you're looking for a lightweight motorcycle or even a lightweight touring motorcycle to take with you on your next adventure.
In this post, we put together a list of the most popular lightest motorcycles that are easily available on the market. You'll find some great lightweight touring motorcycles as well as sport bikes, Adventure bikes, and some light Cruisers as well.
Let's jump right into it!
Lightweight Small Bore Motorcycles
Honda CBR250R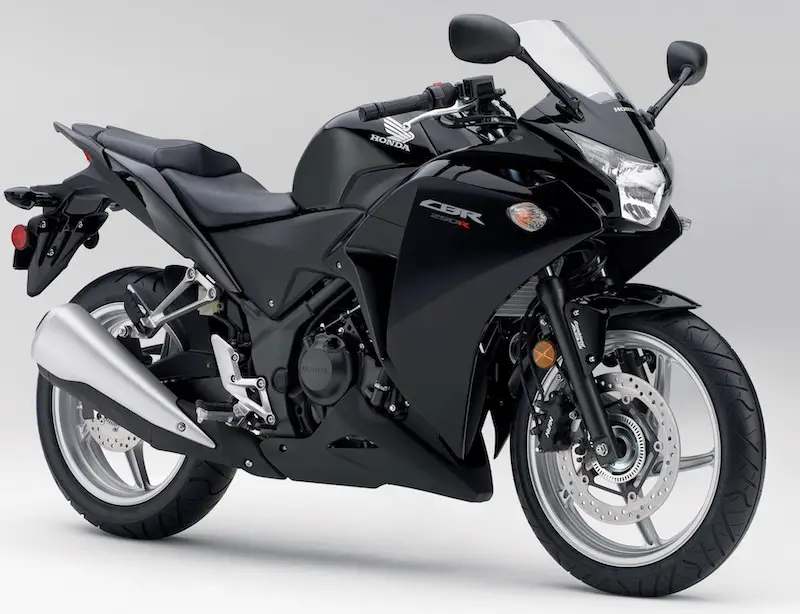 Although the newer, bigger model is out, the Honda CBR250R is one of the lightest 250cc motorcycles available. This is a Nimble bike that comes in under 300 lb.
The CBR250R Is a popular choice for beginners because it's lightweight, easy to handle, and one of the cheapest used motorcycles you can find. These bikes are also highly reliable, easy to work on, and many riders claimed the smaller displacement is still just as fun to ride.
While you're not going to win any street races with a Honda CBR250R, you're bound to have a lot of fun riding it. The lightweight, sporty design makes it a blast to throw around in the curves and the power band is more than manageable for New Riders.
It's such a great entry-level and lightweight motorcycle that it's regularly used in motorcycle training courses. Those of you that are short or not confidence of handling a bigger bike will definitely want to take a look at the infamous Honda CBR250R.
Yamaha V-Star 250
When it comes to the best lightweight Cruiser motorcycle, it's the Yamaha V-Star 250 that takes the top spot. This is a cruiser that comes with all of the styling and design features you love, without the heavy weight.
At just 325 lb, this is definitely one of the most manageable bikes on the list. Women and shorter Riders will also appreciate the 27 in seat height, making this bike easy to get on and off.
With the humming 250cc engine between your legs, there's more than enough power to get you around town and hit the back roads for some country cruising. Some people find the top speed of 85 miles per hour to be too low, but it's just enough for short Highway trips and keeping up with traffic in the city.
Another reason to consider the Yamaha V-Star 250 is that it's likely to be readily available and extremely affordable in local used markets. Since it is a Japanese bike, it's also going to be completely reliable as long as you keep up with basic Motorcycle Maintenance.
Lightest Touring Motorcycles
You might be thinking that it's impossible to find a lightweight touring motorcycle with enough power and comfort to take you on adventures.
Well, you would be surprised to learn that there are a number of bikes in this category.
Royal Enfield Himalayan (440 pounds)
Too many people are stuck believing the myth that you need a huge 1000cc+ engine to take on a motorcycle Adventure. Outside of North America, this generally isn't the case.
If you're looking for one of the lightest touring motorcycles that's comfortable, easy to ride, and reliable – it's the Royal Enfield Himalayan that we would wholeheartedly recommend. this is a bare-bones Touring bike that doesn't come with an electronic suspension, high-tech features, or a TFT dash.
Instead, it's one of the smallest Adventure bikes and an ideal choice for traversing rough Terrain. The Himalayan comes with a 411cc engine and can be found brand new for under $6,000.
As long as you have some realistic expectations when you're riding this beautiful bike, you're bound to have a great experience. It's definitely not a dirt bike and it wouldn't even be classified as a full-sized Touring bike – instead of one of the lightest touring motorcycles on the market.
With its 411cc engine, the Royal Enfield Himalayan has an output of 24.5 horsepower. Despite the smaller size, it has plenty of torque and usable power throughout the entire Power Band.
Although it will Cruise along the highway at 70 miles per hour, it's better suited at secondary roads. This bike will easily handle 55 miles per hour, taking it easy so that you can enjoy the scenery.
Those of you looking to explore the back roads or head out on a motorcycle Tour on a slower Pace will definitely want to take a look at the Royal Enfield Himalayan.
Honda CB500X (435 pounds)
The Honda CB500X is another popular choice for Riders looking for the lightest touring motorcycles. this is another popular Honda bike that's reliable, affordable, and easy to ride.
Honda actually came out with the CB500X as a budget touring motorcycle contender. Not everybody needs a Honda Africa twin or a Suzuki Vstrom 650 – the CB500X is a great way to get your feet wet without spending a lot of money.
For a lightweight tourer, this bike performed extremely well. It's easy to handle in all conditions and a lot of people even convert these bikes into heavy duty touring rigs.
With its 47 horsepower engine, there's plenty of power for highways and secondary roads. You're also not going to think about running out of power when you're cruising the back roads or logging roads.
Thanks to its 435 pounds, the CB500X is easy to handle and throw around through the turns. It also happens to be one of the most fuel efficient motorcycles, with an expected range of over 250 miles.
Whether you're looking for a entry-level Touring bike, or you want one of the most lightweight touring motorcycles on the market, the Honda CB500X is a great choice.
KTM 390 Adventure (Lightest Touring Motorcycle Overall | 379 pounds)
It would definitely be the KTM 390 Adventure that you have to check out if you're looking for the lightest touring motorcycle. KTM is known for their Adventure bikes and this is their most entry level, affordable model.
Despite the smaller 390cc engine, the bike still commands a presence of its own. It has a 33.5-inch seat height, so it's really made for taller riders, or those above 5'9".
When it comes to highway riding, the KTM 390 will comfortably cruise at 70 miles per hour. Most Riders find that the bike is comfortable at highway speeds, there aren't any complaints about vibrations or rattling.
Thanks to the lighter-weight , however, this is a great bike for taking on secondary roads or even dirt roads, as long as you have the right tires. With a 85mpg fuel economy, and excellent value for the price, theKTM 390 Adventure remains another great choice when it comes to the lightweight touring motorcycle Market.
Time to Enjoy the Lightest Motorcycles
At this point you should have a better idea of the lightest motorcycles that you can take on your next ride. the choice is really endless when it comes to finding the right bike, even if you're looking for something lightweight and easy to ride.
Whether you're on a tight budget or you're looking for something brand new, there are a number of different options to choose from. Just because you want a lighter bike that's easier to handle, doesn't mean you need to sit on the sidelines while everyone passes you by.
If you've made it this far, feel free to share your own recommendations about lightweight motorcycles. We would love to hear your thoughts and opinions on some of the lightest bikes you have experience riding already.