If you're planning on riding your motorcycle with another person, they're going to need to be wearing a motorcycle helmet.
They might not have their own helmet so you're going to have to bring one with you in a lot of cases. This is where people start to wonder how to carry a second motorcycle helmet.
With this post we'll look at all the different ways you can carry your spare helmet that are convenient and practical for taking a second helmet with you. Let's jump right into it!
Motorcycle Cargo Net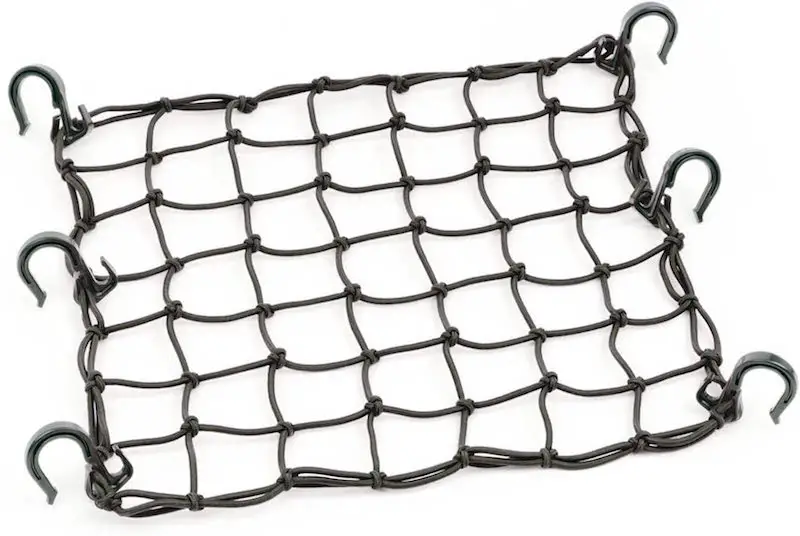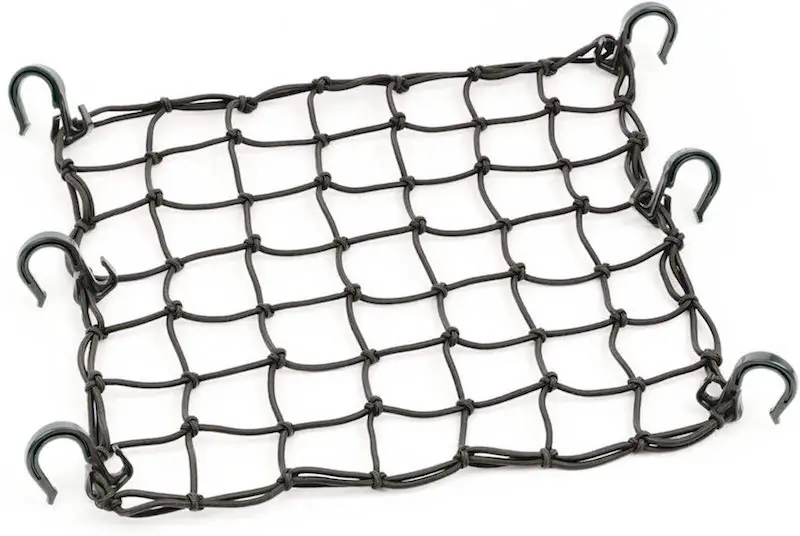 One of the easiest ways is to use a motorcycle cargo net. This is a small net that's designed to Keep things strapped to your motorcycle, a helmet being one of them.
Motorcycle cargo nets are available in a wide range of different styles and feature a bungeecord design that makes it possible to keep things strapped to your bike. They're easy to use and the hooks keep everything strapped in place when you're riding.
To carry your second motorcycle helmet start by placing it on the pillion seat. While holding it in the center of the space, throw the cargo net right over it making sure to security using the hooks.
Always double check the hooks before you start riding. Otherwise, this is an affordable and effective way of carrying a second helmet on your motorcycle.
Hook Under the Passenger Seat
If you lift up the passenger seat, or the entire seat, of your motorcycle it's likely that you will find a helmet hook. This is another one of the easiest ways to carry a second motorcycle helmet on your bike.
The helmet hook is designed to make it possible to connect your helmet to your motorcycle. You can check out the video below for a better idea of how this works.
If you're using the helmet Hook, it's a good idea to keep a cloth or something soft between the helmet and straps where it contacts your bike.
This will prevent the straps or the D rings from damaging your motorcycle paint job or any of the other components near where your helmet is hanging.
Modified Cargo Net
While the motorcycle cargo net is a great way to carry a second helmet, a lot of riders don't like using them because it's possible for the hooks to scratch the paint or Chrome. Thankfully, there's a solution to this if you still want to use a cargo net.
Some people have had success taking off the hooks and securing the net underneath the motorcycle seat. The cargo net will then stretch over the helmet, which is placed on the back seat, and then it's secured underneath the seat again.
The only problem here is finding somewhere to properly secure the cargo net to your bike. If you get a chance, you can try this out at home with your own cargo net and a second helmet to get everything properly set up.
Strap it to the Back Rest
Using a bungee cord or even your favourite motorcycle straps makes it possible to secure an extra helmet to a motorcycle back rest or sissy bar.
This is a pretty straightforward strategy so grab your straps or bungee cord and start trying to secure the helmet to your bike.
The only drawback here is that it's not the most secure solution for keeping everything in place when you're riding. Either pack an extra bungee cord so you can slap it on if the helmet starts moving around or add extra cords before you leave home.
This is a great solution if you're just riding short distances, like to pick someone up nearby in your city.
Toss it in Your Motorcycle Backpack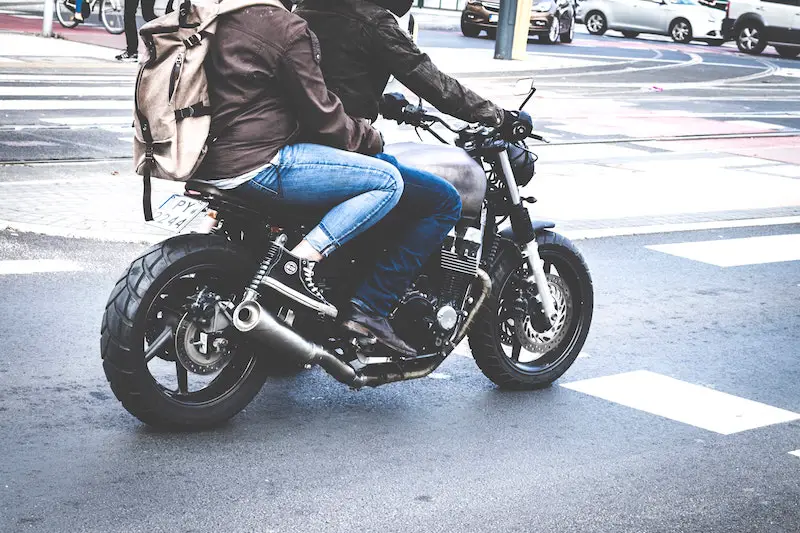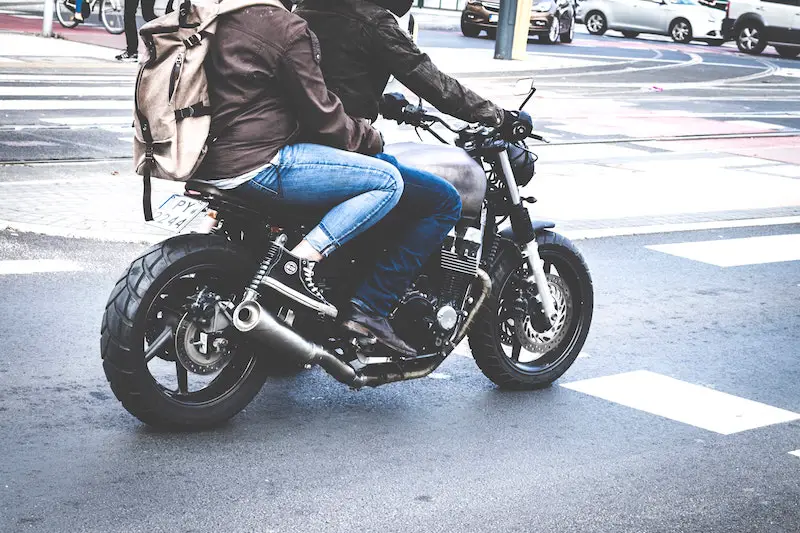 Some Riders will ride with a motorcycle backpack. A lot of these backpacks come with a special pocket that makes it possible to carry a second helmet.
Again, for short distances this is a good idea since it won't be that uncomfortable or Awkward. On the other hand, for longer distances you will want to use one of our other recommendations.
The benefit of using a motorcycle backpack is that you can transport other stuff with you, if you don't want to use your motorcycle tank bag or motorcycle panniers.
In a pinch, a normal backpack would also work just fine and you can stuff the helmet in or strap it to the outside.
Use Your Motorcycle Saddle Bags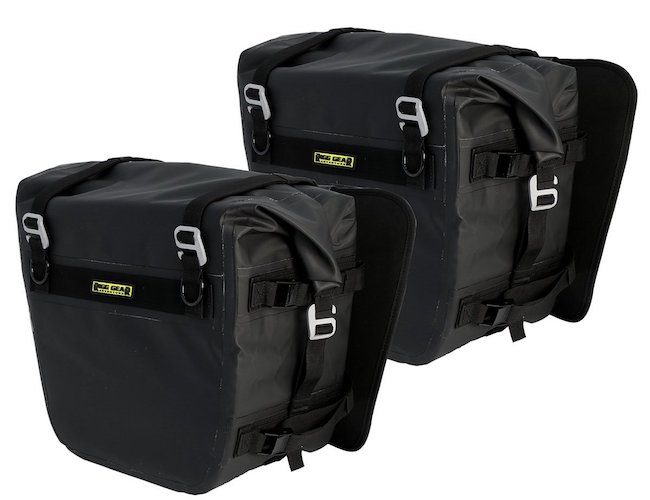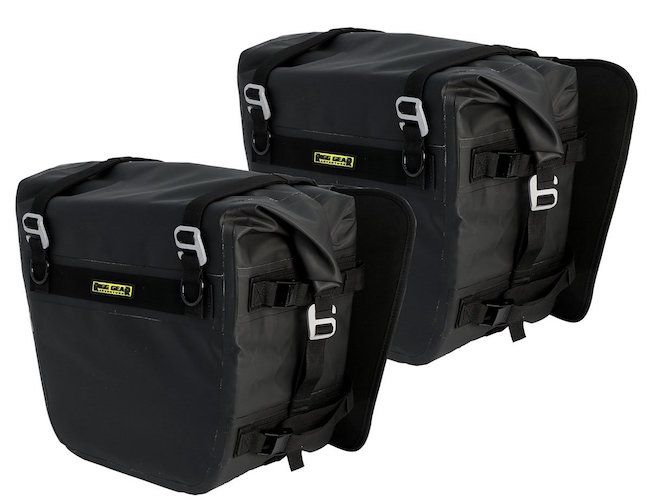 As long as your motorcycle saddlebags are big enough to fit a helmet, it's easy to carry a second motorcycle helmet with you. It doesn't matter how they're designed, as long as the helmet fits inside you'll be good to go.
The great part about using saddlebags is that you can use them for storing other Motorcycle Accessories, like your motorcycle jacket and motorcycle gloves.
A lot of riders like using these saddlebags for motorcycle commuting as well. They're just great to have as they make it possible to carry things like your second motorcycle helmet and everything else.
Motorcycle Tail Bag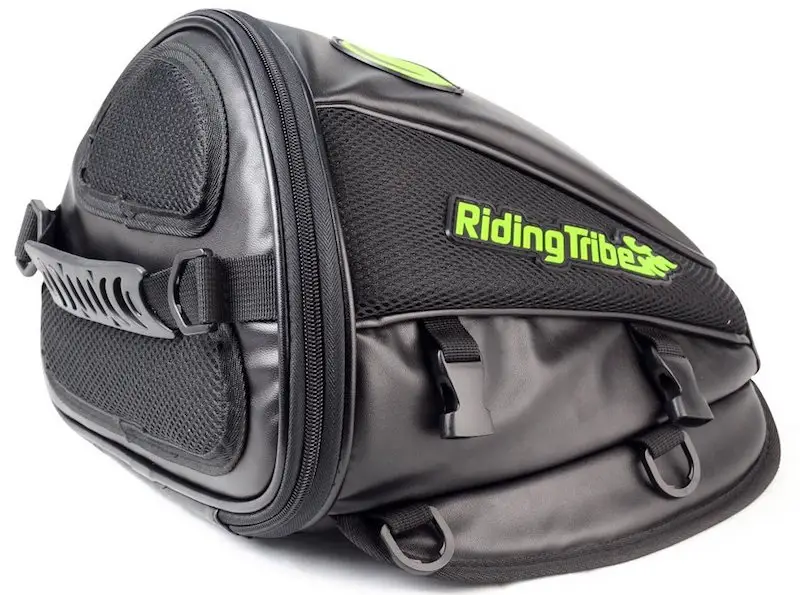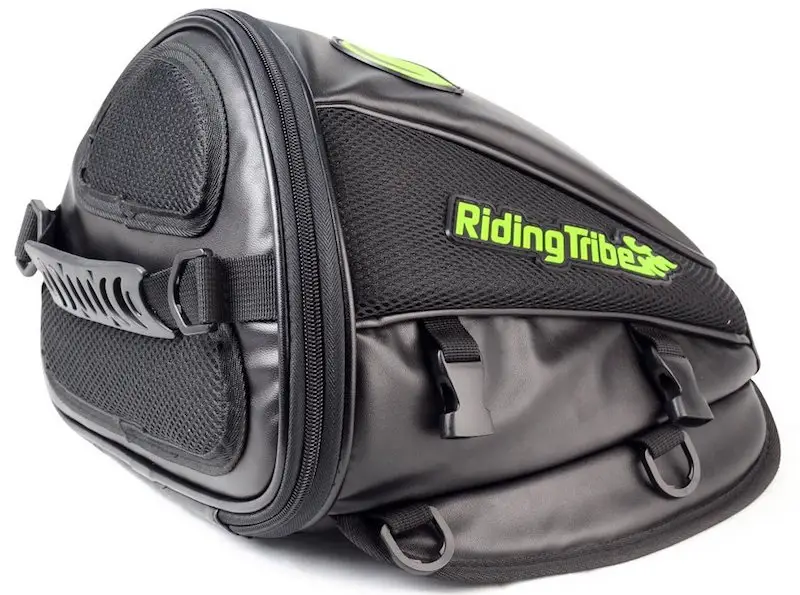 Just like with saddlebags, the best motorcycle tail bag makes it possible to carry a wide range of gear. Some people use a motorcycle top box but a big enough tail bag could fit a second motorcycle helmet.
They're easy to install and you can also use one for carrying anything else you're planning on riding with. Many people prefer the hard cases because they offer more security, they can be locked, and they'll protect your belongings in case of a motorcycle crash.
Some tail bags are designed to fit full size motorcycle helmets. This makes them a great choice if you need to carry a second helmet with you.
Helmet Carrier Strap
There's something called the Caddstrap, that you can easily find on Amazon, that you can use for carrying a second helmet. It's basically a nylon strap that has two D rings at one end.
In order to use it, you need to remove the rear seat, lay the strap across the bike, then place the seat on top of the straps. Now you can run the Caddystrap straps through the helmet chin strap and tighten it up using the D rings.
This helps to keep the helmet in place on your back seat and prevents it from wobbling around or sliding off when you're riding. We would recommend this is a solution if you are not riding with a second helmet very often.
Carry the Helmet on Your Arm
If you're in a pinch, it's easy to slide your arm through the visor hole. Alternatively, you can strap it to your arm when you're riding.
While this isn't the best solution, it's a solution nonetheless. It's a great way to travel with a second helmet for short distances, otherwise you would want to go with one of our other recommendations.
Helmet Bag
Helmet bags are designed to strap to the pillion seat on your motorcycle. We especially love the Oxford Lidlash Helmet Bag, which is the perfect choice for travelling with a second helmet.
It's essentially a helmet bag that comes with built-in straps. You easily wrap the straps around the seat and secure your helmet in place.
Oxford is one of our favourite Brands, making our favourite motorcycle heated grips. It's easy for us to recommend this product from a reputable brand and a great solution for your motorcycle helmet problem.