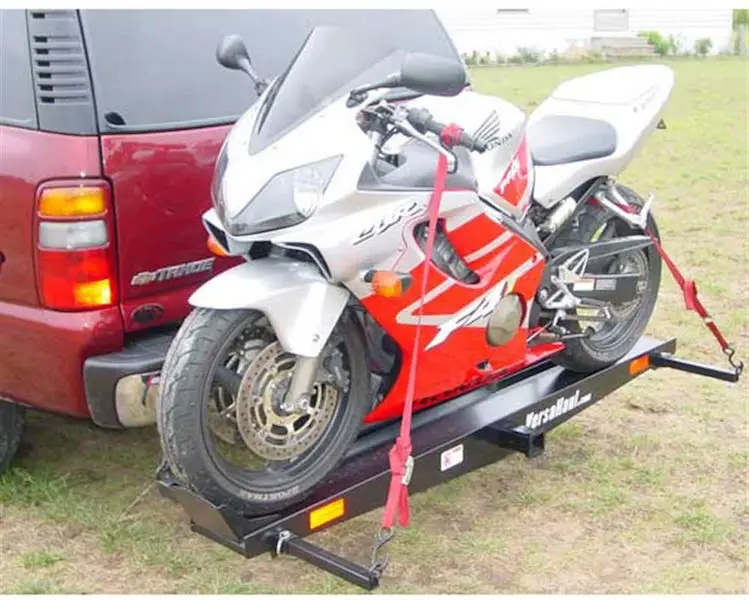 Transporting your motorcycle in the back of a pickup truck or using a dedicated motorcycle trailer can be stressful, time-consuming, and labor-intensive. As long as you have the right hitch installed on your vehicle, there's another method you can try out.
Using a motorcycle hitch carrier makes it easier and more convenient to transport your bike. These hitch-mounted motorcycle carriers are easier to load, more convenient, and less expensive than most other transportation options.
With one of these carriers you'll spend less time loading and more time riding. In this post, we put together a helpful guide with our recommendations for the best motorcycle hitch carrier.
Don't forget to scroll past our recommendations for an in-depth buying guide, helpful tips, and FAQ. Otherwise, let's jump right into it!
The Best Motorcycle Hitch Carriers (Reviews) in 2021
Black Widow MCC-500 Steel Carrier (Best Motorcycle Hitch Carrier Overall)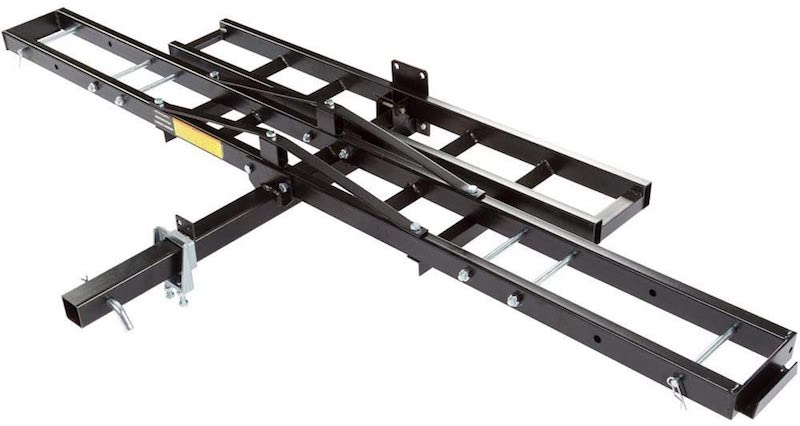 It's the Black Widow MCC-500 Steel Carrier that we would recommend as the best hitch carrier for motorcycles for most people. Since it's made from steel, it's extremely durable, and comes with a decent weight capacity for carrying most bikes.
With a 500 pound weight capacity, this carrier can be used for hauling most dirt bikes, sport bikes, and smaller cruisers. It's designed to be installed into a Class II or IV hitch receiver and comes with a ⅝-inch hitch pin to keep everything in place.
When it comes to durability, this one is made from a durable, powder-coated steel. All of the brackets and connection points have been welded for extra durability.
To make it easier to load the bike, a ramp is included, which can be installed and stored on the carrier when it's not being used. There's also an anti-rattle device that prevents the bike from tilting or wobbling while it's mounted.
Overall, the Black Widow MCC-500 Steel Carrier is our top recommendation as the best hitch mounted motorcycle carrier. It's well-built and a great option for bigger bikes and heavier motorcycles.
Black Widow Aluminum Dirt Bike Carrier (Best Dirt Bike Carrier)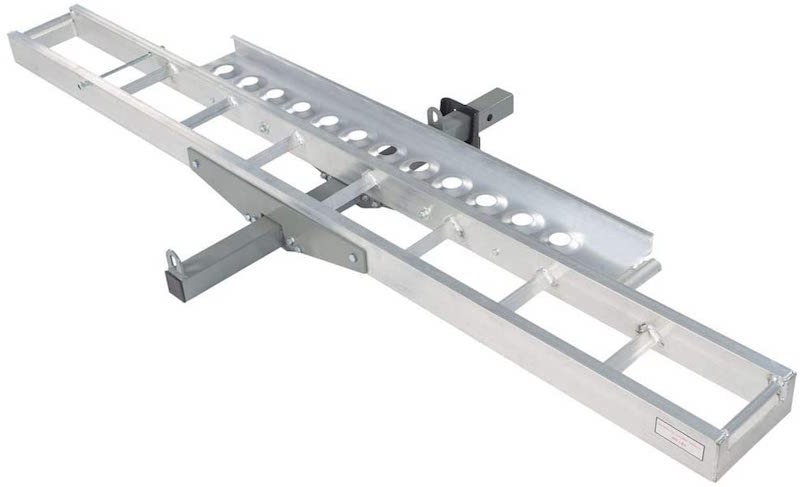 The Black Widow Aluminum Dirt Bike Carrier is our top recommendation if you're looking for a hitch mounted dirt bike carrier. Along with being able to easily carry dirt bikes, this can also be used for smaller motorcycles and scooters.
With its lightweight and durable aluminum design, this model has a weight capacity of 400 pounds. This is plenty of capacity for most dirt bikes and smaller motorcycles in the 125cc to 400cc range.
Installation is simple, thanks to the lightweight aluminum design. It's easy to mount this on most vehicle trailer hitches and at just 36.5 pounds in total weight it's easy to move around.
Once the bike is mounted, which can be done with the included loading ramp, it can be secured to a number of mounting points on the carrier. Afterwards, the ramp can be stored flat on the carrier when it's not being used.
To help ensure stability during transport, an anti rattle device is included. It even comes with a spacer bar adapter for transporting smaller bikes, such as 50cc dirt bikes for kids.
One thing worth mentioning is that this is designed to be installed on a Class III or IV, 2-inch trailer hitch. Otherwise, you'll have to buy an adapter to use it on a smaller hitch, which unfortunately compromises stability.
Overall, the Black Widow Aluminum Dirt Bike Carrier is a great choice for dirt bikes and smaller motorcycles with wheels up to 5.5-inches wide. This is reasonably priced, easy to install, and comes with some great reviews from happy buyers.
Direct Aftermarket Steel Motorcycle Carrier (Best Cheap Hitch Motorcycle Carrier)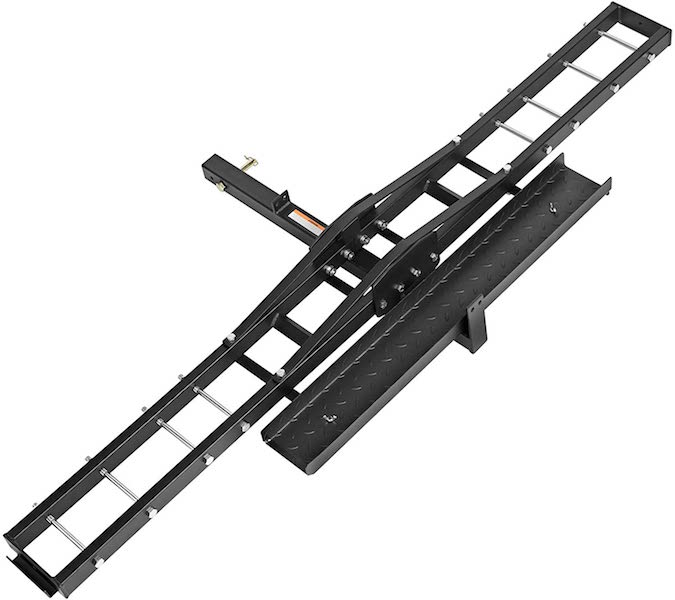 It's the Direct Aftermarket Steel Motorcycle Carrier that we would recommend if you're on a budget and looking for a cheap hitch motorcycle carrier. Even with its lower price, this is a sturdy and reliable option for transporting your motorbike using your trailer hitch.
This hitch mount is made from an epoxy powder coated steel with a durable frame construction. It's designed to be installed into a Class III or IV trailer hitch and requires a 2-inch mount for installation.
Once installed, it's capable of holding up to 500 pounds. This makes it ideal for dirt bikes, most sport bikes, and even some small cruisers and touring bikes.
There is a loading ramp that's included that makes it easier to mount the bikes. When not being used, the ramp can easily be stashed on the carrier so it's kept out of the way.
It's worth mentioning that the tubular steel frame features a weather resistant epoxy powder coating. This makes it ideal to use in all weather conditions and you won't have to worry about rust or corrosion as much.
Overall, the Direct Aftermarket Steel Motorcycle Carrier is a great option if you're on a budget and you're looking for a cheap motorcycle hitch carrier. It's well built, durable, and easy to install, even if you're trying to keep down your costs.
VersaHaul Dirt Bike Hitch Carrier


The Versahaul Dirt Bitch Hitch Carrier is another great option if you're looking for an easy way to transport your motorcycle or dirt bike. Along with the carrier itself it also comes with a loading ramp for easy loading and removal of the bike.
This carrier is designed to be used on a 2-inch Class III or Class IV hitch. With a 500lb capacity it can be used for most dirt bikes, smaller motorcycles, and scooters.
It features a heavy duty, steel construction and welded seams for better durability. There's a black paint finish that helps with preventing rust and gives the carrier a more streamlined look.
For securing the bike, there are a number of eyelet tie-down points that you can use with straps. Once mounted onto the carrier, the bike is further kept in place with the built-in wheel chock at the front.
After looking at a number of Versahaul motorcycle carrier reviews, it's easy for us to recommend the Versahaul Dirt Bitch Hitch Carrier as another great option. This is a high-quality, durable, and well-built carrier that's ideal fort dirt bikes and smaller bikes.
Why You Should Use a Motorcycle Hitch Carrier
Safe and Efficient
Loading a motorcycle onto a trailer or into a pickup truck is difficult and dangerous, especially when you're on your own. For smaller bikes, like a dirt bike or smaller dual sport, it's not as difficult, while it's almost impossible for bigger cruisers and touring bikes.
Using one of these SUV motorcycle carriers, or one designed for a car or truck, makes the process a lot easier. There's less effort involved, it's safer to load the bike, and you can easily do it all on your own.
Reasonably Priced
Using a hitch carrier is more affordable than buying a trailer or using a pricey motorcycle hauler. As long as you have a hitch installed, all you need to buy is the carrier, some motorcycle straps, and you're ready to go.
When you're buying them new, there's plenty of them to choose from and the prices are reasonable, especially if you'll be transporting a bike a lot. There's also some great options for buying them used depending on your local market.
No Registration Required
The problem with using a trailer or toy hauler is that you need to register it at your local motor vehicle office. This means having to pay for registration and making sure that the trailer is road-worthy whenever you're using it.
With a motorcycle hitch rack there is no need to register it. Whenever you need it, it's easy to mount and use it for transporting your bike without having to get any paperwork or special registration.
Low Maintenance
One more benefit to using these hitch carriers for a motorcycle is that they barely require any maintenance or upkeep. While it's a good idea to regularly check the bolts and look for any rust, there's no need to worry about any other maintenance.
On the other hand, trailers require regular maintenance to keep them running properly. Along with the added expense, this is just one more thing you need to worry about with a trailer.
Types of Motorcycle Hitch Carriers
Steel
The best motorcycle hitch carrier models are typically made from steel or aluminum. This is a great material since it's so durable and corrosion resistant.
Some of the better quality hitch mounted motorcycle haulers are made from heavy duty steel. They're bulky, heavy, and can weigh as much as 100 pounds.
The steel construction carriers typically feature designs meant to keep the weight down. Despite the higher weight, these steel models are capable of carrying heavier motorcycles.
Aluminum
The benefit of an aluminum hitch carrier is that it's lightweight and easier to maneuver on your own. One problem with this lightweight design is that they can only accommodate light bikes, so they're not ideal for heavier motorcycles.
Another benefit to using an aluminum hitch mounted motorcycle hauler is that they offer better resistance to rust and corrosion compared to steel. The lightweight design makes them easier to handle and they tend to be more affordable as well.
How Much Does a Motorcycle Hitch Carrier Cost?
Under $100
There aren't too many good options for a cheap motorcycle hitch carrier for less than $100. You would have to check out some of the used options if this is your budget.
It's a good idea to spend a little more money for something that's going to be holding your motorcycle at the back of your vehicle. With just a bit more to invest you'll be able to find a more durable and higher quality product with better reliability.
$100 to $200
There are some great options for motorcycle hitch carriers in this price range. This will get you some models that are well-built and durable enough for lighter bikes.
The drawbacks you'll find here are for weight capacity, build quality, and features. Those of you that won't be using the carrier on a regular basis would find this to be a suitable budget.
$200 and Up
This is where you can expect to find some premium motorcycle hitch racks. If you're looking for a strong, solid, and well-built carrier, this is what you'll have to spend.
The models in this price range will come with better features and a higher overall weight capacity. This makes it easier to transport your bike safely and with very little movement.
Key Features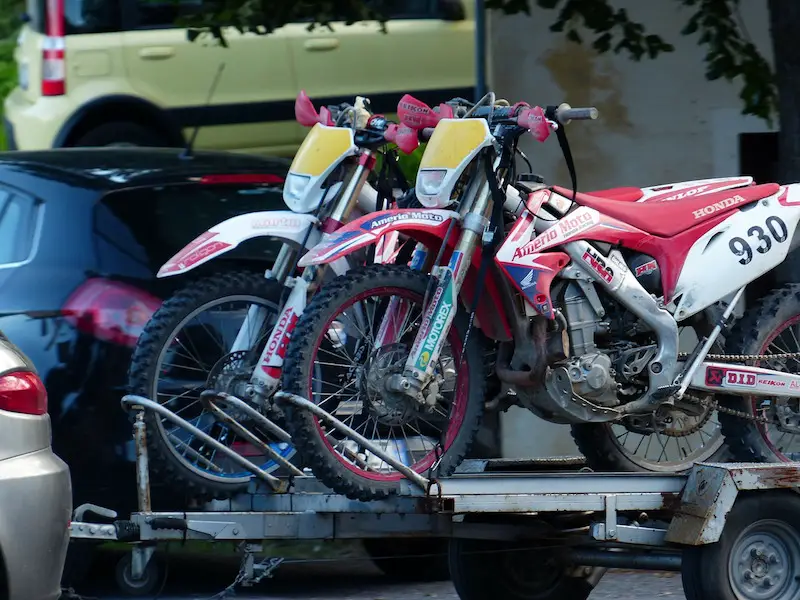 Hitch Compatibility
There are five different classes that hitch receivers are grouped into depending on the vehicle type and load capacity. This is a class range that ranges from Class I up to Class IV.
For example, a Class I hitch receiver has a tongue capacity of just 300 pounds and is meant for sedans, SUVs, vans, and trucks. At the higher end of this range, Class IV and V hitch receivers come with a tongue capacity up to 2700 pounds, though they're designed only for pickup trucks.
In order to use the carrier correctly, your vehicle needs to have a hitch receiver that matches the carrier. Generally, a 2-inch receiver is recommended, although there are some adapters available that offer plenty of versatility.
Load Capacity
One of the most important features to look at when you're browsing single motorcycle hitch carriers is the overall weight capacity limit. Most of them come with a limit of between 300 and 600 pounds, though some can hold more or less weight.
For a heavier bike, look for a solid steel constructed motorcycle hitch carrier. These are more capable of handling bigger loads than the aluminum ones.
Bike Weight
It's also important to consider the total weight of your motorcycle. Before you purchase a motorcycle hitch carrier, you need to look up how much your motorcycle weighs.
For a lightweight dirt bike, dual sport, or small motorcycle you could get away with using a carrier with a 400 pound capacity. As for heavier bikes, you'll need to look into using a steel frame carrier that can better handle higher weights.
Durability
It's important that the best motorcycle hitch carrier you use is stable and reliable. It needs to be able to securely hold your motorcycle while minimizing any motion while you're driving.
The right carrier should also be designed to last a long time and come with the Practical features that prevent your bike from moving. This would include tie down straps, wheel cradles, a gripped base, and other mechanisms.
Ease of Use
Overall, it's not difficult to install a motorcycle rack for trailer hitches. The problem is when you go with a heavier one that can be tricky to move around if you are installing it on your own.
Most manufacturers provide detailed instructions for how to properly install the carrier. It's also a good idea to check on YouTube to see if there are any helpful videos for the installation process.
Extras
Most of the higher end carriers will come with some extra features. One of these features to look for is a loading ramp, which is very helpful for loading the bike.
You can also keep an eye out for a double bike carrier that can be used for transporting more than one motorcycle at a time. Other extras worth mentioning include multiple tie down spots for better security and anti-tilt locking devices.
Helpful Tips
There are various sizes and weights available when it comes to hitch mounts. It's important to use the right one for your vehicle so that it properly supports the carrier.
Look for a hitch carrier that's strong, durable, and that comes with multiple tie down points. This prevents the motorcycle from moving during transportation and helps to prevent the bike from getting damaged.
Using a ramp with a longer length will make it easier to load and unload the bike. Take a look at the ramp length and go with the longest option possible for your requirements.
Most pickup trucks and larger vehicles come with a two-inch hitch receiver already installed. This is the standard size and gives you the most options when you're searching for a hitch rack that's compatible with your hitch.
For vehicles with a spare tire, tube bumpers, or protruding spoilers, it's unlikely that a motorcycle hitch ramp and rack will work. In this case, you might be better off using a trailer for transporting your bike.
It's generally not a good idea to take your vehicle off road with the hitch carrier and a motorcycle mounted. All of the wobbling and shaking can damage the motorcycle as well as the carrier.
After installing the motorcycle carrier rack, make sure the license plate is visible. Some people may need to purchase an additional license plate mount that's attached to the carrier so that the plate is visible.
Consider installing LED lights on the back of the carrier for added safety. This makes it easy for other drivers to see it at night. You can even use battery powered lights that are easier to install and still do the same thing.
Frequently Asked Questions
What Does Tongue Weight Capacity Mean?
The tongue weight capacity is the amount of weight a vehicle can hold on the trailer hitch. This information can be found in the owner's manual or by doing a quick Google search.
Another way to determine the tongue weight capacity is to divide the total towing capacity of your vehicle by 10. For example, if the total towing capacity is 3000 pounds, then the tongue weight capacity would be 300 pounds.
Are Motorcycle Hitch Carriers Safe?
When installed correctly, they are just as safe as using a trailer. The benefit is that they're easier to use and offer more convenience.
When towing a trailer, it's harder to properly move the vehicle and more difficult to park. With a hitch carrier, very little changes and some of them even allow you to transport two bikes.
How Do You Know if a Hitch Carrier Will Work With Your Vehicle and Motorcycle?
Start by checking that the load rating of both the motorcycle and hitch carrier are within the vehicle's tongue weight. This information can be found on the carrier where it will state how much weight it can hold.
Generally, smaller vehicles like cars and SUVs won't be able to use a hitch carrier. Larger vehicles, like vans and trucks, should have no issues using one of these for transporting a motorcycle.
How Do You Install a Motorcycle Hitch Carrier?
Most of them will come with detailed instructions on how to properly install the carrier to the hitch on your vehicle. Alternatively, there should be some helpful videos for most models that can help with the installation process.
Installation is straightforward and starts with connecting the support brackets to the trailer hitch bar then mounting the carrier between them. Next you would install the anti tilt device on the hitch and then connect the hitch pin.
With basic tools it's easy to install one of these carriers. For extra help, it doesn't hurt to get it done with someone else that can give you a hand.