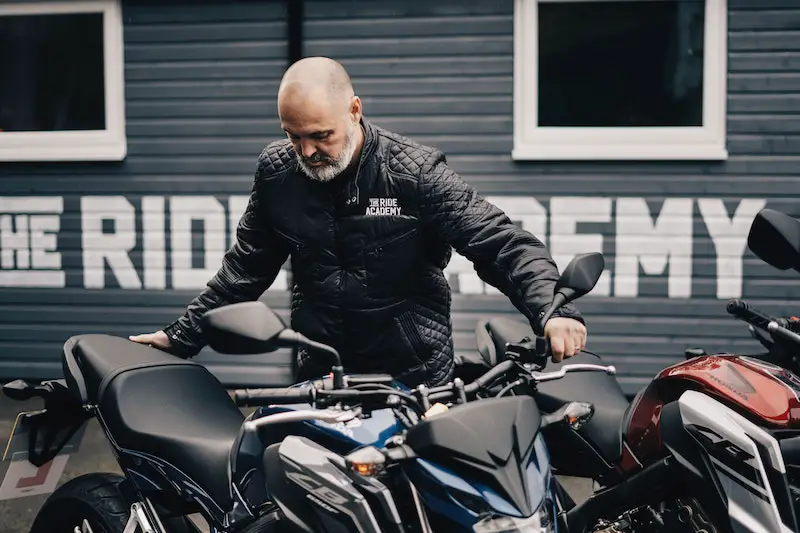 There are some great options for motorcycle safety gear that you can wear for your protection. When you're out riding it's important to wear this gear, just in case you get into a motorcycle crash or accident.
For extra protection, it's worth considering wearing a motorcycle airbag vest to protect your core. This unique vest features airbags that deploy and protect your body during an impact.
Compared to traditional motorcycle vests, these airbag vests are considerably more expensive. However, it's hard to put a price on your life or argue against improving your safety when you're riding.
In this post, we put together a list of the best motorcycle airbag vests that you can start wearing for better protection. Don't forget to scroll past our recommendations for an in-depth buying guide, FAQ, and some helpful tips.
Otherwise, let's jump right into it!
Hit-Air Inflatable MLV-C Vest (Best Motorcycle Airbag Vest Overall)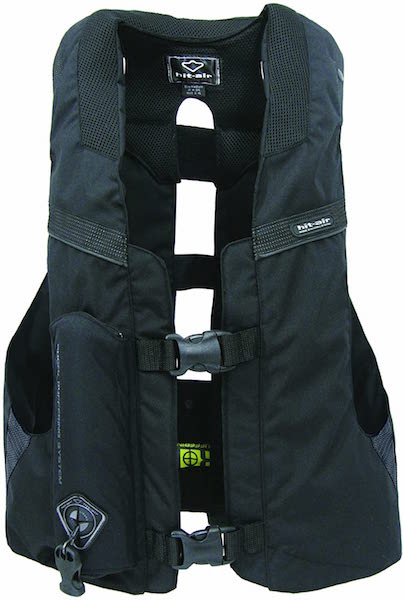 The Hit-Air Inflatable MLV-C Vest is our top recommendation as the best motorcycle airbag vest for most people. These are specifically designed for motorcyclists to protect their neck, chest, and back in the event of a crash or accident.
Thanks to the lightweight design, This vest can easily be worn over a motorcycle jacket. This vest design also makes it possible to wear with a summer motorcycle jacket so you won't be sweating or too warm during those summer riding months.
Putting on this vest is simple thanks to the two buckles on the front. There's a third buckle that's designed to attach to your motorcycle and is meant for inflating the airbags if you happen to get thrown from the bike.
On the inside of the vest is some additional padding for extra comfort and for providing a better fit. There are reflective stripes on the outside so that you're more visible when you're out riding.
Once inflated, this vest will offer plenty of protection for your lower back, upper back, neck, and chest. This can drastically reduce your chance of serious injuries if you happen to get into an accident.
Should the airbags need to be deployed, they will be fully expanded in just 0.25 seconds. This is faster than the blink of an eye and you can rely on this system for better protection when you're on the bike.
Overall, it's hard to go wrong with the Hit-Air Inflatable MLV-C Vest as an airbag vest that's designed to protect you. It's well reviewed and comes with some great features for better protection when you're out riding.
KLIM Ai-1 Airbag Vest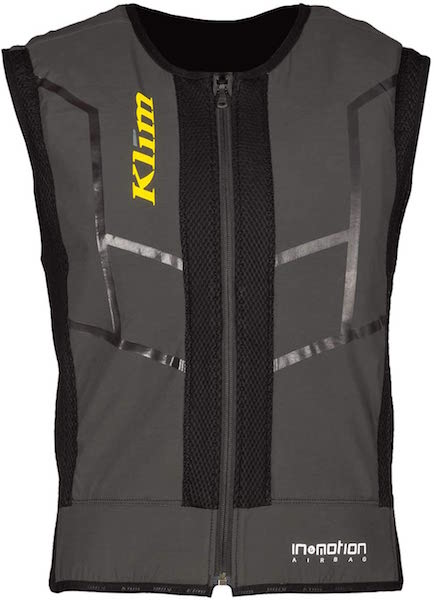 The KLIM Ai-1 Airbag Vest is another great option as an airbag vest from a well-known motorcycle brand. With a detection and inflation time of under 60 milliseconds, this is the protection you'll want should you get thrown from the bike.
When the airbags deploy they're designed to protect your spine, neck, thorax, and abdomen. The vest is compatible with motorcycle jackets so you can comfortably wear it with the rest of your safety gear.
For comfort, the vest features a moisture-wicking, breathable, stretch mesh chassis. This helps with ventilation so it's ideal for wearing during warm weather riding.
One unique feature is the hard polypropylene shell on the back of the vest. This offers even more protection for your bag and prevents injury from hard impacts and sliding.
There are reflective stripes on both the front and back of this vest to make you more visible in low light conditions. Instead of buckles, this one uses a zipper on the front, so it will provide a better fit.
Overall, the KLIM Ai-1 Airbag Vest is another great option for keeping yourself safe when you're out riding. It has some ideal features for protection and is bound to reduce your injuries in the event of a crash or accident.
Helite Airbag Jacket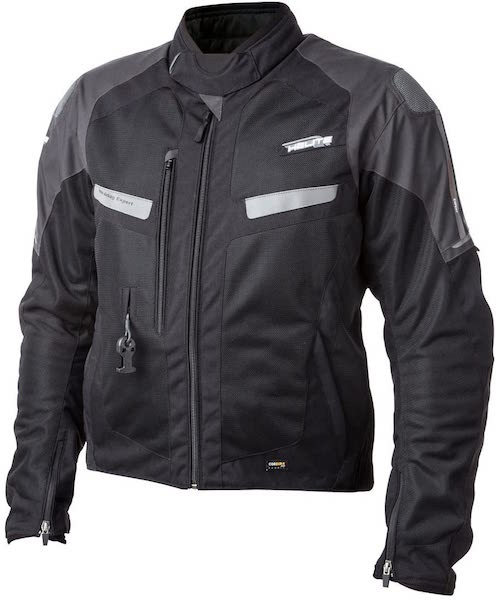 The Helite Airbag Jacket is what we would recommend if you're looking for the best motorcycle airbag jacket. Instead of a vest, this is a full jacket that offers both armor and airbag protection.
Built into the jacket is Helite's own patented airbag technology. This is what gets deployed and protects your back, neck, and core in the event of a crash or accident.
The jacket itself comes with both shoulder and elbow protectors, the standard protection that you would expect from a motorcycle jacket. Unfortunately, it doesn't come with a dedicated back protector, though the airbag inside is designed to protect your back.
When it comes to comfort, this jacket is made from a 600D cordura exterior. It comes with mesh panels, for better ventilation, and a removable waterproof rain liner to keep you warm and dry on cooler or wet days.
For fit there is a zipper on the front and velcro straps at the wrists and neck. There are a number of pockets as well for easy and convenient storage of your smaller accessories, like your smartphone.
Overall, the Helite Airbag Jacket is a great option if you're looking for a jacket instead of a vest. This helps to boost your overall protection and is ideal for safety when you're out riding.
How do Motorcycle Airbag Vests Work?
Compared to a motorcycle jacket, airbag vests are lighter while offering the same amount of protection. They can easily be worn under your normal jacket or riding gear.
For them to work effectively, they're fitted with a high-speed airbag deployment system. That's the system is controlled by a coiled wire lanyard that's attached to the bike and connected with the vest.
In the event of an accident or crash where the rider is thrown from the bike, the airbag is activated. This is done when the coiled wire pulls out a key from the vest system and the air cushions are immediately inflated.
What Do Airbag Vests Protect?
Once the vest is inflated on an airbag vest or airbag jacket, the spine and neck are immediately protected. This helps to significantly reduce the risk of a spinal cord injury, with the airbag keeping the spine and neck immobile after the accident.
Before the rider hits the ground, the airbag is inflated and provides impact protection for the neck, back, and chest. With the vest inflated, the neck is kept aligned for avoiding whiplash and any risk of major spinal injury is reduced.
The chest and back are also protected thanks to the airbag design. This helps to prevent and reduce the injury of serious accidents.
Just a few seconds after deploying the airbags start to slowly release the gas. It takes up to five minutes for the vest or airbag jacket to fully deflate.
Helpful Tips
These vests are designed to be worn over your motorcycle jacket or other lays of clothing. For a better fit they come with adjustable straps and buckles. This also makes them easier to put on and take off.
Compared to airbag jackets, airbag vests tend to be cheaper. They're more lightweight, easier to wear with other gear, and are good for summer riding. Unfortunately, they don't offer as much protection as a jacket.
These vests use replaceable cartridges for deploying the airbags. It's a good idea to keep some of these in your

tank bag

or

saddlebags

for easy access when you're riding or traveling.
Frequently Asked Questions
Is it Worth Getting an Airbag Vest?
The main benefit to using one of these vests is that they increase your chances of safety if you happen to get into the accident. With the airbag deployed you're better protected and less likely to suffer from any serious injuries.
This can help for both new and experienced riders that want the most safety when they're out on the road. Regardless of your skill level, it's always smart to ensure you're getting the best chance in case something happens.
Can You Wear a Motorcycle Airbag Jacket After It's Been Deployed?
As long as the airbags and corresponding mechanics are in working order after being deployed it's possible to wear the vest or jacket again. Double check that the material and other vest components aren't damaged and are still intact.
You also want to replace the CO2 cartridge before wearing it. This way it will be able to deploy again the next time it's required.
Can You Wear Other Gear With an Airbag Vest?
Yes, it's possible to wear other motorcycle safety gear even with the vest on. You can even wear a rain jacket or a motorcycle backpack if you're riding with this gear, or even a leather motorcycle vest (why do bikers weather leather vests anyways?).
There just needs to be room for the airbag to deploy, so make sure everything is somewhat loose. Otherwise, the vest won't be able to properly deploy, and it won't protect you in case of a crash or accident.
What Happens if You Forget to Unclip the Vest?
If you forget to unclip the vest the coiled wire will pull you towards the bike and remind you that it's clipped. Thankfully, the airbag won't deploy unless there is enough force.
It definitely takes some practice to get used to the coiled wire. Once it becomes familiar it will become part of your normal riding routine and you won't keep forgetting it.