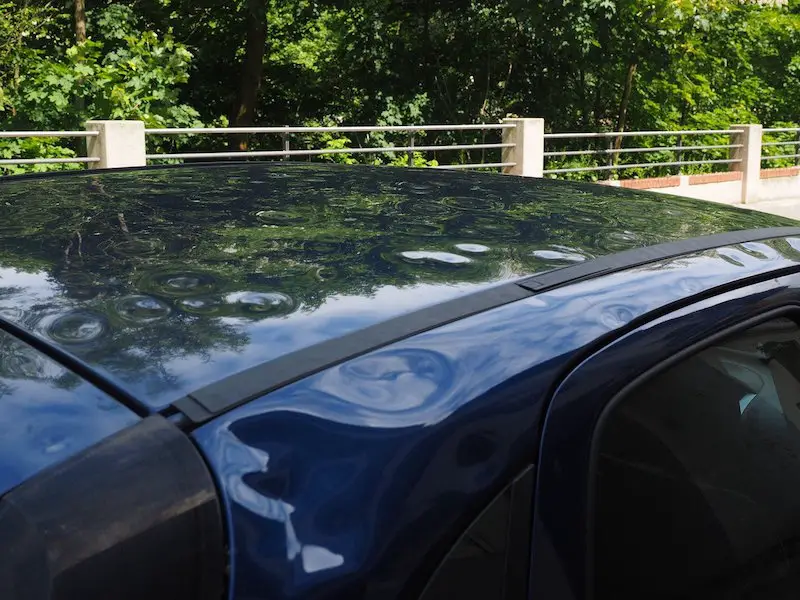 After having spent so much money on your vehicle, the last thing you want to see are any dents, dings, and blemishes. You want the vehicle to look its best so you can be proud of what you're driving.
The problem with getting professional dent repair is that it's costly and time-consuming. Many drivers would prefer to do it themselves to save money and time.
In this post, we'll be looking at the best dent repair kits that you can use for repairing the dents, dings, and blemishes on your own vehicle. These paintless dent repair tools make the process easy and allow you to do it yourself.
After our top recommendations, don't forget to keep scrolling for some helpful tips, and in-depth buying guide, and FAQ section. Otherwise, let's jump right into it!
The Best Dent Repair Kits in 2021
BBKANG Paintless Dent Removal Kit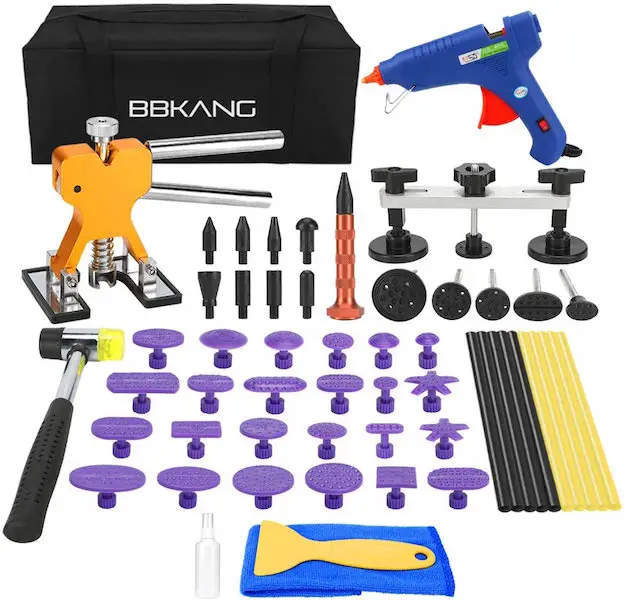 The BBKANG Paintless Dent Removal Kit is loaded with everything you need for removing small dents, dings, hail damage, and other marks from the body of your vehicle. This kit comes with dozens of different parts and accessories that make it easy to fix and repair any dents.
For a professional quality of dent removal, this kit comes with a strong alloy dent lifter. This makes it easy to effortlessly remove small dents and dings without having to bring your vehicle to the body shop.
It also comes with a bridge puller, which is effective at removing larger or wider dents. Rather than plastic, this tool uses strong alloy to provide you with more tension and torque for better effectiveness.
For the glue pull strategy, a hot glue gun and plenty of glue sticks are included in the package. There's even a useful tap down tool for fixing small budges, which on its own comes with nine different tool heads for different shapes and surface materials.
Other tools and accessories include a rubber hammer, puller tabs, shovel, alcohol bottle, and an instruction manual. All of this can be conveniently stored in the included to a bag, which keeps everything easily accessible and organized.
Overall, it's hard to go wrong with the BBKANG Paintless Dent Removal Kit for easily removing dents, dings, and other body damage all in the comfort of your own home. Thanks to the detailed instructions you can definitely perform your own dent removal and get your vehicle looking great without spending more money.
Mookis Dent Removal Rods Set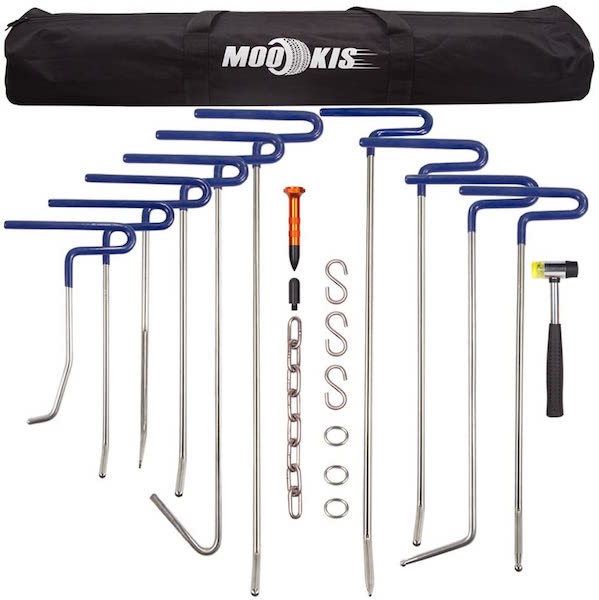 The Mookis Dent Removal Rods Set makes it possible to remove dents and dings without any damage to the car paint. For doing it yourself at home, this is a great kit and an affordable way for removing dents.
Included in the kit are a number of rods in various sizes and shapes. This makes it possible to find the right tool for the job to fix the vehicle easily and conveniently.
The rods themselves are made from a durable, high carbon stainless steel. They're durable enough for pushing up on the metal without bending or breaking.
Also included in the kit is a rubber hammer and a tap-down tool. These are the perfect accessories for fixing other small dings or getting a tiny dent back into place.
Everything can be conveniently stashed in the included carrying kit. This makes it easy to keep all of the different tools and accessories organized and readily available for the next time you need to remove a dent.
Overall, the Mookis Dent Removal Rods Set is a great option for removing small to medium sized dents without visiting a professional. This is a durable and convenient kit for easy DIY dent repair on your own vehicle.
HiYi Dent Repair Tool Kit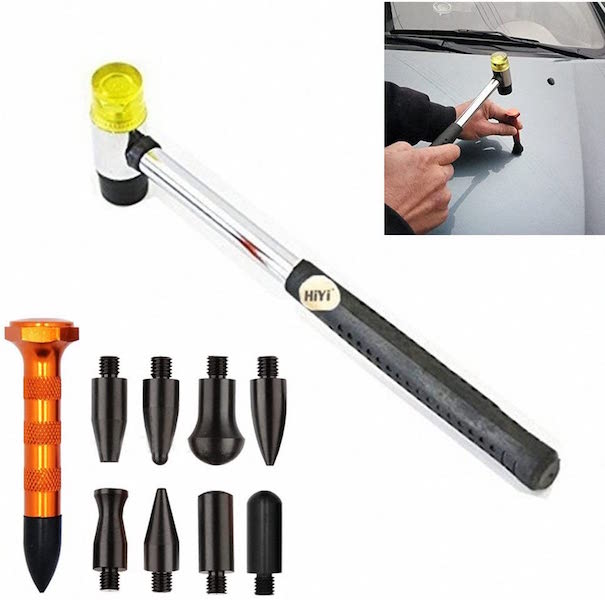 The HiYi Dent Repair Tool Kit is a basic and simple kit that can be used for fixing small, minor dents. All that's included is a hammer and punch with 9 different tips.
As a starter kit, this is more than enough for fixing small dents and dings. Using the hammer and a particular punch you can effortlessly punch out the dents.
The different shapes of the punch heads are meant to be used for different types of dents and dings. Using the hammer is comfortable, thanks to its light weight and ergonomic design for easier holding.
The rubber hammer won't damage the body of the car if you happen to miss the punch. This makes it less likely to damage the paint and the overall design helps to prevent scratching.
For small dents and dings, the HiYi Dent Repair Tool Kit is a great choice. This is a small kit that's affordable and easy to use for doing your own vehicle maintenance.
Why You Should Use a Dent Repair Kit
Affordable Solution to Professional Repair
Using a professional dent repair kit, otherwise known as a PDR kit, can save you money versus taking your vehicle to the repair shop. With so many different kits to choose from designed to fix all types of dents, it's worth trying on your own to fix the problem.
While you could expect to spend hundreds of dollars at a repair shop or body shop for repairs, you'd only spend a fraction of this by doing it yourself. Those of you willing and capable of trying it out will find these kits to be the most cost-effective solution.
Easy and Convenient
Using the right dent puller you can start fixing your vehicle in a parking lot, driveway, or garage. This can be done with very limited space and it shouldn't take very long.
When it comes to convenience, the best PDR tools come with easy to follow and detailed instructions. You could even check out some helpful tutorials on YouTube if you're wondering how to fix the dents or you're worried about damaging the vehicle's paint.
Boost Resale Value
Any damage, such as dents, dings, and blemishes can hurt the resale value of a vehicle. While this might not be a problem when you're driving, it's going to be a problem when you go to sell your car and you're not getting what you want for it.
It could also be an issue if your lease is ending soon or if you're borrowing the car from somebody. Using one of these kits can help improve the overall appearance of a vehicle and boost that resale value.
Environmentally Friendly
Another problem with bringing your car to the shop is that the technicians are going to use power tools and chemicals to repair the dent. Generally, this creates a toxic mess that most body shops aren't interested in properly cleaning up.
Doing it on your own at home is cleaner and safer for the environment. You probably won't need any power tools and you could clean up any mess more thoroughly.
Types of Dent Repair Kits
Glue Pull
One of the most common types of PDR kits is one that uses the glue pull technique. This involves using a specialized glue along with a tool or suction cup that's attached to the surface of the dent or ding.
Then, the dent or ding is removed by twisting or pulling another tool. This is an easy way to fix some smaller damage and it's something to look for when you're searching for the best paintless dent repair tools.
Most of these kits come with everything you need for getting the job done and repairing the vehicle exterior. This technique doesn't damage the car paint, it's environmentally friendly, and it doesn't require any strenuous effort.
Push From Behind
The push from behind technique requires specialized tools for pushing the dent from the back of the panel. There is a lot of flexibility with this technique, as long as you have the right tools and rods at your disposal.
The main drawback to the push from behind strategy is that it takes a lot of time in manual effort to remove any dents. While this is still something you can do at home, we would recommend the glue pull technique for most people.
Suction Cup Puller
The easiest way to remove dents is through the suction dent puller technique. This is a strategy that can work with both metal and plastic vehicle bodies without damaging the paint or other components.
For this technique, rubber or plastic cups are used to suction on to the dent or ding. A tool is then used to add suction, which applies pressure and removes the dent.
When it comes to the best suction dent pullers, look for a kit that comes with multiple suction cups. Some of these can even be used to lift upwards of 130 pounds, which is more than enough for most instances.
How Much Do Dent Repair Kits Cost?
Under $25
There are some great options under $25 when it comes to the best cheap car dent remover. This is what you can expect to stand for smaller dings and dents.
At this price point you'll be able to find some quality materials, such as stainless steel dent pullers and plastic or rubber parts. Despite being imported from China, even these cheaper PDR kits are well-made, durable, and sturdy.
$25 to $100
This price range is where you can find some of the best dent puller kits. These will come with some additional accessories and parts that make the job easier.
You can expect to find kits that come with a large variety of tools and up to 100 different pieces. This makes it easier to tackle larger dents and gives you more versatility for repairing and problems.
$100 and Up
At this price range you're looking at kits with better craftsmanship and higher quality materials. There will also be additional tools included, such as stainless steel removal rods.
If you're removing a lot of dents it would be a good idea to invest this amount into a quality kit. Don't forget to read reviews to see what other people have to say about any of the options you're interested in.
Key Features
Dent Puller
The dent puller is one of the key components of any PDR kit. This is a tool that comes with a large plastic handle and metal components.
Be careful not to apply too much pressure to the dent puller, because it could crack or break. Some kits also come with a dent lifter, which is a steel tool and will hold up better for regular use.
When you're looking at your options for the best dent puller, look at the materials used and how well it's made. This will give you a better idea of the overall durability of the product so you can choose one that best matches your preferences.
Glue Tabs and Glue Gun
Most of the best glue pull dent repair kits will come with at least a dozen colorful glue tabs and glue sticks. With the supplied glue gun it doesn't take very long for the glue to start melting.
Although the glue is very strong, it's easy and quick to remove the tabs with the supplied alcohol spray and rubber scraper. This makes it easy to get the job done and fix any issues.
Removal Rods
When you're using the push from behind PDR technique for removing dents, you'll be looking at kits that come with an assortment of removal rods. These rods are made from stainless steel and come with a sharp, flat, round end for getting into those tricky areas on your vehicle.
They typically range in length from 10-inches up to 30-inches and there will be a few available in each kit. It's possible to use a combination of rods for fixing the dent, though always refer to the instruction manual before getting started.
Warranty
Some people run into quality control issues with dent repair kits. Look for kits that come with a comprehensive warranty.
This way you can easily deal with any missing parts or defects. With a warranty you'll be able to return the kit or get a refund/exchange for anything that's missing.
Weather
Even the best PDR kit will be susceptible to harsh weather elements. Avoid applying glue in cold temperatures as the glue may not stick properly to the vehicle.
For vehicles sitting in the sun, the glue might take longer to hold. Try to use any glue in a dry, shaded area out of the sun, rain, or any harsh weather elements.
Helpful Tips
When you're first getting started removing dents, take your time and don't rush the process. It's important to be gentle for removing any blemishes.
A slow and steady approach makes the process easier and avoids any slippage that could cause additional damage to your vehicle.
Pulling out a dent too much could cause it to become a bump. Make sure to use an appropriately-sized tab as well as to something soft to protect the paint. Then, gently hammer the tab to get the bump flattened into place.
Frequently Asked Questions
Are Glue Pull Kits Better Than Push-From-Behind Tools or a Suction Cup?
Glue pull PDR kits are the best option for smaller dents. These are affordable, readily available, and easy to use.
Suction cup and push from behind kids are better for larger dents, though they're more difficult to use. It's possible to run into other issues using one of these kits that may cost even more money to remedy.
When you're looking at the different types of repair kits, consider the size and location of the dents. Then look at the features to see which option would be the best for solving your problem.
Will the Car Paint Get Damaged?
Generally, it's hard to damage the car paint when you're removing dents on your own. As long as you follow the instructions and don't have an accident it's unlikely you will damage the paint.
All of the best PDR kits are designed to be easy to use for repairing dents without scraping the paint on your vehicle. If you're not confident you can get the job done, it might be worth asking someone for help or bringing your vehicle to a professional.
Can Any Dent Be Fixed?
Most of these kits are ideal for small to medium sized dents. It's a lot harder to fix a dent if it's too deep or if the metal is stretched too much.
For damaged areas with chipped or cracked paint, it would be a good idea to consult a professional. There are definitely some limitations to these PDR kits, although common and smaller dents can be easily removed on your own.