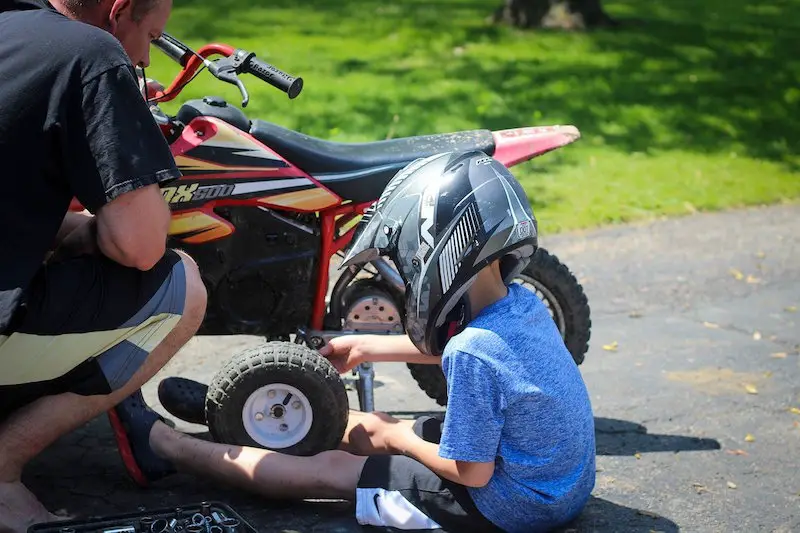 For those of you with kids just starting out in the dirt scene, it's a good idea to start them on a 50cc dirt bike. These are smaller, lighter, affordable, and easier to handle for smaller kids.
As long as your kids are wearing the necessary safety gear and they're being supervised, it's totally safe for them to be riding around on one of these machines. It's hard to go wrong with a 50cc dirt bike as well, considering they are the smallest gas powered motorcycle available on the market.
In this post, we'll be looking at the best 50cc dirt bike for kids between ages of 4 and 7 years old. It's even possible to start them off with training wheels, which can easily be removed once their skill level progresses.
Don't forget to scroll past our recommendations for an in-depth buying guide and some helpful tips on choosing the right bike. Otherwise, let's jump right into it!
The Best 50cc Dirt Bikes for Kids
Honda CRF50F (Best 50cc Dirt Bike Overall)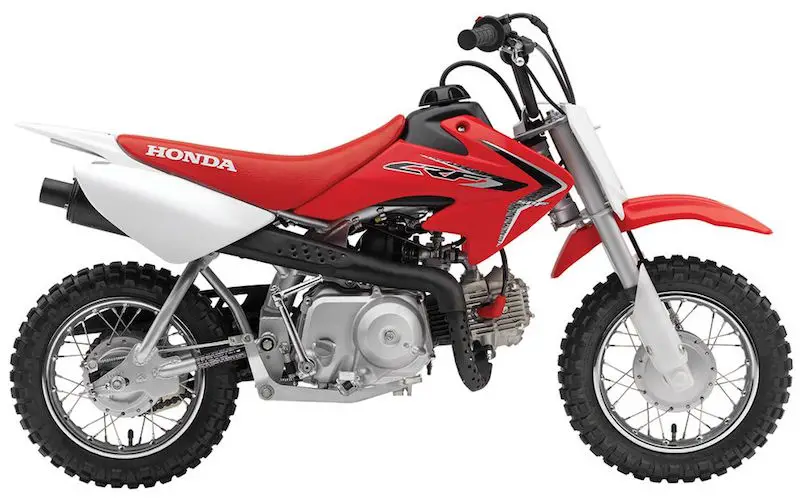 The Honda CRF50F is our recommendation as the best 50cc dirt bike for kids overall. This is a small dirt bike that's known for its durability, longevity, and forgiveness towards young beginners.
With the bulletproof 50cc Honda engine inside, this bike is perfect for kids that are going to drop, mess around with, and otherwise abuse the bike. It will keep on running even with years of regular abuse, as long as it is properly maintained.
When it comes to maintenance, the engine oil and air filter will need to be changed and cleaned periodically. It's a good idea to keep an eye on the drive chain and follow the maintenance schedule for anything else that needs to be done.
The Honda CRF50F itself features a surprisingly powerful, four-stroke 49cc engine with a smooth powerband. It's possible to use a throttle limiter if you're concerned about the power output.
The automatic clutch that the Honda CRF50F is fitted with is perfect for beginners and young children. Since there isn't a clutch, the engine isn't going to stall when a rider comes to a stop, which makes it less likely to tip or lose control.
Speaking of the throttle limiter, the Honda CRF50F can also have its speed limited with a three-speed transmitter. This lets your kids have full control of the throttle, though they'll only be able to move up to a higher speed with more practice.
Another great feature for safety is the key ignition. This prevents unsupervised kids from being able to take off on the bike when you're not around.
With a wet weight of 110-pounds and a seat height of 21.5-inch, younger riders will find this to be comfortable and easily controllable. There are even cleated, foldable footpegs for more secure footing and foam grips with a padded bar protector for additional safety.
Overall, the Honda CRF50F is our recommendation as the best dirt bike for kids. It's not that expensive brand new, there are plenty of affordable options on the used market, and it comes with a number of great features for safety and learning.
Yamaha PW50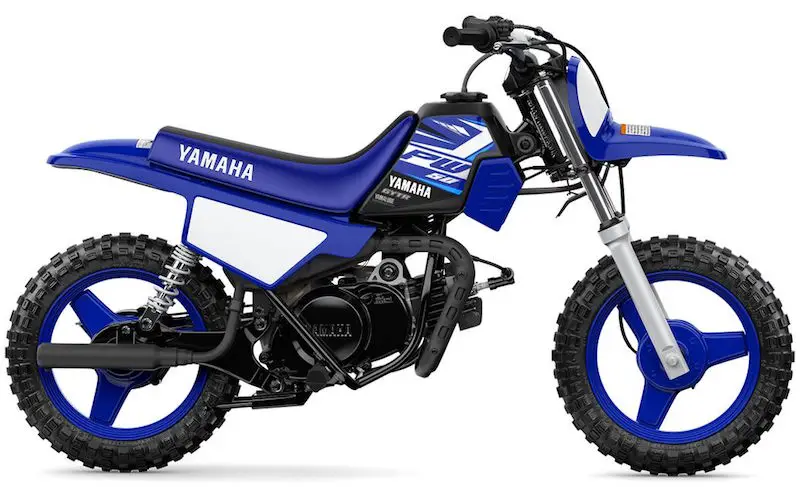 The Yamaha PW50 is another great choice for kids and younger riders just getting into riding. This is a smaller dirt bike powered by a 50cc, oil injected engine that has been torque-tuned for better efficiency.
The Yamaha PW50 was first introduced in 1981 and has made a name for itself in the mini dirt bike segment. Not much has changed with them, so you're getting a reliable bike that's loaded with safety features and easy to maintain.
The moderate level of power from the Yamaha PW50 is plenty for kids to enjoy without having too much to handle. It comes with a throttle control function that parents can use for limiting the top speed of the bike for even more safety.
At just 82-pounds, the Yamaha PW50 is one of the lightest dirt bikes for kids on the market. This makes it easier to handle and it's easier for them to lift up when it's inevitably dropped.
With a seat height of just 19-inches there is plenty of room to accommodate the smaller size of your kids. The bike itself is 49-inches long with 4.1-inches of ground clearance, wide footpegs, extra grips for safety, and thick seat cushions for better comfort.
Other safety features include a heat shield on the exhaust, with the pipe itself being set near the engine for extra ground clearance. The gearbox is automatic, which is easy for kids to use, and the handlebar layout is similar to a bicycle, which your kids might already be familiar with.
As for engine maintenance, the Yamaha PW50 has a separate two-stroke oil tank, so no need to premix the fuel and oil. There's also the shaft-drive system, which is low maintenance, and the wheels don't require constant spoke tightening or replacement.
The Yamaha PW50 is another great option when it comes to suitable dirt bikes for kids. This one is a great alternative to our top recommendation if you're looking for something lighter and a bit easier to maintain.
Suzuki DR-Z50 (Best 50cc Dirt Bike For Older Kids)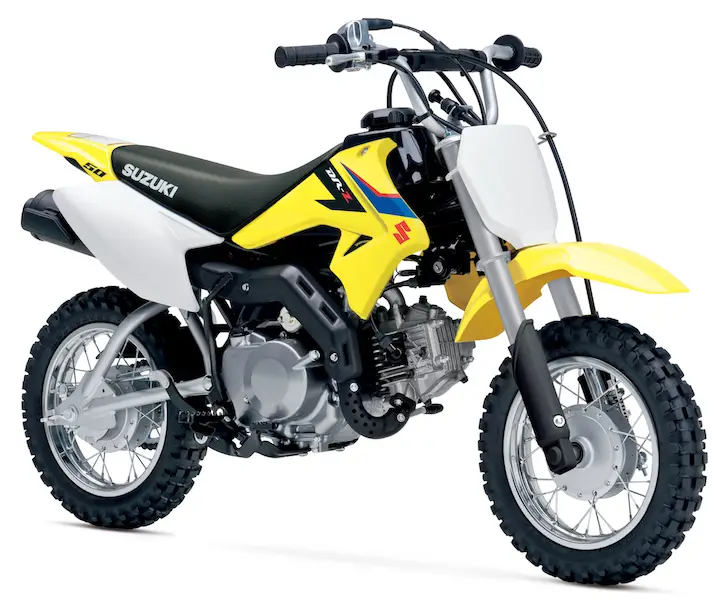 The Suzuki DR-Z50 is our recommendation for kids 7 years and older. This is a great choice for kids who are working their way in skill level and want something with a little more power and capability.
The four-stroke, 49cc engine in this bike has more than enough torque and power for thrilling your kids. With the smooth power band it's easy to control this bike and it's equipped with a throttle limiter so you can control the peak power.
The suspension is pretty good as well, being able to absorb a lot of the impacts for younger riders. This keeps them comfortably planted on the seat so they have plenty of control without the feeling of getting bounced around.
There are some great functional and safety features on the Suzuki DR-Z50 worth mentioning. For starters, this bike comes with an electric start, which is suitable for young riders that aren't yet capable of using the kick-start.
There isn't a clutch lever, instead there is a shift lever for accessing the next gear. This makes it easy for kids to run through the three-speed transmission without having to focus too much on the clutch.
Speaking of the clutch, there is a centrifugal clutch on the Suzuki DR-Z50, which is a great way to introduce young riders to use one. There's a choke knob in the center of the handlebar, which makes it easier to start the bike in the morning and on cold days.
To help accommodate most beginners, the seat is 22-inches high. With a wet weight of 119 lb and 5.3-inches of ground clearance, most older children will be fully capable to mount the bike and lift it when they happen to drop it.
Overall, the Suzuki DR-Z50 is stable, easy to maintain, and a great choice for younger kids nearing the more advanced part of their riding skill level. This would make a good first bike as well, considering the safety features that has, including training wheels.
Kawasaki KDX50 (Best Used 50cc Dirt Bike For Kids)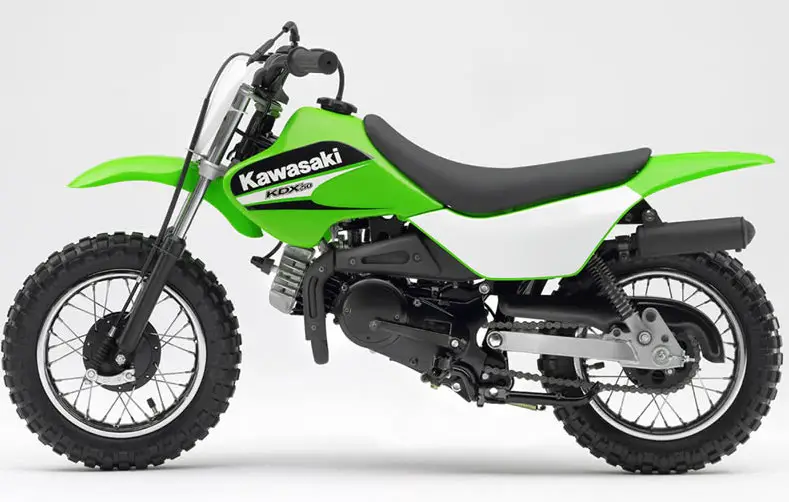 The graphic backgrounds and lime green color of the Kawasaki KDX50 make it a popular choice of dirt bike for young children. It doesn't hurt that it comes with features designed for helping young riders learn how to ride a dirt bike.
With a single cylinder, two-stroke, 49cc engine, there is a smooth powerband and enough torque for beginners learning throttle control. To keep things on the safe side, there is a power limiter that allows parents to control their kids progress.
With the height adjustable suspension, the seat can be easily adjusted by one-inch to accommodate growing riders. The automatic clutch with its single speed transmission promotes safety and gets new riders familiar with operating the bike.
Knobby tires on the Kawasaki KDX50 help with traction and deliver more confidence in off-road conditions. With drum brakes on the front and back, there is ample stopping power for kids to take advantage of.
Thanks to the digital CDI ignition, it's easy for young riders to start the bike. The kick-start is suitably sized for children, so even smaller riders will be able to get the bike running.
Another interesting feature is that this bike is equipped with a U.S. Forest Service certified spark arrestor. All of these different features along with the overall ease of use and basic maintenance requirements make the Kawasaki KDX50 another great choice for young riders.
Yamaha TTR50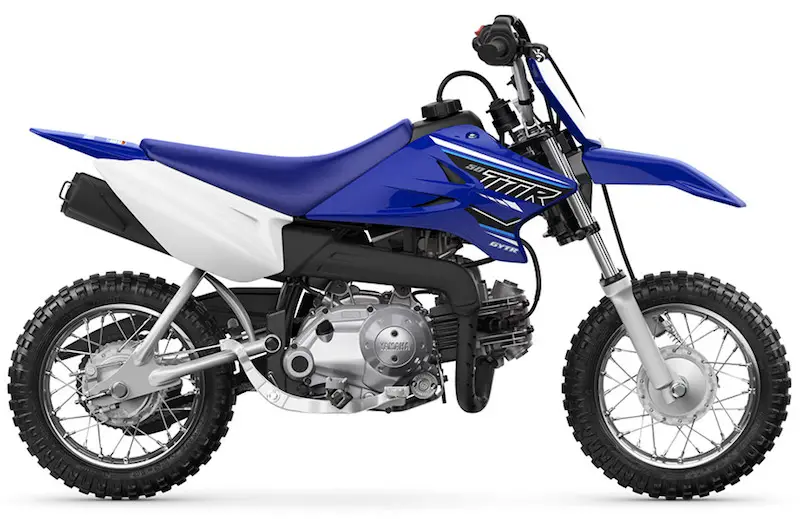 The Yamaha TTR50 is a well-built, reliable, and one of the cheapest dirt bikes for kids. It's equipped with a 49cc, air cold engine as well as a spark arrestor so kids will be able to ride it just about anywhere.
The Yamaha TTR50 uses a three-speed automatic clutch, so kids can focus on controlling the bike rather than learning how to change gears. It's possible to set a specific gear for riding conditions, with 2nd gear being the most ideal for most riding conditions.
With a top speed of 32 miles per hour, it's possible that new riders could get into a little trouble if they're not careful. Thankfully, the bike comes equipped with a throttle stop that can be used to easily lower the top speed of the bike.
The electric start feature of the Yamaha TTR50 is great to have considering most younger kids won't be able to kick-start it. It's also a lot more reliable to start compared to other bikes that use a kickstarter exclusively.
As for durability, the Yamaha TTR50 is one of the most durable dirt bikes for kids. It only requires some basic maintenance for it to run forever, even if you're just a beginner mechanic without much skill.
Overall, for the price, it's hard to go wrong with the Yamaha TTR50. This is another great dirt bike that kids will have a blast on when they're learning to ride.
How Fast Does a 50cc Dirt Bike Go?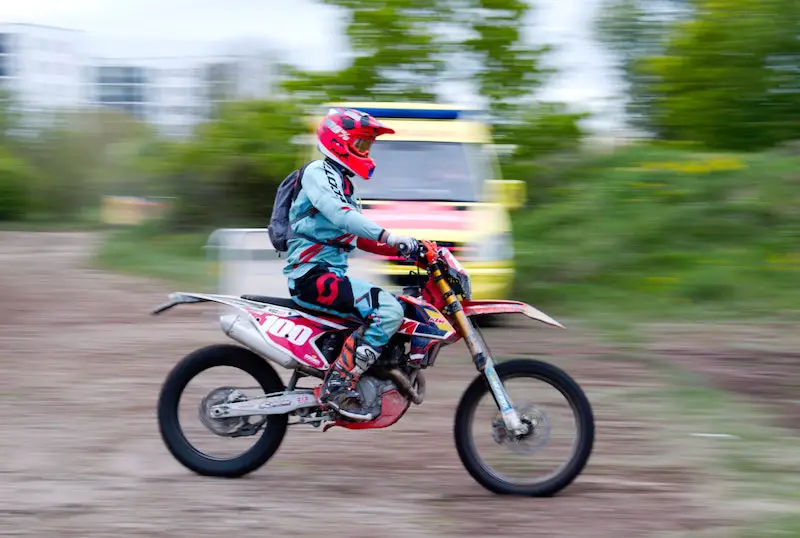 The maximum speed for most 50cc dirt bikes falls between 25 and 40 miles per hour. For example, the Honda CRF50 has a top speed of 25 miles per hour while the Suzuki DR-Z50 has a top speed of 33 miles per hour.
You might be thinking that these speeds are too fast and dangerous for younger riders. Keep in mind that most kids won't reach these maximum speeds when they're learning to ride.
All of our recommendations come with throttle limiters so it's possible to set a maximum speed when your kids are just starting out. This is a good idea as well considering higher speeds and higher gears increases the chance of falls and other accidents.
Are 50cc Dirt Bikes Safe For Kids?
There are definitely some risks to dirt biking for kids, just like with most other activities. As a parent, it's up to you to decide which activities you want to introduce to your children.
It's important to be aware of the dangers and risks involved so that you can make an informed decision. When it comes to dirt bikes, 50cc bikes are the best way to introduce your kids into dirt bike riding.
While you won't be able to protect them from every fall or mistake, you can make sure that they're wearing the right gear and learning as much as they can when they're starting out. When it comes to safety gear, they should be wearing high quality helmets, riding boots, gloves, knee pads, and other protective gear as necessary.
It's also possible to fit a 50cc dirt bike with training wheels and throttle limiters. These can act as a safety crutch while your kids get better and more confident at riding.
How to Maintain a 50cc Dirt Bike
There is very little maintenance necessary for most 50cc dirt bikes. As long as you buy a bike from a reliable brand, such as Honda, KTM, and Yamaha for example, you'll be able to run it for years without any major repairs.
Most repairs and basic dirt bike maintenance is easy to do. The details for these can usually be found online, specifically on YouTube. This information can also be found in the owner's manual or you could bring the bike to your local mechanic for basic maintenance tasks.
When it comes to dirt bike ownership, some of the maintenance you'll have to do will include:
Regularly adding gas
Changing the oil as often as recommended
Removing and cleaning the air filter periodically
Removing the starter battery at the end of the riding season and putting it on a

motorcycle battery charger

throughout the winter
Repairing any flat tires

using a motorcycle tire repair kit

should this happen.
How to Get a Good Deal on a Dirt Bike
When your kids are first starting out it's a good idea to pick up a used 50cc dirt bike for them. There really isn't any reason to buy a new one that's just going to get dropped, knocked over, and abused for the first part of ownership.
Since these bikes can run forever with minimal maintenance they generally hold their value very well. Unless you're buying a high performance bike, you can typically find used 50cc dirt bikes for between $500 and $1500.
Keep in mind that bikes from better Brands, such as Honda, KTM, and Yamaha, will command a higher used price. With that in mind, here's what you can expect to spend on a used dirt bike given its age.
Brand new – $1,000 to $1,500. That's what typically be the list rate and you'll have to pay extra fees on top, including dealership costs and taxes.
1-2 Years Old – Expect to spend around $1000 for a used dirt bike that's just a few years old.
3-5 Years Old – You can typically find bikes in this age range for between $850 up to $1000. This is the best point for buying a used 50cc dirt bike for your kids.
5-8 Years Old – Bikes this old will typically go for between $750 and $900 depending on the make, model, and condition.
8+ Years Old – For bikes this old you're looking at spending between $300 up to $850 depending on the condition.