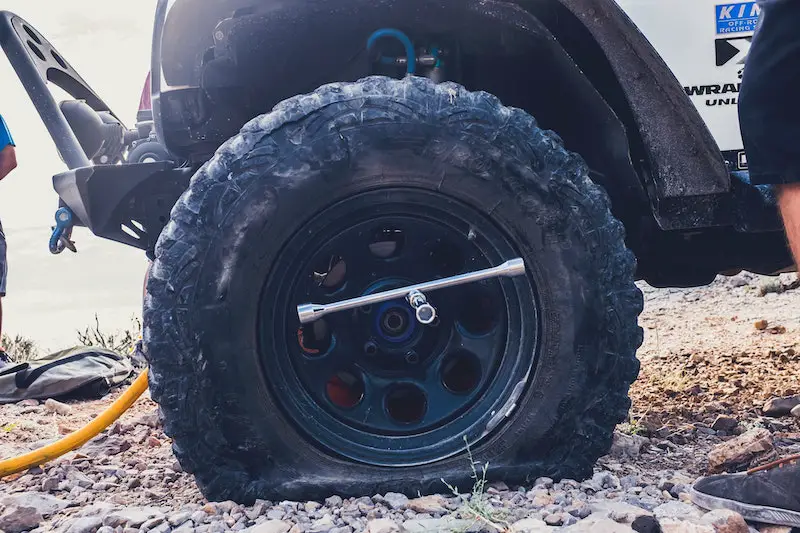 Having to rely on the gas station for topping off or filling your car tires can be a hassle. You never know if the pump will be working, if there will be a line, or even how much it's going to cost.
With your own tire inflator you can add compressed air to your tires from the comfort of your own driveway or garage. It's even possible to add air when you're away from home and find that one of the tires needs to be topped off.
The best portable tire inflators are small and reliable. They can be easily stashed in your trunk and they're ready to be used whenever you need them.
Whether it's an emergency or you're staying on top of tire maintenance, it's a good idea to have one of these inflators. In this post, let's take a look at our recommendations for the best portable tire inflator on the market so you have one whenever you need it.
Don't forget to scroll past our recommendations for an in-depth buying guide and FAQ. Otherwise, let's jump right into it!
The Best Portable Tire Inflators
VacLife Air Compressor (Best Portable Tire Inflator Overall)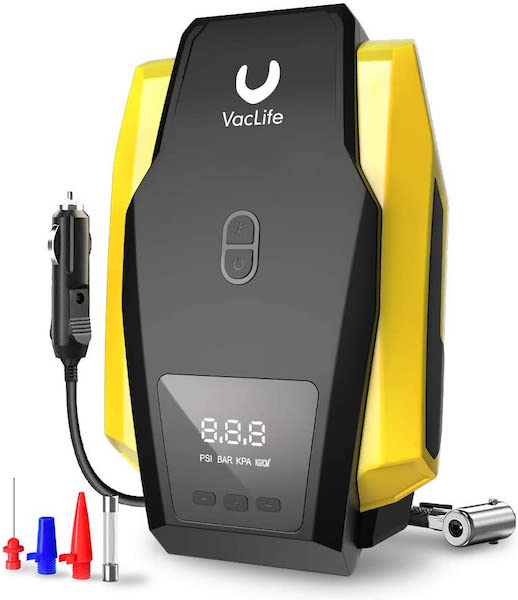 The VacLife Air Compressor is our top recommendation as the best portable tire inflator for most people. This one is easy to use, competitively priced, and comes with some great features for functionality and convenience.
The VacLife Air Compressor uses the 12-volt power outlet in the vehicle power supply. Once connected, it's as easy as connecting the hose to the tire you want to inflate.
On the front of the device is a power button, which starts and stops the compressor. There's also a button for the built-in LED light so you can use it in the dark or low-light conditions for getting the job done.
This electric air pump comes with a nearly 12-foot long power cable, making it easy to reach both the front and rear tire. There's no need to unplug the compressor and move it around each time you need to switch tires.
The feature that makes this device so unique is the preset tire pressure gauge. Once the tire reaches the preset feature, the compressor will automatically shut off so it's easy and convenient to use.
As for its portability, this electric compressor measures just 9.4-inches by 5.9-inches. This makes it easy to store in your trunk or garage without it taking up too much space.
Overall, the VacLife Air Compressor is our top recommendation as the best portable tire inflator for most people. It's easy to use, well-reviewed, competitively priced, and comes with a number of practical features for keeping your tires topped off.
Avid Power Tire Inflator (Best Cordless Tire Inflator)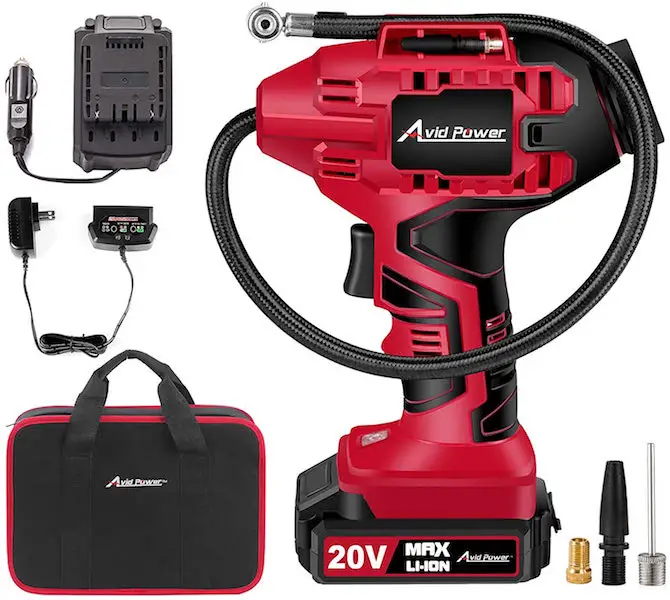 The Avid Power Tire Inflator is our recommendation as the best cordless air compressor for tires. Thanks to the cordless design and rechargeable battery, this device is easy to use and convenient to keep in your truck or garage.
When it comes to features, the Avid Power Tire Inflator is an automatic and cordless tire inflator that makes it fast and easy to inflate the tires on any vehicle. Not only does it come with a 20-volt lithium ion battery, it can also be plugged into the 12-volt outlet for even more functionality.
To make it easy to inflate the tires this device comes with a preset value feature as well as an automatic stop function. This means the air compressor will automatically shut off when the desired pressure is reached, so no need to worry about low tire pressure or over-inflating.
When the battery is fully charged, it can be used to inflate 4 car tires at about 3-minutes each, on average. It would obviously take even less time if you're adding just a little bit of air.
With a rubber handle on the front it's easy to handle and offers plenty of grip for getting it into the right position. There's even an LED light that's useful for finding the valve stem in dark and low light conditions.
Other features worth mentioning include the LCD display, which shows you the PSI and lets you choose a preset pressure. There's a USB output as well, so you can charge your devices using the rechargeable battery if you're in a pinch.
Overall, it's hard to go wrong with the Avid Power Tire Inflator if you're looking for the best cordless tire inflator. This one comes loaded with practical and convenient features with everything fitting into a small and portable travel carrying case.
Black+Decker Cordless Tire Inflator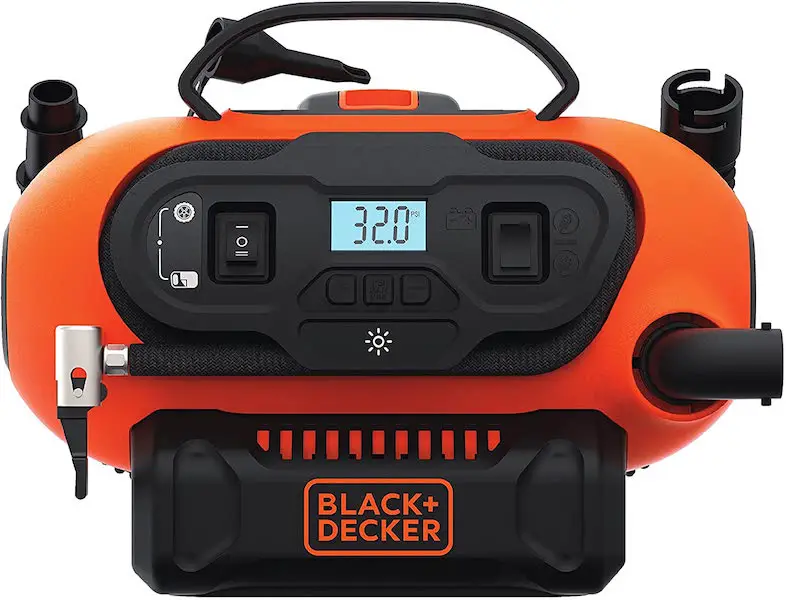 The Black+Decker Cordless Tire Inflator is another great option when it comes to cordless air compressors for car tires. Black+Decker is a well-known brand known for their affordable and durable automotive accessories.
This is a multi-purpose inflator that can be used for your vehicle tires as well as for filling up bicycle tires, air mattresses, and other components that might need compressed air. It has both high pressure and high volume output to make adding air relatively easy.
As a cordless tire inflator, this device needs to be plugged in at home so it can be fully charged. It also can use the 12-volt outlet as a power source for charging so you can easily charge it from your vehicle.
On the front of the compressor is a digital gauge, which lets you view the current pressure and set a target pressure. After setting the target pressure, the device will automatically turn off once the desired pressure is reached.
The front also features a switch for changing between inflating car tires or something else. This is a great device to leave in your trunk or at home for keeping on top of tire pressure, air mattresses, bicycle tires, and even sports balls.
Overall, the Black+Decker Cordless Tire Inflator is another great choice as a versatile air compressor. It's competitively priced, well-reviewed, and just one more product we'd happily recommend from Black+Decker.
Kensun AC/DC Tire Inflator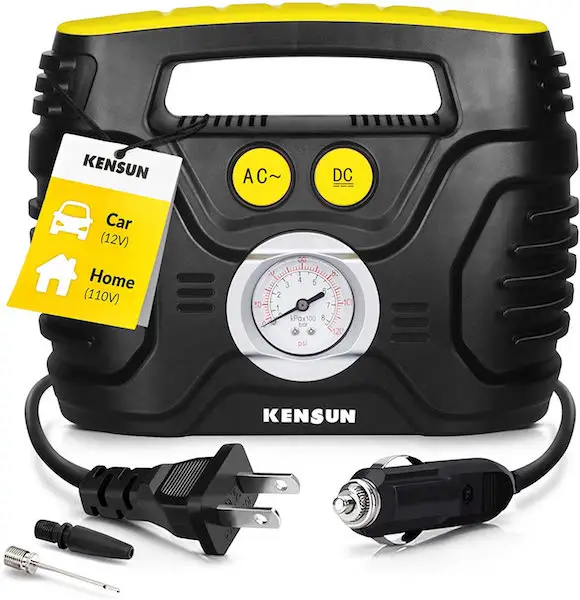 The Kensun AC/DC Tire Inflator is a simple, basic air compressor that's suitable for inflating tires on any vehicle. It's small, portable, lightweight, and just the right device for stashing in your trunk for whenever you need it.
When it comes to fast inflation, it's hard to beat this mighty little device. It's equipped with dual sold metal motors to make the tire inflation super fast and easy.
For power, the Kensun AC/DC Tire Inflator can switch between both AC and DC as a power supply. It can be plugged into the 12-volt outlet in your vehicle or plugged directly into a home outlet to get it up and running and use it wherever you are.
On the front is a small, analog pressure gauge for easily checking the PSI of the tire. This little gauge lights up as well, so you can easily read it, even in dark or low-light conditions.
The screw on air hose allows you to get a tight connection so there's no air loss or slipping when you're trying to add air. There are even some accessory nozzles for inflating a tire as well as for sports balls, bicycle tires, and air mattresses.
To make it even more convenient the device comes with a carrying bag that protects the unit from dirt and debris while it's being stored. There's a handle on the top of this compact device as well, so it's easy to handle or move around when you're using it.
Overall, the Kensun AC/DC Tire Inflator is a small and highly portable air compressor. For basic uses, like regularly adding air to your tires, this is a great choice.
GSPSCN Silver Tire Inflator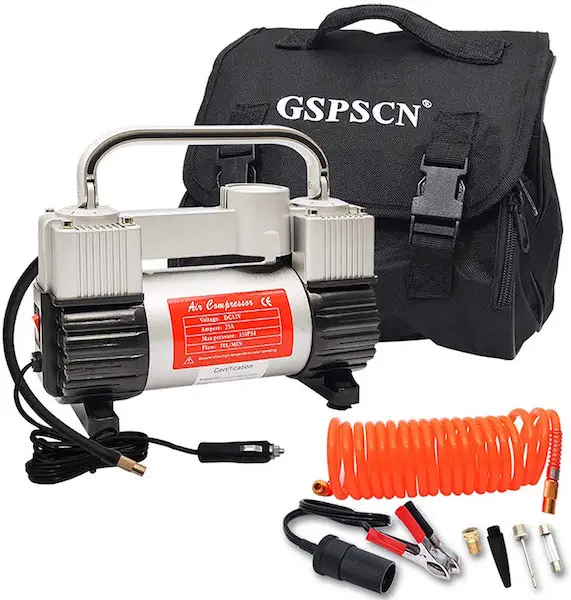 The GSPSCN Silver Tire Inflator is what we'd recommend if you're looking for a portable heavy duty air compressor. It comes equipped with professional-grade dual-cylinders that will quickly inflate a standard vehicle tire in just 90 seconds.
This is a 12-volt tire inflator designed to use the outlet in your vehicle as a power source. With the stretched length of both the power cord and air hose you'll have plenty of room for filling the tires while it's plugged in.
On the bottom of the compressor are sturdy rubber feet. This helps to keep it in place while it's running so it's not rattling around on the pavement.
There is an analog pressure dial on the top of the device. This is more accurate than a digital display and lets you know the exact pressure of the tire you're filling.
Everything comes in a small, portable package that can easily be stored in the trunk or garage. There's even a convenient carrying case that protects the compressor from dirt and bumps when you're not using it.
Overall, the GSPSCN Silver Tire Inflator is a powerful and portable device that's great for quickly filling up vehicle tires. This is a great choice, especially if you have a bigger vehicle, such as a truck, and you want to rely on quick refills and top-ups.
Why You Need a Portable Tire Inflator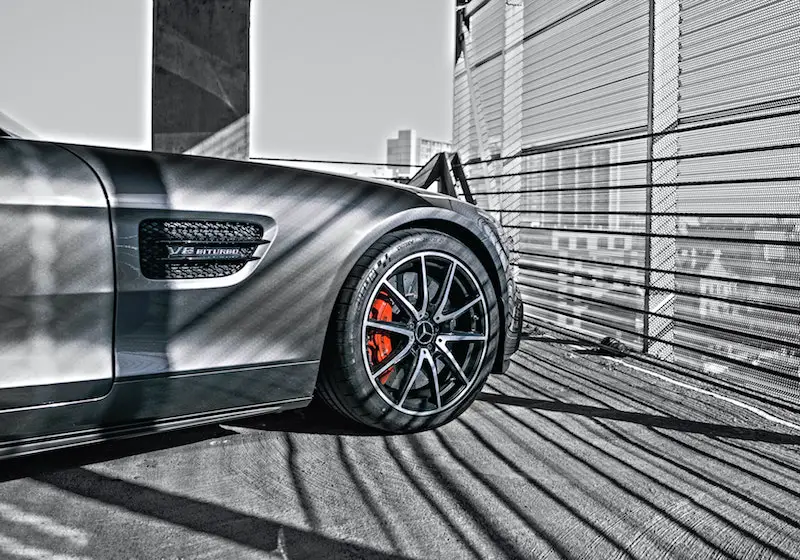 Quickly Fill Your Tires
Using a portable car tire inflator is the easiest and quickest way to add air to your vehicle's tires. It doesn't take long and you won't have to go to the gas station for adding air.
No More Gas Station Runs
Filling your tires sure beats having to drive across town to use the air pump at the gas station. This is adding unnecessary wear and tear to the vehicle as well.
Another problem with heading to the gas station is that you never know if the pumps are going to be working. They also cost money, which you would save by doing it on your own at home.
Avoid the Dealership
Most new vehicles come with a built-in tire-pressure monitoring system. This lets you know on the dashboard when the air pressure in the tires is low.
Many people choose to head to their dealership to get this problem rectified. With your own tire inflator you can add air on your own and not have to visit the dealership for such a simple fix.
Increase the Lifespan of Your Tires
There are a number of problems that can arise by overinflating your tires or leaving them underinflated. They might burst or they could wear more quickly than normal.
Checking the tire pressure regularly is the best way to get the most life out of your tires. You'll need to do it manually, unless your vehicle comes with a TPMS, and you can easily fill them at home.
Types of Portable Tire Inflators
Cordless
The best cordless tire inflator will usually be powered by a lithium-ion battery. They're easy to use and portable, making them ideal to leave in the trunk.
The cordless inflators are handheld, so they're easy to use, and provide plenty of power for inflating a tire. Don't forget to keep the battery charged or you won't be able to use it when it's necessary.
12-Volt Plug
You can use the best portable car tire inflators and best portable truck tire inflators wherever you are. Having one you can plug into the 12-volt outlet in your vehicle is convenient and a great option, especially for emergencies.
With one of these you'll always be able to use it for inflating tires as long as the vehicle is running. It's even more convenient if the vehicle has more than 12-volt outlet that you can easily access.
Direct Power
This type of tire inflator is designed to connect directly to the car battery so it can provide maximum power. There's no need to keep it charged or plug it into the 12-volt socket so the vehicle doesn't need to be running.
The problem with this type of inflator is that it can run the car battery down in around 20 minutes or less. This design feature is the main reason why we don't recommend this style.
How Much Do Portable Tire Inflators Cost?
$25 to $40
In this price range you can find some good options for high-quality, small, and portable tire inflators. It's even better if you can find one on sale for this price point.
When it comes to these devices, there's no need to spend a lot of money to find one that can efficiently inflate the tires on your vehicle. While there are plenty of options that are loaded with extra features, a basic car tire inflator is all you need.
$40 to $100
The portable tire inflators in this range will come with more features and will work faster at filling up a tire. Some of these features would include a built-in flashing, USB port, and other features that most people would find unnecessary.
Double check the reviews and product description to see exactly what you get when you're investing this kind of money. Despite the higher price tag, there are some amazing options available that will offer years of regular use.
Over $100
In this price range you're looking at heavy duty and professional level tire inflators. Most drivers won't need to spend this much on one of these devices.
The inflators in this price range are typically designed for bigger vehicles, RVs, and trailers. If you're regularly inflating the tires on these different vehicles, then you might need to invest in a professional level device.
Key Features
Digital Gauges
There are typically digital gauges on the best digital tire inflators. This is a small screen that displays the inflated pressure of the tire.
Newer, higher-end models will show us information on an easy to read LCD screen. Older models will display the information with a dial and needle gauge, which isn't as easy to read.
The benefit of a digital display is that it's more precise and let's you fill the tire more accurately. They also make it possible to read the pressure in low light, if the screen happens to be backlit.
Automatic Shutoff
Another great feature that some inflators come with is an automatic shut off. This makes it easy to fill the tires to your desired PSI, with the device turning off once the desired pressure is reached.
The benefit to this feature is that the inflator will never over inflate the tire. You're able to walk away while it's adding air and not worry about the tire getting over-inflated.
Inflation Speed
While this isn't as important of a feature, many people want the tire to be filled with air as quickly as possible. It's the heavy duty models that connect directly to the car battery that can inflate the tires in just a few minutes.
The main drawback is that they can run your vehicle's battery down if you're not careful. On the other hand, the smaller devices that plug in to the 12-volt outlet only take a few minutes longer and are suitable for most people.
Portability
Obviously, when you're searching for the best handheld air compressor for tires, you probably want one that is portable and lightweight. Most of them will weigh between two and six pounds, with the smaller ones coming in at less than one pound.
Some will come with handles, making them more portable and easy to carry, while others will feature a basic, streamlined box design. Consider the overall weight and carrying capacity of the device along with how often you're planning to use it.
Extra Nozzle Attachments
There are multiple purposes the best tire air pump can serve. Those that come with multiple attachments can be useful for your vehicle as well as for bicycle tires, sports equipment, and for other uses.
Having this better functionality and versatility is a benefit over a basic, standard inflator. You'll need to determine how many extra features you want when you're searching for one of these devices.
Hose & Cord Length
The longer the air hose and cord are, the easier it will be to reach all four tires on the vehicle. Look for hoses that are between 18-26 inches long.
Having a power cord that is at least 8-feet long is a good idea as well. This way you can get on the tires done at the same time without having to unplug and move the inflator around.
Cord Storage
It's easy to keep the cords and hoes organized with a device that comes with a storage cavity. This cavity allows the cord and hose to be coiled up inside a small compartment.
Some of the lower-priced models don't come with this feature so you'll have to come up with your own idea. Otherwise, it's a great feature to have for organization and for protecting the cord and hose from getting damaged.
Built-in Lights
Having this feature is helpful if you ever have to inflate the tires at night or in the dark. Using a tire inflator with a built-in flashlight will illuminate the area so you'll know exactly what to do.
The light can also help to illuminate passing drivers that you're stranded and they will hopefully give you extra space. Look for this feature if you live in a climate with long, dark winters or you're doing a lot of night driving.
Noise
One main concern with portable inflators is that they're surprisingly loud. The larger, less portable ones are even louder.
It can be distracting when it's on the ground rattling away while the tire is being filled. Check the reviews to see what people have to say about the specific model you're interested in.
Duty Cycle
The last feature worth mentioning is the duty cycle. This is the amount of time an inflator needs so it can cool down before being used again.
A short duty cycle is preferable, since they don't need as much time to cool off. Look for inflators with a 50-percent duty cycle because they won't require a cooling down period.
Helpful Tips
Make an effort to store the inflator in a dry environment. These are electrical devices that you don't want getting wet. The moisture can damage the electronic components and it could cause rust to start forming.
Watch the gauges when you're filling the tires. Only the best portable tire inflator will come with an automatic shutoff feature. If not, you'll need to shut the air off once the desired PSI has been reached.
Try not to under-inflate the tire. This isn't great for the longevity of the tires and can lead to dry rot on the tire sidewall.
The damage from cracks and rot can eventually lead to catastrophic tire failure. This is a problem you don't ever want to deal with. Another issue with under-inflated tires is that they use more energy. This can cause increased fuel consumption when compared to properly inflated tires.
A tire without enough air will also lead to handling issues. This could make it more difficult to drive and could potentially cause an accident.
It's a good idea to check your tire pressure at least once per month. Over time, tires slowly lose air for a number of different reasons.
This can be from normal seepage or a drop in air temperature while the seasons change. You may not even realize that they're slowly losing air so it's a

good idea to check them regularly

.
One more thing to keep in mind is that you should never use a portable tire inflator some more than 10 to 15 minutes at a time. It's easier for them to overheat if they're used this long and you could permanently damage the device. Let them cool down for between 15 and 30 minutes after each use.
Frequently Asked Questions
What Does PSI Stand For?
PSI stands for pounds per square inch. This is the rating system used to measure tire pressure.
For example, 36 PSI would be 36 pounds per square inch. There is a PSI gauge on every air compressor so you can easily fill your tires to the right amount.
How Do You Determine Maximum PSI?
This information can usually be found on the sidewall of the tire or inside the drivers door of the vehicle. Look for a sticker near the bottom of the door panel where you'll find information on how much air to add to your tires.
You can find this information on the side of the tire as well, though it can be hard to see if the tire is dirty or it's dark outside. Alternatively, run a quick Google search to find the exact measurements as well.
How Do You Check Tire Air Pressure?
Some tire inflators come with a built-in pressure gauge that can be used to check tire pressure. Otherwise, you'll need to use a stand-alone tire pressure gauge to get an accurate reading.
Start by removing the valve stem cap and attaching the gauge to the valve stem. After getting the reading from the pressure gauge reinstall the valve stem caps.
How Do You Inflate Tires With a Portable Tire Inflator?
It's a good idea to start by checking YouTube for in-depth directions on how to use the inflator. Alternatively, the device should come with detailed instructions on how to properly fill your tires up with air.
Start by removing the valve stem cap and connecting the compressor hose on to the valve stem. Check the gauge, fill the tires to the recommended pressure, reinstall the valve stem caps, and you're good to go.