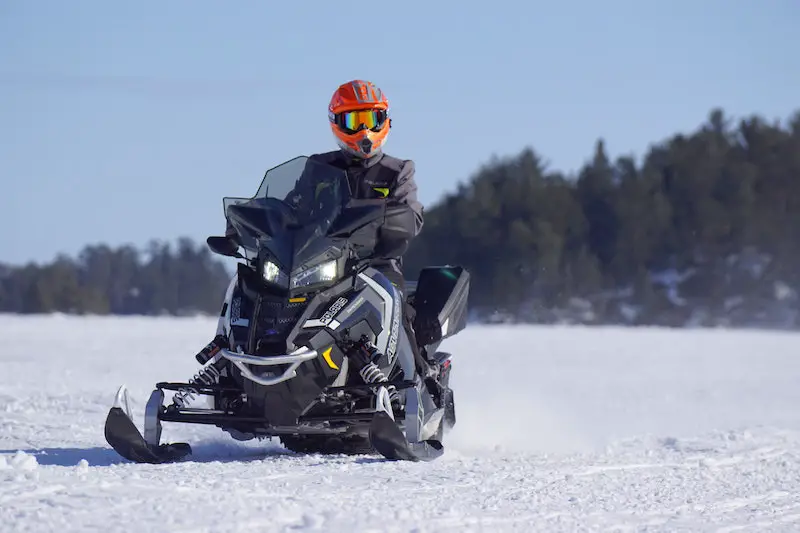 When you're out riding on a snowmobile it's important to protect your face, and especially your eyes. While a snowmobile helmet does a pretty good job, wearing snowmobile goggles completes the safety gear you should be wearing.
These goggles for snowmobiling are designed to protect your eyes while being comfortable to wear in winter sledding conditions. Snow, and moisture won't get into your eyes and you'll be able to clearly see the road and trails ahead when you're out riding.
In this post, we put together a list of the best snowmobile goggles to choose from. Don't forget to scroll past our recommendations for an in-depth buying guide and FAQ.
You should also take a look at our other snowmobile posts, including our content on the best snowmobile boots and the best snowmobile gloves. Otherwise, let's jump right into it!
The Best Snowmobile Goggles (Reviews) in 2021
ZIONOR X4 PRO Snowmobile Goggles (Best Snowmobile Goggles Overall)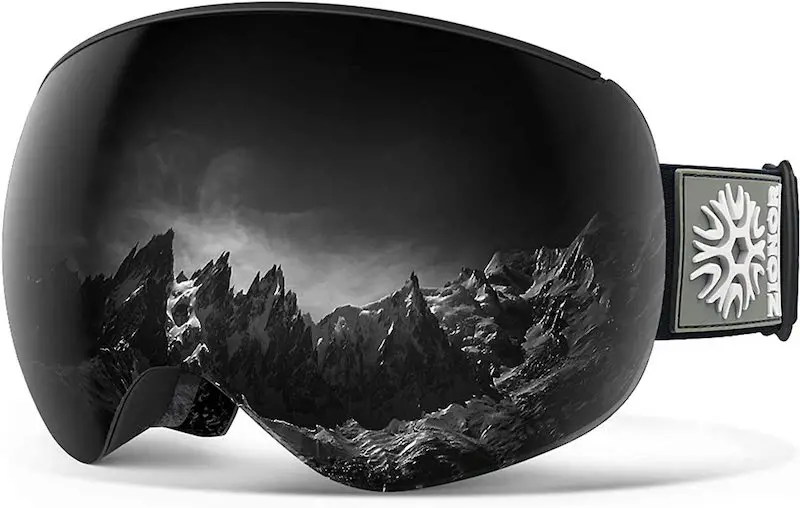 The ZIONOR X4 PRO Snowmobile Goggles are our top recommendation as the best snowmobile goggles for most people. These goggles feature a high-quality and durable design, which is perfect for protecting your eyes and face when you're out on the snowmobile.
The face fitting is made from a comfortable triple-layer foam material. It's soft on the face and comfortable enough for all-day use without any pressure points or rough areas.
There's a built-in magnet lens changing system that makes it easy to swap out or clean the lenses. The included last offers 100% UV400 protection for protecting your eyes and giving you better visibility out on the snow.
To help with fogging, these come with two-way venting and anti-fog for a clear and clean vision. There's even an anti-wind feature, which helps to keep your face warm in windy conditions and when you're riding at high speeds.
The adjustable, extra-long head strap is compatible with various helmet and head sizes. Even if you have a bigger head or you're using different helmets, you'll still be able to use these goggles.
Overall, the ZIONOR X4 PRO Snowmobile Goggles are our top recommendation as the best goggles for snowmobiling. They're well-reviewed, affordable, and come with some great features for making you comfortable out on the trails.
6fiftyfive Snowmobile Goggles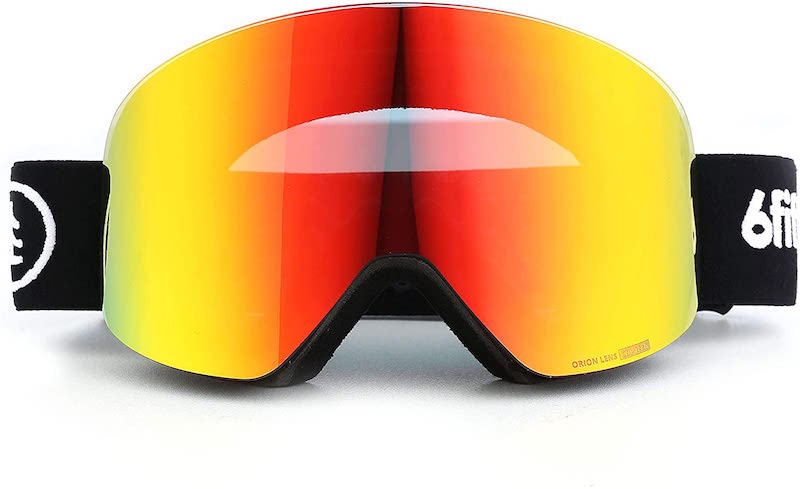 The 6fiftyfive Snowmobile Goggles are another great choice to take with you out on the snowmobile. These are comfortable to wear and also come with plenty of great features for providing an enjoyable and safe riding experience.
Starting with the lenses, these are equipped with interchangeable magnetic lenses. It's easy to change the lens in just 10 seconds or less, even when you're wearing gloves.
To help with fogging and ventilation, these goggles are equipped with extra venting. On the inside are 3-layers of hot-pressing cotton foam, making them comfortable to wear for all day riding.
The lenses even feature a multi-layer coating that offers 100% UV400 protection. This coating also gives high contrast through the lens, which gives you better clarity in all riding conditions.
It's also worth mentioning that these goggles are nearly indestructible and built to last. The frame is made from a durable and flexible thermoplastic urethane with shatterproof lenses made from ultra strong polycarbonate.
The 6fiftyfive Snowmobile Goggles are another great choice if you're looking for a pair of long lasting, versatile, and durable goggles for snowmobiling. These are built to last and will provide a number of seasons of comfortable riding.
Extra Mile Snowmobile Goggles (Best Cheap Snowmobile Goggles)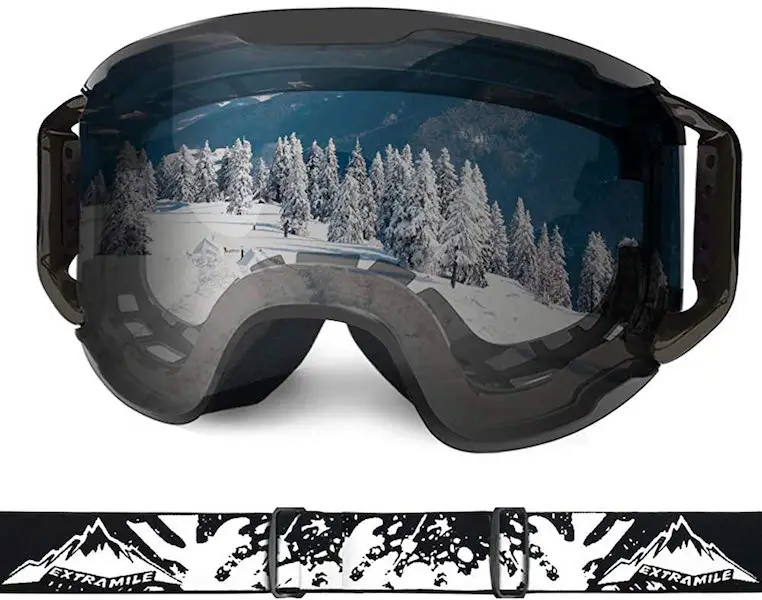 The Extra Mile Snowmobile Goggles are our recommendation as the best cheap snowmobile goggles. Despite the lower price, these are still ideal for taking with you on your next snowmobile adventure, especially if you're on a budget.
The Extra Mile Snowmobile Goggles come with a high-definition, double-layer lens. This lens helps to decrease light refraction and protects your eyes thanks to the 100% UV400 protection.
When it comes to ventilation and fog, these have a built-in insulation layer. This layer ensures the air inside the lens is warm and prevents fog from building up.
The inner layer is made from a comfortable and firm three-layers of high-elastic density sponge. For even more comfort, the outer layer is made from a soft, woolen fabric, which also helps with ventilation and moisture wicking.
These are also OTG, or Over the Glasses snowmobile goggles. This makes them possible to wear with standard eyeglasses so you're still able to see while you're the trail.
On the inside of the adjustable head strap is anti-slip rubber, which keeps the goggles in place on your helmet. Unfortunately, for the price, you're not getting interchangeable lenses and will have to settle for the fixed lens design.
Overall, if you're on a tight budget, the Extra Mile Snowmobile Goggles are a great choice. Despite the lower price, these have some great reviews and will last you at least a season of regular snowmobile riding.
How to Choose the Best Snowmobile Goggles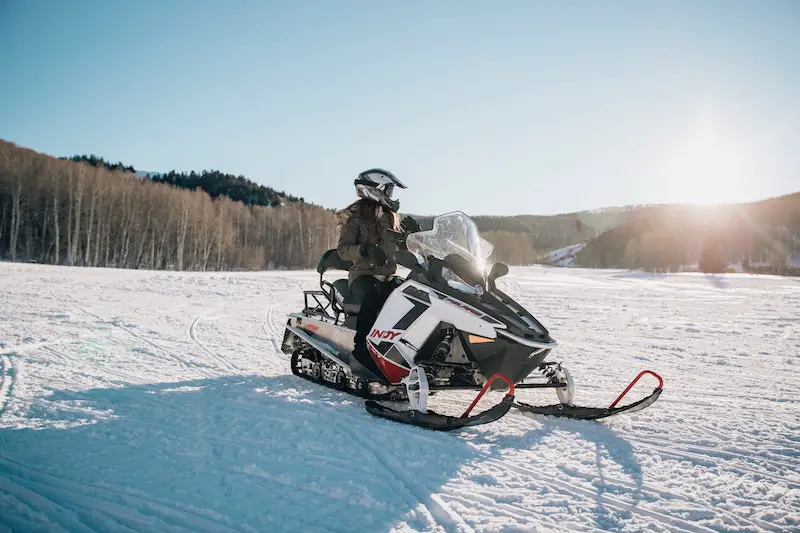 With the different options for modern snowmobile goggles available to choose from, it's important to understand all of the different features. This makes you the most informed when you're shopping for the right pair to wear on your next snowmobile adventure.
Let's take an in-depth look at the key features to look at when you're shopping for snowmobile goggles.
Foam and Padding
The first thing to consider is the foam and padding on the inside of any snowmobile goggles you're interested in. It's a good idea to look for options with flexible frames and 3-layers of foam padding.
The problem with cheap snowmobile goggles is that they aren't ergonomically designed. This makes them uncomfortable, and sometimes painful, to wear for extended periods of time.
Having a minimum of 3-layers of multi-layer foam helps to provide support. The softness is more comfortable and they're designed to contour to the shape of your face.
Check to see that the outermost layer is a soft, micro fleece material. This material helps to better manage any moisture, if you're sweating, and is more comfortable to wear for all day riding.
One more helpful tip worth mentioning is that you should keep the goggles out of sunlight when they're being stored. Harmful UV rays from the sun will start to break down the foam and build materials of the frames.
Frames
Speaking of the frames, there are many different types of frames available to choose from. With so many options out there, it's important to consider these key factors.
For starters, look for frames made from soft and flexible materials. These are more durable for regular use and stiff goggles frames should be avoided, as they're uncomfortable.
Next, look for snowmobile goggles with interchangeable lenses. This makes it possible to change the lens depending on the time of day you're riding and the specific conditions you're riding in.
It doesn't hurt to look at YouTube videos or read reviews about specific models as well. This will make it easier for you to find helpful information about any of the goggles you're interested in.
Straps
Without fitting properly any snowmobile goggles you're using won't be comfortable to wear and they won't offer enough protection. Thankfully, you can find information on sizing in the product description on most product pages.
Alternatively, look for goggles that come with adjustable straps. This would make it easy to get them to fit on your snowmobile helmet, regardless of its size.
The straps should come with a grippy material on the inside to help them stay in place. Without this material they'll be sliding around, especially once they become damp.
Lenses
We already mentioned looking for snowmobile goggles with interchangeable lenses. For this feature to be effective there also needs to be options to choose from when it comes to lenses for snowmobile goggles.
There are photochromic lenses available, which get dark when they are exposed to bright lights. There's also polarized lenses that help to reduce glare and are better when you're riding in the snow.
Frequently Asked Questions
Why Are My Snowmobile Goggles Fogging Up?
The main reason your goggles are fogging up is from the temperature difference from the outside and the lens against your face. Another reason is that there may not be enough ventilation for getting airflow across the lens.
This is a common problem, especially when you're not moving or riding in conditions slightly above the freezing mark. Thankfully, there are a number of remedies for this so you can enjoy a better riding experience.
If you're wearing a snowmobile balaclava, make an effort to move it out of the way when you're not riding fast. This way your breath won't cause it to fog up as much.
How to Prevent Snowmobile Goggles From Fogging?
There are a few different things you can try to stop your snowmobile goggles from fogging up. If it's mostly happening when you stop moving, then you shouldn't worry about it, as this is the most common reason why they are fogging.
For some other remedies, always make sure that the inside of the lenses are clean. Start the day off cleaning them thoroughly using a mixture of warm water and rubbing alcohol.
Regularly check the ventilation vents for any snow buildup. Remove the snow if it's blocking the vents.
It's also a good idea to never touch the inside of the goggles. Anything left behind, such as grease from your fingertips, makes it easier for moisture to cling to the inside.
Can You Use Snowmobile Goggles For Skiing?
Yes, it's possible to use snowmobile goggles for skiing. Many of the features are the same and they will offer the same protection for your face and eyes.
On the other hand, if you're doing a lot of skiing, it might be worth it to invest in a quality pair of dedicated ski goggles. These do come with some different features that can improve your skiing experience.