Those of you riding a Harley Davidson already know what I'm about to say. Harley's are a different breed of motorcycle when compared to all the rest.
There's the culture behind the name as well as the high quality motorcycles you can rely on for years of regular riding. As long as you got all of the necessary motorcycle maintenance done, you shouldn't run into any issues with your HD bike.
One part of this maintenance is regularly changing the spark plugs. For how often to change the spark plugs on your Harley, refer to your owner's manual.
In this post, we'll be taking a look at the best spark plugs for Harley-Davidson motorcycles. This way you can buy the right one for your bike without having to spend hours doing your own research or relying on what a stranger may have recommended.
Don't forget to scroll past our recommendations for an in-depth buying guide and answers to some questions you might have. Otherwise, let's jump right into it!
The Best Spark Plugs For a Harley Davidson
NGK Iridium IX Spark Plugs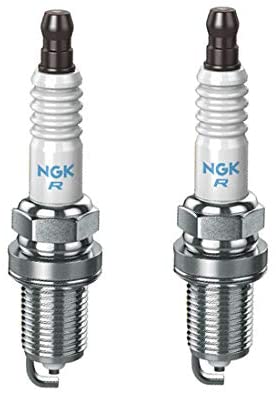 The NGK Iridium IX Spark Plugs are our recommendation as the best Harley Davidson spark plugs for most riders. These are specifically designed for twin-cam bikes and work well in most Harley's.
The NGK Iridium IX Spark Plugs are made from iridium, the benefits of which we've thoroughly covered further down in this post. They are pre-gapped, so they're ready to be used immediately after being installed.
Once they're installed these can offer a gain of up to 3 horsepower. They also help to reduce the requirement of the voltage and can extend the lifespan of the ignition system.
To help with anti corrosion quality, these are equipped with a new metal shell plating. This prevents them from rusting once they're installed in the bike.
Overall, it's hard to go wrong with the NGK Iridium IX Spark Plugs if you're looking to replace the current ones on your Harley. These are affordable, well-reviewed, and one of the best options for your bike.
E3 Spark Plugs


The E3 Spark Plugs are another great option to use in your Harley. These are the best option and really the only alternative to the NGK iridium plugs we recommended initially.
The E3 Spark Plugs come pre-gapped so they're ready to install right out of the box. This is available in a one pack and you'll want to buy two or more depending on the Harley that you have.
The unique open architecture of the E3 electrode increases the resistance to fouling, lowers the self-cleaning temperature of the spark plug, and allows cold or heat rages to be used. This design has increased engine power output, reduced gasoline consumption, and decreased harmful emissions.
All of these unique design features help to extend the lifespan of the spark plug. However, it's still a good idea to replace them as often as recommended in the owner's manual.
Overall, the E3 Spark Plugs are another great choice to use in your Harley-Davidson. They have great reviews, they're ready to use, and the design features make them optimal for improving the performance of your engine.
Lexivon Swivel Magnetic Spark Plug Socket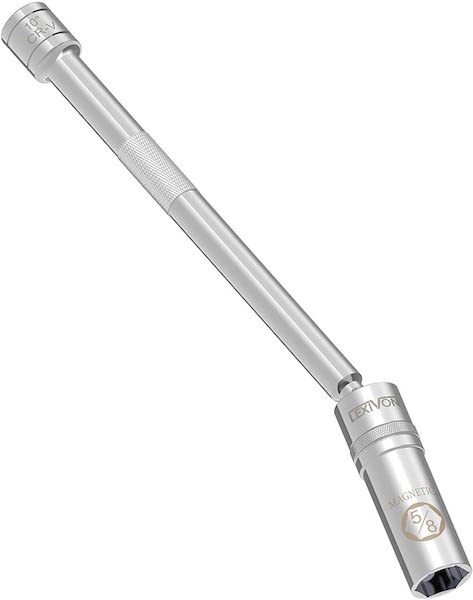 Along with the spark plugs themselves, you're going to need a spark plug socket tool for removing and reinstalling the plugs. In this case, we would recommend the Lexivon Swivel Magnetic Spark Plug Socket if you don't already have one of your own.
This tool makes it easy to remove and install spark plugs with a much lower risk of damaging them. The 360-degree swivel action gives you the freedom for accessing the confined spaces on your bike.
There is a convenient knurled grip on the shaft and socket, which provides a non-slip surface for the low torque applications you're doing. The tool itself has a low profile design so it can be smoothly inserted into the plug compartment.
Made from a drop-forged, heat-treated chrome vanadium alloy steel, this tool offers superior turning power without needing to worry about it bending or breaking. Thanks to the chrome plating mirror finish, it's resistant to both rust and corrosion while providing a fully polished, professional look.
Overall, the Lexivon Swivel Magnetic Spark Plug Socket is a must-have if you'll be removing and installing your own Harley Davidson spark plugs. It makes the job a lot easier and increases the likelihood of success for doing your own maintenance.
Helpful Tips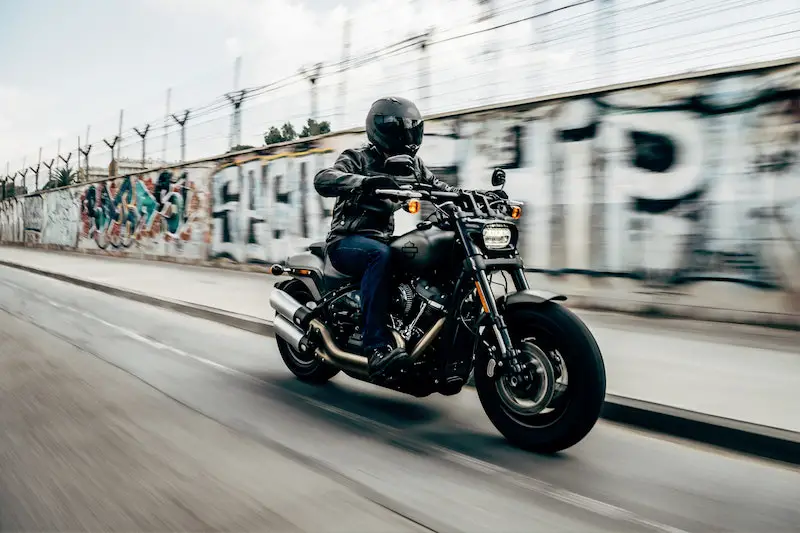 When you're buying a used Harley Davidson, ask the seller when they last changed the spark plug. If they don't remember or they can't give you a straight answer, it would be a good idea to change them immediately.
For changing the plug, check the compatibility before installing it. The spark plug needs to be compatible with the make, model, and engine of your motorbike. Some people like to check the fuel compatibility as well.
With a new Harley Davidson spark plug installed you should notice better engine performance, power efficiency, faster ignition time, and improved fuel economy.
The Benefit of Iridium Spark Plugs
Better Acceleration
Are you having problems with accelerating on your Harley Davidson? Then you'll want to consider switching to iridium spark plugs.
By design, these can help improve your acceleration. They have a quicker response to strangulate operation and you're bound to feel the difference compared to other plugs.
More Engine Power
Using iridium spark plugs can help improve engine performance by giving the engine more power. This makes it easier and safer for you on the road, especially in scenarios where having more power can help you out.
From climbing steep hills to long distance touring, it's hard to go wrong with more power. This just another benefit of using iridium spark plugs for a Harley Davidson bike.
Better Starting and Combustion Characteristics
The ultra-fine center electrode found on iridium plugs improves the starting characteristics of the engine and ensures fast combustion. It also helps make the motorcycle stable at low speeds, due to the little dispersion.
Improved Fuel Economy
One more benefit to using iridium plugs is the better fuel economy. With a high-grade, properly gapped plug there will be proper ignition.
This gives the fuel time to burn efficiently. The result is better fuel economy when you're riding and less of a detrimental impact on the environment.
Harley Davidson Spark Plugs FAQ
How Often Should You Change Spark Plugs on a Harley Davidson?
You probably don't think about changing the spark plugs very often when you're out riding. This isn't something that comes up in the maintenance schedule as regularly as other components to check or change.
Despite that, it's not a good idea to ignore the spark plugs. All of them need replacement at some point, regardless of the Harley Davidson model you're riding.
To enjoy the most performance from your bike, installing and maintaining the spark plugs is key. Many of you might be wondering – how often should you replace the spark plug on a Harley?
It's a good idea to start by checking the recommendation in the owner's manual. This information can also be found in the service manual, depending on what you're using.
With modern bikes, it's a good idea to change the plugs approximately every 15,000 miles. If you notice any issues with the bike, such as a loss or power or it's running rough, then you should change them sooner.
Do Iridium Spark Plugs Increase Performance?
In our post on the best motorcycle spark plugs we have some iridium recommendations. This is because they can increase performance by producing enough sparks to ignite the fuel-air mixture in the ignition system.
Installing a new plug that's correctly gapped helps to prevent skipped firing and early combustion. These are two things that could damage the engine if you're not careful.
We've also written a post on Harley Davidson voltage regulator symptoms that you can check out if you're having issues with your bike.