It doesn't matter if you're an experienced motorcycle rider or you just want to have some fun off-road. Riding a mini-bike is a blast in all conditions and for riders of every age group.
Surprisingly, there are some amazing mini bikes available these days. Not only are they fun to ride, they offer amazing fuel economy, impressive power, and they're cheaper to maintain than your average motorcycle.
It's also heaps of fun to rip around on a little mini bike with your friends or on your own. They're great off-road and they can even be used for exploring your hometown.
In this post, we'll be taking a look at the best mini bike options currently available. We did the research, so you don't have to, and you can focus on having loads of fun instead.
Let's jump right into it!
The Best Mini Bikes in 2021
Coleman Powersports CT200U (Best Mini Bike Overall)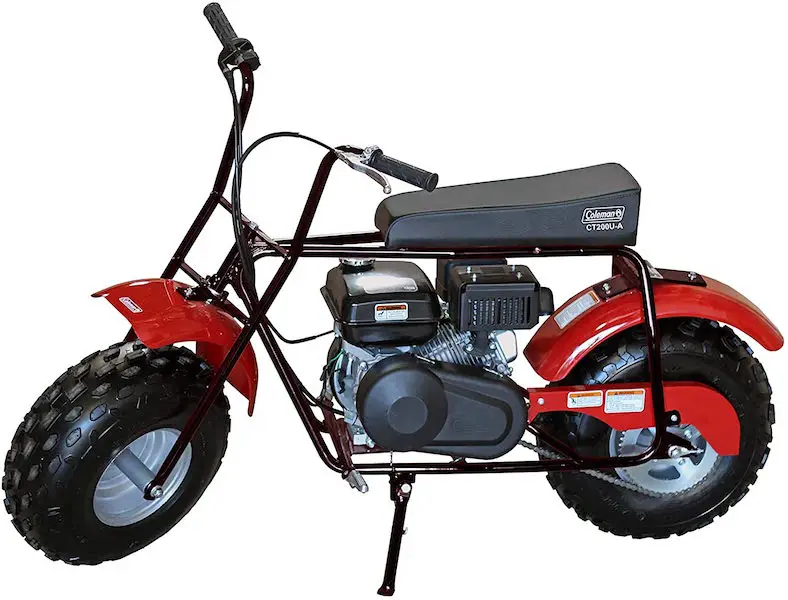 The Coleman Powersports CT200U is what we recommend as THE best mini bike for most riders. This gas powered pig is a monster both off and on road and is bound to provide hours of fun for anyone that rides it.
What's most surprising about the Coleman Powersports CT200U is its build quality, durability, and reliability. Not only does it have amazing reviews, but there are dozens of people online that continue to be impressed by its reliability and longevity.
The Coleman Powersports CT200U comes with a 196cc, 4-stroke, single cylinder engine. Despite having just 6.5 horsepower, this mini bike will power you through the trails wherever you're riding.
Starting the bike is easy thanks to the pull start operation. To help with reliability, it comes with a rugged clutch and sturdy, metal frame.
Thanks to the simple design, it's easy to work on this bike, even if you don't have much experience. Everything is easily accessible and exposed, so it's simple to repair parts or even replace the entire engine.
When it comes to off-road riding, it's hard to beat the Coleman Powersports CT200U. The large, low pressure tires make for smooth riding, even on rugged terrain.
The two main drawbacks to this mini bike are the load capacity of 200 pounds and the lack of any suspension. However, some models come with a suspension that makes it even better for off-road riding.
Overall, the Coleman Powersports CT200U is one of the best mini bikes available right now. It's super affordable, easy to maintain, and boasts impressive reliability.
Razor Electric Street Bike (Best Electric Mini Bike)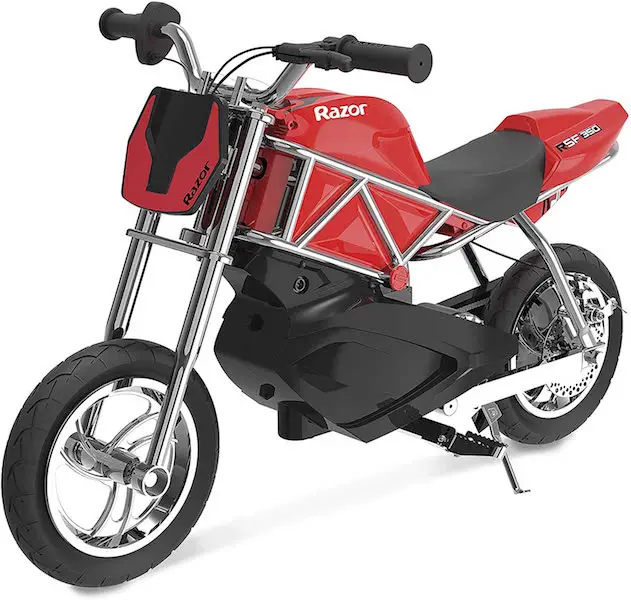 The Razor Electric Street Bike would be our recommendation as the best electric mini bike. With its chain-driven, electric motor, you won't ever need any gas to get this baby up and running.
As an electric mini bike, the Razor Electric is powered by two 12v sealed lead acid rechargeable batteries. These provide up to 30 minutes of continuous use, though some people claim to get almost an hour out of riding.
There's a 12-hour charging time, which can be inconvenient depending on when you're wanting to ride. Thankfully, it's possible to buy extra batteries to extend your writing time so you can have more fun riding around.
When it comes to riding, the Razor Electric Street Bike is a blast on the street. This electric mini bike can reach speeds of almost 20MPH and comes with a great suspension for getting you over bumps and potholes. There is a weight limit of 170 pounds, so keep that in mind if you're interested.
With its compact design, this bike features a strong and durable trellis-frame chassis. It's equipped with three spoke, mag wheels, which are good for the street and can be used in some light off-road conditions.
Maintenance is simple since there are very few moving parts or other unreliable engine components. Unfortunately, you'll have to find somebody to service it if there's any issues unless you have experience working on electric bikes.
Otherwise, the Razor Electric Street Bike is one of the best electric mini bikes on the market. For the reasonable price, you'll be hard-pressed to find a better value electric bike that's as much fun to ride.
M Massimo Motor Warrior 200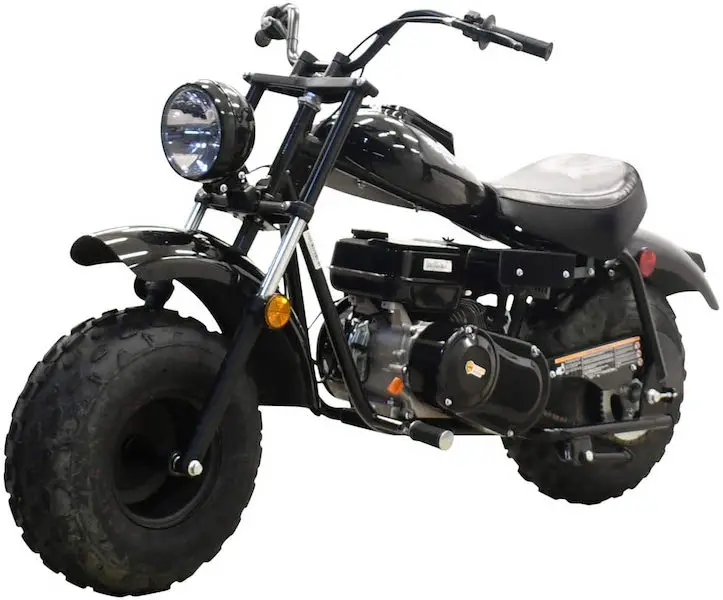 The M Massimo Motor Warrior 200 is another popular choice as one of the best mini bikes. This one comes with a monstrous, 196cc engine, making it ideal for riding in a wide range of different conditions.
With its large, wide tires and powerful engine, this bike is great for taking off road. It can even keep up with traffic on road with a top speed of over 30MPH.
Adults are going to find this bike to be suitable for riding as well. The weight capacity is an impressive 280 pounds, so most adults will be able to ride without straining the frame or engine.
Speaking of the bike components, the M Massimo Motor Warrior 200 comes with a front headlight, sturdy braking system, and a reliable steel frame. It also has a kickstand, storage compartment, chain guard, and exhaust heat shield.
Overall, the M Massimo Motor Warrior 200 is a great choice for kids and adults of all sizes. It's definitely suitable for taking off road or riding on the street, wherever you want to go.
X-Pro Supersized Mini Cruiser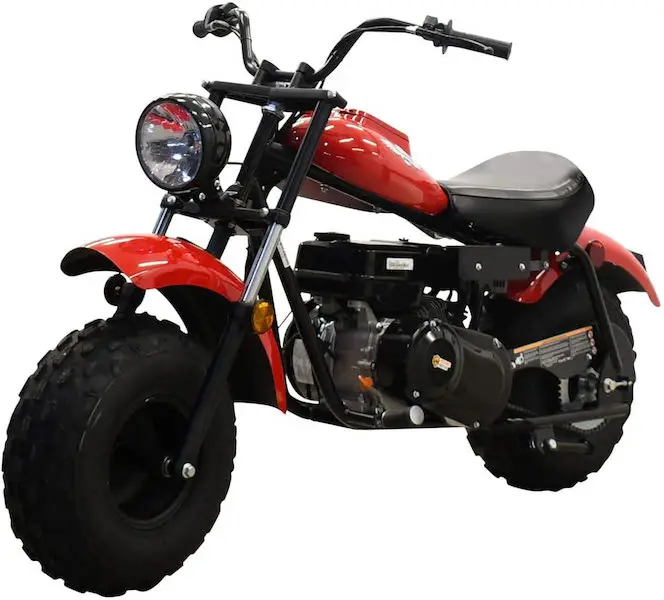 The X-Pro Supersized Mini Cruiser is just that – a mini cruiser that's affordable and fun to ride. This little gem is powered by a strong, 200cc, four-stroke, air-cooled engine and is fast enough to get you into some trouble.
At the front of the bike is a dual, front suspension and wide, off-road tires. This makes it off road capable with great traction, ample ground clearance, and ride-cushioning thanks to the suspension.
It's air-cooled, so no need to worry about any intricate electric cooling systems or having to fiddle around with motorcycle coolant. Starting it is a breeze thanks to the pull-start and it'll be up and running in no time.
Instead of having to worry about gears, the X-Pro Supersized Mini Cruiser comes with an automatic transmission. This way you can focus on riding and enjoying the experience rather than stressing about shifting.
The fuel system is carbureted, which does require some basic maintenance, otherwise it's reliable for riding in all conditions. Other features include an engine stop switch, exhaust heat shield, and chain guard.
The X-Pro Supersized Mini Cruiser comes pre-assembled and ready to ride once it reaches your doorstep. This is a great choice if you're looking for a reliable and affordable mini bike that you can ride in a variety of different conditions.
Best Mini Bike Buying Guide
Features to Consider
Location
Before buying any mini bike you need to check your local laws and regulations. Make sure that you're allowed to ride one of these on the streets in your area.
Otherwise, you may have to take it to a trail or keep it on bicycle trails and off of the road. Always double-check your local regulations before heading out on one of these to avoid any issues with the law.
Depending on where you're from, there may be a few modifications necessary to make the bike street legal. You may need to add lights, signals, or even insurance to get the bike on the road.
Otherwise, there are some great options for off-road mini bikes. These won't require any licenses or insurance as long as you're riding in the right areas.
Fuel
There are two different types of fuel used for mini bikes. These would be gas-powered or electric.
Gas powered pocket bikes are more powerful and can be more easily refueled than electric ones. On the other hand, these will require more maintenance and tend to be more expensive.
Electric powered mini bikes don't need as much maintenance, they don't require any fuel, and they cost less upfront. The drawback is that they're not as powerful and the batteries will need to be fully charged after a short time of riding.
Preferences
Choosing the best mini bike depends on your personal preferences. Some people are looking for a gas-powered while others would prefer something electric.
Check out YouTube videos and other reviews just see what people have to say about the specific bikes you're interested in. This will give you the best idea on choosing the right model for your preferences, riding style, and any other requirements you may have.
Terrain
When it comes to where you'll be riding your mini bike, there are two important things to consider. First is performance and second is the legality of where you'll be riding.
For performance, a mini dirt bike will work better on rough terrain and in off-road conditions. On the other hand, a sport-bike or street bike type will work better on the road and is a better choice for commuting.
There's also the legality of riding a mini bike that needs to be considered. Check with your local laws to see if you can ride on the street. You may be limited to off-road use only, depending on where you're from.
Engine Power
Like with most motorcycles, don't forget to consider the engine power when you're looking at different mini bikes. Most of the engines are around 40-100cc in size, which can be quite small if you're a larger rider.
If you're planning to ride your bike on the street, you're going to need a bigger engine. Even some 50cc scooters will have difficulty keeping up with traffic, especially in busy urban areas.
It's also a good idea to check the minimum requirements of your state or local area. Some places have minimum requirements for engine sizes that are allowed on the street.
Seat Height
Check the seat height of any of the models you're interested in. This information can be found on the product features or manufacturer's specifications page.
The seat height is important because it will determine how comfortable you are riding the mini bike. Taller individuals will want to look for a higher seat height, while shorter riders will be okay with something smaller.
It might also be possible to adjust the seat height. This will require some mechanical knowledge and will probably be found in the owner's manual.
Adjustability
Some of the higher end mini bikes allow riders to make a number of different adjustments. This makes it possible to improve the performance, comfort, and rideability of the bike.
Different components, such as adjustable handlebars, adjustable footpegs, and adjustable seat height can definitely improve your riding experience. Look for these features or consider adding some additional upgrades if you're planning on riding a lot.
The Benefits of Mini Bikes
Convenience
Mini bikes are fun to ride and convenient for getting around off-road. If you have a farm or a large property, these make it easy to travel between different spots.
They're also great for a cottage or anywhere else where you can ride off-road.
Responsibility
Younger riders can learn the basics of motorcycle responsibility by starting out with a mini bike. They can teach you the do's and don'ts of riding a motorcycle.
This helps to build responsibility and experience before graduating on to a bigger beginner motorcycle.
Price
There are some good options out there if you're searching for the best cheap mini bike. Even the higher end ones aren't too expensive, with some great options around the $500 range.
Compared to full size motorcycles, or even ATVs, mini bike are a fun and affordable alternative for getting around. Don't forget about electric mini bikes, which are even cheaper than their gas-powered counterparts.
Mini Bikes Pricing
Less than $300: This is a great price range if you're looking for an entry-level and cheap mini bike. You'll be able to find some electric options and smaller, gas powered options in this price range. The gas-powered bikes will have a smaller engine, probably smaller than 40cc. There are also some small dirt bikes in this range as well.
$300 to $500: There are a number of high-quality gas powered mini bikes in this price range. The engine size will range from 40-60cc. Most of the best mini bikes can be found within this price range.
$500 and up: If you're spending more than $500 you're going to get a mini bike with a larger engine and more durable design. The Coleman we recommend as the best overall is in this price range. There are some bikes with 200cc, four-stroke engines, with most of the bikes coming with a 100cc or more engine. At this price point you'll also get some pretty fast mini bikes as well.
Helpful Mini Bike Tips
Whenever you're riding, make safety a top priority. You should always ride with proper safety gear.
Even on a mini bike, make sure to wear your dirt bike helmet, dirt bike gloves, and a motorcycle jacket if you'll be heading on the street. This is what will protect you in case of a crash or accident.
When it comes to electric mini bikes, always charge the battery after each ride. It's not a bad idea to charge the battery on gas-powered bikes as well. Leaving the battery uncharged for too long can cause it to run out. This makes the battery difficult to properly charge and damages it for long-term use.
FAQ
Do Mini Bikes Have an Age Limit?
The answer to this question depends on where you're from. In some places, riders are required to be at least 13 years old. Other places have an age requirement of 16 years old.
Double check with your local laws to see if there are any requirements for riding. However, if you'll be riding on private property, there aren't any age limits.
Another requirement you should check is the weight limit. Many bikes have a lower weight limit of less than 200 pounds, so double check that you're within the safe riding weight range.
How Do You Clean a Mini Bike?
Cleaning your mini bike is something you should do regularly as part of your motorcycle maintenance. With the right motorcycle cleaning supplies, it's an easy job and can help increase the lifespan of your bike.
Use a hose or pressure washer along with some great car washing soap. Blast off all of the dirt and debris then finish up by soaping everything down.
When you're done cleaning, don't forget to follow proper post cleaning procedures. This includes using a motorcycle wax and lubing the chain before riding.
Do Mini Bikes Come With Training Wheels?
No, mini bikes don't come with any training wheels or training supports. If you're planning to show somebody how to ride, it's better to teach them how to master the controls at a low speed.
As the person gets better at riding, they can advance to riding at higher speeds. There are plenty of helpful YouTube videos and tutorials for showing somebody how to ride a mini bike.