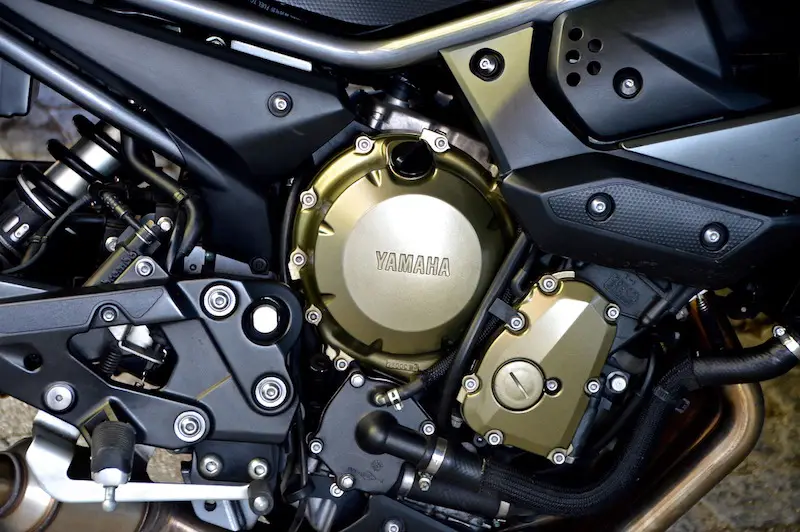 Keeping an eye on your motorcycle coolant is an important part of motorcycle maintenance. You'll want to check the maintenance schedule and regularly change the coolant when recommended.
The reason is that motorcycle coolant deteriorates over time and this can affect performance. As it deteriorates, it becomes less effective at keeping your bike operating within an optimal and efficient temperature range.
To avoid any issues with your motorcycle engine, it's important to use the best motorcycle coolant available for your bike. In this post, we'll look at the best coolants that you can use to keep your engine running in prime shape.
Let's jump right into it!
The Best Motorcycle Coolant
Engine Ice TYDS008 Coolant (Best Motorcycle Coolant Overall)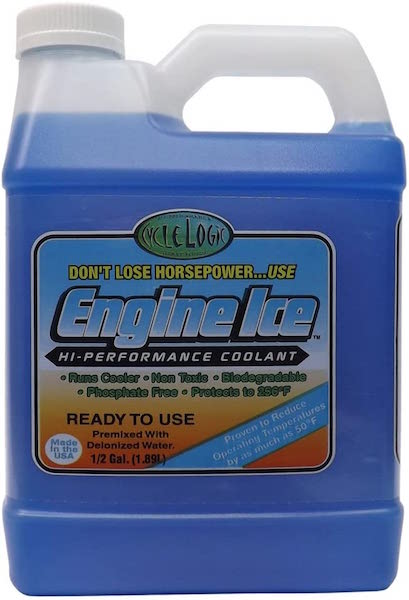 The Engine Ice TYDS008 Coolant is our recommendation as the best motorcycle coolant overall. It comes pre-mixed, ready to use and it's non-toxic as well as biodegradable.
This is a high performance coolant designed to work with most motorcycles. It's a great choice if you don't need the OEM coolant and you're looking for something that will work just as well.
Unlike most other coolants, the Engine Ice TYDS008 Coolant uses a unique formula that's non-toxic and biodegradable. Not only is it good for the environment, it's also phosphate-free, which helps to protect your bike and increase engine longevity.
Regardless of when you're riding throughout the year, this coolant will keep your bike running optimally. It can be used at temperatures up to 256 degrees Fahrenheit and offers antifreeze protection down to -24 degrees Fahrenheit.
Thanks to the high performance formula, corrosion is kept at bay. This is a coolant that isn't going to damage any of the copper, aluminum, magnesium, or steel components in your motorcycle. It even contains propylene glycerol, which helps to prevent pump gasket failures.
Overall, the Engine Ice TYDS008 Coolant is our top recommendation as the best motorcycle coolant for most riders. This is a high-performance coolant that's going to keep your bike running in the proper temperature ranges oh, just the way you want it.
Maxima Performance Coolant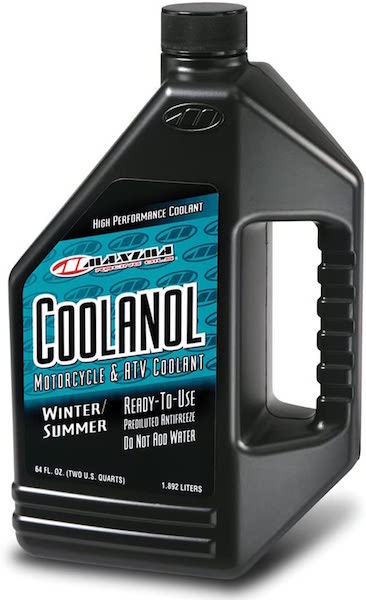 Up next we would recommend the Maxima Performance Coolant as a great alternative to our top recommendation. Maxima is a company we're familiar with and it's easy for us to recommend this high-performance coolant for most riders.
The Maxima Performance Coolant comes with a ready to use formula combining both cooling and antifreeze properties. It's great for year-round use with a temperature range of -34 degrees Fahrenheit up to 265 degrees Fahrenheit, ideal for those hot summer months.
The blend is premixed with its prediluted antifreeze and deionized water. Not only does this cool your engine, it also provides optimum rust and corrosion protection for the aluminum and magnesium components in your bike.
This coolant even comes with anti foam agents, which reduce water pump cavitation and increase its cooling capacity. It can even be used with ATVs and other off-road, recreational vehicles for its efficient cooling properties.
Overall, the Maxima Performance Coolant is another great choice if you're looking for a high performance motorcycle coolant that's easy to use. Regardless of when you're riding throughout the year, this is going to keep your bike running smoothly at the right temperatures.
Honda Genuine Coolant (Best Honda Motorcycle Coolant)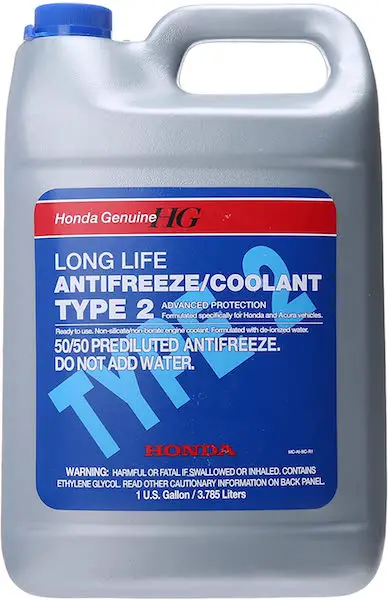 Those of you with Honda's wanting to stick to the OEM components will find the Honda Genuine Coolant to be the best choice. This is our recommendation of the best Honda motorcycle coolant and the coolant Honda themselves recommend to use on your motorcycle.
It's hard to go wrong with any of the Honda OEM products. This is a coolant and antifreeze formula that's specifically formulated for Honda motorcycles.
To protect your engine, it's free from silicates and has an impressively long life. It's possible that this coolant can continue to work in your motorcycle after as many as five years.
It comes pre-mixed, meaning it's ready to use right away. The mix is made with deionized water, meaning it won't form a scale or damage any of your engine components.
Along with all of these great features, the Honda Genuine Coolant is also budget-friendly and recommended by Honda themselves. This makes them another great choice and one of the best options if you're riding a Honda motorcycle.
BMW Grey Coolant (Best Coolant For BMW Motorcycles)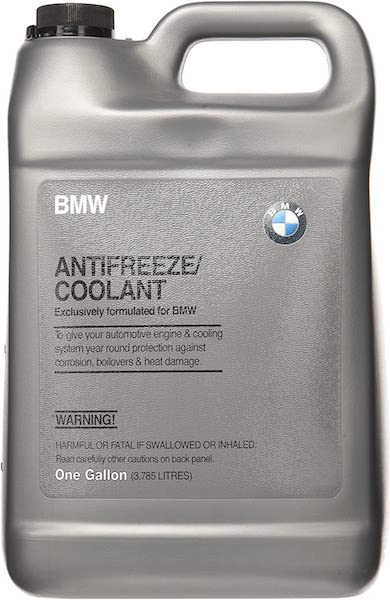 Those of you with BMW motorcycles should take a look at the BMW Grey Coolant. This is the OEM coolant for BMW bikes and a great choice to use with your motorcycle.
Unfortunately, it doesn't come premixed. This means you'll need to mix this coolant with distilled water and antifreeze to get the best results.
Otherwise, this is a coolant that's specifically formulated for your BMW motorcycle and helps to provide year-round protection for your engine. It protects the engine against freezing, boil over, corrosion, and excessive silica gel precipitation.
Thanks to the unique formula, which doesn't contain any nitrates or phosphates, there's a greatly reduced possibility of harmful deposit formation. It's also ethylene glycol based, which further helps keep your engine running at its optimal efficiency.
Overall, the BMW Grey Coolant is still a great choice for BMW Motorcycles, even though it needs to be mixed beforehand. To keep your BMW bike running in prime shape, this is definitely the coolant you want to use.
Best Motorcycle Coolant Buying Guide
Helpful Tips
Premixed coolant is easier to use. If you're planning to use a pure coolant it needs to be mixed with distilled water before adding it to your bike. Check the instructions to ensure you're using the proper ratios when you're combining the coolant and water.
Avoid using products that contain silicates, phosphates, or other similar substances. These chemicals can damage the aluminum and magnesium components on your motorcycle, causing them to rust and corrode. Consider using organic-based fluids if you don't specifically need an anti-corrosive coolant.
Don't forget to consider the weather when it comes to the type of coolant you're using. In the summer, for example, the motorcycle operating temperature needs to be kept within certain limits to prevent the engine from overheating. Use a coolant that can protect the engine in all types of weather.
Motorcycle Coolant Types
After doing your research, you may have noticed that there are two different types of motorcycle coolant. Each offers their own benefits and drawbacks depending on what you're looking for. The two types include:
Water-Based Coolant
Water-based coolants are approximately 50% water. Some of them come pre-mixed, while others you may have to add distilled water yourself.
These are the most common type of coolants and are a lot more cost-effective than coolants made using different ingredients. They also happen to be more commonly used, which means they're more available online and at your local motorcycle shop.
The main drawback to water-based coolants is they tend to have a lower boiling point. This means they're not suitable for extreme applications, such as high performance sport bikes or using at the track.
Water can also be damaging to the coolant system due to the certain minerals it contains. Otherwise, most Riders won't have any issues using a water-based coolant.
Water-Free Coolant
This type of coolant doesn't contain any water. While it's more expensive than water-based coolant, It's better for the coolant system and engine in your motorcycle.
The different chemicals used in water-free coolants also have a higher boiling point and heat capacity than water. This allows for the heat to be channeled away from the engine more efficiently.
These water free coolants are better for high performance motorcycles and harsh conditions, such as motorcycle racing or track days. They also tend to last longer and are better for your engine in the long run.
Best Motorcycle Coolant FAQ
What is Motorcycle Coolant?
Motorcycle coolant is a special liquid that's used to keep your motorcycle engine running at a safe temperature.The liquid is circulated from the engine block to the radiator and absorbs the heat that your engine is creating.
After absorbing the heat the coolant becomes cooled and is pumped back into the engine over and over. This prevents the engine from overheating and helps to keep it running efficiently.
Most coolants also contain antifreeze and anti-corrosion agents. This helps to prevent it from freezing during the winter as well as from damaging the coolant system or radiator components.
How Often Should You Change Motorcycle Coolant?
Start by checking your motorcycle service schedule. This is where you can find information on how often the coolant needs to be changed.
There should also be a reservoir on your motorcycle. Check it regularly to see coolant levels and replace when the level becomes low.
Otherwise, it's a good idea to change your coolant every two years. This is because it deteriorates over time and becomes less effective at carrying the heat away from your engine.
How Do You Dispose of Old Radiator Fluid?
There are highly toxic ingredients that can be found in many types of coolant. Ethylene glycol, for example, is poisonous and toxic to humans.
That's why it's a good idea to properly dispose of old coolant carefully.
Start by ensuring the engine is cool. Next, drain the coolant by unscrewing the sealing screw underneath the coolant tank.
Before it starts raining, place a large plastic bottle or drain pan underneath the tank. Consider using a funnel or old plastic tubing to direct the fluid more accurately.
Once the coolant has been drained, seal the bottle that it was drained into. If you used a funnel or any tubing, rinse it thoroughly.
Label the container and avoid pouring the old fluid into any drains or onto the street. Follow your local chemical disposal regulations to properly dispose of the old coolant.