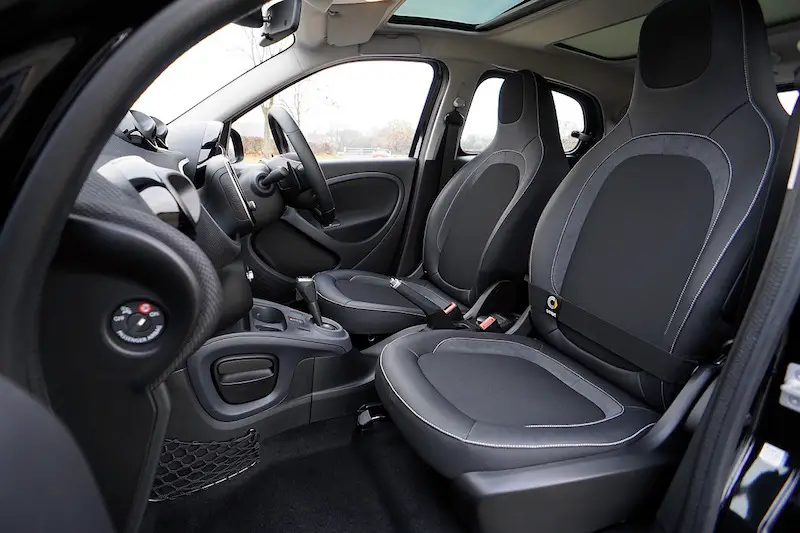 Using automotive seat covers is a great way to change the interior of your vehicle without investing in new seats or upholstery. They're also a good way to cover any terrible stains or light wear and tear while still having a great looking interior.
Covering the seats, especially on a newer vehicle, can help maintain them and this keeps the resale value high. There are so many benefits to using seat covers so it's not surprising that they're such a popular car accessory.
In this post, we'll be taking a look at the best leather seat covers. These are ideal for those of you with leather seats that want a cover to match the interior styling.
Don't forget to scroll past our recommendations for an in-depth buying guide and FAQ. Otherwise, let's jump right into it!
The Best Leather Seat Covers
LUCKYMAN CLUB Full Car Seat Cover Set (Best Leather Seat Covers Overall)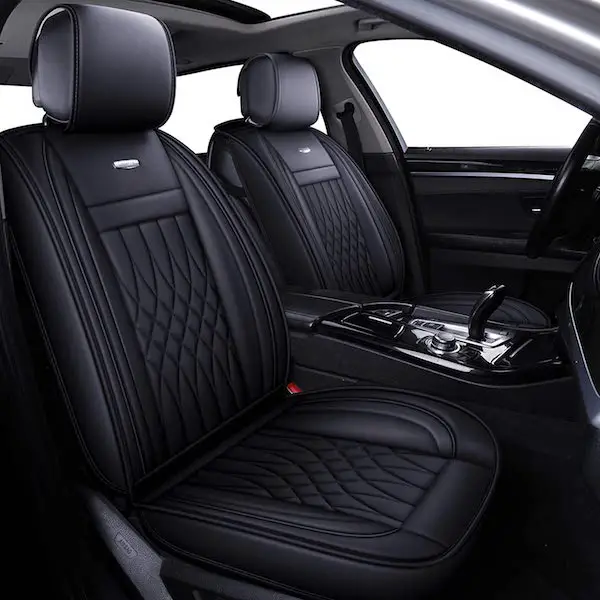 The LUCKYMAN CLUB Full Car Seat Cover Set is our top recommendation as the best leather car seat covers for most drivers. What makes this recommendation unique is that it's a full seat with covers for both front seats as well as the back seats.
The covers are made from a durable, wear-resistant, and waterproof PVC leather. Under normal conditions the leather won't scratch and the cover should stay in good shape for years of regular use.
When it gets dirty, it's easy to clean and can be easily wiped down with a microfiber cloth or paper towel. Thanks to the waterproof design, there's no need to worry about stains or dealing with a damp material.
Installation is straightforward with a number of straps meant to be connected for holding the cover together and in place. The edge will appear well wrapped, for a professional look, and there's even two back pockets for additional storage.
For the back seats, they don't need to be removed for the cover to be installed. The seat buckles will be exposed for easy access and it's even armrest compatible so it can continue to be used.
Overall, it's hard to go wrong with the LUCKYMAN CLUB Full Car Seat Cover Set as a leather cover for both the front and back seats. It's easy to install, high-quality in design, and has tons of great reviews from happy customers.
OASIS AUTO Faux Leather Car Seat Covers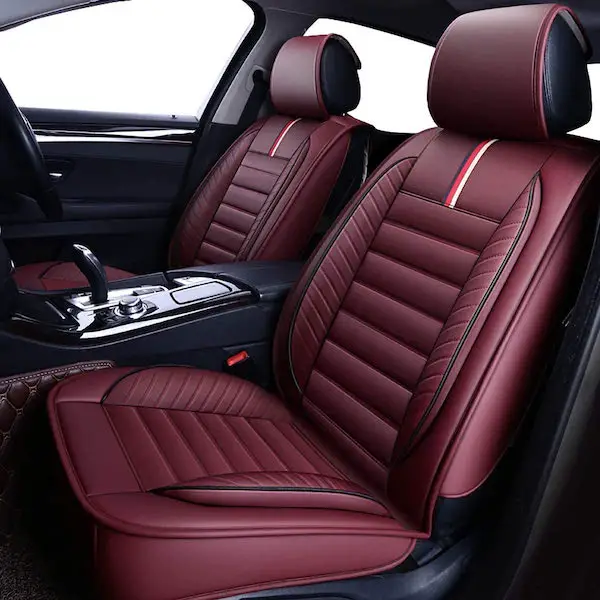 The OASIS AUTO Faux Leather Car Seat Covers are another great option for leather covers for your car seats. These are available in a pair so both the driver and passenger seat can be covered with this matching set.
The OASIS AUTO Faux Leather Car Seat Covers are made from a high-grade, artificial leather. This material is wear-resistant, waterproof, and comfortable for upgrading the interior of your vehicle.
The overall appearance is somewhat luxurious with the intricate stitching and tight edging for installation. Speaking of installation, these can be easily installed on the front seats with a series of easily adjustable straps.
It's possible to use these with your detachable headrest for a uniform interior vehicle appearance. They're also airbag compatible so you're not putting your safety at risk for a little bit of extra comfort.
When it comes to comfort, this cover has some additional padding throughout with extra padding on the seat to help support you in place. This design definitely helps to improve your driving experience.
Depending on your vehicle these are available in a few different colors. This makes it possible to find the right color to match your interior for a seamless look.
Overall, the OASIS AUTO Faux Leather Car Seat Covers are another great option to use for seat covers in your vehicle. These feature a high-end appearance, they're easy to install, and they're a comfortable choice for regular driving use.
MotorTrend LuxeFit Faux Leather Car Seat Cover (Best Cheap Leather Car Seat Cover)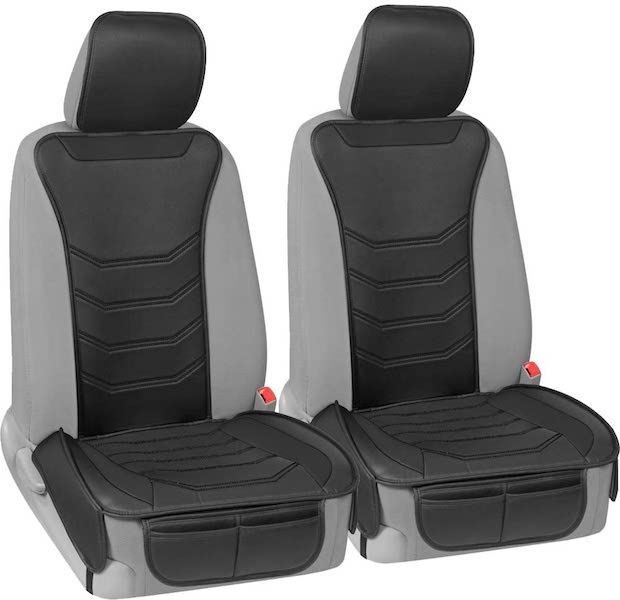 The MotorTrend LuxeFit Faux Leather Car Seat Cover is a great choice if you're on a budget and you still want to protect your seats. These covers are easy to install, feature a relatively universal design, and come with some unique features as well.
The covers are made from a soft and durable premium microfiber leather. They're lined with high density foam, which helps with improving comfort.
Installation is simple and these have a universal fit so they can be used in most vehicles. It's even possible to use these with side armrests and airbags thanks to the sideless design.
Once installed, there are convenient front pockets that can be used to store your smartphone, wallet, or other small accessories. This is a stitched divider for keeping your things organized and within easy reach when you're in the vehicle.
Overall, the MotorTrend LuxeFit Faux Leather Car Seat Cover is an affordable way to quickly customize and refresh the look of your interior. They're competitively priced, easy to install, and some of the best leather car seat covers if you're on a budget.
Black Panther Luxury Leather Seat Protector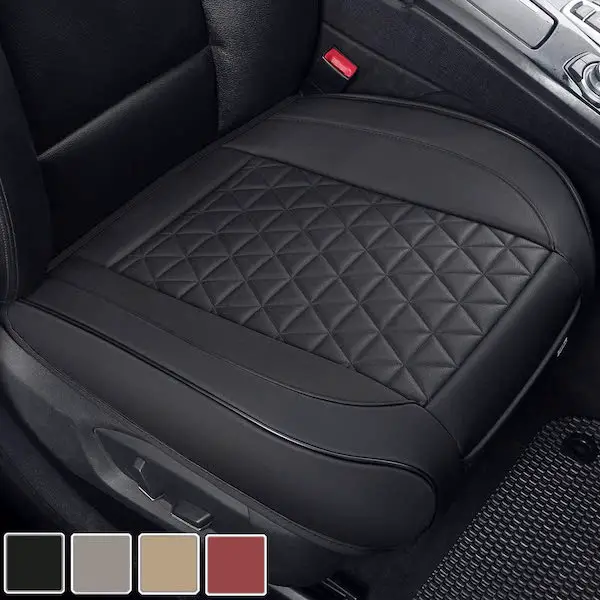 The Black Panther Luxury Leather Seat Protector isn't a full sized cover, instead it's designed to protect the area where you sit that gets the most wear and tear. This is a great option for protecting the seat and giving your car seat a new look without installing a full size cover.
The Black Panther Luxury Leather Seat Protector is made from a premium polyurethane leather material. It's soft, comfortable for sitting on, easy to clean, and waterproof for even more protection.
When it comes to compatibility, this seat protector can be used in most cars and SUVs. It comes with a wrapped edge design so that it fully wraps the bottom of the seat to look like its original instead of an obvious cover.
On the bottom is a non-slip silicone material that helps to keep the cover in place and prevents you from sliding around when you're sitting. It's also compatible with seat belts and has a handy pocket for easy storage of your smartphone or wallet.
Installation is simple and there is a helpful guide to aid you in the installation process. It's as easy as sliding the cover into place and making sure it is secure.
Overall, while the Black Panther Luxury Leather Seat Protector isn't a full cover, it offers plenty of protection for the seats in your vehicle. It's easy to install, compatible with most cars, and really helps to keep the seat clean for long-term use.
Why You Should Use Leather Seat Covers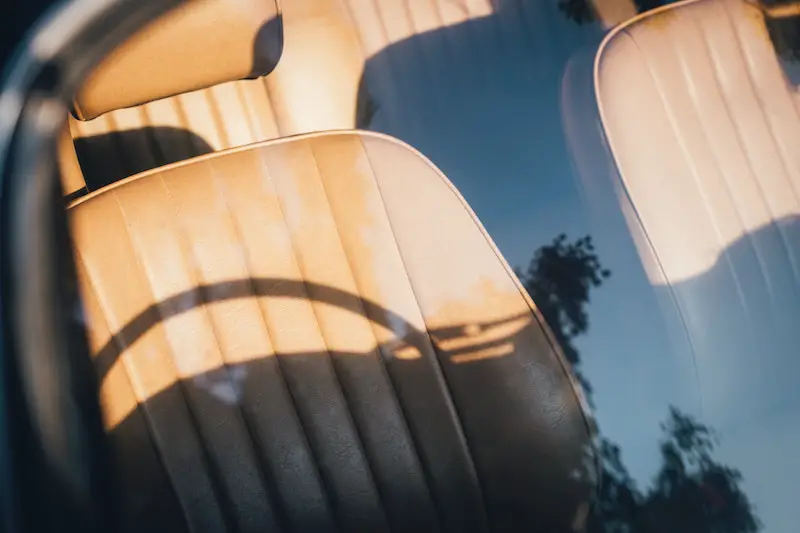 Protect the Seats
One of the main benefits to using a leather car seat cover is that it protects the car's interior. They keep the seats safe from regular wear and tear and any common damage from frequent use.
Having a cover also prevents the seats from getting stained from any spills or food that gets left behind. This keeps the interior fresh, new, and saves you money from having to fix, regularly clean, or even replace the seats.
Easy Style Upgrade
Along with protecting the seats, a cover can improve the overall style of the interior of your vehicle. Even if you don't have leather seats already, you can use a leather seat cover to make the inside look nice without spending a lot of money.
There are a number of different covers to choose from online, each of which has their own style and design features. This makes it easy to find one that you like, which can definitely help to improve your driving experience.
Increase the Resale Value
Using a cover on the seats helps to maintain the interior of your vehicle. When it comes to calculating the car's resale value, having a well cared for interior can be a major factor in determining a better price.
With regular use, car seats can end up stained or ripped and torn. Covering them protects them from this damage and keeps them in better condition, even with long-term use.
How Much Do Leather Seat Covers Cost?
Under $20
There is a wide range of prices when it comes to leather seat covers. In this budget range you're looking at some great options for both quality and durability.
While most of these will have fairly basic features, they're a great choice if you want to try out a cover without investing too much money. It's a good idea to check reviews to see what other people have to say about any of the covers in this price range you're interested in.
$20 to $50
This is the price range where you'll find most of the best leather seat covers. Near the lower end are some basic options and towards the higher-end are some better quality, durable covers.
These covers will typically offer great durability, stylish options, and good overall quality. However, for long-term and regular use you might want to consider investing a little bit more.
Over $50
This price range is where you start getting into some higher-end and premium leather seat covers. If you're wanting to improve the overall appearance of your vehicle's interior, this is what you can expect to spend.
For this kind of money you can find some covers that come as a set, which will save you money if you're buying for both seats. Many of the options will imitate the look of high quality leather and you're bound to get some positive compliments with this price point.
Key Features
Size and Fit
The most important feature to consider is the overall size and fits of any of the covers you're interested in. Having a good fit is important for enuring a comfortable seating experience and seamless look.
The problem with a poor fit is you'll end up with rolls, bulges, and a loose cover that just doesn't want to stay put. Take a look at the dimensions and product sizing chart so you can find the right options for the seats in your vehicle.
Straps
Another important feature to consider are the straps that hold the covers in place. Look for straps that seem to fit well and that can be easily adjusted.
It's important that the straps don't get twisted or come loose, which can be annoying for having to constantly adjust them. Check that the material of the straps is similar to the material of the cover – this is a sign of better quality and helps to ensure a more seamless look.
Durability
The type and thickness of the material is a big indicator when it comes to the overall durability and quality of a seat cover. When you're looking at photos or reviews, pay close attention to the craftsmanship of the seams, edges, straps, and any of the elastic components.
You don't want the leather to be too thin or flimsy since you'll end up with rips in no time at all. Look for thick, durable, and better quality materials when you're shopping for the best leather covers for car seats.
Type
Some of the cheap leather car seat covers are designed to only cover the front side of the seat. In some cases, this might not be exactly what you're looking for.
Before buying anything, check that the cover will cover the entire seat, both the front and back. This makes for a more seamless appearance and improves the overall style of the interior of your vehicle without looking cheap or out of place.
Headrests
The cover should be able to cover the headrest of the seats. Otherwise, it's going to look awkward and there might be a poor fit if you overlook this feature.
This can be determined usually from the photo of the cover. Make sure that it has a part for the headrest so that everything matches seamlessly.
Cushioning
While you could use a car seat cushion, some covers come with their own built-in cushioning. This extra padding helps with comfort and can make for a more enjoyable driving experience.
You can typically find this feature with mid-range to higher-end covers, which would depend on your budget. If you're looking for cushioning specifically, keep an eye out for this feature when you're shopping for a new cover.
Water Resistance
The last feature to consider is the overall water resistance of any of the covers you're interested in. Many people will be eating and drinking regularly in their vehicles so it's a good idea to have a water resistant or waterproof car seat cover.
Having this feature means a spill won't stain the cover or stain the seat underneath. It's a great feature to have and something to keep an eye out for.
Helpful Tips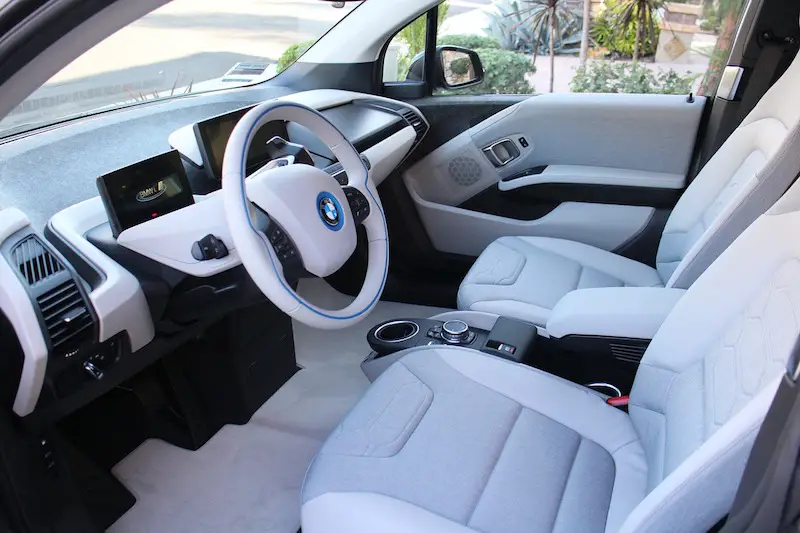 It's a good idea to

regularly clean the leather seat cover

, which is thankfully a pretty easy task. Make an effort to wipe them down with a damp cloth and dry any extra wet spots so you can avoid water stains.
For covers made from a high quality leather, you probably want them to keep their lustre. In this case, you'll need to regularly oil the seats as part of the maintenance routine for their ongoing upkeep.
Investing in a custom fit or semi custom cover is worth it if you're looking for something that will look amazing and last a long time. While these are expensive, they're designed to perfectly fit your seat, they look great, and they offer the best user experience.
For adjustable seat covers, make sure that the straps are on too tight. If they're too tight, they will easily get stretched and start warping. This can have a detrimental impact on the shape and appearance of the cover and it will have to be replaced sooner rather than later.
Looking to stay warm? Consider investing in a

heated seat cover

instead. These are great for cold winters and keeping you warm if your vehicle doesn't come with heated seats.
Frequently Asked Questions
What's the Best Material For Seat Covers?
Leather is what we would recommend for most people. It looks the best and it's the most durable material available for seat covers.
Another benefit is that it is easier to clean than other materials, such as microfiber. Even for vehicles with cloth seats, leather is one of the best options for covering them.
Do the Side Airbags Still Work With Seat Covers?
Yes, seat covers won't get in the way of the side airbags if they happen to be deployed. Most covers are tested to work with airbags so they're safe to use in your vehicle.
This means you're kept safe while your comfort is improved. If you're concerned about your safety you could also contact the manufacturer just to make sure.
Is Faux Leather a Good Option?
Most of the best leather car seat covers, especially those for under $100, are likely made from faux leather. Thankfully, they look, feel, and have a similar quality to real leather so you're not missing out on much.
There are a number of benefits to using faux leather as opposed to real leather. Some of these would include being easier to clean, more affordable, and less likely to get scratched.
How Do You Install Seat Covers?
Installing seat covers on your own is relatively easy. Most products will come with detailed instructions, although you could look it up on YouTube if you're having trouble.
To install them, start by placing the cover over the front of the seat. Get the straps in the right position and adjust then tighten them as needed.
Are There Backseat Covers?
Most seat covers are designed only for the front seat. However, there are a few options for back seat covers.
If this is what you're looking for, head online to see what you can find. It's also possible to get something custom-made if you're having difficulty finding anything.