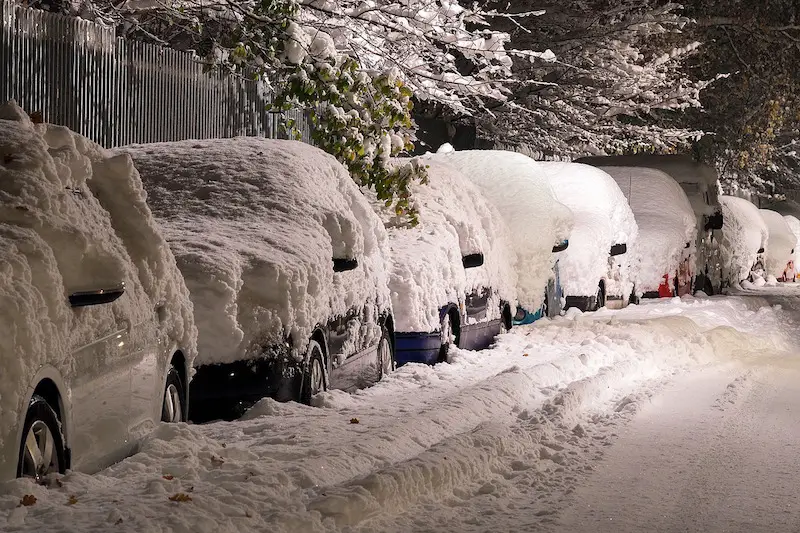 Not all of us are fortunate enough to have heated seats in our cars. It's not a fun experience having to sit in the car during the winter while it heats up.
Even if you're bundled up, your hands will be cold, your feet are going to be aching, and your back might even be acting up. Plus, you'll be extra chilly if you have leather seats without any built-in heating.
Investing in a good heated car seat cover will help to warm you up on those cold winter days when you get into the car. They'll also protect your seats and improve your winter driving experience.
In this post, we put together a list of the best heated seat covers you can use to warm up in your vehicle. This way you'll be warm and toasty and won't have to freeze while you're waiting for the car to warm up.
Let's jump right into it!
The Best Heated Car Seat Covers
Sojoy Universal 12V Heated Smart Cushion (Best Heated Car Seat Cover Overall)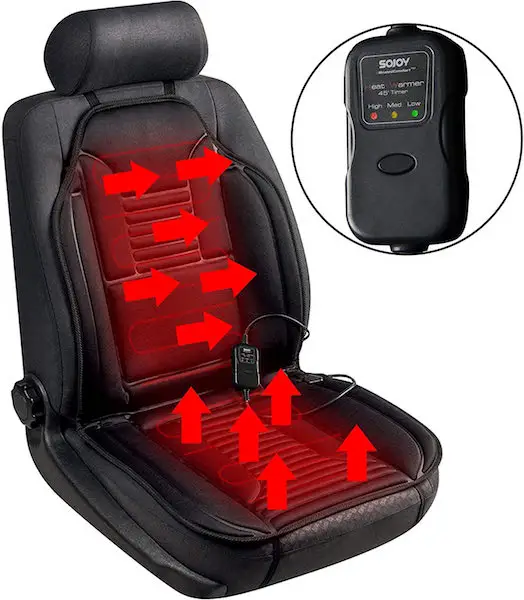 The Sojoy Universal 12V Heated Smart Cushion is our recommendation as the best heated car seat cover for most people. It comes loaded with practical features and heats up in just 3 minutes.
This is a universal heated car seat cover that's designed to connect to the 12V outlet found on most vehicles. In just 3 minutes it will be warmed up and provide you with even heat distribution
There isn't a temperature control, instead the cover has a high and low heat setting. The heat covers the back as well as the bottom of the cover, providing you with full body warmth.
On the bottom of the seat cover is a non-slip, friction grip bottom that helps keep it in place. Installation is simple, thanks to the elastic belts and hook and loop fastener for attaching the cover to your seat.
Other features worth mentioning include the 45-minute timer and durable build quality. The cover is made from a breathable and soft, thick polyester fabric that's soft and helps with keeping you warm.
Overall, if you're looking for the best heated car seat cover, it's the Sojoy Universal 12V Heated Smart Cushion that we'd recommend. Despite the simple design and basic features, this cover comes with everything you need to keep warm in your vehicle on those cold days.
KINGLETING Heated Seat Cushion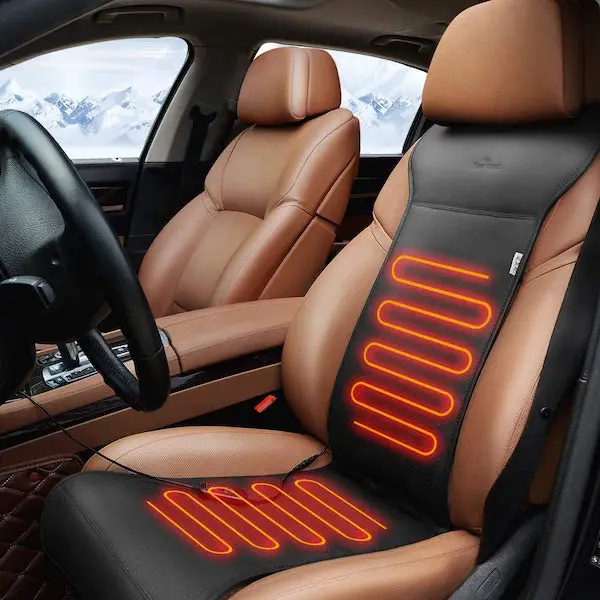 The KINGLETING Heated Seat Cushion is our next recommendation for those of you searching for the best heated seat cushion. With this one you'll feel the heat in just 1 minute as opposed to the 3 minutes of our top recommendations.
This is a universal heated car seat cushion designed to fit in most cars and trucks. Installation is simple, thanks to the non slip rubbers on the bottom and elastic bands to help keep everything in place.
Once installed, the cushion draws power from your 12v output port. It comes with intelligent temperature control that lets you choose a specific temperature between 86F and 140F with a setting decision every 3 degrees.
There is a timing power off protection, which turns off the cover if you happen to forget turning it off. It's possible to set the timing choice to 30 minutes, 60 minutes, or 90 minutes, which helps you avoid draining your car battery as well.
As for the design, there are breathable air holes in the cover that help air circulate while encouraging heat to warm you up. The premium, leather-like design looks great in all vehicles.
Overall, if you're looking for a premium quality heated car seat cover, it's the KINGLETING Heated Seat Cushion that we'd recommend. This one is reasonably priced, warms up super fast, and has plenty of great reviews.
COMFIER Heated Seat Cushion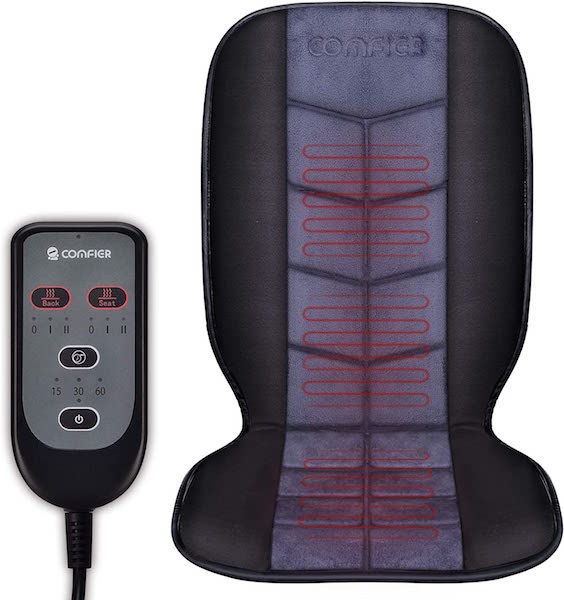 The COMFIER Heated Seat Cushion is a universal seat heater that can use both 12V and 24V power outlets. It's a great choice to use in your vehicle and it can also be used in your home or office for warming you up.
With its fast heating, you'll feel this heated seat cushion warming up in just one minute or less. It's equipped with an overheat protection device as well as automatic shutoff, making it safe to use in all conditions.
With the adjustable heating levels you can choose either high or low heat depending on the weather. There's a timer as well, giving you 15, 30, or 60 minutes of heat to choose between.
Installation is simple and there are sprouts as well as an anti-slip bottom to help keep this heated seat cushion in place in your vehicle. As for the design, this cover features exquisite hemming and soft, ultra-plush top that makes it comfortable and gives it a premium look.
Overall, if you're looking for a heated car seat cushion that you can use in your vehicle or in your home and office, it's the COMFIER Heated Seat Cushion that we'd recommend. The basic features, high-quality design, and ease-of-use make it a great choice for most people.
The Benefits of Heated Car Seat Covers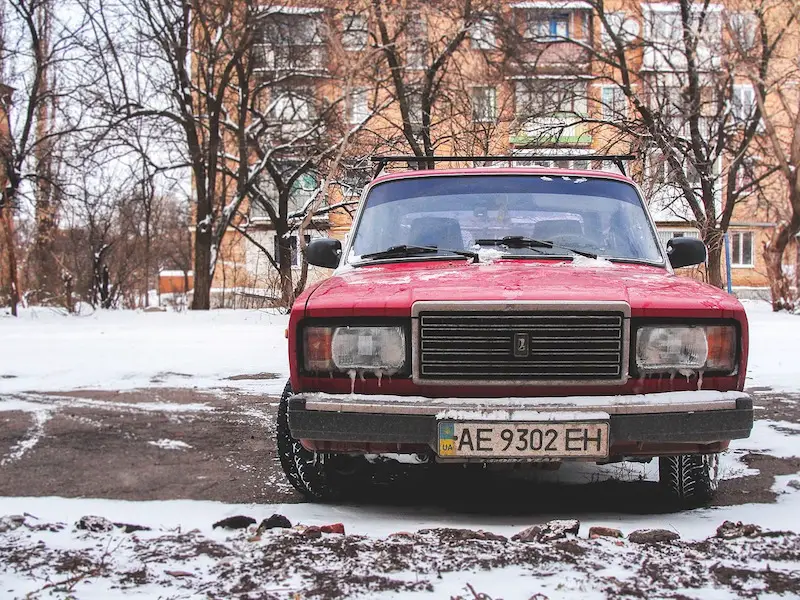 Keep Yourself Warm (And Your Passengers)
It's unpleasant to drive while you're cold or sit inside a cold vehicle while it heats up. With a heated car seat cover your seats will warm up right away and you won't be shivering while you're driving along.
These covers will also help keep your passengers warm, as they're separate from each other. Each person in the vehicle can set different temperatures and stay warm and comfortable while you're in the vehicle.
Protect the Vehicle Interior
Getting out of your front seat all the time leads to increased wear and tear. You can scratch, tear, or otherwise damage the car seats from getting in and out a lot.
Using any durable heated car seat covers can protect the seats from excessive wear and tear. It will also help increase the life of your vehicle seats, which helps when it comes to resale.
Increase the Resale Value
Speaking of reselling your vehicle, using these heated seat covers can help keep the vehicle's interior in excellent condition. This will make it easier to ask for a higher price when you decide to sell the vehicle.
There won't be as much wear and tear on the seats. They're a lot less likely to become damaged or worn when you're using heated seat covers or a car seat cushion during the warmer months.
Make Your Vehicle Look Unique
Not everybody likes the way that the standard seats look. While it's expensive to replace the seats, using the best car seat covers is an easy way to make them stand out.
It's easy to personalize your vehicle's appearance since heated seat covers are available in a wide range of different colours and designs. They're also rather affordable and easy to install in your own vehicle.
Lumbar Support
It's also worth mentioning that some car seat covers provide added support for your lower back. They help to keep your spine straight, aligned, and prevent you from sitting in any awkward positions that could injure your back.
These are a great choice if you're suffering from any back pain. They're also ideal if you just want to be more comfortable spending time in your car.
Key Features
Automatic Shut-Off
Most heated car seat covers come with the automatic shut-off feature. This controls how hot the cover becomes when you're using it.
After the temperature reaches a certain level, the heating is automatically shut off. This feature prevents you from getting burned and means you don't need to worry about turning off the cover when you leave the vehicle.
Number of Temperature Settings
There are different heating options depending on the heated car seat covers. Many of them allow you to control the temperature where you can choose how hot the cover becomes.
Depending on the cover, it could either be a specific temperature or a range of heat controlled by a few buttons. It's always a good idea to look for a heated car seat cover that has options or controls for changing the temperature settings.
Indicator Light
Heated car seat covers typically come with an indicator light on the cord that lets you know when the cover is functioning. It will light up when the cover is on and turn off when the cover is off.
This makes it easy to see if the cover is on without having to touch the cover. It's a great feature to have and we recommend keeping an eye out for it.
Quantity
If you're in the market for heated seat covers, you'll need to think about how many you should buy. Consider picking one up for each individual that's in the vehicle on a regular basis.
Cord Length
Every twelve-volt heated seat cover comes with a cord that's a few feet in length. This makes it possible to reach the closest power outlet and use the cover in both the front or back seat.
Those of you with their cars or trucks may need to consider using an extension cord. This is only a problem if the court doesn't reach or if you have an unusual seating arrangement.
Helpful Tips
It's not a good idea to clean heated car seat covers in a washing machine. This is due to their infernal wiring that could become damaged if exposed to water. Avoid getting the covers soaking wet.
As for washing your heated seat cover, wash them by hand using a mix of water and soap. Start by unplugging the cover and making sure it's cool before you start the cleaning process
You also shouldn't put a heated seat cover in the dryer. Instead, they should be air-dried anywhere that's well-ventilated. Make sure they are completely dry before you plug them back into your car.
If you notice any frayed wires or damage to the heated seat cover, it should be replaced. It's dangerous to use it if it's damaged and could lead to it improperly functioning.
Always turn the heated car seat cover off when you're not using it. It's not a bad idea to unplug that either. This will help to extend its lifespan and prevent it from killing the battery or damaging the seats from the heat being left on too long
FAQ
How Long Does it Take Heated Car Seat Covers to Heat Up?
The time length depends on the cover you're using. Typically, most covers will heat up in between 1 and 3 minutes.
You should start feeling them warm up after they're plugged into the power source. Lower-quality covers could take several minutes to reach your preferred temperature.
How Long do Heated Car Seat Covers Retain Heat After They're Turned Off?
After they're powered off, heated car seat covers will retain heat for a short time. You can expect them to remain warm for between 15 and 30 minutes, depending on the cover.
After 30 minutes they will probably cool off completely. At this point, they'll be more like a regular, non heated seat cover.
Are Heated Car Seat Covers Safe?
Yes, for the most part, it's safe to use a heated car seat cover in your vehicle. Most of them come with an automatic shut-off timer, which prevents them from reaching dangerously hot temperatures.
While there are some heated car seat covers that can remain on indefinitely, it shouldn't get hotter than 120F degrees. It's a good idea to look for covers with an automatic shut-off timer, just to be on the safe side.
Do Heated Car Seat Covers Stay On When the Vehicle is Off?
Depending on the type of 12-volt plug in your vehicle, it's possible for the cover to stay on. Some models will only function while the car is running or when it's placed into accessory mode.
If the 12V outlet in your vehicle works without the engine running, the cover will continue to remain on while the vehicle is off. In this case, make an effort to turn the cover off whenever you exit the vehicle.