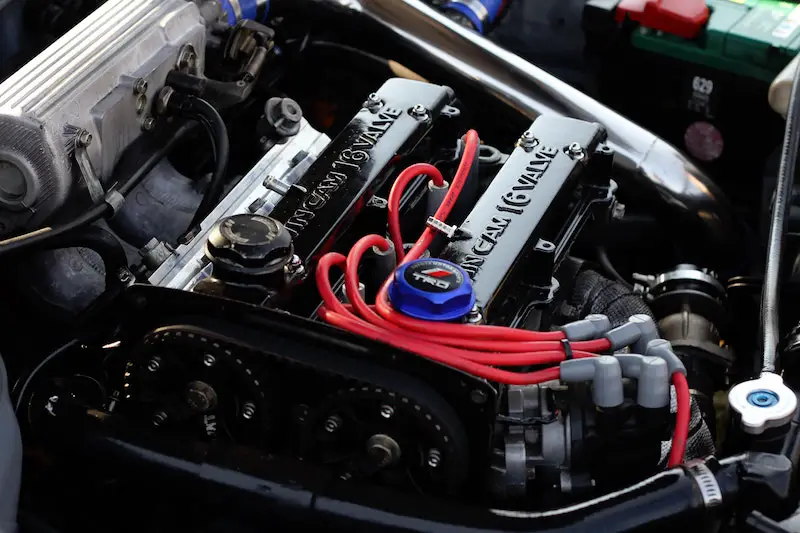 When it comes to preventive vehicle maintenance, finding the best ignition coil isn't something you'll have to do very often. However, it's still important to know how to find the right part and what this part does for your vehicle.
If you're not aware, the ignition coil is the component that's responsible for providing the energy required for allowing the spark plug to ignite fuel. These coils come in many different types and qualities with the best ones being able to help your engine achieve low emissions while providing a high power output.
You'll probably start looking for these when you get a check engine light about misfires. This is the first thing you should check before taking your vehicle to your local mechanic.
Using the best ignition coil means you'll get the best performance out of your car. In this post, we'll take a look at some great ignition coils and help make sure you're informed when you're shopping for a new one.
Don't forget to scroll past our recommendations for an in-depth buying guide, helpful tips, and an FAQ section. Otherwise, let's jump right into it!
The Best Ignition Coils (Reviews) in 2020
Delphi GN10346 Pencil Ignition Coil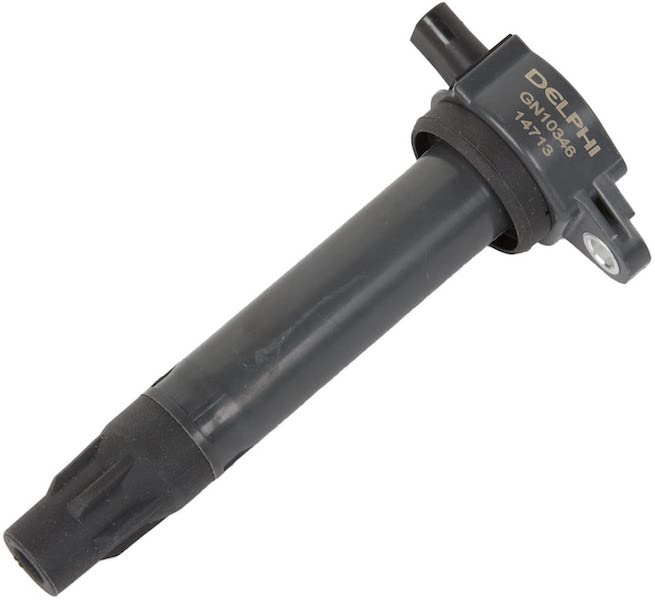 The Delphi GN10346 Pencil Ignition Coil is one of our top recommendations when it comes to the best ignition coils for most engines. Despite being a basic coil, this one comes with some great futures to get your engine running back to normal again.
The Delphi ignition coils are designed to operate as a key part of the engine management system. When properly installed, they will insert power into the spark plugs and ensure fast starts.
They'll also be able to provide consistent engine performance and optimized fuel efficiency. If you're having any of these issues, replacing the old ones with these coils from Delphi can be a great place to start.
It's a good idea to check that these can fit in your vehicle before installing them. Once websites will come with a fit chart so you can see if these will work on your specific vehicle.
Installation is easy and most people will be able to replace these coils at home on their own. It's recommended to replace at least two of the coils, although replacing all of them would be the best solution.
Delphi is a well known, popular automotive parts brand with expertise that goes back for over eighty years. This means you can count on the reliability and long-term durability of their products.
When it comes to the best ignition coils for most engines, it's the Delphi GN10346 Pencil Ignition Coil that we would recommend first. As long as they fit in the engine, these are all designed to get the engine running at its optimal performance.
ENA ENAIC1115108 Curved Boot Ignition Coils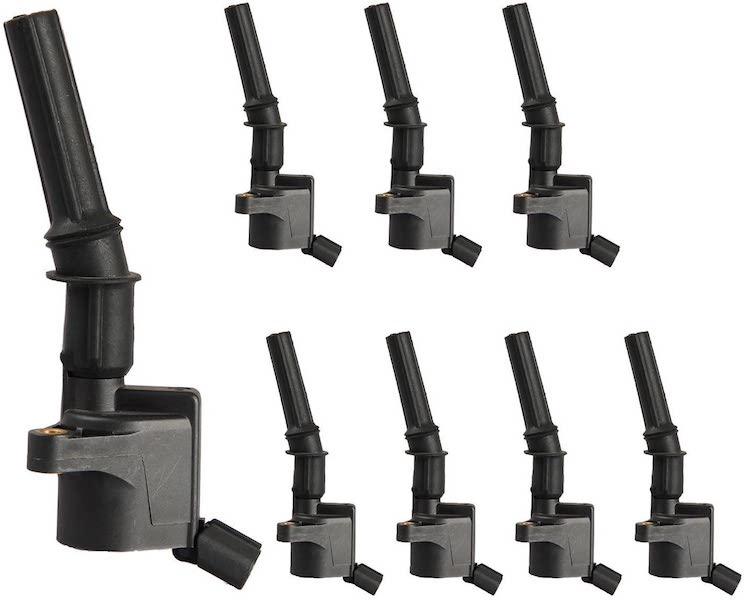 The ENA ENAIC1115108 Curved Boot Ignition Coils come available in an 8-pack and are a great choice when it comes to longevity. These claimed to have a 100,000 mile lifespan and make a great option when you're looking for the best ignition coils.
The reason behind the lifespan is the corrosion and abrasion-resistant build. These have been constructed using the highest quality copper and feature a unique, winding design for a reduced weight and size without a compromise of the quality.
Thanks to the lightweight design, each coil is easier to handle during the installation process. This also helps to deal with misfires, since a high voltage current is supplied to the spark plugs resulting in a high energy output and lower emissions.
The curved boot design is easy to install. When it comes to compatibility, these will work on a number of older Ford, Lincoln, and Mercury vehicles though you will want to check the compared compatibility for your specific vehicle.
Another benefit to the ENA ENAIC1115108 Curved Boot Ignition Coils is that they're competitively priced so you're getting quite good value for the money. While you may be worried they're cheap, they come with a lifetime warranty to give you peace of mind.
Overall the ENA ENAIC1115108 Curved Boot Ignition Coils are an amazing option when it comes to ignition coils. These are designed to maintain a superior build quality and long service life, which makes them a great choice for your engine.
Bosch 00044 BMW Ignition Coils (Best BMW Ignition Coil)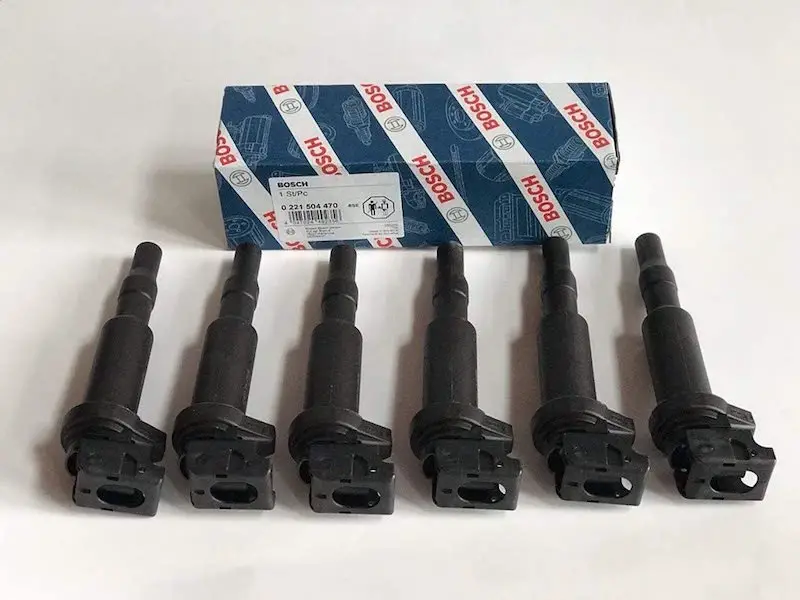 Those of you with a BMW will want to take a look at the Bosch 00044 BMW Ignition Coils.These are German made coils specifically designed for BMW vehicles that are bound to improve the performance of your car.
When it comes to the design, these look similar to the older version of coils found in many BMW vehicles. However, on the inside they have completely upgraded internal mechanisms which are effective at providing engines with better performance.
To help provide better contact with the spark plug these come with an HV brush and contact spring. It doesn't snap into place, though it's held firmly against the spark plug when properly installed.
This results in better performance as the high voltage current is efficiently passed through to the spark plug. Without the tight contact between the two, this wouldn't be possible.
The aesthetic appearance of these is also worth mentioning. These coils now come with a plastic housing and spark plug connector, which improves the appearance of the coil body and results in better improvements in overall fit and function.
Overall, the Bosch 00044 BMW Ignition Coils are a great choice for BMW drivers. When it comes to BMW ignition coils, it's hard to go wrong with these for better engine performance.
QYL 4-Pack Ignition Coils (Best Ignition Coil Pack)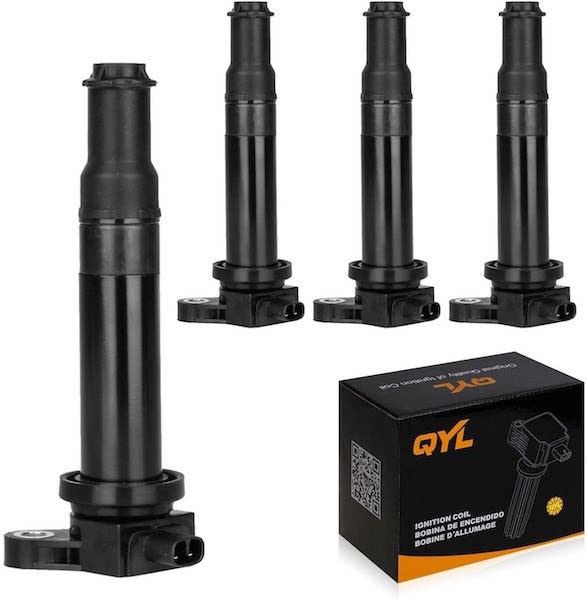 The QYL 4-Pack Ignition Coils comes in a pack of 4, which is convenient, and it's our recommendation as the best ignition coil pack. This is a simple and affordable kit that's readily available and easy to use for changing the coils on your vehicle.
When it comes to changing them, these are specifically designed for South Korean auto manufacturers. This would include Hyundai and Kia, though it's a good idea to check the chart to make sure these will properly fit.
The QYL 4-Pack Ignition Coils are also designed to meet or exceed the OEM performance of the stock coils. These are made using high-quality internal components, such as high-quality copper wires and wire coatings that will resist cracks and other forms of imperfections.
This durable design makes it easier for the engine to achieve a higher energy output and low emissions. The steady supply of high voltage current eliminates misfires and keeps the engine running at its peak performance.
With the wound copper wire design, these take advantage of a reduced weight and size. This doesn't sacrifice the quality, instead it makes them easier to handle and puts less pressure on the engine overall.
The only drawback to these coils is that some people find the compatibility to be an option. However, there really aren't any universally compatible coils that are going to work on most vehicles so it's important to do your research to find the parts that fit.
Overall, the QYL 4-Pack Ignition Coils are well-built and effective at getting the engine running at its prime shape again. These are straightforward to install, deliver a high energy output, and work great for most South Korean vehicles.
Motorcraft DG511 Ignition Coil (Best Ignition Coil Brand)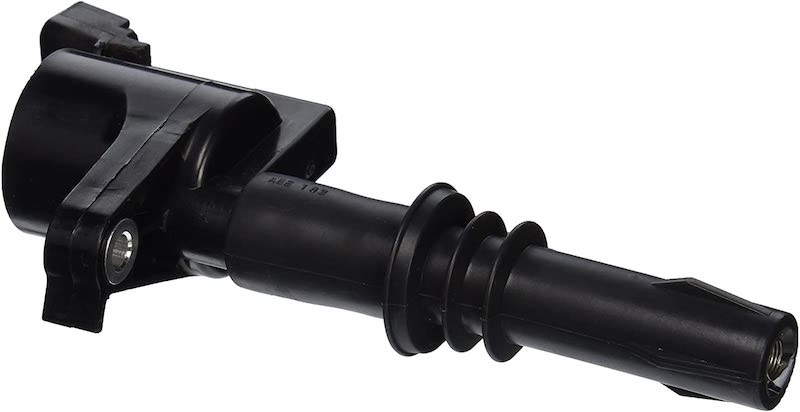 The Motorcraft DG511 Ignition Coil is another great option from a brand we've covered in our buying guide below. These are from Motorcraft, which is one of the most reputable vehicle accessory manufacturers in the USA and Europe.
Those of you looking for a top-quality ignition coil from a reputable brand will want to check out the Motorcraft DG511 Ignition Coils. These are designed to meet all of the OEM specifications while being readily available for an affordable price.
Among the impressive attributes of this component, it's the durability and reliability that stand out the most. Even under extreme conditions, these will continue to operate and keep the engine running at ideal performance levels.
Installing these in your vehicle means you'll get easier and more consistent startups. They'll also help get rid of any misfires and hesitation.
Drivers living in cold, northern climates will find these to be a great choice as well. They're designed to resist the fatigue that comes with low temperatures so they'll keep everything running optimally even as the temperature drops.
Compared to most other coils in their class, these offer some of the highest electrical resistance. This further goes to show that these are ideal for replacing the old coils and using these to get the most out of your engine.
Overall, the Motorcraft DG511 Ignition Coil is a high-quality product from a reliable brand that's bound to improve your engine performance. These are more resistant to fatigue, help to prevent startup problems, and provide durable and reliable performance for your vehicle.
The Benefits of Ignition Coils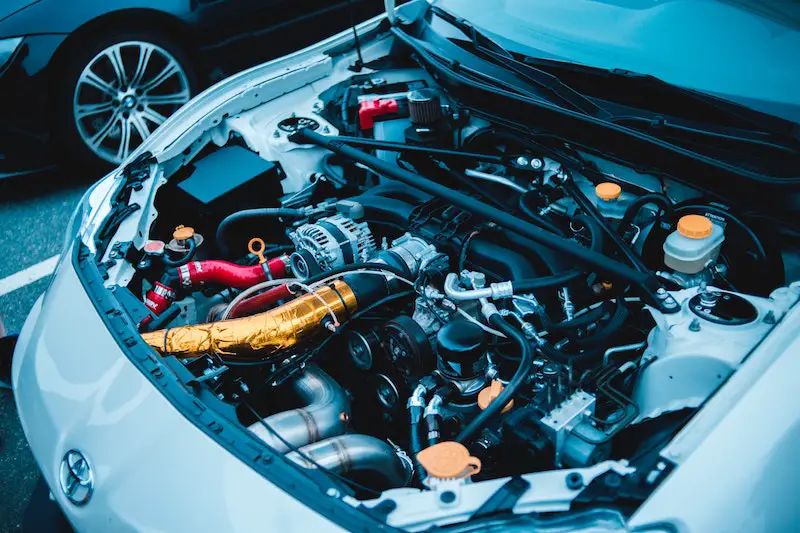 Remove the Check Engine Light
One common reason you could be getting a check engine light is from a bad coil. This would cause the dashboard light to illuminate and you may start to worry that something is wrong with the engine.
Start by using an OBD-2 scanner to check the code. If it's related to these coils, replacing or upgrading the coil could turn the light off and get the engine running back to normal.
Better Starting Conditions
A worn or damaged ignition coil can prevent the engine from starting. Installing new coils can improve the starting conditions and make sure your vehicle starts every time.
This is something to look into if your vehicle is having trouble starting. You can also check out this issue if you have long crank times or you're getting misfires.
Top Performance
Driving with a broken ignition coil can make the engine backfire, cough, or run rough. This is usually caused from a cylinder misfire and fouled spark plugs, due to a bad coil.
This would lead to a loss of power and resulting other symptoms when you're driving. Changing the coils can improve performance and help you get the most out of your engine.
Better Gas Mileage
The engine in your vehicle is bound to operate better when you install new ignition coils. With the engine operating at its peak performance you'll end up with better gas mileage.
If you noticed your vehicle starting to suffer from lower gas mileage, checking the ignition coils can be one way to remedy these symptoms. It doesn't hurt to replace them regularly as well for better engine performance and longevity.
Types of Ignition Coils
Breaker Point-Type Ignition Coil
This coil is typically used with conventional breaker point type ignition systems. It's a system that has been used since the beginning of the 20th century.
The way it works is by having an electrical current flowing into the coil from the battery, then the distributor cam opens the points. This causes the electrical circuit in the coil to break with the current falling into the distributor cap and on to the spark plugs.
Ignition Coils Used in Electronic Ignition Systems
This type is very similar to a conventional coil. The difference is with the two ignition coil design.
For this design to work, a pick-up coil is employed to signal the control module. This signal from the control module activates the ignition coil.
Typically, these ignition coils can be found in the distributor cap. This was a setup of coil arrangement used in the 70s since it produced a more reliable engine operation and less pollution.
Ignition Coils in Distributorless Ignition Systems
Since the 1980s vehicle makers have started to use these ignition coils. The effective design of the distributorless systems means more energy can come from the coils.
With this configuration, three or more ignition coils are mounted together in a coil pack. There is a magnetic triggering device that determines the position of the crankshaft and the engine speed.
This device sends a signal to the ignition control module, which then sends a signal to the coil. Each coil fires the spark plug in its own cylinder, which eliminates the fault-prone and distributor ignition wires.
How Much Do Ignition Coils Cost?
$20 to $50
This is at the lower end of what you can expect to spend for one ignition coil. For the price you can find some decent quality coils, though you'll be looking at breaker point type coils designed for older vehicles.
At the higher end of this price range you can find coils designed for vehicles with electronic ignition systems. Depending on the vehicle, the electronic ignition system may use two of these and it will be necessary to replace both of them.
Choosing the right package depends on the number of cylinders in your engine. This means you'll either purchase 4, 6, or 8 cylinders.
$50 to $75
This is what you can expect to spend for coils design for electronic or distributorless ignition systems. These can typically be found in mid-quality cars, such as Toyota and Ford, that are equipped with 4, 6, or 8 cylinder engines.
$75 and Up
You'll typically find coils in his price range for distributorless ignition systems. These are typically designed for higher-end cars, such as Lexus and Mercedes.
Always double-check with your owner's manual or the maintenance manual for your specific vehicle. This will tell you exactly what to look for when it comes to finding the right ignition coils for your car.
Key Features
Quality
The first feature to consider is the overall quality of the coils you'll want to use in your vehicle. Modern coils use epoxy to eliminate any gaps in the windings, which would cause problems in the future.
They also come with a diode to stop any reverse pulses that could form. It's a good idea to upgrade to modern materials, unless you're restoring an older vehicle or you want to keep everything original.
When you're replacing the coil, look for the best quality ignition coil that's made from the best materials. This isn't an area of vehicle maintenance that you would want to cheap out on.
Correct Coil
Another important consideration is that you're using the right coil that's designed for your specific vehicle. Choosing the wrong one means it won't fit properly and if it does happen to fit, it could damage the engine if it's not the proper option.
When you're shopping for an ignition coil online, most websites will let you know if what you're looking at will fit in your vehicle. Otherwise, you could visit your local mechanic or do some more research online to find the right one to install.
Price
Most people won't want to pay more for a coil that does the same job, or even a better job, than a cheaper coil. Always check the product description and take a look at reviews to see what other people have to say about the quality vs. the price.
Keep in mind that when it comes to your vehicle, it's always a good idea to install the best quality components. This will result in less headaches in the future and a better peace of mind for when you're regularly driving.
Brand Name
Typically, it's not usually a big deal to buy a brand name automotive part. However, when it comes to these coils, it's a good idea to go with a brand that has been making quality products for a long time.
For example, brands like Delphi, Bosch, and Motorcraft are well known for their high quality and reliable automotive products. These are the companies you should be buying a coil from so you can expect more reliability and better longevity from your purchase.
Helpful Tips
Always make sure that the ignition coils you're looking at are designed to fit in your vehicle. Not everyone is compatible with all different makes and models. Using the wrong coil could damage the engine and cost you more money in the long run.
These coils are typically designed to operate for about 100,000 miles before needing to be replaced. Always check the maintenance schedule to see what they recommend for replacing them. It's a good idea to check the condition of the coils whenever the check engine light comes on as well.
It doesn't hurt to buy more ignition coils than you need. Going with the 8-pack is always a good idea, even if your vehicle just needs 4 or 6. This way you'll have an extra set on hand in case you need to quickly replace some.
Depending on your budget, look for ignition coils with a longer warranty. This means you can easily exchange or return them if they malfunction. As long as the coils served their purpose, you'll have peace of mind, and can easily get them changed or refunded if something goes wrong.
Frequently Asked Questions
When Should You Replace Ignition Coils?
Start by referring to the maintenance schedule for your specific vehicle. You can find information here on how often to replace ignition coils.
Alternatively, if you're noticing poor fuel management, delayed starts, or any misfires, this could be time for an ignition coil replacement. Pull the codes from check engine lights as well to see if it's time for them to be replaced or if there is another problem.
How Can You Get the Most Out of Your Ignition Coils?
The best way to ensure your coils are healthy and long-lasting is to prevent them from being exposed to extreme temperatures. You should also store any unused ignition coils in a dry place that's free from any excess heat or moisture.
Make an effort to replace them before recommended and this should help you avoid any issues with them. Preventive maintenance never hurts when it comes to the engine in your vehicle.
What Causes Misfiring?
You may have noticed that your engine is misfiring or this could be the code you're getting from the check engine light. This happens when fuel doesn't burn correctly and the engine runs at a lower RPM due to improperly functioning ignition coils.
When this happens, you might notice the vehicle vibrating intensely after it has been idling for a short period of time. This is not good for the engine and these problems should be remedied as soon as possible.
How Long Can You Drive With a Bad Ignition Coil?
Driving with bad ignition coils will lead to a number of different issues happening in the engine. These will range from misfires and harsh idling to hesitation when trying to accelerate.
The simple answer is that you should never drive with a bad ignition coil. It should be replaced as soon as possible to avoid any additional vehicle problems.
Can You Replace Just One Ignition Coil?
It's always a good idea to replace the coils in pairs. However, it's okay to replace the fault one as long as you can identify it correctly.
Should you bring the vehicle to your mechanic, they will recommend replacing them all at the same time. This will keep the engine running smoothly and help to prevent any problems in the future.