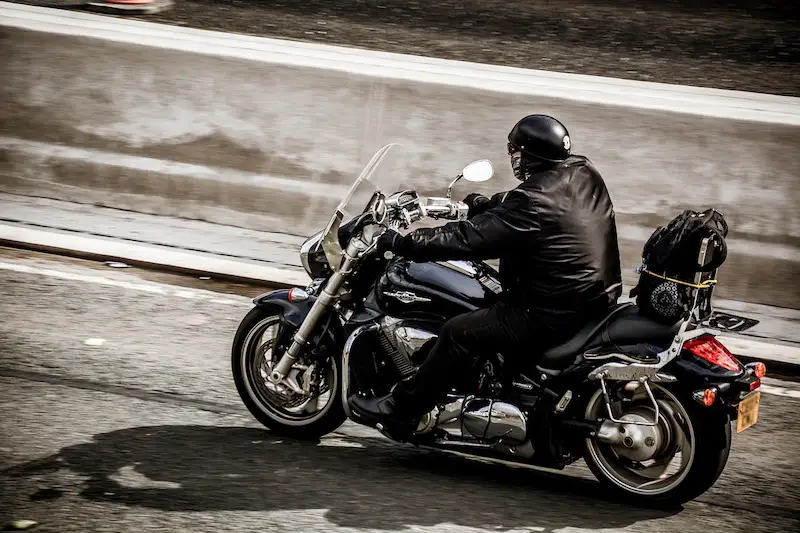 After installing your own motorcycle speaker system, using an amp can help boost the performance of the music you're enjoying. Motorcycle amplifiers help to boost the audio system so you're able to enjoy clear, loud music when you're riding, even at higher speeds.
Most bikers are guilty of buying an amp solely based on its power rating. While this could work in some cases, you'll be missing out on other important features that determine the amp's performance.
In this post, we put together a list of our recommendations for the best motorcycle amplifiers you can easily find online. This saves you the time of doing your own research and instead you can get the amp installed and spend your time riding.
Don't forget to scroll past our recommendations for an in-depth buying guide, some helpful tips, and an FAQ section. Otherwise, let's jump right into it!
The Best Motorcycle Amps in 2021
Rockford Fosgate 400-Watt Compact Amplifier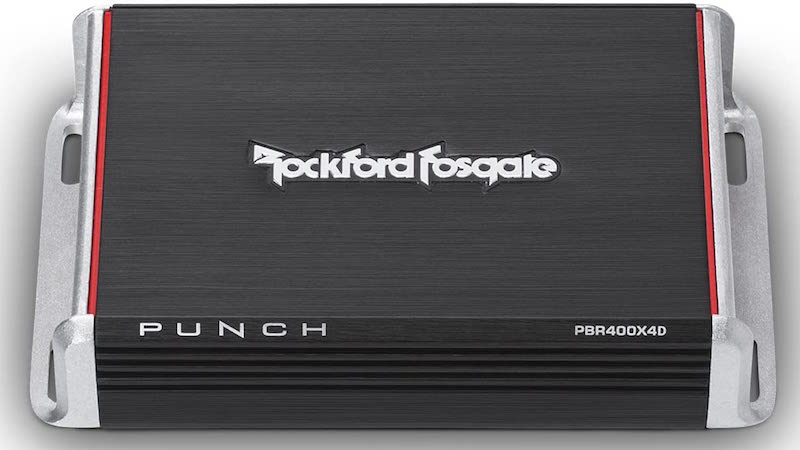 The Rockford Fosgate 400-Watt Compact Amplifier is a small and compact motorcycle amp that offers up to 400 Watts of power for your music. Thanks to the versatile design, this device can be used in either 2 or 4 channel configurations depending on your setup.
The overall compact design of this Rockford Fosgate amp means it can be easily installed in a number of different locations on your bike. As long as there is room to mount this device, it's possible to install it in that specific location.
For easy installation into any OEM sound system, this comes with a variable hi-level DC offset turn-on circuit. There's also an integrated level setting technology for quickly setting up the amp output to get the best sound quality possible without any guesswork.
The small size and low electrical draw makes it ideal for your motorcycle since it won't put too much strain on the electrical system. With the different feature settings it's possible to set it up so there's no distortion, even when you crank up your music.
With the high pass and low pass filters set at 80hz, the sound quality will be loud and clear. There's even separate gain goals for the front and rear speakers for a further customized listening experience.
As with any amp, this one could run hot, so it's a good idea to keep it well ventilated when you're running it for extended periods of time. To help prevent it from overheating, it will automatically shut off when it gets too hot, so just keep it ventilated and you won't have to worry about anything.
Overall, the Rockford Fosgate 400-Watt Compact Amplifier is our top recommendation as the best motorcycle amplifier for most riders. It's lightweight and portable, easy to install, and it comes with some great features for making the most of your motorcycle sound system.
Kenwood KAC 400-Watt Digital Amplifier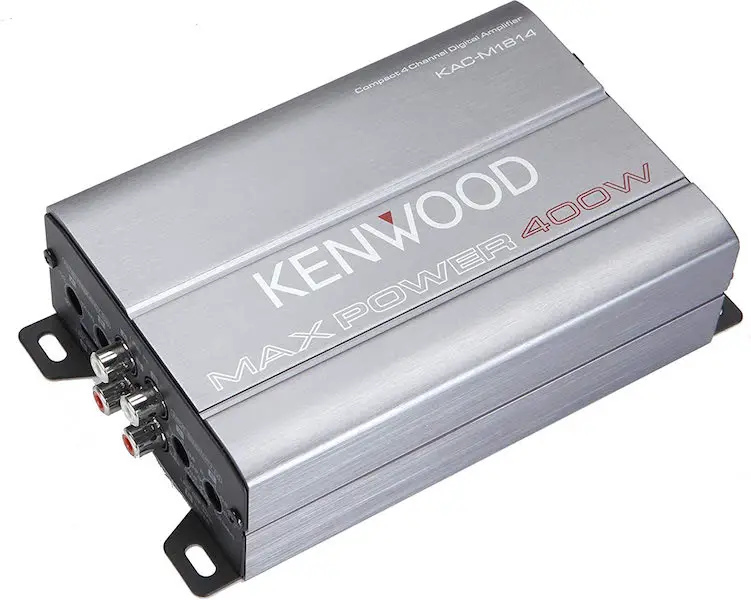 The Kenwood KAC 400-Watt Digital Amplifier is another great option, especially if you're looking for the best Bluetooth amplifier with four-channel setup. This one is easy to use, produces great sound, and even comes with a remote control.
As a four-channel amp, the Kenwood KAC 400-Watt Digital Amplifier gives off 45-watts RMS per channel. To help with weather protection, it comes with plastic plugs and a conformal coated circuit board to prevent any damage from water and moisture.
Since this is a wireless motorcycle amplifier, there isn't any need for a receiver. You also won't require a separate remote lead since this device features signal sensing, turn-on, and speaker level inputs.
With the Bluetooth connection, it's easy to operate this amp and get it hooked up to your motorcycle sound system. The compact size means it can be easily mounted in a number of different locations on your bike.
When paired with a good set of speakers, you'll be able to listen to music at speeds of over 60 mph. This means you can enjoy your music whether you're on the highway, stuck in traffic, or dealing with a lot of wind noise.
One main drawback to this device is that the amp unit isn't as weather and water weather water-resistant as the controller. There aren't rubber gaskets between the aluminum pieces and the outside housing isn't perfectly sealed from the elements.
Otherwise, the Kenwood KAC 400-Watt Digital Amplifier is still a great choice if you're looking for the best Bluetooth amplifier for your motorcycle. It's reasonably priced, well-reviewed, and a great option for producing great sound.
Soundstream PN4 1000D Amplifier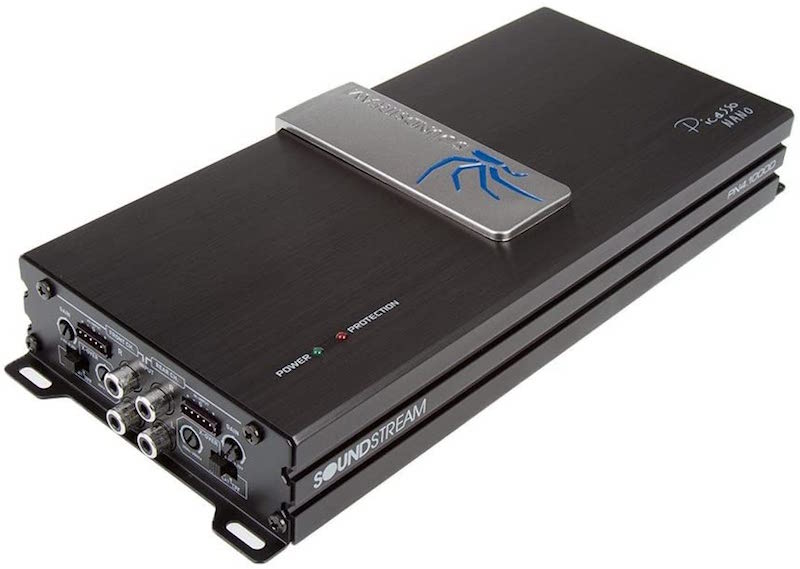 The Soundstream PN4 1000D Amplifier is a great choice for running multiple speakers on your motorcycle. This is a 4-channel, class D car amplifier that can be easily modified to use on a bike.
Although it is bigger than some of our other recommendations, the somewhat compact size of the Soundstream PN4 1000D Amplifier makes it easy to install in most places, especially on a cruiser or Harley Davidson. Once installed, it can be easily hooked up to 8 speakers without excessive heat while providing a clear and loud sound.
To make installation even easier, this device comes with a detailed PDF manual. Not only can you use it for an easy installation, it also helps you with troubleshooting any issues should they arise.
As for hooking up speakers, it's a good idea to run each speaker to its own channel. This helps to prevent any distortion and gives you that crystal clear sound clarity you're looking for.
With a max power output of 500 watts there is plenty of power to provide for your different speakers and tweeters. It even comes with 3-way protection circuitry to prevent any thermal, overload, or speaker short issues.
Since this device does it come with the most weather protection, it would be a good idea to install it somewhere that it's kept out of the rain and other harsh road elements. This should help extend its durability and keep it safe from any damage from moisture.
Overall, when it comes to getting the best sound out of your motorcycle, we would recommend checking out the Soundstream PN4 1000D Amplifier. This is an amp that's easy to install and offers plenty of power for listening to your music.
Why You Should Use a Motorcycle Amplifier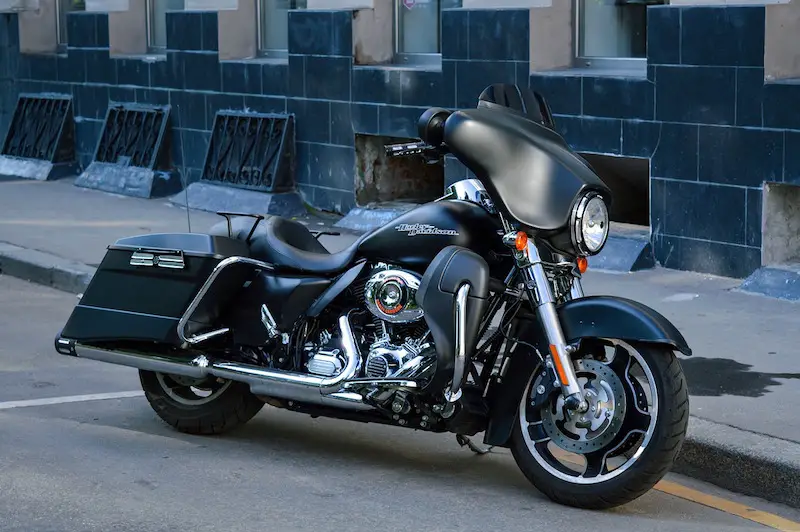 Easily Listen to Music
Using speakers with an amp is an easy way to listen to music in your motorcycle. While some riders prefer using a Bluetooth motorcycle headset, using speakers with an amp is a little easier.
With a speaker setup you can easily have the music playing with or without your helmet on. You can even control everything with your smartphone, assuming you're using a motorcycle smartphone mount and it's easily accessible.
Boost the Audio Signal
Relying on just the speakers can make for a disappointing sound quality experience. With an amp, you're able to get that rich, quality sound you're looking for on your motorcycle.
This gives you that powerful, booming sound you're probably looking for. The amp makes it easier to hear and enjoy the music when you're riding.
Upgrade the Stock Sound System
Depending on the touring motorcycle you're on, it may or may not come with a stock audio system installed. Unfortunately, these typically aren't the best systems available.
To get a better sound it's a good idea to upgrade the motorcycle amp and speakers. Then you'll be able to listen to your music whenever you're riding without any quality complaints. Don't forget to wear motorcycle ear plugs to protect your hearing.
Types of Motorcycle Amplifiers
Wired vs Bluetooth
Using a bluetooth motorcycle amp is convenient since you won't need any wires for connecting it to the sound system. It can also be used for various applications, including controlling the radio and using it with your Bluetooth capable smartphone.
Although many people prefer to use a wired amp, the Bluetooth amps can be very useful. Once it's connected to your device, you can use your wifi and smartphone to play whatever music you want.
How Much Do Motorcycle Amplifiers Cost?
Under $100
At this price point you won't find too many options. While there are some small motorcycle amplifiers for less than $100, it's hard for us to recommend them.
For this kind of money you really can't expect any durable or long-lasting products compared to if you spent a few dollars more. It would also be hard to find any that come with Bluetooth capability.
$100 to $200
This is the sweet spot for small motorcycle amplifiers. You can expect to spend up to $200 to upgrade your current set up into a quality audio system.
At the higher end of this price range you'll find units with more controls and better quality components. It's also likely you'll find amps that have Bluetooth compatibility, making them easier to use with your smartphone.
Over $200
This is what you can expect to spend if you're looking for a premium motorcycle amp. If you're spending this kind of money, you're going to get a quality setup that comes with an amp, speakers, and other audio elements for your motorcycle sound system.
Key Features
Size
One of the first things to consider when you're looking for the best motorcycle amp is the size. Since each motorcycle is built differently, there isn't a universal fit when it comes to finding space for an audio system.
Start by looking at the dimensions of the gear you're interested in to make sure it can fit somewhere on your bike. It's important to choose the device that fits seamlessly alongside the rest of your motorcycle audio equipment.
Weatherproof
Even the best, most careful riders are bound to get caught in the rain at some point. You'll also be regularly exposed to a variety of other weather conditions and road conditions.
That's why it's a smart choice to go with a bike amplifier that's designed to repel rain, snow, dust, and other weather elements. Since you'll be installing it on your bike, it should also have the ability to endure a lot of vibrations.
Power Ratings
Pay particular attention to the peak power rating when you're looking at different bike amps. This is typically referred to as the maximum output and is measured as a RMS power rating.
The rating indicates the continuous power that an amp is able to generate. Try not to get seduced by inflated power ratings since not every unit is the same.
It's a good idea to check out reviews and look for a unit that's certified by the Consumer Electronics Association. This will give you a better idea as to whether or not the amp you're checking out is worth the money and has enough power.
Number of Channels
To complete your motorcycle sound system, the amp needs to be paired with a set of speakers. It should be able to power the sound system properly.
While stereo amps with two channels are the most common, using a four-channel amp will give you more options. It's possible to choose between one and six channels, though we recommend going with at least four.
Easy Installation
To save money, it's a good idea to install all of the sound system components on your own. This means you should look for a unit that's easy to install and adjustable.
The best motorcycle amplifier will come with mounting brackets and other hardware that makes it easy to install on your bike. This is worth considering along with the overall design and size of the amp to make sure that it fits.
Helpful Tips
When you're looking at amps, make sure the wattage is the same or greater than that of the speakers. Otherwise, you'll run into issues with distortion, which happens when the speakers are too powerful for the amp.
Double-check that the RMS and the voltage match. Since motorcycle amps use a 12-volt power source, it's important that they're compatible so that they can function properly.
The best rated motorcycle amplifier setups will come with both high and low pass filters, a bass boost, and speaker level inputs so you can easily customize your sound. Look for an equalizer, which will let you easily adjust the sound to your preferences.
During the installation process, consider using a relay with your power amplifier. This way you can hook it up to a switch on accessory power and then have the power running from the relay to the battery.
Frequently Asked Questions
Where Do You Install a Motorcycle Amplifier?
The best place to install a motorcycle amp is wherever it can be easily accessed. Some popular places include the tank bag, handlebars, or in a saddlebag.
It needs to be somewhere that's audio inputs are accessible for it to be used with a smartphone, MP3 player, or USB device. Otherwise, it's not going to be convenient to use and won't be as effective for improving your motorcycle music listening.
Does the Amp Need to Be Wired Directly to the Battery?
There are two options for powering an amp on your bike. It can either be wired to the battery or to a deck power supply depending on your preferences.
This would depend on the type of amp you purchase. Take a look at the instructions for installation to make sure you're setting up the power supply correctly.
Can Mini Amplifiers For Motorcycles Fit on the Fairing?
This would depend on the amount of space you have on the fairing as well as the size of the amplifier. However, there are many motorcycle amps that can be easily mounted above the head unit as long as there is a space.
Before buying any components, check their specifications and compare it to the space you have on your bike. This way you'll know for sure if there's enough room for the installation and where on the bike everything should be installed.