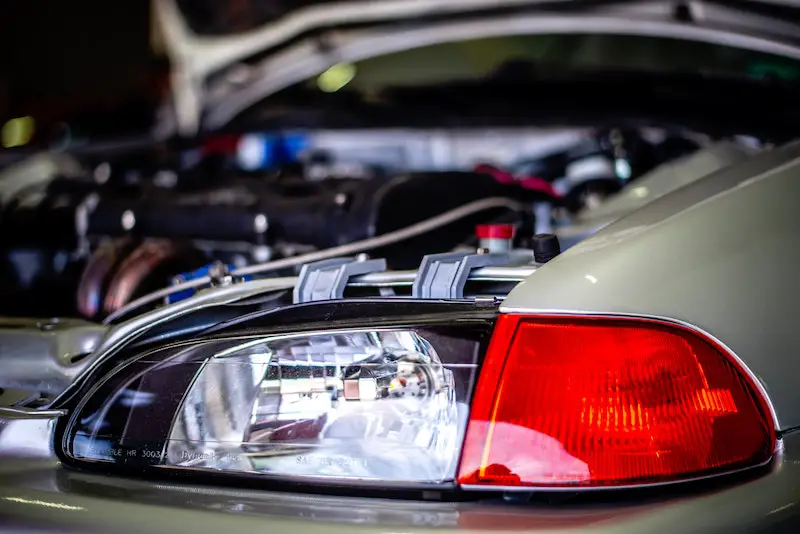 Many people find it to be a problem when the check engine light shows up on the dashboard. Without the right tools, it's confusing to know what's wrong, especially when you don't know what the problem is.
Taking your vehicle to the mechanic can be a roll of the dice. Without knowing the issue, it could be an expensive repair, especially if you're not dealing with an honest mechanic.
Thankfully, as long as you have the right tools and equipment, you can fix most common vehicle issues on your own. The next time the check engine light shows up, it's a good idea to use the best OBD2 scanner to see what the problem is.
Otherwise known as an onboard diagnostic II scan tool, this is an automotive scanner that directly communicates with the onboard computer system on your vehicle. It will display the specific errors and issues that are coming up from the check engine light.
This makes it easy to fix smaller issues on your own or bring the vehicle to the mechanic and know exactly what needs to be done. In this post, we put together a list of our recommendations for the best check engine light scanner you should use.
Don't forget to scroll past our recommendations for the best OBD-II scanners for an in-depth buying guide and FAQ. Otherwise, let's jump right into it!
The Best OBD2 Scanners (Reviews) in 2021
Autel Autolink OBD2 Automotive Scanner (Best OBD2 Scanner Overall)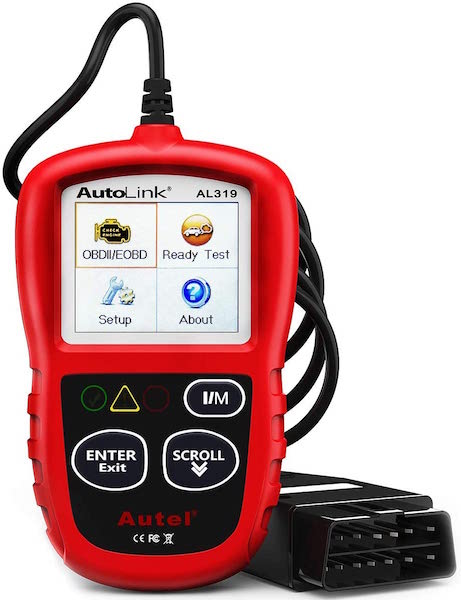 The Autel Autolink OBD2 Automotive Scanner is our top recommendation when it comes to the best OBD2 scanner for the money. This scanner features an easy to read screen, I/M readiness check, and makes it read and erase codes.
The Autel Autolink OBD2 Automotive Scanner is a basic code reader without any unnecessary and expensive advanced features. Due to the basic functionality it's more affordable and a great choice for beginners looking to do their own maintenance.
With its plug and play design, it's as easy as plugging it into the right port to start pulling codes. Once plugged in, the reader can be used to check codes, check live data, and turn off the check engine light.
As for the capability, the Autel Autolink OBD2 Automotive Scanner can be used on most American, European, and Japanese vehicles made after 1996. Owners will need to refer to the owners manual for the location of the port.
Another interesting feature is the large LED screen. This, along with the large buttons, makes the device easy to use and easy to read the codes.
Overall, the Autel Autolink OBD2 Automotive Scanner is our recommendation as the best OBD2 scanner for the money. It comes with basic features that make it easy to pull codes, check engine problems, and stay on top of engine maintenance.
BlueDriver Pro OBDII Scan Tool (Best Bluetooth OBD2 Scanner)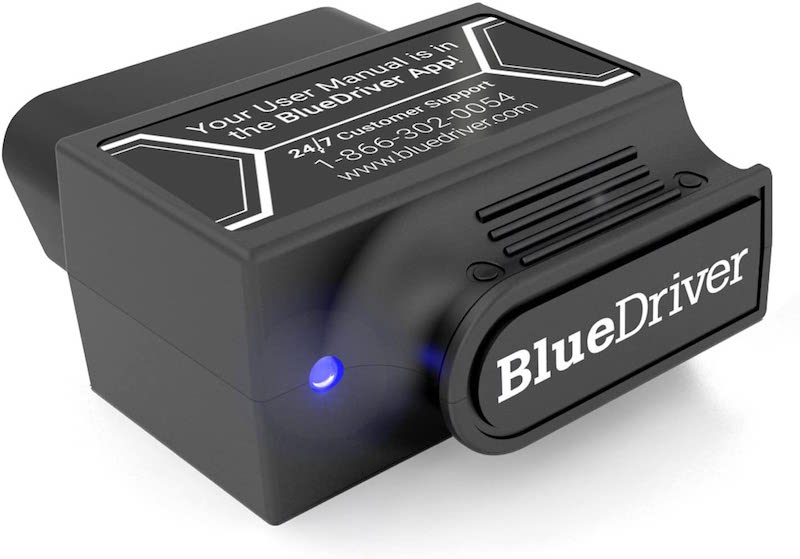 The BlueDriver Pro OBDII Scan Tool is our recommendation as the best ODB2 bluetooth scanner. This is a check engine light scanning tool that can be used with your iPhone or Android smartphone for pulling codes from the engine.
For a bluetooth engine scanning tool, this device can be used for checking the check engine light, ABS, Airbag, TPMS, and other sensors showing codes on your vehicle. After downloading the app, you'll be able to connect this to the port and then start reading codes right off your smartphone.
After giving the correct code, you'll be provided with a specific fix from a database of millions of repairs. There will even be fixes that have been verified by mechanics, so no need to spend hours on Google hunting for the right solution.
Not only is this device easy and convenient to use, it also comes with enhanced diagnostics. These are some extra features and information you don't get with other basic scan tools and code readers.
Other features worth mentioning include the graph and digital display, important vehicle information, freeze frame feature for snapshots, and smog check. All of these features make it easier to find any issues or problems with your vehicle.
Overall, it's hard to go wrong with the BlueDriver Pro OBDII Scan Tool as the best bluetooth ODB2 scanner. It has plenty of functionality and it's ideal if you're looking for the convenience of using your smartphone for checking the engine codes.
Foxwell NT301 Professional Diagnostic Code Reader (Best Wired OBD2 Scanner)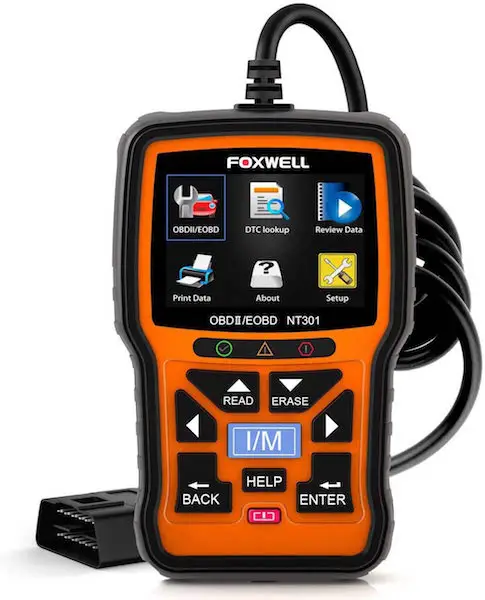 The Foxwell NT301 Professional Diagnostic Code Reader is yet another great option if you're looking for a wired scanning tool that's loaded with features. Along with checking normal trouble codes, this device can be used to control settings and provide life data while the vehicle is running.
Compared to the other budget options, this code reader has a better overall design and build quality. Thanks to the full-color display it's easy to read the information and trouble codes the scanner pulls.
With the live monitoring it's easy to take an in-depth look at what's going on underneath the hood. There's even big buttons on the surface of the device, making it even easier to use for controlling options and settings.
However, for the lower price you can't expect some of the more advanced features that would be found on higher-end professional models. For example, the live data monitoring is limited to just the battery voltage and there can be compatibility issues with certain vehicles.
Despite the few drawbacks, this is still a great choice when it comes to the best rated OBD2 scanner. Along with the user-friendly design, this one even comes with a convenient carrying case for easy storage and better protection.
Overall, the Foxwell NT301 Professional Diagnostic Code Reader is a great choice as one of the best wired OBD2 scanner options. It has great reviews, it's competitively priced, and it's a must-have tool for the home mechanic.
Bafx Products Bluetooth OBD2 Scanner for Android (Best Bluetooth OBD2 Scanner For Android)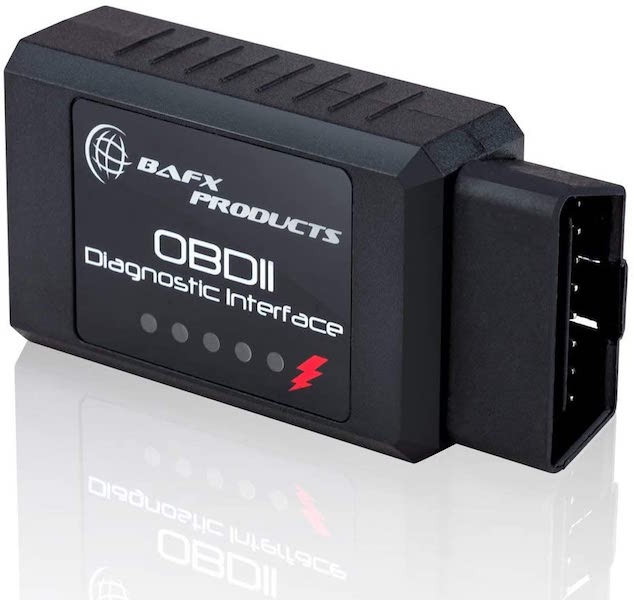 Those of you with Android smartphones will want to check out the Bafx Products Bluetooth OBD2 Scanner. This is a Bluetooth OBD2 scanner that's specifically designed for Android smartphones for diagnosing problems with your vehicle.
The Bafx Products Bluetooth OBD2 Scanner for Android is easy to use and can connect with a variety of different smartphone apps for displaying codes. Once connected to the port, this is a great device for checking what the issue with your vehicle is before bringing it to a mechanic.
With this device you can read and clear the check engine light, identify car troubles before they become serious, and get readings on your engine emissions. It will also let you check your air/fuel ratio, confirm that the O2 sensors are working properly, and get more information on a variety of other vehicle readings.
The Bluetooth connectivity is reliable, consistent, and won't let you down when you're diagnosing issues. It's compatible on a broad range of different vehicle makes and models, as long as you can find the proper port.
Not only is it wireless, but it has a small, streamlined profile for easy storage. Even while you're using it to pull codes, you can easily work on your vehicle without any wires or cords in the way.
Overall, it's the Bafx Products Bluetooth OBD2 Scanner for Android that we would recommend if you have an Android smartphone and you want a Bluetooth automotive diagnostic scanner. This one is easy to use, well-reviewed, and comes with some great features for finding out issues with your vehicle.
ANCEL AD310 Universal OBDII Scanner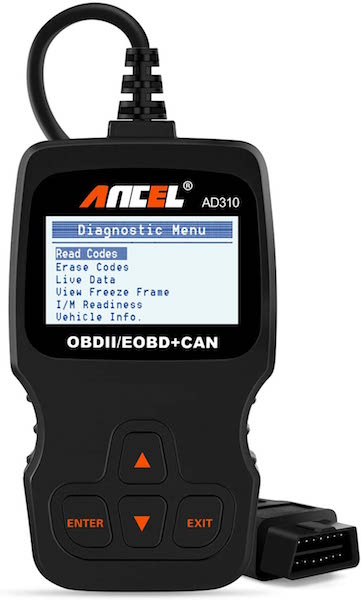 The ANCEL AD310 Universal OBDII Scanner is a basic automotive diagnostic scanning tool. It's easy to use for pulling codes, clearing trouble codes, and finding out what's wrong with your vehicle.
This is a wired scanner that's equipped with a 2.5-foot long cable, which is made of a thick and flexible insulator. After plugging it into the right port, the device is easy to use thanks to the 4 large navigation buttons on the front.
Once it's plugged in it's possible to check the cause of check engine lights, turn off the check engine light, and perform I/M monitor readiness tests. It can even be used to read hard memory, check historic codes, and view freeze frame data of the engine performance.
The results are displayed directly on the large LCD display with its bright white backlight. There isn't any need for batteries or charging this device since it gets power directly from the battery in your vehicle once it's hooked up.
When it comes to compatibility, this scanning tool will work on most European, Asian, and newer American vehicles. It's a great device to have for checking your own codes in the comfort of your garage.
Overall, the ANCEL AD310 Universal OBDII Scanner is another great choice for one of these vehicle check engine code scanners. It's affordable, easy to use, and will make it easy for you to fix your own vehicle.
Why You Need an OBD2 Scan Tool
Quickly Diagnose Common Problems
Even a professional mechanic will have difficulty determining the cause of the number of things that can go wrong with a vehicle. Thankfully, all modern cars come equipped with on-board computers and sensors.
This modern computer system monitors the health and efficiency of the vehicle. The OBD-II scanner is designed to communicate directly with this system.
Once you have detected an issue or you're getting a check engine light, hooking up the scanner tool will let you know what the problem is. It will download and process any of the issues that have been detected so you can start working towards a solution.
Access Other Information
Not only can you learn about common issues with your vehicle, using an OBD-II scanner lets you track the real-time data of the vehicle while it's running. This makes it easy to check out the different stats and specifications that modern cars have which influence the overall performance.
The information will provide more details about the powertrain, drivetrain, and the main interior features of the vehicle. With this information you can troubleshoot other issues or take an in-depth dive into the vehicle systems to perform preventive and basic maintenance.
Change Specific Settings
These check engine scanners can also control some basic functions in the vehicle. For example, it's possible to reset the check engine light using one of these scanners.
Some of the better quality scanners come with other built-in features like tire pressure gauges, temperature sensors, and other interesting features. It's a good idea to check the details or product description to see exactly what features you're getting.
Types of OBD2 Scanners
Wired
The most common OBD-II scanners are designed to plug directly into the OBD port of a vehicle. This is usually done with a cable that's connected directly to the device.
With this type there isn't any need for a battery and it's relatively easy to get everything connected. The main drawback is that you're not going to be able to move around the vehicle when you're working on the engine bay.
Another benefit to these wired devices is that they come with a USB cable. This makes it possible to connect the device to a computer so you can further translate the codes that are showing up.
Wireless
Wireless code scanners allow you to monitor the car anywhere inside or around the vehicle. They use a Bluetooth or wireless network to connect the scanner to a display unit or smartphone app.
With this setup can be difficult to get everything working initially. Once everything is properly set up, it's hard to beat the convenience of a wireless OBD2 scanner when you're working on a vehicle.
How Much Do OBD2 Scanners Cost?
$50 and Under
In this price range you'll find some basic scanners that come with very little features. Typically, go only be getting trouble code detection and mostly wired devices.
You should only expect them to present the code itself. It's likely you will have to do your own research online for more information about the code you're given.
$50 to $100
In this price range you'll start to find some more advanced auto scanners and ODB-II tools. It's also where some of the wireless models will start to become available.
The higher-end options will come with better features including live data monitoring and extended functionality. This is a great price point if you're on a budget and planning on doing your own maintenance at home.
$100 and Up
At this price point is where you'll start to find the best OBD-II scanners. There are professional scanners available that come with most of the features you would need.
These features would include different monitoring options and control features. Keep in mind that the more functionality you're looking for, the more you can expect to pay.
Key Features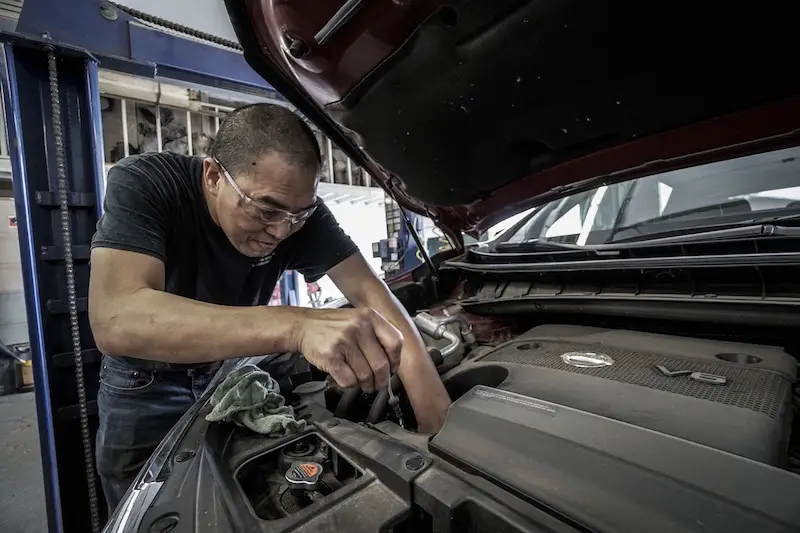 Scanner
The scanning capability is the most basic function that you'll find on any good OBD-II scanner. This is the scanning feature that communicates directly with the vehicles onboard computer.
Once connected, the scanner will have access to the various monitor issues and sensors related to your vehicle. Some of them will only access basic trouble codes while other models will have a larger range of information available.
Information Processing
With basic and budget scanners you will be provided with little information. For the most part, you can expect a basic trouble code that you will then have to research to learn more about.
Mid-range to high-end scanners will present the trouble codes in plain language and might even provide a solution. These are a better investment when it comes to convenience and fixing the problems with your vehicle on your own.
However, it's worth mentioning that there is plenty of information online and on YouTube. It's not at all difficult to research check engine codes to determine what the problem is, even with a cheap OBD2 scanner.
Settings Access
Using various diagnostic scan tools will allow you to fine-tune and control the specific settings in a vehicle. This depends on the quality of the scanner and it will need to have the ability to access different settings and monitor various stats.
Most of the cheaper and lower-quality scanners will just present trouble codes. Higher-end and better quality ones will let you control warning lights and certain sensors.
Connectivity
Most OBD-II scanners are designed to connect directly to the OBD2 port in the vehicle. This can be done with a cable or through Wireless connectivity.
The benefit to the cable scanners is that they don't require any battery power to work. Instead, they draw power straight from the vehicle's battery.
Using wireless scanners is more convenient since you can move around the vehicle as you work. These through a device that plugs into the correct port and uses Bluetooth or wifi to connect with the scanner.
Car Age & Type
Older vehicles, especially those made before 1996, become much less likely to be able to connect with the OBD-II scanner. Vehicles made after 1996 will come equipped with the right port that can be used with modern code readers.
With older vehicles, it might have an older port and it's possible that may not even come with a check engine system. This makes it more difficult to diagnose issues and monitor performance.
It's also worth noting that Asian and European cars have their own diagnostic scanner port. You will need a different scanner to check the engine and pull codes off of these vehicles
Provided Information
Even the best OBD-II scanner is only as useful as the information it provides for you. Regardless of the scanner you're using, you'll probably have to research the diagnostic issues you're experiencing.
While higher-end scanners provide more information, there will still be research required. It's unlikely you will be able to solve most issues with a specific code and some basic information about the problem.
On the other hand, the higher-end scanners do provide a wealth of useful information that you can use to your benefit. They will come with understandable issue descriptions, recommendations for solutions, maintenance reminders, and more information with online data.
Helpful Tips
Start by investing in a scanner that matches your automotive maintenance skills. The more advanced scanners are only practical if you have the skills to address and recognize the issues that are provided with the scanner. Basic scanners are better if you're just getting started with automotive repair experience.
Even if you don't have automotive repair skills, it can still be beneficial to find issues with a scanner. Many of them create basic health reports that you can show to your mechanic. This can help speed up your mechanic's job, which saves you time and money.
Always research the error codes you're getting whenever you use a scanner. There is plenty of information on Google and YouTube that can give you a better idea of the problems you're experiencing. This way you'll be completely prepared to fix the issue on your own or speak to your mechanic about it.
Frequently Asked Questions
Where is the OBD-II Port?
Most ports are located near the steering wheel on the driver's side of the vehicle. The exact location will vary depending on the brand, but this is a good place to start.
Generally, the port can be found to the left of the steering wheel underneath the dashboard. Some vehicles may have it on the other side, near the passenger seat.
Before looking for the port, refer to the owner's manual to find its exact location.
Will the OBD-II Scanner Tell You What's Wrong With the Vehicle?
The answer to this question depends on the scanner you're using and the issue with your vehicle. Typically, the scanner will display the correct fault code if the vehicle is able to detect the issue directly.
However, other issues can get hidden in layers of random signs and symptoms that will require some investigating to properly identify. Newer vehicles will also come with manufacturer-specific codes and car code definitions.
Are Car Health Monitors the Same as OBD Scanners?
Not really. Car health monitors are designed to constantly monitor the vehicle. This lets them notify you of any problems before they become major issues.
On the other hand, OBD-II scanners are used to pull the code when the vehicle gives a check engine light. These are mainly used for problems after they come up.
Can You Use the Same OBD-II Scanner as a Mechanic?
Yes, it's possible to find professional-grade scanners available to use. These higher-end models come with advanced features for properly diagnosing issues and fine-tuning general performance.
Expect to spend more if you're looking for a professional-grade device with advanced functionality. Those of you doing most of your own maintenance and repairs at home might consider this to be a worthwhile investment.
Where Should You Store the OBD-Scanner?
This is based on personal preference. It's a good idea to store the scanner in the vehicle itself.
Most of them can easily fit into the glove box or center console. This way they are easily accessible for when you need to check an engine light or pull a code.