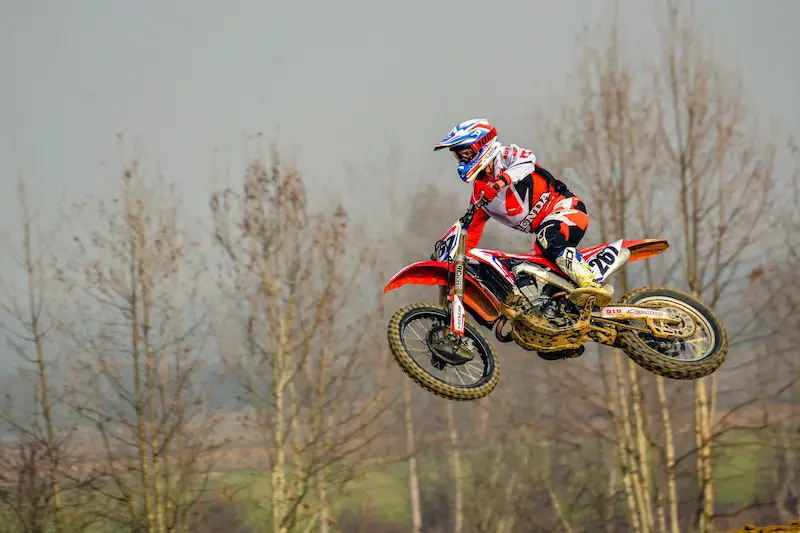 Here at RIPS & RIDES we cover motorcycles of all kinds. So far, we've talked about the best beginner motorcycles.
Today, it's time to talk about dirt bikes. In this post, we're going to look at the best beginner dirt bike options for you to consider if you're looking to get into motocross.
When you're in the market for the best dirt bikes for beginners, there's no need to go out and spend all your money.
Most of these bikes can be found for relatively cheap in used local markets. Of course, some of the best beginner motocross bikes are going to run a little bit higher in price.
Don't worry! Whether you have a big budget or a small one, you're bound to find something here in this post. Don't forget to scroll to the bottom for some helpful tips and a buying guide on how to find a used dirt bike.
Without further ado, let's jump right into it!
The Best Dirt Bikes For Beginners
Honda CRF250X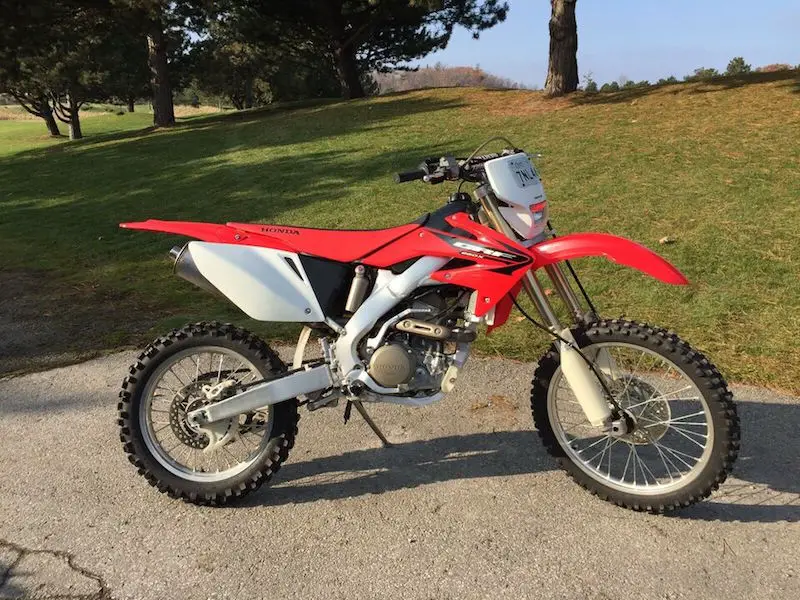 $2,500 – $10,000
Electric start
Four-stroke, 250cc engine
Great ground clearance
Huge aftermarket for parts and accessories
For some of you, it might not be surprising to see the legendary Honda CRF250X at the top of this list. Honda as the number of trail riding and motocross bikes available to choose from. When it comes to the best motocross bike for beginners, we have to recommend their Honda CRF250X as our top choice.
This bike offers a number of benefits for new dirt bike riders making it a great choice as a beginner dirt bike. Some of its best features include the electric start, higher ground clearance, and a 4-stroke, 250cc engine that's easy to control.
To get into it a bit, the electric start definitely beats having a kick-start. That's because when you start trail riding, you're probably going to stall out all the time on boulders, branches, and tough single track. It's easier to pull in the clutch and push the electric start button, rather than trying to kick the beast back on every time it stalls.
When it comes to ground clearance, it's the beefy tires that make the Honda CRF250X sit at a decent height above the ground. In the front is a 21-inch wheel, while in the back is a wide, 18-inch wheel. This makes it easier for beginners to cross inconsistent and tricky terrain without worrying about the tires flying all over the place. Being higher up also gives you more stability when you're standing on the foot pegs trying to balance yourself.
As for the engine, there's a powerful 250cc, four-stroke sitting between your legs on this bike. 250cc is more than enough power for getting where you need to go off road. For a Honda, this bike comes with a wide power band, so you'll have more control at slower speeds.
Two more features worth mentioning are the huge aftermarket and the weight distribution of the bike itself. There are so many different parts, upgrades, and accessories to choose from with the Honda CRF250X. You can do whatever you want to the bike, including a suspension lowering kit, and installing a larger gas tank for increase capacity. Options for better protection, such as engine guards, are also available in abundance.
Finally, in regards to weight distribution, the Honda CRF250X comes in at a whopping 254 pounds. This low weight combined with a low centre of gravity makes it easy to ride and easy to control when you're out on the trail.
All of these different features make the Honda CRF250X one of the best, if not the best dirt bike for beginners. The electric start, weight distribution, ground clearance, and aftermarket are just the features you should be looking for as a new rider.
Yamaha WR250R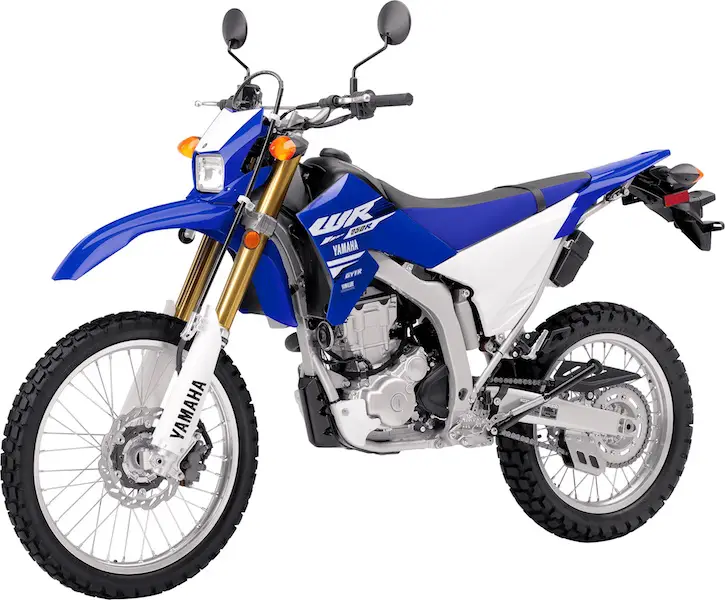 $2,000 to $10,000
Electric start
Four-stroke, 250cc engine
Reliable & easy to maintain
The Yamaha WR250R really gives the CRF250X a run for its money when it comes to the best beginner dirt bike. In the WR250R vs CRF250X debate, it's hard to chose a clear winner. For us, it boils down to personal preference and whether you're a Honda guy or a Yamaha guy.
While the WR250F is strictly designed for off road and trail riding, the WR250R is a more versatile, all-around dirt bike. You can throw some dual sports on it, and ride it just as hard as you would off road with the WR250F. For us, it's worth it getting something that serves more than a single purpose – but ultimately it's your decision.
Just like with the Honda, the Yamaha WR250R comes with an electric start. This makes it easier to get going when you stall the bike out on trick terrain.
Between your legs you're looking at a 250cc, four-stroke with all the power you could want for off road and single track. At just 295 pounds, significantly heavier than the Honda, it's still light enough to keep you out of trouble. When you're out in the spinach, you want something light that's easy to pick up and handle, leave the bigger bikes for the birds.
At 11.8-inches of ground clearance, this is also less than the Honda. However, you'd have to get into some serious scrubbage for this to be an issue. The fuel tank can hold 2 gallons and you'll be able to rip this beauty up to 71MPG. That's plenty of riding for a fun afternoon out in the woods.
When it comes to the aftermarket, the Yamaha WR250R is also blessed with a wide range of accessories and upgrades. It's easy to add more protection, such as an engine guard or bark busters. You can also find tank upgrades to get more mileage out of a single ride.
As for maintenance, the Yamaha WR250R is a breeze to maintain. These Japanese dirt bikes are, for the most part, bulletproof. They'll keep going long after you've already had enough.
Overall, the Yamaha WR250R is another one of the best dual sport bikes for beginners. It's a popular choice for both new and experienced riders, and it comes loaded with features that make it ideal for taking off-road. You can't go wrong with either the Yamaha WR250R or the Honda CRF250X.
Kawasaki KLX230R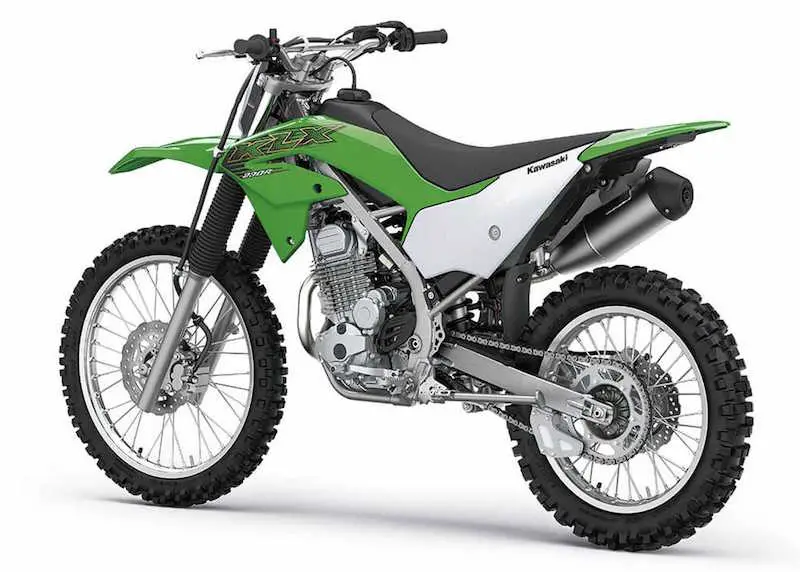 Starts new at $4,500
New for 2020
Easy to maintain
Electric start
Great for tough terrain
New riders in search of a full size dirt bike that you won't quickly outgrow need to take a look at the Kawasaki KLX230R. This is a new bike, released for 2020, as part of the growing line of Kawasaki dirt bikes. What's the starting price of around $4,500 USD, it's affordable enough to get your feet wet.
The Kawasaki KLX230R offers the best of both worlds when it comes to power delivery and easy maintenance. Powering the bike is a brand new, 233cc air-cooled single cylinder engine. It's equipped with fuel injection and electric start, so no fumbling around with a kick-start when you're out on the trails.
Compared to other bikes, the Kawasaki KLX230R has a rather high seat height at 36.2 inches off the ground. However, this provides riders with more control and a better perspective. This is just what you should be looking for when you're first learning to ride off road.
The engine itself won't throw you back in your seat. Instead, the 230cc engine delivers a steady and manageable range of power. The throttle is easy to control and it's effortless to slide through the six gears thanks to the light clutch.
Coming off the ground, you're looking at a respectable 11.8 inches of ground clearance. This, combined with the nearly 10 inches of suspension travel, gives you plenty of room to play around with when you're out in the woods.
All of these different features make the Kawasaki KLX230R a great choice for dirt bike beginners. This is a lightweight bike that's easy to maintain and practical for taking off road. It can also be fun for years to come, thanks to the reasonably powerful 230cc engine.
Yamaha TT-R230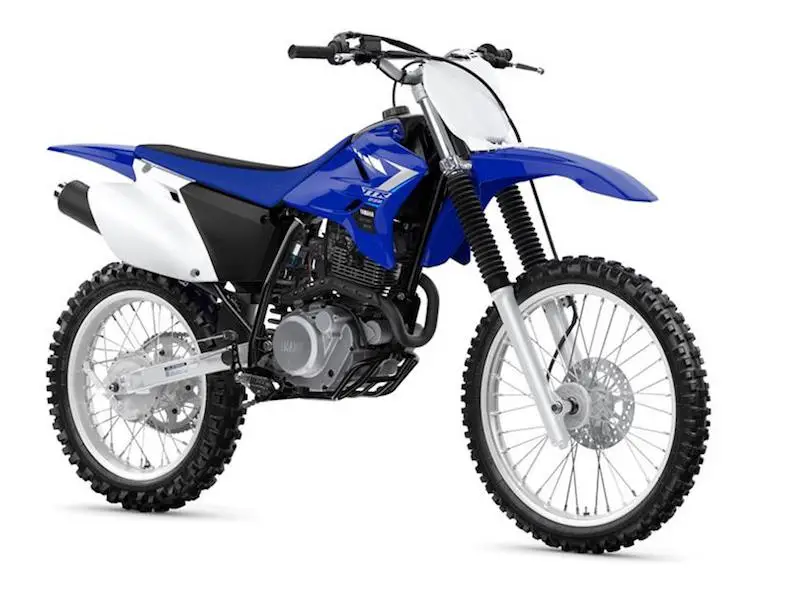 $2,000 – $5,000
Electric start
Great for smaller riders
Yamaha reliability
You shouldn't be surprised to see another Yamaha on this list. It's the Yamaha TT-R230 that's a great choice for new riders looking for something strictly for off road and trail riding use. Where the WR250R excel's in both street and light off-roading, the Yamaha TT-R230 is a beast when you take it off the tarmac.
In the dirt biking community, the Yamaha TT-R230 is well-known for its durability and ease-of-use. There are a lot of beginner riders starting out on this bike, so it should be readily available for a great price in your local used motorbike markets.
Let's get into the features. The Yamaha TT-R230 is equipped with an electric start and six speed transmission. Between your legs you're looking at a reliable, 223cc, for-stroke air-cooled engine. The bike has a manageable powerband, resulting in predictable handling.
Sitting on the bike, new riders will enjoy a seat height of 34.3-inches. This makes it a great choice if you're looking for the best dirt bike for short riders. Despite the somewhat lower seat height, the Yamaha TT-R230 has an impressive 11.6 inches of suspension travel, giving you plenty of room to play with when the trail starts getting tough.
When it comes to durability, the Yamaha TT-R230 is equipped with a steel chassis along with all of the quality components you can expect from Yamaha. Thanks to the used market, there are plenty of affordable upgrades and accessories you can find both online and locally.
Overall, the Yamaha TT-R230 is another great choice for new riders. It's perfectly designed for ripping off the road and manageable enough for shorter, young riders new to the hobby. Thanks to its durability and popularity, it's easy to find one of these for a great price.
Honda CRF150F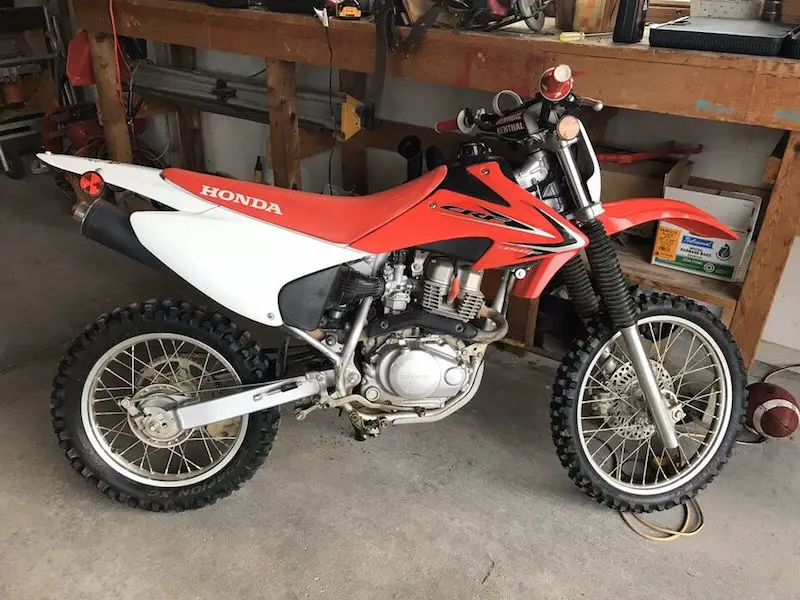 $1,500 – $4,000
Electric start
Small, easy to manage and control
Reliable and durable
When it comes to the best starter dirt bike, it's hard to go wrong with the Honda CRF150F. This is a smaller, more manageable motocross bike that's ideal for younger and completely new riders. The Honda CRF150F would also be our recommendation as the best beginner dirt bike for teenagers.
Most people in the motocross community are familiar with the Honda CRF150F. This is one of the most popular starter bikes of choice for a lot of riders out there. It's also the same bike I used during my motorcycle safety course. You have to thank Honda for that, being able to consistently release bikes that are durable and affordable.
Let's get into the details about the Honda CRF150F. For starters, this beauty is equipped with a 149cc, four-stroke air-cooled engine. The smooth power band is perfect for people just starting out. Even with some aggressive throttle control, you're not going to be goosing the bike at any point.
Despite having a smaller engine, the Honda CRF150F is a blast to ride. With the electric start, there's no need to worry about any kick-starting when you're stalling out in the woods. Of course, as a Honda, this is a bulletproof bike that can withstand whatever you throw at it.
When it comes to the trails, most of you will be pleased to find a 19-inch wheel up front with a 16-inch wheel in the back. This provides ample clearance for uneven ground. The wheel sizes help to give you better stability whether you're on singletrack or a rocky trail.
One of the main drawbacks with the Honda CRF150F is the drum rear brake. However, this is still a durable bike that's equipped with a high tensile strength steel chassis and maintenance free battery. On the front you'll find a powerful and easily managed disc brake, which provides most of the stopping power you'll need.
Overall, the Honda CRF150F is the best cheap beginner dirt bike that's affordable, easy to maintain, and a great choice for beginner and younger riders. There should be plenty of these available in your local market, especially if you live in an area where motorcycles are popular. Most mechanics have experience working on these bikes and there's a huge aftermarket of parts, accessories, and upgrades available.
Best Beginner Dirt Bike Guide | Tips For Choosing a Dirt Bike
At this point, hopefully you have a better idea about some of the best beginner dirt bikes to choose from. You're bound to have a blast riding any of our recommendations. Once you get off the road, riding dirt bikes is a world of fun waiting for you to experience.
With that in mind, we put together this helpful guide with some tips for choosing a dirt bike. This should give you a better idea about what to look for if you're in the market for a new, or used, set of wheels. These tips will also provide you with more helpful information if you're just getting into this industry.
Don't forget to check out our post on the best dirt bike tips for beginners. This in-depth guide is super helpful for those of you just getting started.
Buying Your First Beginner Dirt Bike
For your first dirt bike, we recommend buying something used in your local secondary marketplace. Look for a dirt bike on Kijiji, Craigslist, or Facebook. In the spring, summer, and fall most places will have an abundance of used dirt bikes available in a wide range of prices.
Why should you buy a used dirt bike as your first one? For starters, new dirt bikes are expensive. Prices for new ones start at around $4,000 and can range in price up to $10,000. Not only is the initial price higher, you'll pay more for insurance and maintenance on a new motocross bike.
Another reason to avoid buying something new is the simple fact that you're going to drop it, scratch it, and bang it up. Why would you want to subject a new, expensive dirt bike to this kind of abuse?
If you've never bought a used motorcycle before, bring someone along with experience. Alternatively, you can pick up a used bike at your local motorcycle shop, although you'll pay a premium for that level of service. Don't forget to budget for motorcycle safety gear, a motorcycle safety inspection, and your motorcycle insurance.
If you're looking for gear, we have some helpful posts here on the site. To get started, check out our post on the best dirt bike gloves. We'll be uploading more posts in the future to help you along.
Tips for Choosing a Beginner Dirt Bike
Motocross vs Trail Riding
When you start getting into dirt bikes, it's important to consider the type of riding you'll be doing. The two most common types are motocross and trail riding. Trail riding is what most people perceive to be off-road dirt biking.
On the other hand, motocross has more to do with sport riding on a groomed, outdoor track. You probably are more interested in trail riding and getting off the beaten path to explore the natural areas around you.
Motocross is where some dirt bike riders eventually graduate into. For the most part, you can have plenty of fun off-road without ever having to spend time on a designated course racing against other riders.
There's a difference between motocross bikes and trail riding dirt bikes. When it comes to dirt bikes design for trail riding and off-road use, these typically come with bigger tires and a softer suspension. They're also equipped with bigger gas tanks and higher ground clearance for getting over obstacles.
These few features are comforts you don't find on motocross bikes. While motocross bikes might be faster and lighter, they won't be as forgiving off road. They're also not equipped with large enough gas tanks and aren't built to withstand the rigors of off-road use.
Despite the differences, you're going to have fun whether you go with a motocross or trail riding dirt bike. Just remember the differences when you're trying to determine the type of bike you want.
Dirt Bike Sizing
When it comes to beginner dirt bikes, there isn't a universal size that fits everybody. Each rider is difference in height, weight, and the reach of their arms and legs. This means it's important to sit on and try out the different dirt bikes you're interested in riding.
The best way to check the fit is to physically sit on the bike. Whether you're buying used or new, people selling generally don't have an issue with you sitting on the bike and trying it out. While you might not be able to go for a test ride, you should be able to see if the bike is the right fit for you.
When sitting on a bike, check that you can plant your feet flat on the floor. Check that you can reach the handlebars and turn them without running out of space. Also, make sure you can operate the controls, both on the handle bar and the brakes/gear shifter.
It's easy to tell, almost right away, whether a bike is too small, too big, or just right. If it feels awkward then it's probably not the right fit for you. If you sit on the bike and it feels great, then you're probably looking at something that's a good size.
Dirt Bike Tire Sizes
Dirt bikes typically have a large wheel in the front and a smaller wheel in the rear. This allows the bike to accelerate faster and navigate smoothly when the terrain is rough. Acceleration over rough terrain, such as rocks or branches, means the rear tire should be wider and have more tread than the front.
Between bikes, the wheel sizes will vary depending on the purpose the bike was designed for. Larger tires on a smaller wheel are better suited for off road and trail riding. Look for dirt bikes with bigger wheels if you're going to be doing a lot of off-roading.
Dirt Bike Engine Size
Looking at different dirt bikes, you probably noticed the number in the name. This is the engine size of the bike. For example, a KLX250 has a 250cc engine.
Dirt bikes with engines, or higher cc's, are typically more powerful. They're also heavier, harder to manage, and less fuel-efficient. When it comes to finding the right dirt bike, it's better to start out with something smaller.
Smaller bikes, in the sub 250cc range, are lighter, easier to manage, and more nimble when you're out on the trails. Many riders find them to be more fun, since you're shifting more and revving through the gears.
As a beginner, we recommend starting out on a bike that's 250cc or smaller. It's also a good idea to get something above 100cc, unless you're buying a dirt bike for a small child. Growing out of 250cc engines is harder and some people prefer riding these engines throughout their time in the hobby.