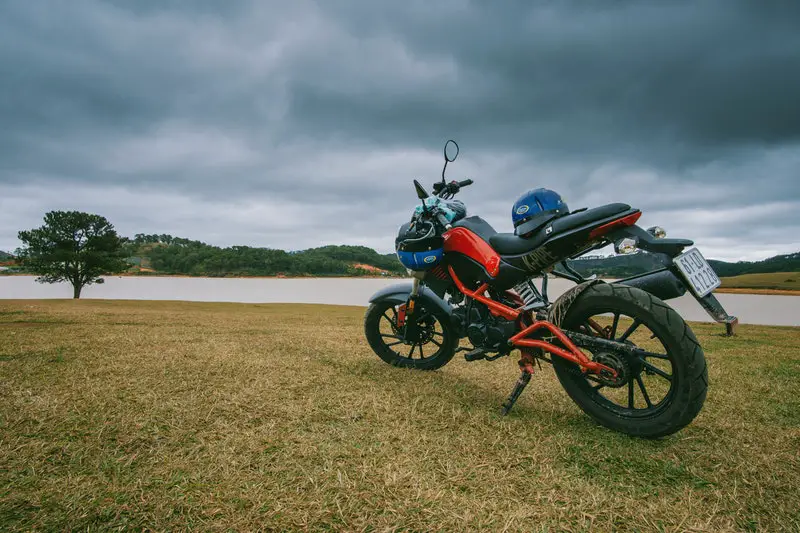 Have you ever left your helmet on the bike, gone for a walk, and come back only to find that your helmet has been stolen?
Not only is it expensive to replace, but riding your motorcycle without a motorcycle helmet is illegal in most places. This means someone has to bring you a new one or you have to tow your motorbike home.
While motorcycle helmet theft isn't common, it's still something that happens. In order to avoid dealing with this problem it's a good idea to invest in the best motorcycle helmet lock. These are locks designed to prevent your helmet from getting stolen when you're not in eyesight of your bike.
Locking your helmet up is a good idea whether you're going for a short walk, picking up groceries, or spending the day at work. It's a pain having to carry your helmet everywhere. With a lock you can rest assured knowing it's secured to your motorcycle.
In this post we'll take a look at the different motorcycle helmet locks available to you. At the end there's a buyer's guide and quick FAQ to make the buying process even easier.
Let's jump right into it!
The Best Motorcycle Helmet Lock
Bristol Designs Heavy Duty Black Combination Lock Cable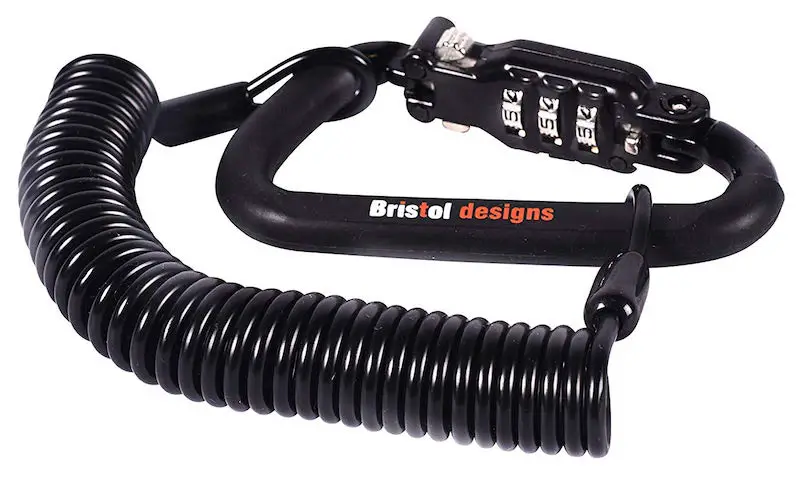 The Bristol Designs Heavy Duty Black Combination Lock Cable is a pin lock cable that's well-suited for securing your motorcycle helmet to your bike. With the lightweight cable design you can lock the helmet to any solid, sturdy areas on the motorcycle.
Along with your helmet, this heavy duty lock can also be used to secure your motorcycle jacket, tank bags, and other gear you want locked. The small, lightweight profile makes it perfect for traveling with wherever you're going on your next ride.
The lock itself, along with the cable, is made from stainless steel. It's durable, rust proof, and comes with a rubber sleeve so that your motorcycle doesn't get scratched or damaged when it's equipped.
Of course no lock is completely safe against thieves, but the Bristol Designs Heavy Duty Black Combination Lock Cable comes with a lifetime guarantee. This helps give you peace of mind and shows that the company stands behind this product.
As for the locking mechanism, this model is equipped with a 3-digit combination pin lock. You can choose from 999 different combinations personalized to your preference.
This lightweight motorcycle helmet lock can be stashed in your backpack or tank bag for easy access. The cable comes coiled, and the lock itself isn't large or obtrusive, so it's great for shorter rides up to longer commutes.
If you're looking for a heavy duty, reasonably priced, and lightweight motorcycle helmet lock – it's the Bristol Designs Heavy Duty Black Combination Lock Cable that's our first recommendation.
Kuryakyn 4248 License Plate Motorcycle Helmet Lock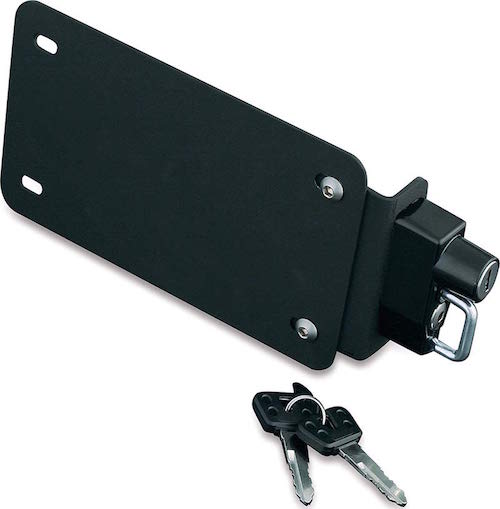 The Kuryakyn 4248 Helmet Lock takes advantage of a unique design that's well-suited for motorcycle riders. This lock is meant to be attached to the back of your license plate and provides you with an easily accessible spot to lock up your helmet.
With the Kuryakyn 4248 there's no need to deal with any awkward cables or remember to bring anything with you. After mounting to your plate you'll always be able to lock your helmet up whenever you're not near the bike.
Using the lock is simple. It's equipped with a key style locking mechanism that can be easily and quickly locked or unlocked. The locking setup isn't it obvious, making it that much harder for someone to steal your helmet.
The lock itself is made from galvanized metal. It's weatherproof, easy to install, and designed to fit on standard motorcycle license plate frames.
The Kuryakyn 4248 Motorcycle Helmet Locking Plate would be our recommendation if you're looking for a lock that you can easily attached directly to your motorcycle. The safe design, ease-of-use, and durable build make this a great option for most riders.
Lockstraps Motorcycle Helmet Lock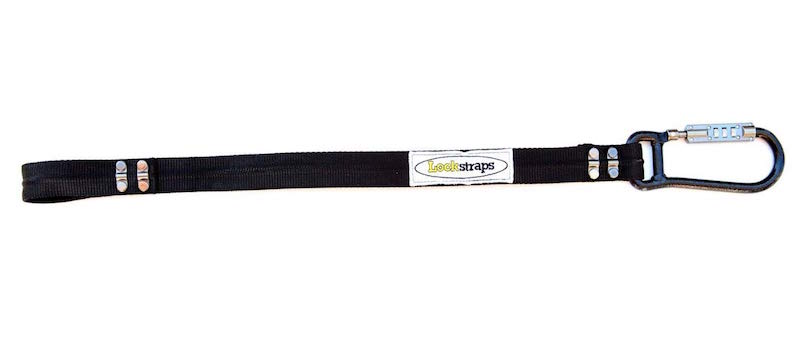 The Lockstraps Motorcycle Helmet Lock is a simple, yet durable, lock that's easy to use. It's designed with premium construction using quality materials. The lock features a heat treated steel construction and a steel/nylon strap. These design qualities lead to both enhanced security and better durability.
The strap itself is 2-feet long and made from braided steel. That's plenty of room for locking up one or two helmets to your bike. It's also covered in nylon to prevent scratching your motorcycle while being used.
Holding everything in place are galvanized rivets. These are designed to avoid damage from anyone prying or wrenching on the band. All of these different features help with security and the durability of the lock.
At just 11.2-ounces this is a portable and lightweight locking device. You can easily stash it in your tank bag or backpack for quick use when you need it.
Overall, we recommend the Lockstraps Motorcycle Helmet Lock as a great choice for most riders. It's durable, lightweight, easy to use, and a suitable choice for locking one or two helmets.
Helmetlok Rubberized Motorcycle Helmet Lock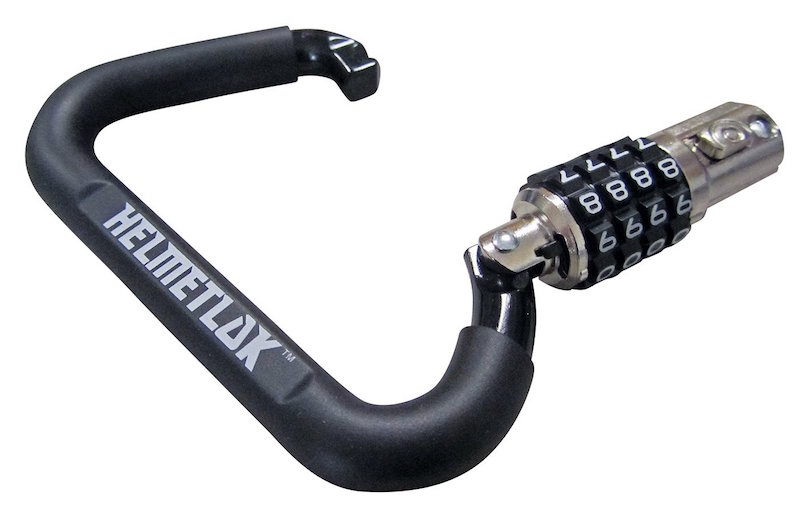 This locking device from Helmetlok is ideal if you're looking for a lightweight and portable helmet lock that you can slip into your pocket. No need to worry about any cables, cords, or bulky parts with the Helmetlok Rubberized Motorcycle Helmet Lock.
At just 3.2-ounces it's one of the lightest recommendations in our list. Coming it at less than 7-inches in length, you can slip it into your jacket pocket or clip it onto your pants until you need it.
The locking barrel is thick, sturdy, and durable against prying tools and hands. With the 4-digit locking mechanism you won't have to worry about anyone getting lucky and guessing the combination.
To protect your helmet and bike from scratches, the D-lock section of the Helmetlok is coated in rubber. This is another layer of protection while being safe to use on your motorcycle.
Despite a simple design, the Helmetlok Rubberized Motorcycle Helmet Lock is a great choice if you're looking for a locking device that's lightweight and easy to use.
Master Lock Cable Lock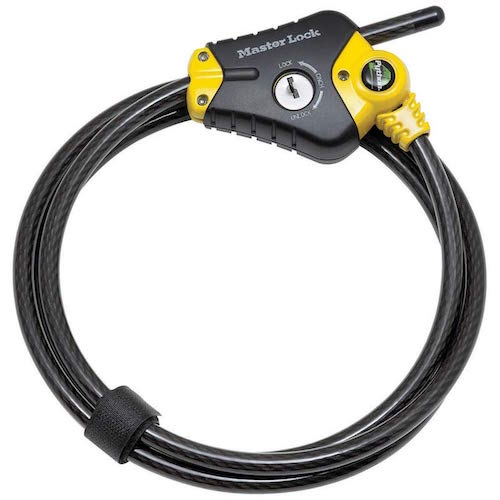 The Master Lock Cable Lock is our final recommendation if you're looking for a way to easily and safely secure your motorcycle helmet. This is a 6-ft long cable lock that can also be used for locking up your motorcycle, jacket, tank bag, and other gear you're riding with.
For security, this locking cable is made from 3/8-inches diameter braided steel. It's coated with a protective vinyl that helps to prevent your helmet or motorcycle from getting scratched. The cable is also adjustable depending on your preferences.
The locking device is built into the cable, so you don't have to worry about leaving it at home. It's rust resistant giving you the ability to secure your gear in all types of weather. It also comes with two keys for easier accessibility.
The lock itself is made from aluminum alloy. It comes with a cylinder shutter and is designed to be pick resistant for added security.
The Master Lock Cable Lock is a heavy duty cable locking device that can be used to secure your helmet and other motorcycle gear. It's a great choice if you're looking for something reasonably priced and easy to use that can serve a variety of different purposes.
Best Motorcycle Helmet Lock Buying Guide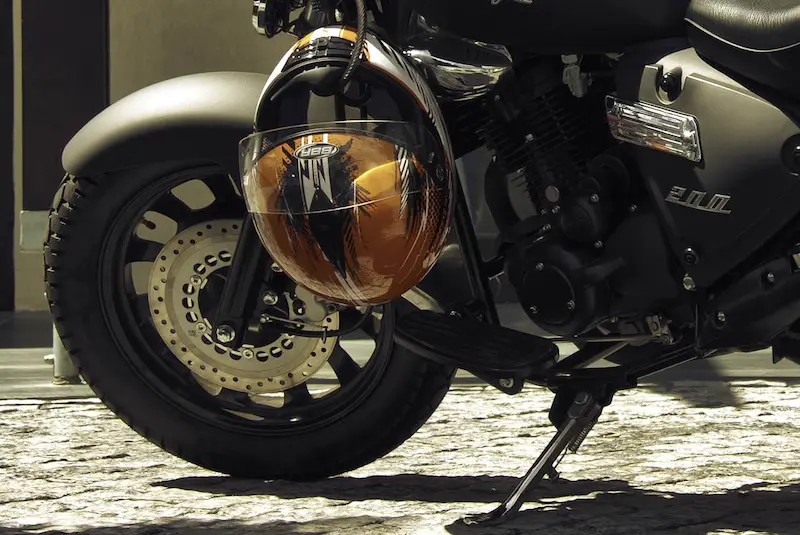 There are number of different features to consider when you're looking for the best motorcycle helmet lock.
In this buyer's guide we'll look at those features as well as some tips on choosing the right locking device.
Features to Look For in a Motorcycle Helmet Lock
Design
The first thing to look for is the design materials used in any lock that you're interested in. Steel and heavy metals provide the best security and long-term durability.
Keep your eye out for heat-treated steel or any materials that have been strengthened. These materials make it even harder for thieves to break through and steal your helmet.
Expect to pay a higher price for better quality, more durable materials.
Locking Mechanism
The specific type of lock being used is important when considering the security of any locking mechanism. Most common are key locks and those that use a spinning combination.
With key locks you'll have to carry around a key. Losing this key while you're on a ride and your helmet is locked can lead to issues. On the other hand, it's easy to add a key to your motorcycle key ring.
With combination locks you only have to remember a few digits to open the locking mechanism. It's possible to write down the combination and leave it somewhere on your motorcycle or in your wallet.
Both types have their own benefits and drawbacks. It comes down to personal preference whether you want to use a key or combination.
Portability
The final factor to consider is the overall portability of any helmet lock you're interested in. Some of our recommendations are heavy and bulky while others are lightweight and small.
Typically, the heavier and bulkier locks will provide better security. They can also be used for locking up more than one helmet or other pieces of motorcycle gear.
Lightweight, smaller locks are more portable and easier to use. Some of our recommendations can even be stored into your pocket or stashed under the seat until they're required.
This is another aspect of choosing a lock that's based on personal preference. We recommend going the heavy duty route if you'll be away from your bike for extended periods of time. For shorter rides, like getting groceries or taking a short hike, you'll be better off with something lightweight and small.
Best Motorcycle Helmet Locks FAQ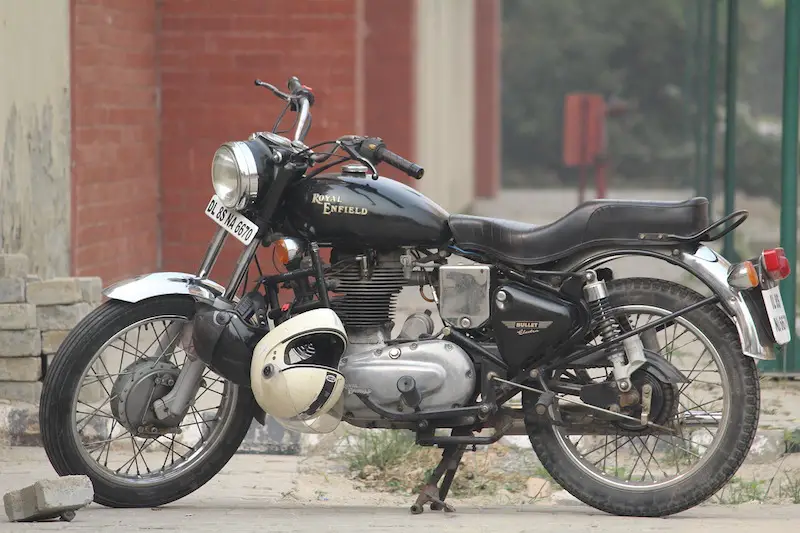 What Are the Different Types of Helmet Lock?
There are two main types of helmet lock that are most common. These are the cable locks and solid locks.
The cable style of helmet lock uses a cable in combination a central locking cylinder for securing your helmet.
These cables are typically made from steel or other types of metal. They often come with a protective coating that's designed to be weatherproof and to protect your bike from getting scratched.
Cable locks are versatile, lightweight, and can be used for a wide range of locking purposes.
The solid locks don't come with any cables and are typically more portable and secure. They're designed to be attached directly to your helmet and provide more security against theft.
With a solid lock you're less likely to be able to lock two helmets together. They also will have trouble securing other pieces of your motorcycle gear.
The benefit to this style is that they're lightweight, portable, and easier to bring with you on rides.
How Do You Install a Helmet Lock?
Each style of lock will have its own installation method. Some might even come with instructions on how to properly mount them.
Generally, these locks are easy to install and use. You can always refer to YouTube if you're having trouble with one.
Why Should You Use a Helmet Lock?
It's a terrible feeling to return to your motorcycle and find that someone has stolen your helmet. Using a helmet lock can prevent this from happening.
With a lock equipped there's less reason to worry about your helmet being stolen. This way you can enjoy your time away from the motorcycle without stressing out about it.
What Happens if You Forget a Combination Pin Code or Lose a Key?
Mistakes happen and you could easily forget a combination or lose the key to your helmet lock. In this case you'll probably have to cut off the lock and pick up a new one.
With a key lock, most models come with two keys. It's a good idea to carry one with you and to leave one underneath your motorcycle seat.
For the combination lock, consider writing down the combination and leaving it in your wallet. You could also add it to a note on your smartphone.
Do the Locks Require Any Maintenance?
Like with any motorcycle equipment and accessories it's a good idea to regularly inspect them. Look for anything that's damaged, cracked, or broken in any way.
Check the locking mechanism for rust or general wear and tear. Inspect the cables and any exposed metal surfaces for any damage or cracks.
Although most locks are low on maintenance, they may need to be replaced eventually depending on their overall condition.