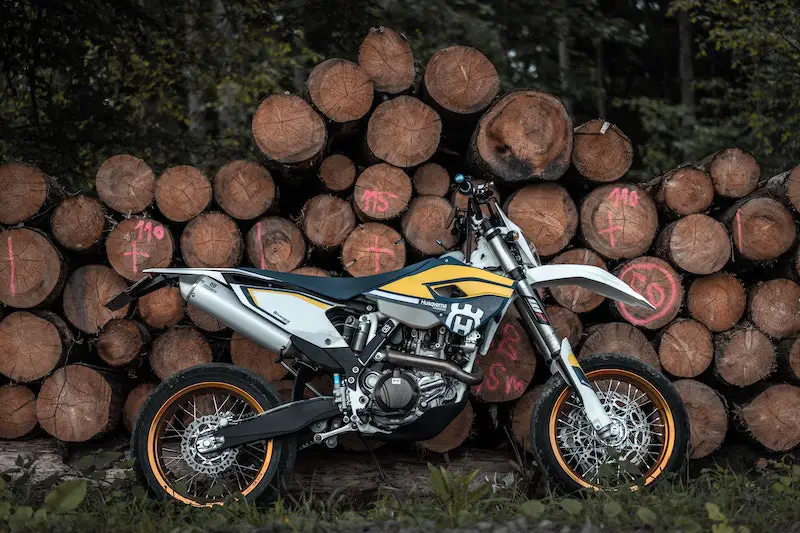 When you're out riding your dirt bike it's important to protect your feet, ankles, and lower legs. Branches and debris on the trails or an improperly placed balance-attempt could cause some damage or injury.
While motorcycle boots provide some protection, you're much better off using the best supermoto boots you can afford. These are boots designed specifically to protect your feet, ankle, shins, and lower legs when you're riding in rough and technical conditions.
With the best boots for supermoto you'll have plenty of feel, protection, mobility, and flexibility when you're racing on the track, taking tight corners, or getting silly on the dirt.
One of the difficulties when you're racing your supermoto is finding the right gear. With how tracks are designed, with a variety of surfaces and conditions, it's important to be prepared.
To make things easier for you we put together this helpful guide with some great options for supermoto boots. This way you'll be prepared for everything when you're out riding from high-speed cornering, bumpy tarmac, ruts, obstacles, and everything in between.
Don't forget to scroll past our recommendations for some helpful tips and a short buyers guide. With that in mind, let's just jump right into it!
The Best Supermoto Boots
FLY Racing Maverik Boots (Best Motocross Boots Overall)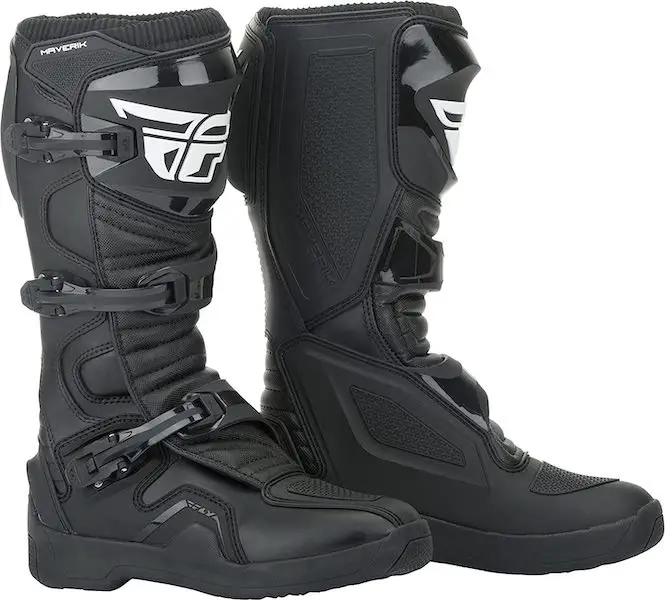 The FLY Racing Maverik Boots are our top recommendation as the best boots for motocross for most riders. These feature a quality construction, off-road protection, and plenty of versatility for the different conditions you'll be riding in.
For protection, these are CE approved boots that come with a number of different features to keep your feet protected and safe. Some of these include impact protection for the shin, ankle protection, and inner ankle protection.
They also come with an innovative one piece plastic injected midsole and a molded rubber outsole. Thanks to this outsole the boots offer great grip while being lightweight and durable.
For their design, the boots feature adjustable quick-lock buckles and an elastic gaiter for a better fit. There's even a 3D multi plastic shin as well as a rubber heat shield that provides protection from the engine and exhaust heat.
To help with mobility these are equipped with an articulated rear ankle, which offers plenty of support while making it easy to move your ankle around. It's also worth mentioning that these can be easily put on or taken off thanks to buckle and elastic design.
Overall, the FLY Racing Maverik Boots stand as one of the best motocross boots for most riders. These have some amazing reviews, are competitively priced, and come with some great features for motocross riding.
O'Neal Element Boots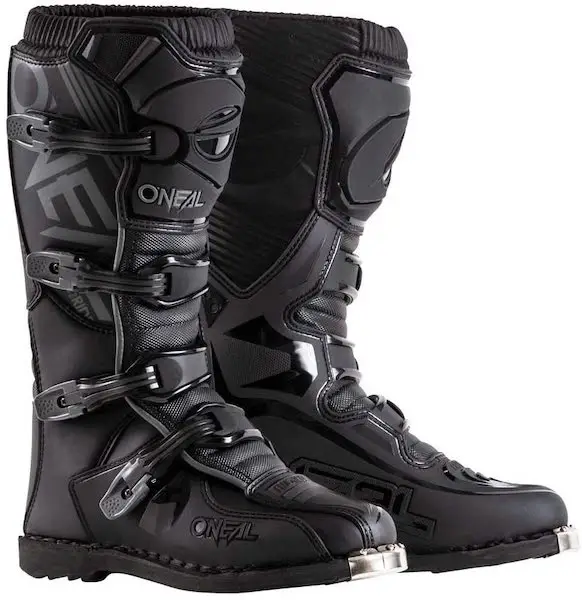 The O'Neal Element Boots are our next recommendation as a great set of boots for motocross riding. If you're on a tight budget and looking for cheap motocross boots these are what we would recommend.
Despite the lower price tag, these come with some practical features that you'll find useful when you're riding motocross. For starters, they're easy to operate thanks to the four buckle snap-lock and adjustable closure system.
When it comes to protection, there is a metal shank insert that helps to reinforce the shape of the boot while adding support. There's also a metal toe guard that protects your feet and keeps the sole from delaminating.
As for the design, these boots feature a synthetic leather exterior for comfort and durability. This material also acts as a heat shield and prevents heat damage from both the engine and the exhaust.
On the inside is a breathable air mesh interior along with generous heel support. There's even a cushion insole for extra comfort to support your feet when you're out riding.
Overall, the O'Neal Element Boots are another great choice, especially if you're looking for cheap supermoto boots. They're competitively priced while still coming with some great features that you'll benefit from when you're out riding.
Alpinestars Tech 7 Boots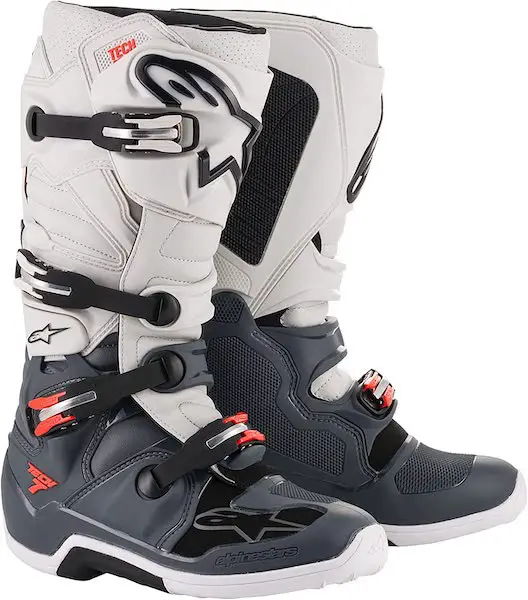 The Alpinestars Tech 7 Boots are another great option if you're looking for high performance and versatile boots to wear on your next supermoto track adventure. Coming from Alpinestars, a popular brand in the dirt bike space, you know you can rely on these for long-term, heavy, and regular use.
On the bottom of these boots is a dual compound sole that's seamlessly integrated into the base structure. This provides superior durability, an enhanced feel, and better performing grip for wet and dusty conditions.
On the front is an anatomically profiled shine plate with a dual closure system as well as an internal microfiber velcro strap. This allows for a precise fit and keeps the boots in place as long as they are securely attached with the precision adjustable buckle.
Getting the boots on and off is simple thanks to the wide entry aperture. This is convenient when you're spending a lot of time riding and don't want to be constantly fumbling with your boots.
For protection, there is extra support in the toes, ankle, and shins. This helps to protect your feet regardless of the conditions that you're riding in.
When it comes to comfort, there is a redesigned instep as well as accordion flex zones for improved comfort, control, and support. together, all of these different features make the Alpinestars Tech 7 Boots another great option if you're looking for durable supermoto boots.
How Much Do Supermoto Boots Cost?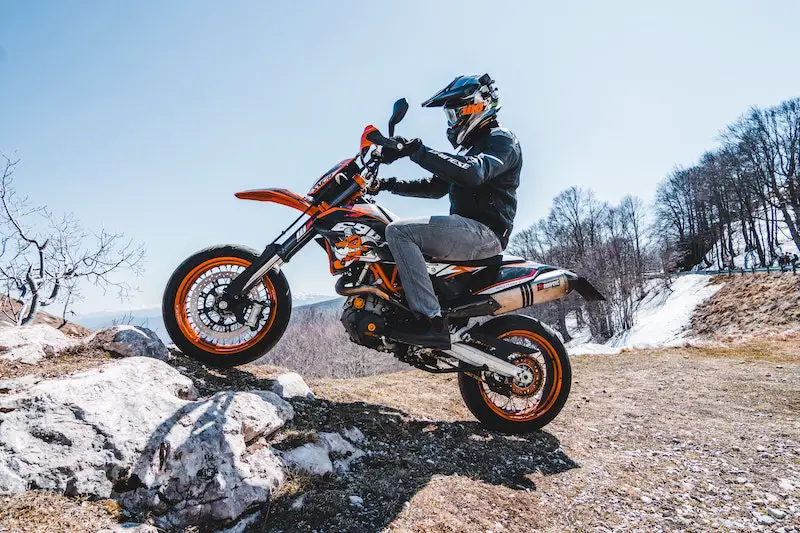 $100 and Under
You won't find many great options in this price range. It would even be hard to find the best cheap supermoto boots for less than $100.
The ones you do find won't have any features and won't offer nearly enough protection. While they might be okay for some lightweight riding, it's a better idea to look for something more robust and versatile.
$100 to $200
In this price range you'll find some decent quality boots for supermoto riding. This is where they start coming with some good basic features and field quality.
Keep in mind you won't find any heavy duty boots in this price range. It's a good starting point for new riders and those on a tight budget.
$200 and Up
This is where you'll start to find some of the safest and best supermoto boots. Expect to spend at least $200 if you're looking for quality, versatility, and ample features.
Boots in this price range are geared for just about every supermoto condition you would be riding in. They're typically waterproof, made from better quality components, and come with the best safety features.
Frequently Asked Question 
Can You Use Street or Track Boots for Supermoto?
Some of you might think you can get away with using normal street or track boots when you're out riding supermoto. The problem is that these boots don't offer enough protection, durability, or versatility when you're racing.
When you're using street boots on a supermoto track there isn't enough heel and toe protection. Since they're designed for the street, they're not going to offer nearly as much protection as a pair of dedicated supermoto boots, which are better designed for the proper tracks.
When you're riding supermoto you'll be in a lot of sharp, tight corners with your leg out or your knee down. In these instances you'll want all the protection you can get, especially when it comes to tight and twisty supermoto tracks.
Can You Use Dirt Bike Boots for Supermoto?
Another question people have is whether they can use the best dirt bike boots they have for supermoto. Compared to normal boots, these offer much better toe and heel protection and usually come with reinforced heels and toe caps.
This makes them better suited for absorbing shocks and impacts to your toes and heels when you're riding a supermoto track. Another benefit to using dirt bike boots is that it's possible to slide into corners with your foot down when you're wearing them.
These are boots that were designed to withstand impacts and take damage, which means your feet are more protected. However, many riders find them to be uncomfortable and difficult to find the gears and brakes.
There is a definite lack of mobility and it's going to be harder to navigate a supermoto track when you're wearing dirt bike boots. That's why it's always better to go with options that are best suited for the kind of riding you're doing.