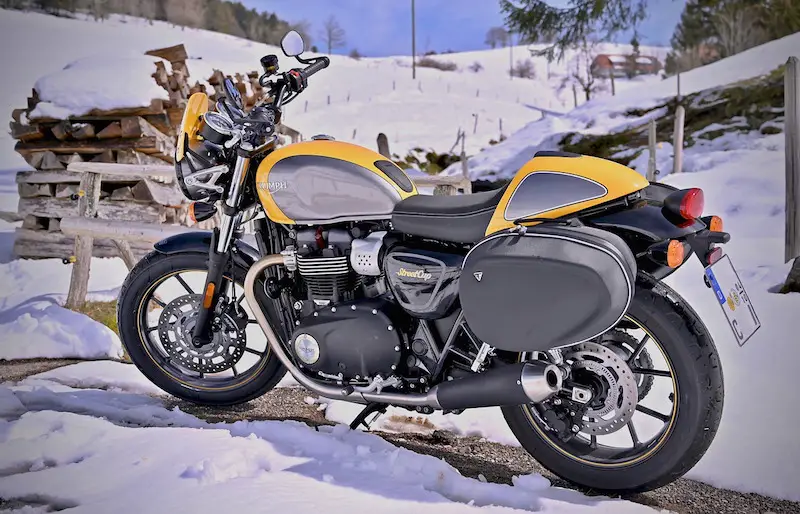 The best adventure motorcycles are durable, rugged, and will effortlessly get you where you need to go, off road or on. They're designed to carry gear and are practical for a wide range of riding conditions.
Not only are they suitable for adventures, adv bikes are also a great choice for motorcycle commuting or bopping around town. The upright seating position gives you a better vantage point in traffic. Most adventure bikes also tend to be fuel efficient and easy to maintain.
With all of their great features, adventure motorcycles are a practical choice for many riders. That's why it's not surprising to see how they're growing in popularity.
In this post, let's take a look at the some of the best adventure bikes on the market today. If you're looking for something to take around the world, or you just want to explore your local area, you'll find some great recommendations in this post.
As always, don't hesitate to leave a comment or share your opinion in the comment section below. Without further ado, let's jump right into it!
The 10+ BEST Adventure Motorcycles in 2020
Suzuki V-Strom 650/1000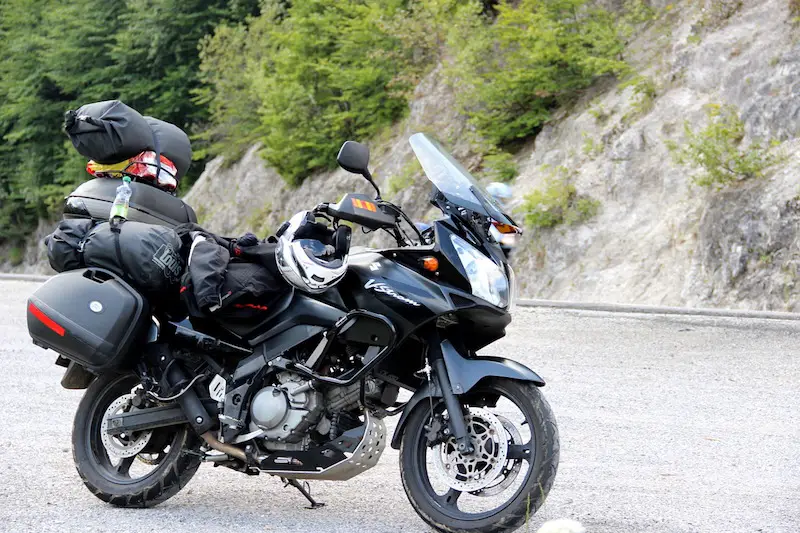 Topping our list is the Suzuki V-Strom as one of the best touring motorcycles and adventure bikes available today. The V-Strom stormed on to the motorcycle market in 2004 and has since become a legend.
With the V-Strom riders can choose from a 650cc or 1000cc engine configuration. The 650cc is better for secondary roads and off-road adventures. If you're spending most of your time on the highway, or doing a lot of commuting, the 1000cc might be a better choice.
These motorcycles are equipped with liquid cooled, fuel injected engines. Underneath the fairings you'll find a 6-speed gearbox with plenty of power to get you where you need to go.
As a Suzuki motorcycle, the V-Strom's are some of the most reliable adventure motorcycles you can get. These bikes are easy to maintain and most mechanics are familiar with them. There's also a huge aftermarket of parts, accessories, and upgrades available.
When it comes to riding, this bike boasts a standard riding position. It's up right, giving you a great vantage point, and comfortable for longer rides.
Thanks to be lightweight, aluminum frame, the V-Strom bikes are typically lighter than their competitors in the same engine space. This makes them easier to manage, both on road and off. It also helps to give them a better fuel economy.
Brand new, the Suzuki V-Strom motorcycles aren't expensive. Depending on where you're from they can be available for $6,000 t o $10,000 brand new. In the used market, there are plenty of V-Strom's to choose from as if it's quite a popular adventure bike.
Overall, it's hard to go wrong with the Suzuki V-Strom if you're looking for an all-around great adventure motorcycle. These are perfect for long adventures, short day trips, and everything in between.
Honda Africa Twin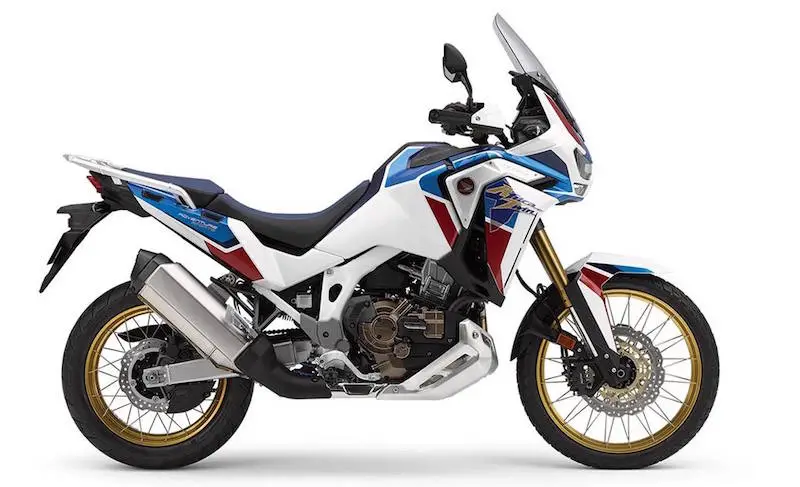 One of the most popular motorcycles for long distance adventure touring is the Honda Africa Twin. This beautiful machine was named in honor of the Paris to Dakar rally, one of the greatest off-road motorcycle challenges.
With this in mind, you can be sure that the Africa Twin was designed with long-distance riding in mind. This bike is a great choice if you're looking to lap up the highway miles and explore places far from you.
As is common with Honda, the Africa Twin it's also one of the most reliable adventure motorcycles. Honda is great at putting bikes together that don't require a lot of work or upkeep, apart from basic motorcycle maintenance.
With a higher price point, riders can expect top of the line features when it comes to the Honda Africa Twin. At the touch of a button, it's possible to control the rear wheel locking variants and braking power. You can even adjust the traction control sensitivity, depending on the conditions you're riding in.
Despite being an adventure bike, the Africa Twin packs quite a punch. This bike is equipped with a 998cc engine, more than enough power than you would need in most scenarios.
Another interesting feature of the Africa Twin are its performance levels. For city riding you can switch the bike to urban mode. In other conditions, different performance levels making riding a breeze, not a chore.
One of the most outstanding features of Africa Twin is its high tech, DCT 6-speed transmission. The DCT stands for "dual clutch transmission" and is a feature that is unique to Honda motorcycles. Essentially, this is an automatic gearbox that has been developed for off-road use.
With all of these features, the Honda Africa Twin might be overkill for local rides and daily commuting. However, if you're looking for a serious adventure bike that you could take around the world or on extended trips, the Honda Africa Twin is probably your best bet.
KTM Adventure 990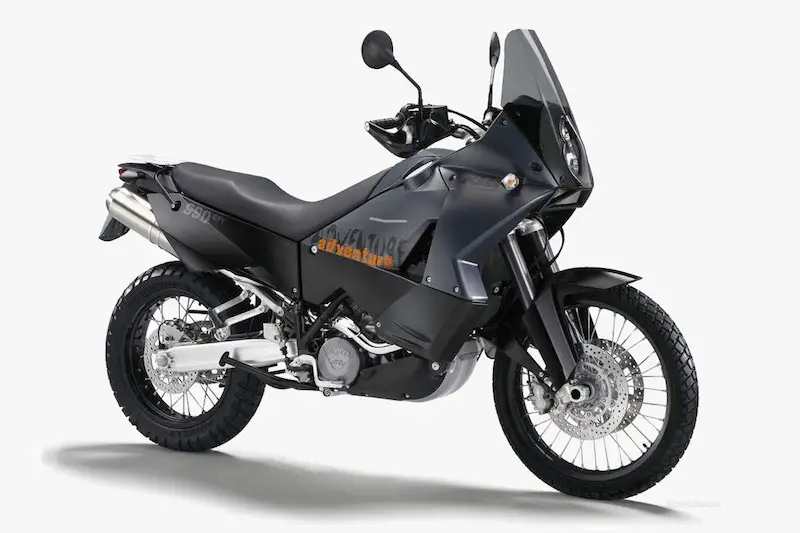 If you're looking for a true adventure bike that you can take off road without any issues, it's the KTM Adventure 990 you'll want to check out. KTM is a popular Austrian motorcycle company that's becoming well known for their wide range of well-built off-road, enduro, and adventure motorcycles.
The KTM Adventure 990 stopped production in 2013, so it's only going to be available in your local used market. Despite this fact, the KTM Adventure 990 remains one of the best motorcycles for off-road adventure riding.
This beauty is equipped with a 999cc V-twin engine what's an output of 105 horsepower. Thanks to all this power, even the most difficult off-road terrain can be easily conquered.
Compared to our other recommendations, the KTM Adventure 990 is built more like a dual sport motorcycle, rather than a sport-touring bike. It has a practical, 21-inch wheel that makes it easier and more nimble for tackling uneven, rough terrain. The stock tires are also better suited for dirt roads, logging roads, and gravel, as opposed to smooth slab.
At an impressive 436 pounds, this is one of the lightest adventure motorcycles still available. There is 9-inches of suspension travel at each end, with 10.4-inches available for the dirt-oriented S model.
When it comes to touring and adventure riding, there are plenty of accessories and upgrades available for the KTM Adventure 990. You can load it with luggage, throw a person on the back, and hit the road for any destination you have in mind.
Because it's out of production, these bikes are widely available for a great price on the used market. If you're looking for the most reliable and cheapest adventure motorcycle with enough power and reliability, it's the KTM Adventure 990 that we would recommend.