Compared to motorcycles, the best maxi scooters are easier to ride. They also come with features that make for a more enjoyable riding experience.
Multiple positions, upright seating, plenty of interior storage, and cup holders make maxi scooters a great alternative to motorcycles. Whether you're looking to bop around town or head out on a longer, multi-day tour, you're bound to find a maxi scooter suitable for the job.
Not only are they comfortable to ride, they're just as fast as most bikes. If you don't want to deal with the clutch and simply want to focus on the scenery, a maxi scooter is for you.
In this post, we're going to take a look at the best maxi scooters currently available. Let's jump right into it!
The Best Maxi Scooters
Suzuki Burgman 400 (Best Maxi Scooter Overall)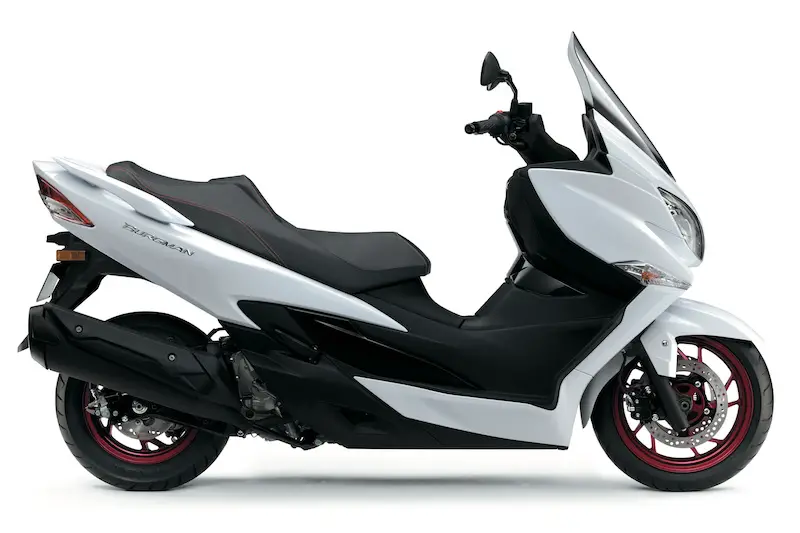 Topping our list as the best maxi scooter for most riders is the Suzuki Burgman 400. Many of you might be familiar with the Burgman 650, but in most cases the Burgman 400 is a better choice.
As it's smaller than the 650, the Suzuki Burgman 400 is more nimble, easier to ride, and easier to control in low speed conditions. It's also more fuel efficient while still being capable of keeping up on the highway.
The main drawback to the 650 is that it's only available to riders with a full motorcycle license. Of course, this depends on where you're from, but it's still too much of a scooter that most people won't need.
The Suzuki Burgman 400 is a practical way to get around town, commute, or even explore the countryside on multi-day trips. It comes loaded with practical features, heaps of storage space, and a thick, padded seat.
Under the seat you can stash your scooter helmet, change of clothes, groceries, or anything else you're riding with. There's even a useful 12v socket under the seat for keeping your devices charged.
The latest models of the Burgman 400 come fuel injected, liquid-cooled, and with ABS. They're also equipped with a plush suspension, adjustable backrest, and stepped seating for easier two-up.
Thanks to the 13.5L fuel tank, you're able to enjoy long distances between fuel stops. There's also the belt drive, CVT transmission that's fully automatic and easy-to-use.
The only drawback with the Suzuki Burgman 400 compared to the 650 is that it's slightly less capable of two-up riding. In every other regard, the Suzuki Burgman 400 is a superior scooter and our recommendation as the best maxi scooter overall.
Honda Silverwing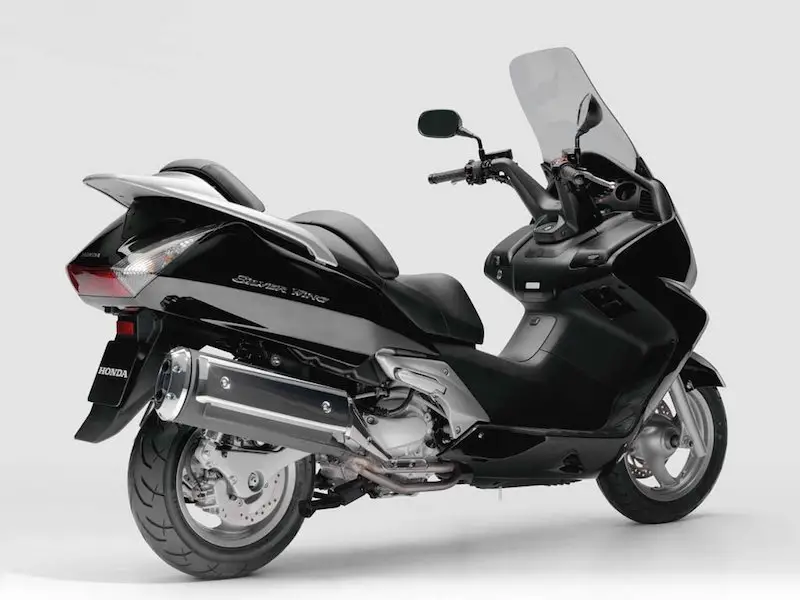 Sold between 2002 and 2013, the Honda Silverwing was a 600c beast of a scooter. Hailed as one of the best maxi scooters of all time, the Silverwing is perfect for commuting, touring, and day trips.
Before the release of the Silverwing, Honda's biggest scooter was in the 250cc range. When it was released, the Honda Silverwing was the second full size Maxi scooter introduced in the United States.
A year later, the Suzuki Burgman was released and became a more popular choice. Despite that, the Honda Silverwing remains as an amazing maxi scooter, that tends to be relatively affordable on the used market today
Obvious for its size, the Silverwing is Honda's fastest scooter. With a top speed of a 105mph, it will have no trouble keeping up on the highway or accelerating through traffic.
Equipped with a CVT automatic transmission, the Silverwing is liquid cooled and fuel injected. The main problem with this larger, 600cc engine, is that this scooter suffers from a mediocre fuel economy compare to similar size bikes or smaller scooters.
Despite that, the Honda Silverwing is one of the best touring scooters and seemingly designed for the open road. The scooter is equipped with an impressive 55L of storage space under the seat, more than enough for a full-face helmet and touring gear.
It even comes with two lockable cubby holes in the dash, a great place to store your wallet, insurance, and other accessories you want nearby. For easy maintenance, there is a built-in center stand as well as a side stand for parking.
Overall, if you're looking for a touring scooter that's comfortable to ride, easy to maintain, and super durable, it's the Honda Silverwing you'll want to check out. Unfortunately, these can only be found used as they're no longer produced by Honda.
Kymco AK550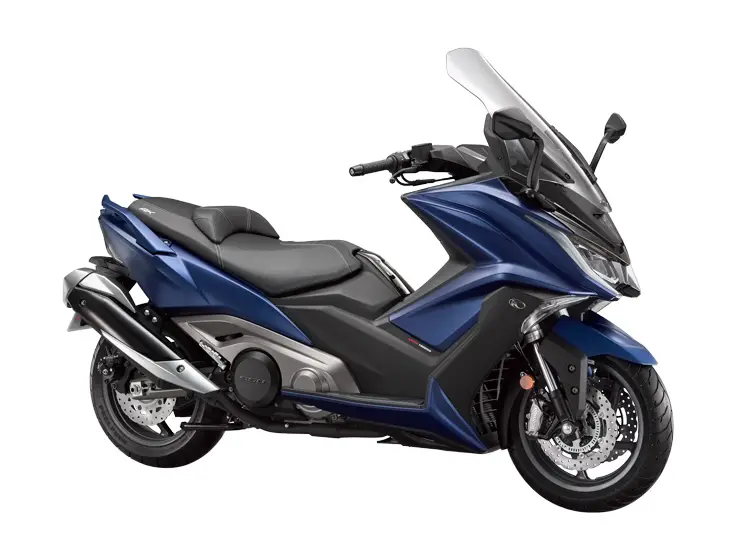 Kymco is a well-known brand, with a history of supplying scooter and motorcycle parts to Honda, Suzuki, and BMW. Their Kymco AK550 is a reliable and affordable Maxi scooter that's competitive in price and value with the scooters from Yamaha, BMW, and Suzuki.
Compared to most other scooters in its class comedy Kymco AK550 has the lowest centre of gravity. It has been designed to give the vehicle a near 50/50 weight distribution for better balance and a more comfortable ride.
This design also helps to improve the handling capability. It allows riders to feel more planted on the road, especially in rough conditions.
Underneath the fairings is a newly designed, 550cc liquid cooled engine. This scooter features dual disc caliper brakes and an upside-down fork front suspension, for better agility and cornering.
With a fuel capacity of 15L, you'll be able to ride for miles without stopping to refuel. It's one of the most fuel efficient maxi scooters, perfect for both touring and commuting.
Other features worth mentioning include the keyless ignition control and gorgeous premium design. This is one of the best looking scooters, equipped with full LED lighting and an aggressive appearance.
With the dual power modes Riders can take advantage of a full power setting or rain mode setting. This helps change the power output and throttle response, depending on the riding conditions.
Lastly, the Kymco AK550 comes with a low seat height and comfortable ergonomics. Underneath the seat is plenty of storage space for a helmet, touring gear, or anything else you're riding with.
Overall, the Kymco AK550 is one of the best maxi scooters if you're looking for something affordable and reliable. The brand continues to grow and Kymco is slowly becoming one of the best scooter manufacturers.
Yamaha XMAX 400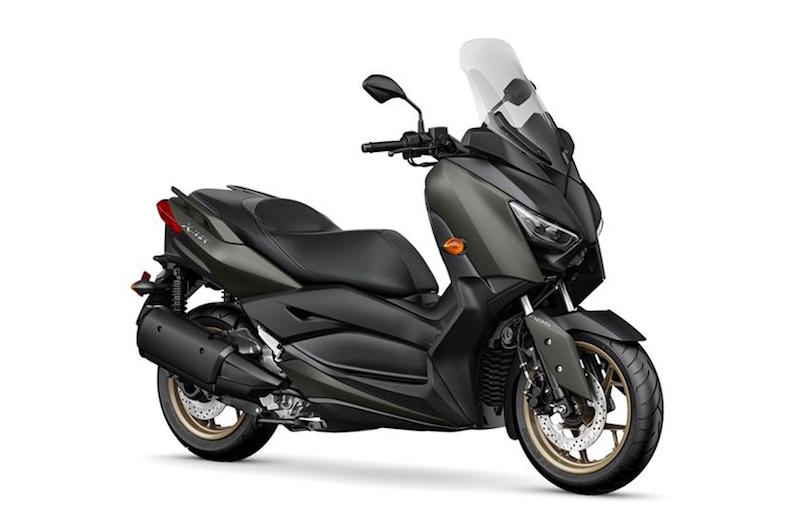 The Yamaha XMAX 400 is another smaller maxi scooter that's ideal for commuting, light touring, and urban riding. Thanks to the lightweight design, this scooter is easy to ride and fuel efficient.
The Yamaha XMAX 400 comes equipped with a safety boosting traction control system as well as ABS. These two features provide an extra layer of safety and control when riding in poor conditions.
Up front are a set of twin brake discs for optimal stopping power. When it comes to comfort, both the screen and handlebars are adjustable to provide riders with better ergonomics.
The styling of the Yamaha XMAX 400 follows the typical Yamaha scooter design. This includes a premium feel, LED lighting, and aggressive-looking angular bodywork panels.
As for the engine, the XMAX 400 comes equipped with a 395cc, liquid cooled engine. For ease of use, this scooter is fuel injected with an electric starter system.
Overall, it's hard to go wrong with the Yamaha XMAX 400 as one of the best maxi scooters. Thanks to the lightweight design, the XMAX 400 is fun to ride, fuel efficient, and versatile for a wide range of riding conditions.
BMW C650 GT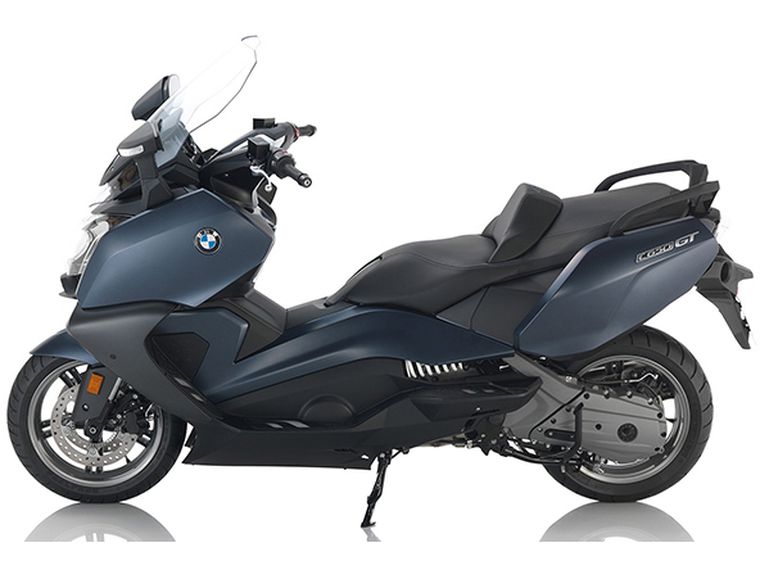 The BMW C650 GT would be the top contender when it comes to the best BMW scooter. Although they haven't been making scooters for long, BMW has done an amazing job right from the start with the impressive BMW C650 GT.
This is one of the most powerful maxi scooters on the market, making it a great choice for long distance touring or highway commuting. It comes equipped with a 647cc twin cylinder engine providing 60bhp of power.
Thanks to the well designed chassis, the BMW C650 GT gives riders a sporty handling and comfortable ride. The frame takes advantage of a hybrid design by using steel tubes and aluminum sections, which results in a stiffer and lighter overall composition.
This BMW scooter comes equipped with ABS and traction control, which helps to keep you safe when you're riding in high-traffic or tricky conditions. The twin front brake discs offer plenty of stopping power to keep you out of trouble.
With the 160-wide rear tire, riders of the BMW C650 GT will enjoy ample grip. This also means there is a wide variety of different scooter tires available to choose from, depending on your preferences and riding conditions.
Whether you're commuting or touring, it's hard to go wrong with the 61mpg fuel economy from the scooter. Other features include an electrically adjustable windscreen, one key opening for the storage spaces and ignition, power sockets in the glove box, and a large under-seat area for storage.
There's even an extensive dashboard that comes with a tachometer and large LCD panel. This provides a full rundown on the trip computer functions as well as the typical warning lights and information readouts.
The BMW C650 GT definitely isn't one of the cheapest maxi scooters. However, if it's within your budget, it's hard to go wrong with the BMW C650 GT whether you're touring, commuting, or trying to get anywhere in comfort and style.
Yamaha Tmax
The Yamaha Tmax is one of the most popular maxi scooters in Europe for a reason. Riders looking for a high-performance, comfortable, and sharp-handling scoot will definitely want to take a look at the Yamaha Tmax.
Between your legs on this bike is a 530cc, parallel twin engine that's bolted directly onto the sharp handling sports chassis. While it's not the most powerful, this engine makes 45bhp and is more than enough power to get you where you need to go.
What makes the Yamaha Tmax so unique is that it's one of the lightest maxi scooters with a bigger engine size. It's significantly lighter than the Burgman 650, which makes it more nimble and easier to control in all conditions.
Along with the reliable automatic transmission, this scooter comes with a "Sport" mode. This gives you plenty of more power and speed when necessary or if you're looking to have a little bit of fun blasting through the corners.
The aluminum frame is what helps keep the weight down on the Yamaha Tmax. It doesn't come with as much of a step-through design and takes on more of a motorcycle appearance.
This overall design results in a stiffer chassis and better handling, with the drawback being less weather protection and a slightly smaller footboard area. There is also less under seat storage and you'll probably need a top box if you're planning on carrying a lot of gear.
The latest versions of the Yamaha Tmax come with cruise control, heated seat, heated grips, traction control system, and an electrically adjustable windscreen. It also comes with a unique Center stand lock along with tracker and immobilizer functions to help prevent it from getting stolen.
It's hard to go wrong with the Yamaha Tmax if you're looking for a mid-range maxi scooter that offers plenty of performance. While it's not that ideal for touring, it's more than powerful enough for commuting or shorter multi-day trips.
More Scooter Posts