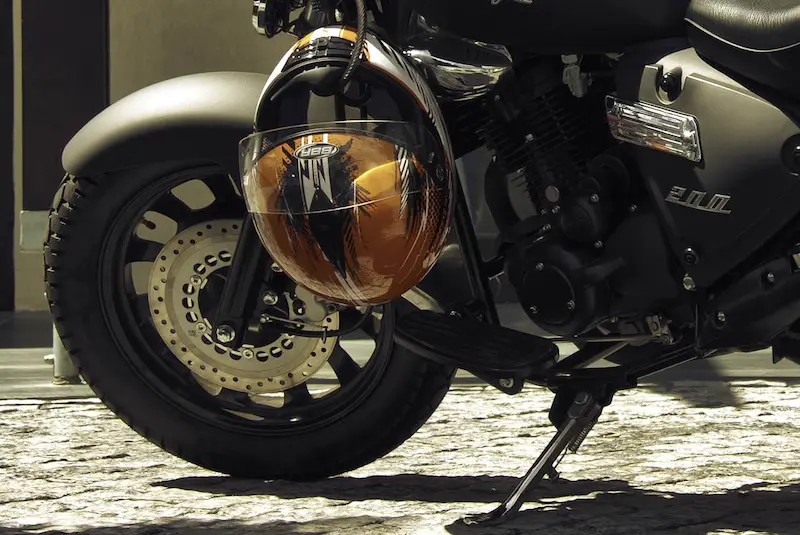 With a Bluetooth motorcycle helmet you can easily listen to music, communicate with your riding buddies, and even make a call while you're on your bike. Some riders prefer to use one of these instead of a cumbersome and expensive motorcycle Bluetooth headset.
These motorcycle helmets with speakers are equipped with a Bluetooth technology, similar to what you would find on a smartphone. This allows you to connect your device to the helmet directly, without needing to use any additional products or accessories.
If you're in the market for a new helmet, or if you'd rather upgrade your current helmet instead of buying a headset, take a look at our list of the best Bluetooth motorcycle helmets. In this post, we'll go over our top recommendations as well as some helpful tips and features to keep an eye out for.
Let's jump right into it!
The Best Bluetooth Motorcycle Helmets
ILM Bluetooth Integrated Motorcycle Helmet (Best Bluetooth Motorcycle Helmet)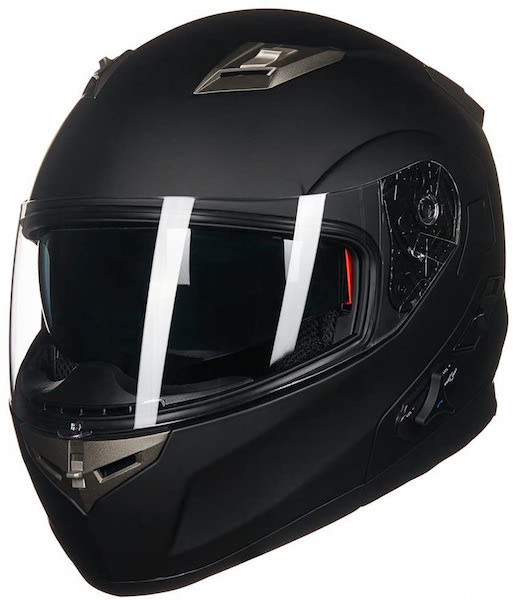 The ILM Bluetooth Integrated Motorcycle Helmet is our top recommendation as the best Bluetooth motorcycle helmet for most riders. This is a helmet that comes with Bluetooth 3.0 integrated into the helmet itself.
Once connected, riders will enjoy up to 8 hours of intercom talk time along with 110 hours of standby. As for the intercom, this helmet supports a maximum range of up to 1,000 feet between riders.
The controls are simple, with one touch control for calling, answering, and rejecting calls as well as for operating the intercom, music, FM radio, and GPS navigation. This makes it easy to use while driving with the buttons easily accessible on the side of the helmet.
The helmet itself features a high-quality, versatile, and durable design. It comes equipped with an internal sun visor, a quick-release Buckle system, a chin guard system, built-in ventilation system, and removable multi-density liners.
For rider safety, this helmet is DOT approved and meets or exceeds the safety standards set by DOT and ECE. Also worth mentioning is the echo cancellation and noise suppression, which offers high quality voice at high speeds.
Overall, if you're looking for the best Bluetooth motorcycle helmet it's the ILM Bluetooth Integrated Motorcycle Helmet that we would recommend. This is a helmet that's loaded with features for practical use as well as for safety and protection while riding.
FreedConn Bluetooth Motorcycle Helmet

The FreedConn Bluetooth Motorcycle Helmet is another great choice if you're looking for the best Bluetooth motorcycle helmet. This is a full-face helmet with a fully built-in Bluetooth 3.0 system.
Fully charged, this helmet offers a talk time of up to 12 hours for the phone and up to 9 hours for the intercom. It has a standby of up to 300 hours and a 600mah built-in battery.
Once connected to your smartphone, it's possible to listen to music, FM radio, or GPS prompts through your phone. It's also possible to use the intercom system between 2 different riders at a range of 1,640 feet.
For safety, this helmet meets the DOT safety standards as well as the CE Certificate for protecting your head in the event of a crash or accident. Other features worth mentioning include the three dimensional ventilation system, washable microfiber liner, noise suppression technology, and hands-free calling capability.
The FreedConn Bluetooth Motorcycle Helmet is a great choice if you're looking for a Bluetooth capable motorcycle helmet that's comfortable and safe to wear. For the price, reviews, and practical features, there aren't many options better than this.
Sena Momentum EVO Smart Helmet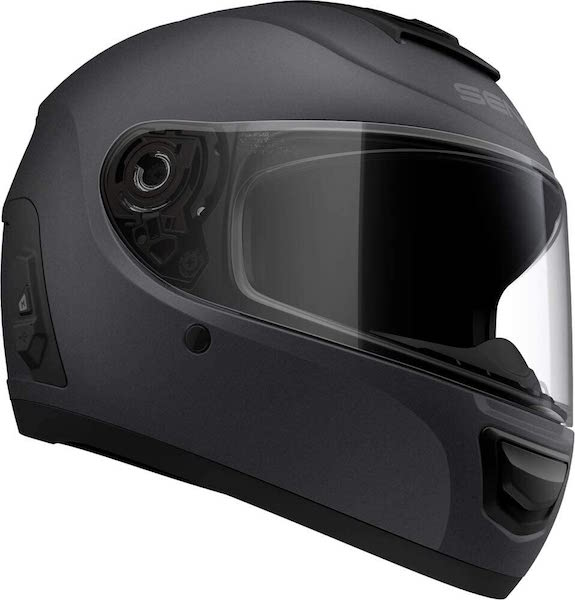 The Sena Momentum EVO Smart Helmet is another great helmet with Bluetooth capability. This is a higher-end product that's integrated with the popular Sena intercom technology.
Those of you familiar with motorcycle intercom systems have likely heard of Sena before. This helmet is part of their smart helmet line, designed for riders looking for a Bluetooth intercom system without the need for additional parts and accessories.
Inside the helmet is Sena's own Mesh Intercom technology. This allows riders to connect to their smartphones while enjoying the high quality built-in speakers and microphone inside the helmet.
Once connected, riders can easily listen to music, make phone calls, hear GPS directions, and communicate with an unlimited amount of riders. With a range of up to 5 miles on the Closed Mesh network, this helmet is a great choice for those regularly riding in groups.
When it comes to safety, the Sena Momentum EVO Smart Helmet is a full-face helmet that provides the highest level of protection. It's both DOT and ECE certified, while taking advantage of an aerodynamic design for an enjoyable riding experience.
Other features worth mentioning include the multi-density EPS foam and composite fiberglass shell for providing a perfect fit. It also comes with a reliable D-ring strap, neck roll with reflective material, ventilation system, and redesigned liner pads for comfort.
Overall, the Sena Momentum EVO Smart Helmet is another one of the best Bluetooth helmets for motorcycle riding. It's designed by a well-known brand in the intercom industry, making it a great choice for riders looking for these features.
Why You Should Use a Bluetooth Motorcycle Helmet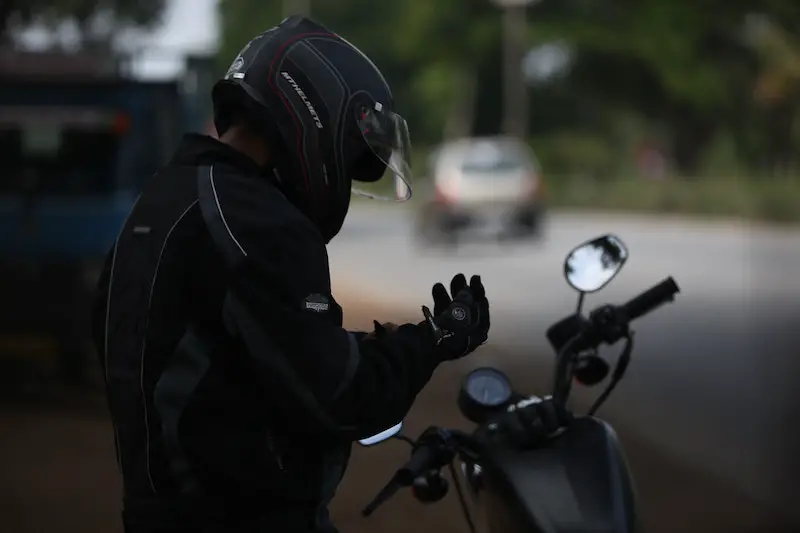 Convenience
One of the main reasons to use a motorcycle helmet with Bluetooth is for their convenience. This is a technology that's easy to use and ever prevalent in our day-to-day lives, even while riding.
With a Bluetooth equipped motorcycle helmet, you can connect to your smartphone. Once connected, it's possible to listen to your favorite songs, answer phone calls, or connect with people you're riding with for effortless conversation.
These helmets replace the need for a dedicated Bluetooth motorcycle headset. They also give you hands-free communication and the ability to use your smartphone without taking your eyes or hands away from riding.
Hands-Free Communication
Along with convenience, these helmets also offer hands-free communication. This is vital when you're riding and need to keep your hands on the bars and eyes on the road ahead of you.
With the Bluetooth equipped, you can interact with your smartphone while focusing on the road. You'll be able to answer phone calls, listen to music, and communicate with other riders all without having to stop or fumble with your phone on the bike.
It does help to use a motorcycle phone mount to keep your phone in front of you. This is just in case you need to quickly glance at the screen or make some other quick adjustment when it's safe to do so.
Less Distractions
While it's good to have the phone mounted in front of you, there are definitely less distractions when it's connected to your Bluetooth integrated motorcycle helmet. It makes it simple to listen to GPS navigation, music, or answer the phone while you're riding.
Once connected to your helmet, you won't be having to manipulate the smartphone while you're riding in traffic. This allows you to focus on the road and lowers the distraction of having to change settings on your smartphone.
Important Features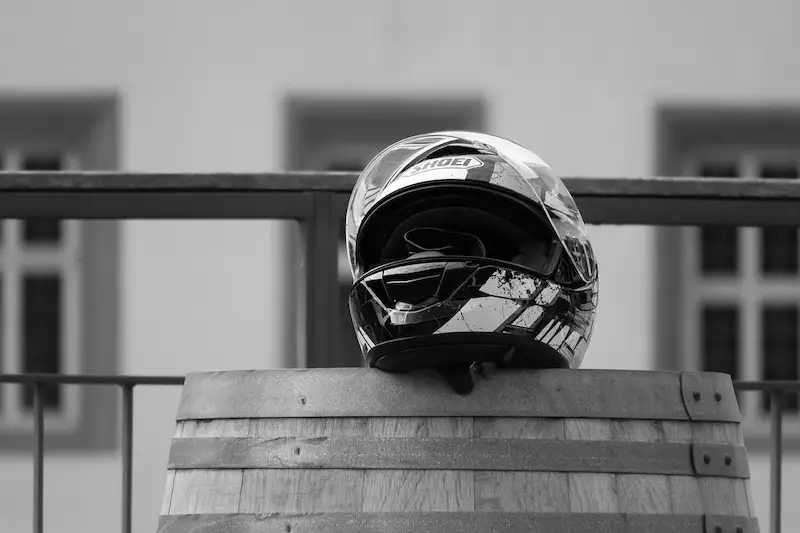 Sound Quality
For many riders, sound quality is one of the most important features when it comes to finding the best Bluetooth motorcycle helmets. That's because listening to music on the motorcycle is one of the best ways to improve the riding experience.
Not everybody wants to use motorcycle headphones or earbuds. Having motorcycle helmet speakers in the helmet makes it easier to listen to music and there's no need to worry about dangling cords.
Along with music quality, having a good sound quality also helps with communication. It's important to be able to hear the people you're riding with for updates, warnings, and general conversation.
Look for helmets that come with dual stereo speakers, noise cancelling ability, and an anti-noise mic. These are the ideal features to look for when it comes to sound quality.
Voice Prompt
For hands-free navigation and communication, finding the best Bluetooth helmet with voice control is important. This is a feature that lets you control various aspects of your smartphone simply by using your voice.
The alternative is manually changing the settings to make calls or switch songs. This is inconvenient, possibly dangerous, and negates the need for a helmet like this.
Battery Life
To keep the Bluetooth device working, these helmets rely on internal batteries. It's important to look for a Bluetooth helmet that doesn't take too long to charge and that can be easily charged when you're not wearing it.
The better quality models will have a talking time of several hours and a similar battery life. This will allow you to communicate with other riders and listen to music for a day of riding without having to worry about the battery.
Bluetooth Range
In general, the range on most Bluetooth devices is not very impressive. Double check the communication range of any of the helmets are interested in.
As long as you're within range of the other people you're riding with, communication won't be a problem. This is generally a range of a few hundred, where anything more is overkill and not necessary.
When it comes to listening to music or using the helmet for GPS navigation, the Bluetooth range isn't important. It's only a feature worth considering if you're planning to regularly communicate with other riders.
Ergonomics
Both fit and ergonomics are important when you're shopping for the best Bluetooth helmet for music and communication. When it comes to ergonomics, you need to be able to easily access and operate the controls.
Should the controls be difficult or tricky for you to manage, then that helmet is probably not ideal. Look for models with simple functions that you can easily access with your left hand.
Style
There are so many different types of motorcycle helmets to choose from. Each of them serves a different purpose with riders having their own preferences.
Unfortunately, not every type of helmet can accommodate a Bluetooth system. Most of them are available with the full-face design, which also happens to be the safest type of motorcycle helmet.
When you're looking for Bluetooth motorcycle helmets, it's likely you'll have to compromise on style, especially if the full-face helmet isn't your preference. However, there is the added benefit of Bluetooth connectivity that's worth considering.
Additional Features
Many motorcycle helmets with built-in headphones also offer a range of different features, such as a camera and GPS system. Although you could be using your smartphone or a motorcycle GPS, having GPS navigation built into the helmet is convenient.
Also, while some models come with a camera, you're better off investing in the best motorcycle helmet camera you can afford. Some of these additional features don't make sense, while others can help to improve your riding experience.
Helpful Tips on Bluetooth Motorcycle Helmets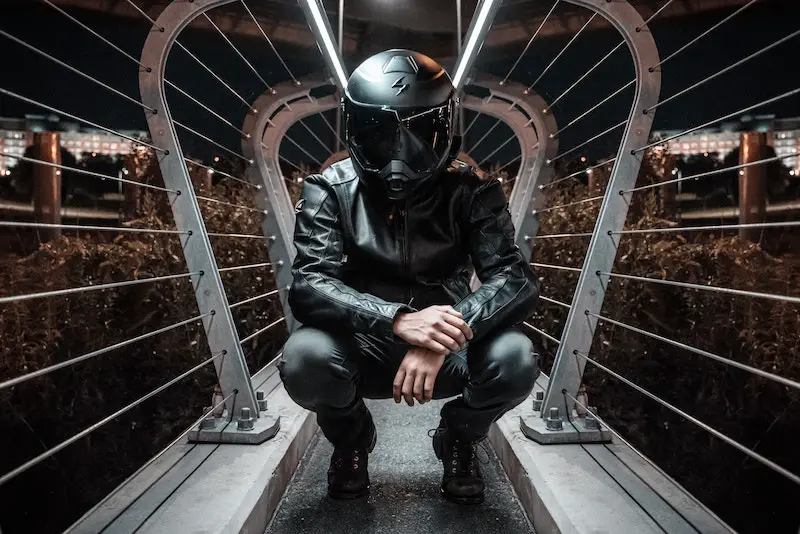 Safety is the most important feature when choosing a motorcycle helmet. Check that the helmet comes with all International safety standards, including DOT and ECE certifications. It should also fit properly and securely on your head for suitable protection while riding.
Keep an eye out for helmets that are weatherproof and durable enough for keeping the right now. With the intercom on it, it needs to be relatively waterproof so that it doesn't leak.
When riding over 70MPH, even the best Bluetooth for motorcycle riding will lose sound quality and clarity. Keep this in mind if you're regularly riding at higher speeds.
It's also important to remember that Bluetooth technology relies on line of sight. Depending on where you're riding, it can be challenging to maintain communication with other riders over long distances. Sticking close to the people you're riding with is the best way to maintain the intercom connection.
It's a good idea to replace your motorcycle helmet every three to five years. This is a safety practice agreed upon by the Motorcycle Safety Foundation and other various motorcycle organizations. If you're buying a Bluetooth motorcycle helmet today, it's likely you'll have to replace it in a few years.
Dedicated motorcycle Bluetooth headsets will have a better battery life and a longer range than helmets with built in Bluetooth connectivity. However, it can be a hassle to remember to charge the headset and reattach it to your phone. Depending on the functionality you're looking for, a Bluetooth helmet could be a better choice.
Check out our post on the best motorcycle helmets if you're looking for some other options. We also put together a post on the best scooter helmets for scooter riders as well!