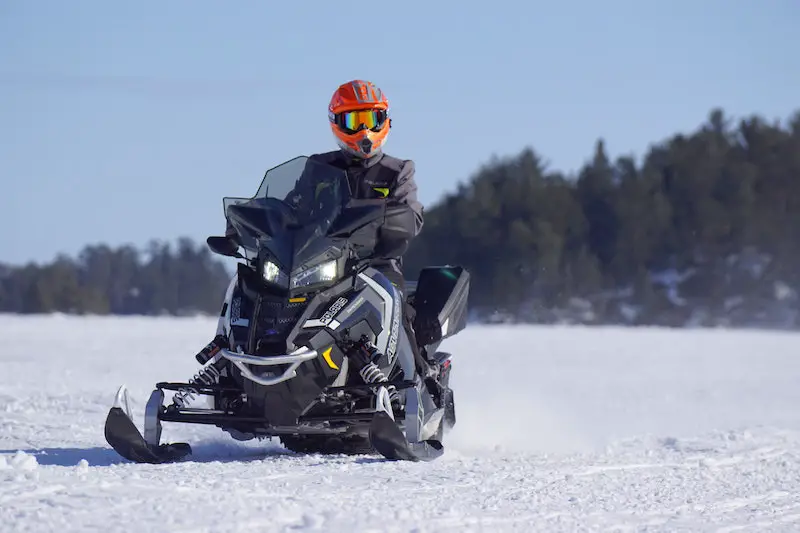 To keep your face warm underneath your snowmobile helmet it's a good idea to wear a good snowmobile balaclava. The last thing you want happening when you're out riding the sled is getting debris in your eyes, your face getting snow-burn, or your eyes start watering so much you can't see.
Wearing the best snowmobile balaclava you can find will prevent any of these things from happening. This piece of gear is designed to keep your face and head warm and well-ventilated.
They'll also protect your face from the snow, cold weather, and any debris flying off the trail in front of you. To make it easier for you to find the best balaclava for snowmobiling, we put together this helpful guide
After going over our top recommendations we'll cover some helpful tips on choosing the right balaclava to take on your snowmobile adventures. This way you'll be the most prepared to find one for bringing with you on your next trip.
With that in mind, let's just jump right into it!
The Best Snowmobile Balaclavas
KLIM Balaclava (Best Snowmobile Balaclava Overall)

The KLIM Balaclava is our top recommendation as the best snowmobile balaclava for most people. For those of you that prefer aggressive, high speed snowmobile rides, this is a great option.
The KLIM Balaclava is specifically designed for active riders looking for warmth and protection during cold weather riding conditions. It's made with a lightweight, windstopper fabric that offers plenty of feasibility and moisture wicking.
This material will also quickly dry after you remove the balaclava from your head. So even if you're sweating after a rough ride, you can take it off and let it dry out before getting back on the sled.
To help divert moisture from your breathing and to prevent your goggles from fogging, there is a neoprene breath box. This is a great feature to have and can typically only be found on these higher end snowmobile gear.
The wide skirt over the collar design on the bottom helps to prevent snow, rain, debris, and moisture from blowing down your snowmobile jacket. There's even a cinch cord that makes it easy to get the balaclava to properly and comfortably fit.
Speaking of fit, most of the material is a Lycra stretch panel designed to fit on heads of any shape and size. There are elastic side panels as well that make for a better, more comfortable fit on the neck and side of your head.
Overall, the KLIM Balaclava is our top choice as the best balaclava for snowmobile riding. It's comfortable to wear, designed to keep you warm, and great for using when you're out riding the trails in all conditions.
509 Lightweight Pro Balaclava
The 509 Lightweight Pro Balaclava is another great option, especially if you're not doing too much extreme cold weather riding. This is a snowmobile face mask designed to be worn underneath your helmet and with goggles while keeping you warm and comfortable.
The material is a breathable and stretchable material. It's moisture wicking and lightweight so it doesn't feel too bulky underneath your helmet.
The bottom of this balaclava features a longer cut skirt, which offers better protection and helps to keep it in place when you're riding. It's also fully windproof along with breathable materials along the nose and mouth area.
These design features make it possible to comfortably wear your snowmobile goggles with this snowmobile face mask. It's less likely for them to get fogged up, so there's no need to worry about not being able to see.
This mask is available with a few different designs and graphics. While not a game changer, this feature makes it possible to choose a style that matches your preferences.
Overall, the 509 Lightweight Pro Balaclava is a great choice if you're looking for a breathable, windproof, and lightweight snowmobile balaclava. Although it's not suitable for extremely cold weather, it's great for using in most other riding conditions.
FXR Shredder Tech Balaclava

The FXR Shredder Tech Balaclava is a high quality, professional level face mask that's great for snowmobiling with. It features an ultra lightweight design so it's warm and easy to wear without compromising on comfort.
When it comes to the material, this face mask is made from a brushed inner polyester spandex fabrication. It features a 4-way stretch mapped wind-stop system, which helps to block the wind on your snowmobile rides.
Having the longer length of the skirt reduces your exposure to cold winds and other debris when you're out on the trails. There's even a helmet gap, making it easier to put your helmet on with the balaclava on underneath.
On the front of the face covering is a full coverage neoprene nose mask. This helps to prevent your snowmobile goggles from fogging up and deflects your breath away from the eye area.
It's also worth mentioning that there are laser-cut breath holes under the nose mask so you can breathe more easily when you're riding in rough conditions. It's even possible to choose between 8 different colors depending on your preferences.
Overall, the FXR Shredder Tech Balaclava is another lightweight option that offers full coverage and a comfortable fit. Although the skirt is a little short, this is still a great choice as a lightweight, windproof snowmobile balaclava.
KLIM Arctic Balaclava (Best Snowmobile Balaclava For Cold Weather)

It's the KLIM Arctic Balaclava that we would recommend if you're doing a lot of extreme cold weather snowmobile riding. This is a piece of gear that's specifically designed to keep your head warm during extremely cold weather conditions.
As one of the coldest rated balaclavas, this one is made with a full heavy fleece windstopper material. This is guaranteed to be 100% windproof, along with a microfleece liner for retaining heat and repelling cold air.
Around the eyes is a variable fleece backer, for a better fit and to reduce any sight restrictions. All of this works together to keep you warm and to prevent the wind and cold air from hitting your face.
The overall structure of the KLIM Arctic Balaclava provides excellent comfort with its strategically placed elastic materials on the side. There's even a full neoprene nose piece and breath deflector to prevent your goggles from fogging up.
Finally, on the bottom is a massive, ultra-wide skirt that creates a seal with your snowmobile jacket and prevents wind and moisture from blowing down your neck. The Lycra stretch back, super stretchy fleece, and conformed neck fit all work together for even more comfort.
Overall, the KLIM Arctic Balaclava is the best option for cold weather snowmobile riding. It comes with plenty of features that will keep your face warm, safe, and protected during extreme winter conditions.
Tough Headwear Balaclava Ski Mask (Best Cheap Snowmobile Mask)

The Tough Headwear Balaclava Ski Mask is what we'd recommend if you're looking for a budget snowmobile balaclava. Despite the low price, this mask offers some decent features for keeping your face warm and protected.
This mask is made from a breathable, four-way stretch material. The fleece lining is great for comfort and warmth while retaining heat and wicking away moisture.
To help with airflow and to prevent fogging up your goggles there is a mesh panel on the front. This makes it possible to easily breathe without getting fog or condensation on the goggles.
With the thin, polyester and spandex design it's easy to get this mask onto your head. It's also easy to wear it underneath a helmet without it bunching up.
The large goggle port on the front allows for plenty of room for wearing goggles without restrictions. It can even be worn without the face covering or just as a neck warmer depending on what you need it for.
Overall, it's hard to go wrong with the Tough Headwear Balaclava Ski Mask for the price. Although it has some basic features, it's more than ideal for taking with you on short, fair-weather snowmobile adventures.
Snowmobile Balaclava Buying Guide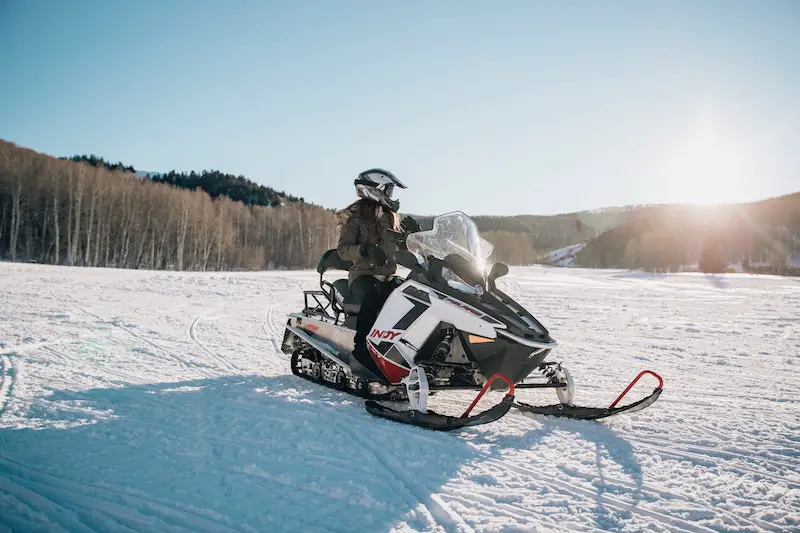 In this section we'll be looking at the different features you should consider when you're looking for the best balaclava for snowmobile riding. With so many options to choose from, it can be difficult and time consuming finding the right one.
To make things easier for you we put together this helpful guide. Let's take a look at the different features and other aspects you should consider when you're looking for a balaclava.
Weather Appropriate
One of the most important features when it comes to protecting your face from harsh weather conditions is looking for a balaclava that's weather appropriate. This means you're going to want one that's weatherproof, thick, and comfortable to wear.
When it comes to protecting your face, it's a good idea to avoid going with a cheap snowmobile balaclava. These aren't optimally designed to protect your face from harsh weather conditions and don't offer enough protection for keeping warm.
Instead, look for one that's thick with better weatherproofing features. This way you'll be kept warm, your face will be protected, and you'll be able to enjoy your ride.
Size and Fit
The size and fit of a balaclava are important for both comfort and protection. Generally, they're made of stretchy materials that are designed to fit heads of all sizes on both men and women.
The face sock you're wearing should be snug for preventing wind and snow from blowing in between your face and the material. However, it shouldn't be too tight that it's making it difficult to breathe or cutting off circulation.
It's possible to find balaclavas that are specifically designed for a particular gender. This would be a good option if you have a smaller or bigger head and are looking for something that offers a better fit.
Style
Most balaclavas are designed to cover part of your face, neck, head, and ears. They also leave enough room so you can see and breathe properly.
As long as they fit right, the next most important thing is looking for a style that you like. The style should also be practical to wear when you're out riding a snowmobile.
For example, you should be able to easily move your head in different directions without the fabric blocking your eyesight. It should also be easy for you to breathe when you're wearing a balaclava since you don't want to be suffocating when you're out riding.
Another thing to consider is that is long enough to fully cover your neck and head. This prevents the wind, snow, and cold temperatures from affecting your skin.
If you're having difficulty finding one or can't decide on the style, it's a good idea to browse online and look at online snowmobile balaclava reviews. This will make it easier to find one you like and you'll see if other people like it as well.
Comfort
When you're spending a lot of time on the snowmobile, it's important that you're comfortable when you're wearing the balaclava. You don't want it to be too tight or use one with a harsh or scratchy material.
Speaking of material, it should be a moisture-wicking material that will remove your sweat and allow it to evaporate. The balaclava itself shouldn't be too loose, since you don't want to be distracted by it flapping around in the wind.
Since you'll be wearing it under your snowmobile helmet, there needs to be enough room for the helmet to fit properly and comfortably as well. Finally, the snowmobile balaclava should be able to protect you from extremely cold winds.
Brand and Quality
There are a few different brands to choose from when you're looking at balaclavas for sale online. These are easy to look at on Amazon or getting some recommendations from your favorite snowmobile forums.
Look for high-quality and well-reviewed brands that are known for their durable and reliable gear. Any of the popular snowmobile brands are a good option since you know you'll be getting good value for what you're spending.
Each brand will offer their own features as well. Keep an eye out for these features, including anti-fog face masks or stretchable designs.
Goggle Port
Since you'll be wearing your balaclava with snowmobile goggles, you're probably going to want a goggle port. This is a cutout area in the material where the goggles are designed to sit.
Having this port makes the goggles more comfortable to wear with the balaclava. Without them, it's going to be difficult and uncomfortable to wear the goggles, which isn't really an option when you're out riding.
Price
The last factor to consider is the overall price of the product you're interested in. This is determined by the brand, material, design, and other features.
While a cheap balaclava may provide enough protection and comfort for a few uses, it's definitely not ideal for long-term use. Generally, cheap snowmobile balaclavas aren't a good purchase for most snowmobile riders.
A better option is going with a higher end product, since these tend to be more durable and made from better materials. They also come with extra features such as polar fleece for better heat retention, fog prevention, and moisture wicking.
All of this depends on your budget and how much you're willing to spend on good quality snowmobile gear. Keep this in mind when you're shopping for gear and what's most important for you.
Further Reading