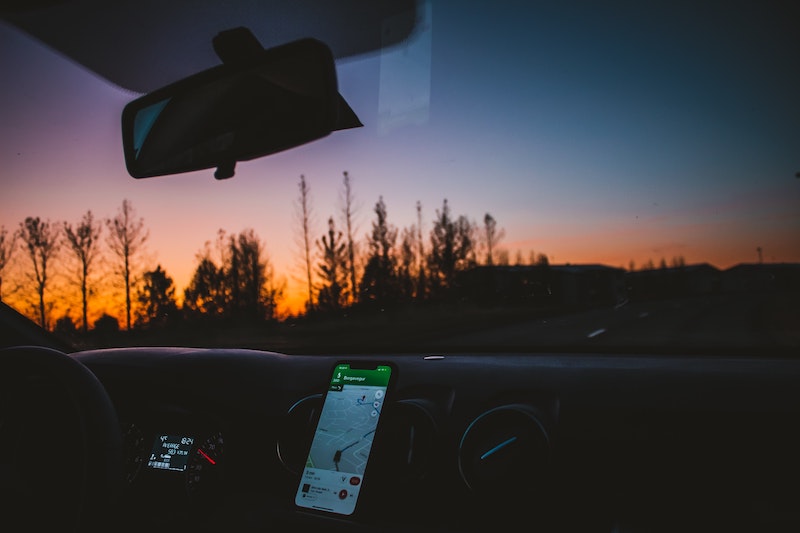 Depending on your vehicle, you're probably using a USB port or 12-volt USB adapter for charging your devices. While this is fine for your smartphone and other smaller accessories, it's not suitable for larger accessories like camera batteries, laptops, or other bigger electronics.
This can become an issue on car camping trips or road trips where you want to keep everything charged. That's where having one of the best power inverters for cars can be a useful and practical accessory.
This is a great car accessory that makes it possible to convert the 12-volt power into the alternating current power that larger electronics need for charging. It's a simple solution to charge your laptop and to plug things into your vehicle without needing a different fix.
In this post, we put together a list of the best power inverters that you can use in your vehicle for charging larger devices and other accessories. This should make it easier for you to keep things charged whether you are working in your vehicle, heading out on a long road trip, or using it for camping.
Don't forget to scroll past our recommendations for an in-depth buying guide and FAQ section. With that out of the way, let's jump right into it!
The Best Power Inverters for Cars
BESTEK 300W Power Inverter (Best Car Power Inverter Overall)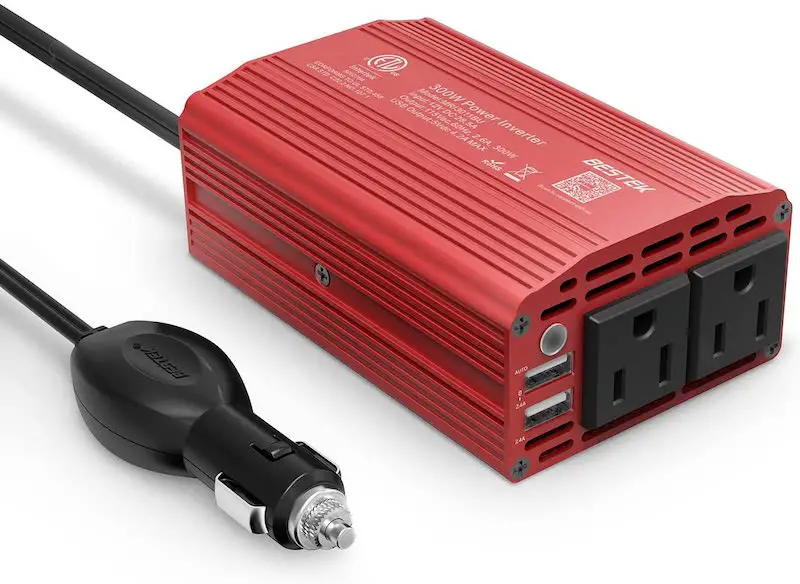 The BESTEK 300W Power Inverter is our top recommendation as the best power inverter for cars for most people. This is a popular option, has some great reviews, and comes with plenty of features that make it ideal to use in a vehicle.
Getting this one set up is simple thanks to the 12-volt adapter that plugs directly into the cigarette port. Once it's plugged in you could take advantage of two 110v AC outlets as well as two USB ports for charging a wide range of different devices.
The ultra compact and lightweight design makes it suitable to use in most vehicles without it taking up too much space or getting in the way. It comes with a 24-inch long cord for the plug so it can be easily plugged in and stashed in an easily accessible location without taking up space up front.
The BESTEK 300W Power Inverter comes with some great safety features as well. It's equipped with a built-in 40A fuse and the safe charging design helps to prevent overheating, over or under charging, and short-circuiting.
As for the build quality, everything is stored in a durable metal housing that provides even further protection from drops and bumps. On the inside is a cooling fan that helps to keep the inverter silent while running and preventing it from overheating.
Another feature worth mentioning include the quick USB charging, with a total output of 4.8A. This means you can take advantage of quick charging your smartphone or smaller devices so that they're ready when you are. There's also a LED power indicator, AC power switch on the back, and a detailed instruction manual included in the box.
Overall, all of these different features and capabilities make it easy for us to recommend the BESTEK 300W Power Inverter as the best car power inverter for most people. It's definitely a great option for charging multiple devices, especially if you're looking for something affordable, durable, and easy to use.
Foval 200W Car Power Inverter (Best Cheap Power Inverter for Cars)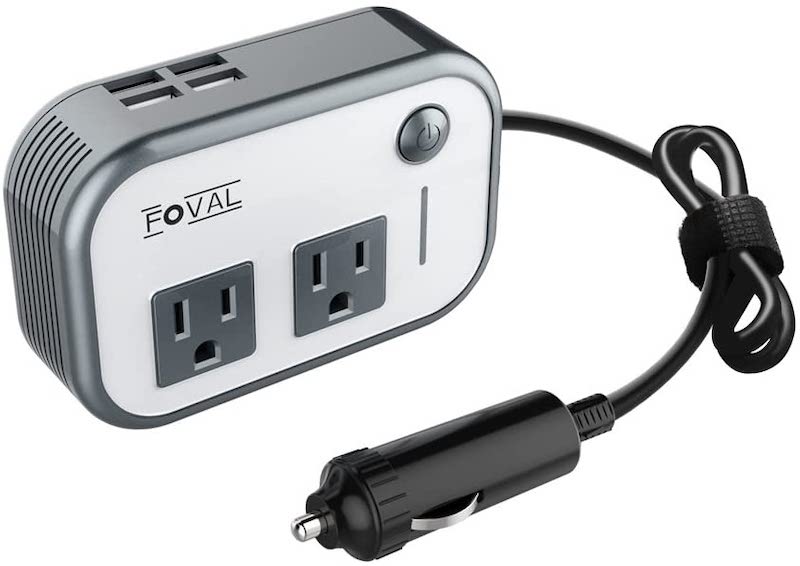 The Foval 200W Car Power Inverter is a great option if you're looking for a small power inverter and you're on a tight budget. Despite being small and reasonably priced, this one comes with everything you need for keeping your devices charged in your vehicle.
This one comes with a 200W output and is equipped with two standard charging ports as well as four USB charging ports. With this design, you're offered a lot of versatility when it comes to what you're able to charge while you're driving.
All the inside is a smart cooling fan to keep the inverter running at optimal conditions, even if it's warmer inside. Other safety features include short circuit, low voltage, and overheating protection along with a built-in fuse to prevent any power issues.
One of the most interesting features of this device is that it's extremely small and portable. It comes with a 10-inch long power cable and the converter itself is about the same size as a credit card. It's lightweight, easy to stash in your vehicle, and the durable metal housing keeps everything protected while you're driving.
Overall, if you're looking for an affordable and small car power inverter, it's the Foval 200W Car Power Inverter that we would recommend. Despite the basic and portable design, This one comes with all of the features you need to keep your devices charged in your vehicle.
BESTEK 500W Power Inverter (Best 500W Power Inverter)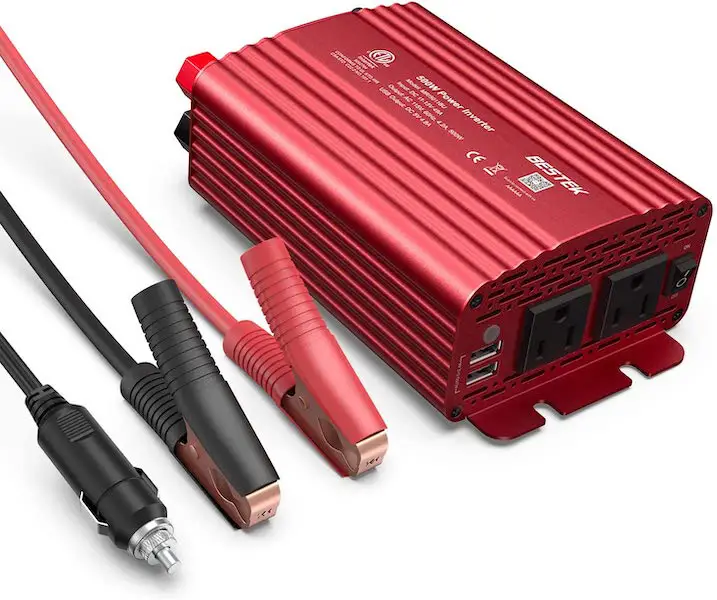 Those of you looking for something a bit more heavy-duty will want to check out the BESTEK 500W Power Inverter. This is our recommendation as the best 500W power inverter and another great option from BESTEK.
To get the maximum output from this inverter, it's equipped with alligator battery clamps. This is how to get the 500 watts of continuous output if this is the amount of power you're looking for.
Otherwise, it's also equipped with a standard 12-volt plug that plugged in directly to the cigarette lighter port. With this connection you're able to enjoy up to 150 watts of continuous power for charging your smaller devices.
For such a big device, this inverter comes with 2 built-in external fuses to protect from overcurrent and overload damage. This is definitely a feature you want, especially if you're hooking it up directly to the vehicle battery.
The exterior of this power inverter is made from a solid aluminum alloy housing. This helps to protect the internal components from bumps and drops, ideal if you're riding over rough terrain.
On the front you'll find two standard USB charging ports as well as two standard plugs. This offers plenty of versatility for charging a wide range of different devices. Other features include a quiet interior cooling fan, intelligent overload protection, and a power switch.
Overall, if you're looking for a heavy duty inverter that you can use for up to 500W of power, it's the BESTEK 500W Power Inverter that we would recommend. What makes this one such a great option is that it can be used with both the 12-volt outlet in your vehicle or hooked up directly to the battery if you need more power.
BESTEK 200W Car Power Inverter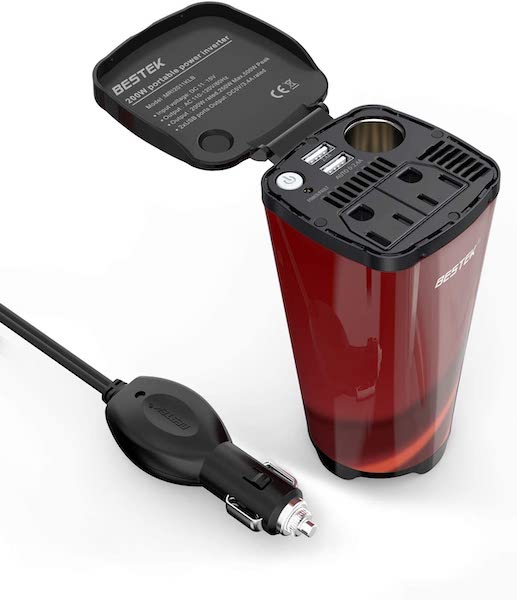 The BESTEK 200W Car Power Inverter is a smaller inverter that takes advantage of a unique design. This one is designed to fit specifically into the cup holder of your vehicle and has plenty of power for charging smaller devices.
Along with 400 watts of peak power, this inverter comes with two standard plugs as well as two USD ports easily accessible on the top. The cylindrical, small design makes it so it can be easily placed into the cupholder of your vehicle so there's always access to the charging ports.
For further versatility, there is a 24-inch power cord so it can even be used in the rear of the vehicle if you want it out of the way. This cord is designed to plug directly into the 12-volt outlet of your vehicle, which most of them are equipped with.
Some of the safety features include intelligent overload protection, automatic shutdown, and a built-in fuse to prevent over-voltage or overloading. There's even a cooling fan as well as an indicator light and power button for further control.
Overall, the BESTEK 200W Car Power Inverter is a great option if you're looking for something small and portable for charging multiple devices in your vehicle. What makes this one so unique is the streamlined design for easy storage in a cup holder for easy access.
Why You Should Use a Car Power Inverter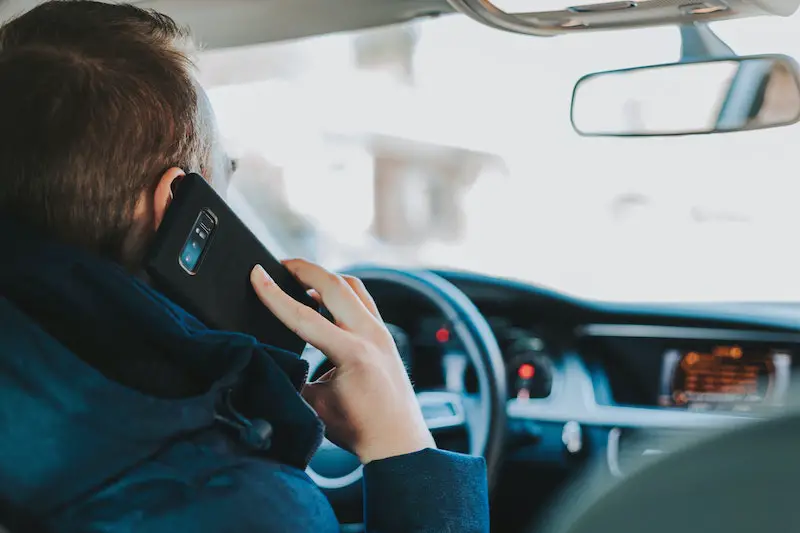 Always Have a Reliable Power Supply
One of the main reasons to use a power inverter in your car is that you will always have a steady and reliable supply of power. These can help keep your bigger devices charged, such as your laptop, so you don't need to worry about running out.
Another benefit is that they can charge multiple devices at the same time. This makes it possible to charge more than one device without having to wait or use a different supply.
For road trips or longer periods of time spent in the car these are such a useful and practical car accessory to have. It means you don't have to worry about conserving battery life on your bigger devices and you'll know you can always charge something when you're on the road.
Better For Camping and Road Trips
If you're spending a lot of time in your vehicle, whether you're going car camping or living in your van, you know how tricky it can be hard to keep things charged. Which one of these inverters it's possible to keep your devices charged and use other electronic devices as well.
For example, these can be used as a power supply for kettles, camping lights, and even small tools that you need to plug in. You'll no longer be wondering how to keep everything charged or what you're going to do for a power supply.
Low Running Cost
The way car power inverters run is by getting their power from your vehicle while it's running. They don't use any extra Fuel and there's no need to run a generator to use as a power source.
It's as easy as plugging it in and keeping the car running whenever you're charging something. You can even use them for a short period of time if you need a steady and reliable power source for something like a tool or accessory.
Environmentally Friendly
One surprising benefit of these vehicle power inverters is that they are environmentally friendly. When they're running, there aren't any harmful fumes or waste that's created.
Instead, you can enjoy this reliable power source while keeping your car clean and making sure your devices are charged. It's definitely one of the best ways to take advantage of a new power source for different devices and accessories in your vehicle.
Different Types of Power Inverters For Cars
Single Outlet
One of the cheapest car power inverters takes advantage of the single outlet design. These feature a simple, basic design with just one outlet giving an output of between 150 and 300 watts.
People like these because they are portable and lightweight. Although they're cheap and come with simple features, they only have one outlet for charging one device at a time.
Multiple Outlet
This is a type of inverter that comes with multiple outlets. With this type it's possible to charge more than one device or accessory at the same time.
One thing to keep in mind with this style is that it's possible to overload the inverter, which could lead to overheating or shorting. Thankfully, many of the better quality ones come with preventive safety features so that this doesn't happen.
Another benefit to this type is that there is a higher current capacity. This makes it possible to charge more than one device or even larger devices with a higher draw.
USB Outlet
One of the more common types of inverters is the USB outlet type. This one is small, portable, easy-to-use, and perfect for charging smartphones and other small electronics.
Many of you will be familiar with this, especially if your vehicle only has a 12-volt outlet and not a dedicated USB charging port. If all you're charging is your smartphone or a tablet, this is likely the only device you'll need.
How Much Do Car Power Inverters Cost?
Under $25
If you're on a budget, it's possible to find some simple and basic inverters in this price range. You can expect a continuous power capacity between 100 and 200 watts.
Most of them in this range will only be able to charge a single device. Thankfully, most manufacturers come with some entry level, budget model that are reasonably priced and good enough to get the job done.
$25 to $50
This is a good price range for finding some decent quality inverters with a higher capacity. You can expect to find a capacity ranging from 250 watts or more.
In this price range you'll also find inverters with a good build quality, multiple outlets, and some even come with cooling fans for preventing overheating. For basic use and something you won't be using on a regular basis, this is a great budget with some awesome options.
$50 and Up
There are some pretty heavy duty car power inverters once you get into this price range. Many of them will have a continuous power capacity of at least 1,000 watts or more.
At this price point, you can expect a durable build quality with the inverter capable of charging or supplying power to some pretty heavy duty devices, such as a car vacuum. Most of them won't even come with an LCD screen and other practical features for easier use and longevity.
Important Features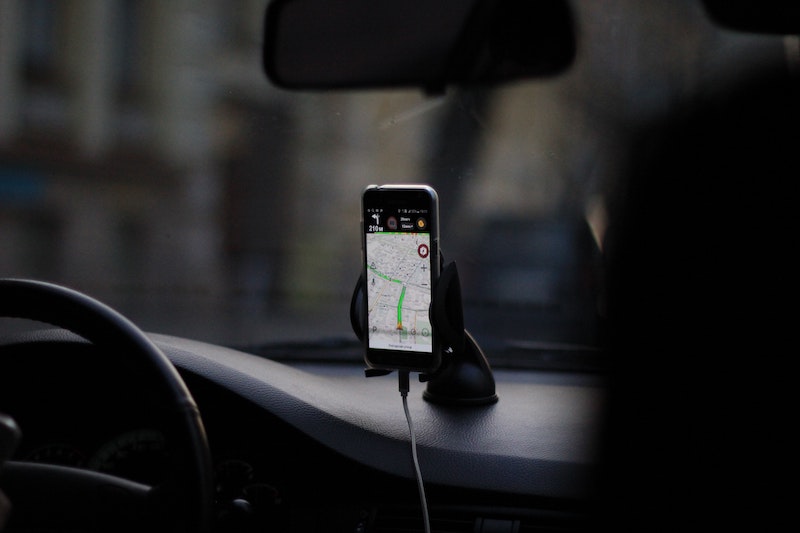 Ports (Outlets)
One of the most important things to look at when you're shopping for the best power inverter for cars is the number of ports or outlets. This will determine how many devices can be connected to the inverter.
Most of them will come with both USB ports as well as a standard plug outlet. This will make it possible to charge both your phone and laptop simultaneously.
Always look at the number of ports and compare it to the number of devices you need to charge in your vehicle. Keep in mind that more ports would result in a more expensive inverter and one that would come with a higher power output.
Wattage (Power Output)
For small electronics, such as your smartphone or camera batteries, a smaller wattage would be sufficient. Look for an inverter with a range of 150 up to 300 watts of output.
For charging larger electronics, such as a laptop, you would want to look for a higher wattage or power output. With this in mind, look for an inverter with a minimum of 1000 watts to ensure you always have enough power supply.
Sine Waves
It's typically possible to choose between two different types of inverters – those with either modified or pure sine waves. Always look for modified or pure sine waves when you're browsing these charging devices.
Otherwise, you run the risk of damaging your electronics if you're using a device that has irregular waveforms. Don't forget to check out reviews to see what other people have to say about any of the inverters that you're interested in using.
Size & Weight
It's also worth considering the overall size and weight of one of these charging devices. Since we'll be using it in your car or vehicle, you probably don't want something taking up too much room or being too heavy and unmanageable to use.
When you're looking at the different inverters, double check the dimensions and weight. This will make it easier for you to find something small, portable, and lightweight that's better suited for using in a vehicle.
Safety Certification
The last feature worth mentioning is the safety certification that you should keep an eye out for. Look for a stamp or marking from a local safety certification provider.
This should give you the peace of mind that the device isn't too likely to overheat, short, or suffer from electrical faults. North America has these safety guidelines and many other places around the world follow similar guidelines for safety certification.
Helpful Tips
It's a good idea to disconnect any extra loads or power draw from the inverter when it's not being used. This helps to both protect your car battery and prevent the device from overheating.
Make an effort to avoid leaving the power inverter sitting in direct sunlight or next to any heat sources. It's a good idea to leave it underneath the seat or in a place that's protected from these potentially harmful elements.
On older vehicles, always disconnect the inverter whenever the vehicle is being switched off. It's possible that the inverter can keep drawing from the battery and you could end up with a flat battery the next time you go to start your vehicle.
It's possible to use a secondary battery for powering a car power inverter. In this case, check that the battery is well sealed and that there is enough ventilation in the vehicle.
Get into the habit of starting the engine before plugging anything in or running the inverter. This helps to save the battery from flattening out and gives the vehicle enough time to charge everything before you start drawing power.
Frequently Asked Questions
How Do You Hook Up a Power Inverter?
Generally, these devices are simple and easy to use. Hooking it up will depend on the size of the inverter itself and the set up inside your vehicle.
Most of the smaller ones are designed to plug directly into the 12 volt outlet. With this setup, they likely won't draw more than 200 watts from the cigarette lighter socket.
For larger inverters, these are typically designed to connect directly to a vehicle's battery or to another battery. Most people aren't looking for something this heavy duty, although there are plenty of videos and helpful guides online for installation help.
What's the Difference Between Continuous Power and Peak Power Outputs?
Continuous power output is the average wattage that an inverter is able to supply under normal operating conditions. The peak power output is the wattage that the inverter could supply for a specific period of time.
Depending on what you're charging, it may be worth paying attention to these different values. However, most people would be fine just following the continuous power output since they'll likely be charging basic devices like a laptop or camera battery.