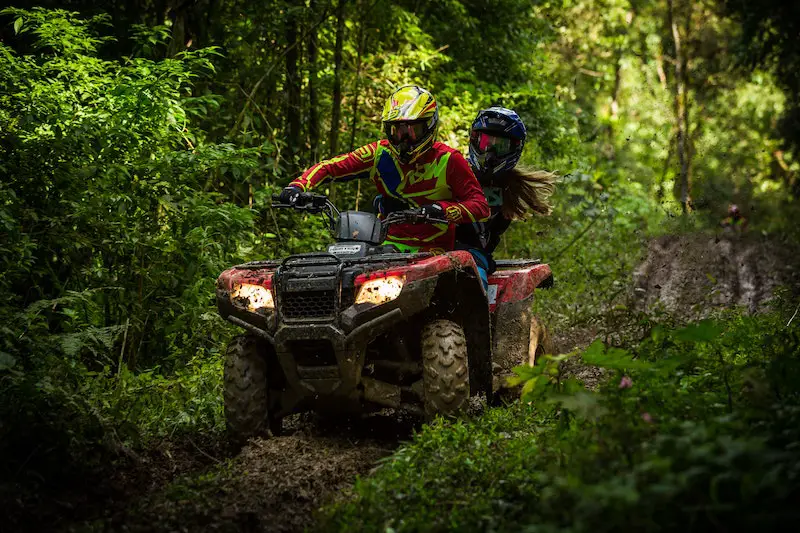 When you're hitting the trails with your ATV there's always the possibility you're going to get stuck somewhere. Should this happen, it's a good idea to be prepared to get out of trouble using the best ATV winch you can find.
There are a lot of different options to choose from when it comes to ATV winches. Whether you're looking for something that's super heavyweight or you need one that's lightweight and portable, there's bound to be one that suits your needs.
Keep in mind that if you're planning to use one of these winches you're going to have to be riding with someone else. Although it's possible to use one if you're on your own, it does require some backwoods engineering to figure it out.
In this post, we put together a list of some great winches for your ATV that you can use to get out of trouble. Don't forget to scroll past our recommendations for some helpful tips and an in-depth buying guide that should answer all of your questions.
Let's jump right into it!
The Best ATV Winch 2021: Our Top Recommendations
Champion Power Equipment ATV/UTV Winch Kit (Best ATV Winch Overall)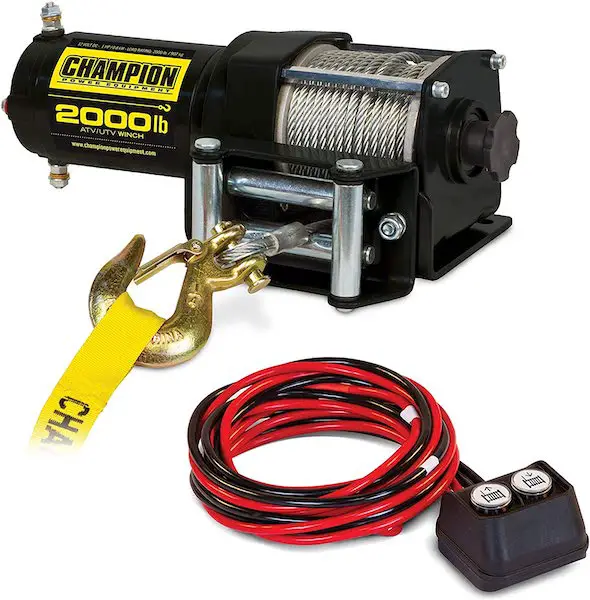 The Champion Power Equipment ATV/UTV Winch Kit is our top recommendation as the best ATV winch for most riders. This is a high-quality, durable, reliable, and affordable winching device with up to 2000-pounds of pulling power.
Don't forget to take a look at the other Champion Power Equipment winches. They have a number of different options available even up to a 12,000 pound pulling capacity.
This particular Champion Power Equipment ATV/UTV Winch Kit is powered by a 1-horsepower motor. For efficiency, this little guy has a line speed of 3.3 feet per minute when it's fully loaded, getting the job done quick.
Thanks to the mounting channel, roller fairlead, and remote control, this device is easy to use, even if you don't have much experience. Installation is also simple with its standard mounting channel and included hardware.
With the roller fairlead it's a relatively hassle free experience using the winch. There's a smooth pull and the 49-foot, galvanized aircraft cable offers plenty of functionality and versatility.
Overall, the Champion Power Equipment ATV/UTV Winch Kit is a great choice if you're looking for something entry-level and affordable. For most riders in most conditions, this is all you'll need to solve your problems.
ZEAK Advanced Electric Winch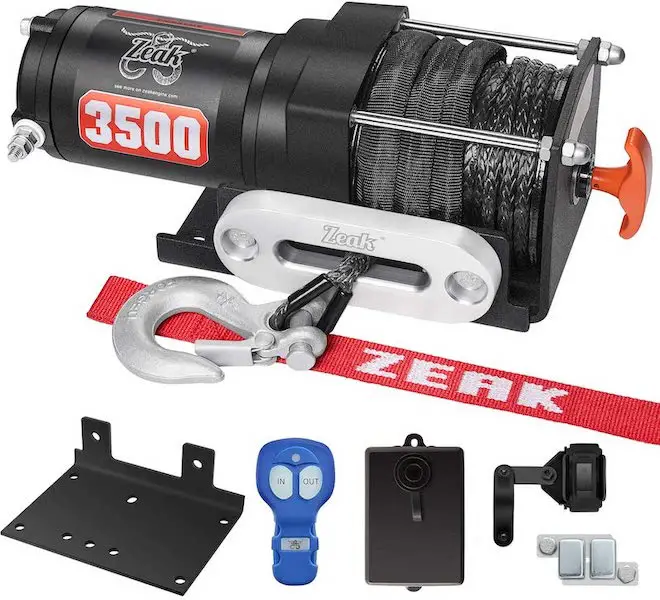 The ZEAK Advanced Electric Winch comes with a 3500lb capacity and is specifically designed for ATV's and off-road vehicles. It's easy to install, easy to use, and the electric motor means you can use it wherever you are.
Driving the winch is a 1.1-horsepower permanent magnet motor. It's equipped with a reliable, sturdy dynamic brake to prevent the rope from sliding while it's under load.
To help with corrosion resistance it comes with a powder coated surface. All of the electrical components are also covered with a 1-year warranty to give you peace of mind.
Installation is simple with all of the brackets and mounting hardware needed included in the box. It also comes with a corded remote control, circuit breaker, synthetic rope, and even a wireless remote.
For most conditions, this ZEAK Advanced Electric Winch with a 3500lb capacity is more than enough for your winching needs. That's why we recommend it as another great option if you're spending a lot of time off-roading.
WARN VRX Powersports Winch (Best Waterproof ATV Winch)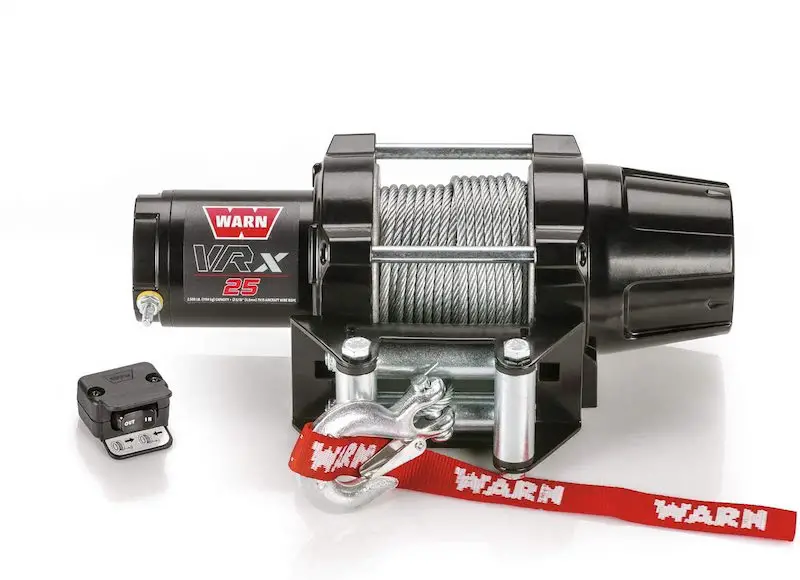 The WARN VRX Powersports Winch is another great choice if you're looking for a heavy-duty winch. This one comes with a 2,500lb capacity making it ideal for smaller ATV's and off-road vehicles.
What makes this one unique is that it features a thick, sturdy steel rope and a zinc-plated hook. It also has an all-metal construction with a black powder-coated finish that makes it suitable for use in all weather conditions.
The three-stage planetary gear train is smooth, reliable, and well-designed for getting your ATV or off-road vehicle safely out of the mud. With the load-holding mechanical brake, you have plenty of control to prevent any slipping or sliding.
There's even a waterproof sealing that you can count on for keeping the elements out. This makes it an even better option if you're riding a lot in the rain or wet conditions.
It's also worth mentioning that both a dash-mounted control switch and a corded remote are included. This offers plenty of versatility when you're off road and looking for winching options.
Overall, the WARN VRX Powersports Winch is another great choice if you're looking for something durable and reliable. The sturdy design with well-built components and practical features make it a good option.
Best ATV Winches Buying Guide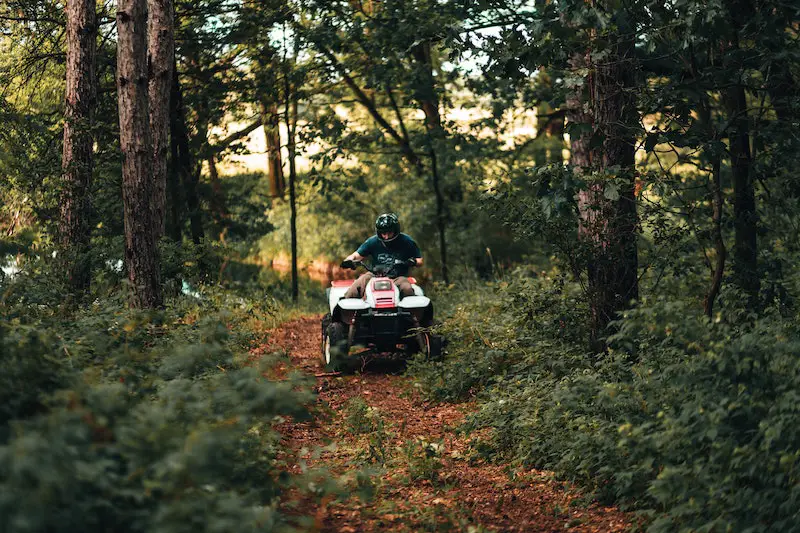 There's a lot to consider when you're shopping around for an ATV winch. Some of these factors include the power, size, and how it's designed to be mounted to your ATV.
In this section you'll find a helpful buying guide that should answer your questions. This way you'll be the most prepared to find the right winch for your all-terrain vehicle.
Factors to Consider When Buying an ATV Winch
Motor
There needs to be a decent, good size motor inside the winch you're planning to use. Without one, you're not going to be able to get the ATV unstuck.
Look for a motor that's safe and relevant to the engine size of your ATV. This way it's not going to burn out when you really start cranking on it.
Pulling Power
Pulling power has to do with the engine and is how much weight the winch can pull safely. This information can be found in the description or by contacting the manufacturer directly.
When it comes to pulling power, there should be enough that it can support the maximum load and weight of your ATV. Otherwise, you're going to be stuck and risk burning out the engine.
Rope vs Cable
Modern winches can use both synthetic winch rope or a steel winch cable for pulling. Each of these has their own benefits and drawbacks.
For more information on this, scroll to our FAQ section. This should help you determine which type is better for your winching needs.
Safety
Look at the different safety features of any of the winches you're interested in. These features help to keep you and your vehicle safe when you're operating the winch.
Some of these features include remote controls, overloading indicators, and stronger ropes or cords. Double check the safety features to see what's included and to see if there's anything in particular you want for safety.
Mounting Capability
Once you have found some winches that you're interested in, consider how they are going to be mounted. Some of them are permanent while others can be removable.
Although the best removable ATV winches are flexible, they don't offer as much power. Permanent winches are ideal, especially for bigger ATV's, though they are a permanent solution.
How to Install an ATV Winch
It's likely that the winch that you buy will come with detailed instructions on how to install it. Start by reading the installation instructions and seeing if you can figure it out on your own.
Alternatively, there are tons of helpful videos on YouTube that will teach you how to install a winch on your ATV. It wouldn't hurt to check these out first so that you have a better idea of what needs to be done.
Overall, the process for installing one of these is pretty straightforward. You'll probably need a mounting plate so you can attach it on to your ATV, usually on the bumper.
Wherever you install it, the winch rope or cable needs to have an unobstructed path. There's also going to be a relay box where you can control the winch and operate it safely.
Different Types of ATV Winches
There are essentially two different types of ATV winches – hydraulic and electric. Hydraulic winches work by using a hydraulic system and are designed to be hooked into the power steering pump.
Electric winches are easier to use and more convenient. These hook up directly to the ATV battery and are more reliable when you're out in the field.
One problem with the electric ATV winch is that it's possible to burn out the battery if you're not careful. Consider carrying a battery booster with you if you're worried about this problem.
Steel vs Synthetic Winch Cable
Winches come with either synthetic rope or a steel cable. This line needs to be tough enough to pull an ATV out of a situation where it may be stuck or stranded.
Compared to synthetic, steel tends to be stronger, it's harder-wearing, and doesn't require as much maintenance. It's also a great conductor so the heat is quickly radiated away when you're winching.
The drawbacks to steel cable are that it's heavy and can put a lot of stress on the front suspension of your ATV. It can also be dangerous and uncontrollable if the cable snaps while you're winching.
On the other hand, synthetic ropes are lighter, safer, and easier to handle. The drawback is that synthetic isn't as durable as steel, can be affected by UV light, and will definitely need to be maintained to increase its longevity.
How Do You Use an ATV Winch
If you're spending a lot of time deep off-road then it's a good idea to be taking an ATV winch with you. When you're stuck in the mud and having trouble getting out, that's the last time you want be pulling out the instruction manual.
There are plenty of helpful guides online that will walk you through ATV winch use, though it's rather straightforward to figure out on your own. To start, ensure that the winch is properly secured to your ATV.
Next, use the controls to start turning the drum so that there's enough cable or rope getting fed out. Once you have some slack, secure the cable to the mounting or anchor point on the stuck ATV.
When it's secure and the rope or cable is straight, use the controls to start reeling in. Take it slow and keep an eye on the ATV.
Once the ATV is unstuck, give the winch line some slack and remove the anchor point. To finish up, carefully wind back in and you're all set.
FAQ
How Does an ATV Winch Work?
When you're driving off road or in other tricky conditions it's an ATV winch that you want with you. These work by exerting force to pull an ATV out of a mess with another quad or vehicle and using a cable.
It doesn't take a lot of power to get most off-road vehicles un-stuck. Usually, it just needs a bit more than you can do on your own.
In order for the winch to be effective it needs to be bolted to another ATV or vehicle. This needs to be essentially anchored in place to help the winch get another load moving.
Once the powerful motorcycle inside starts drawing in the cable, you'll be able to get the ATV out of the mess. These are great to have, especially if you're riding a lot in tricky conditions.
What Size ATV Winch Do You Need?
Choosing the right size winch depends on how much weight you'll be pulling and the size of your vehicle. Start by looking at how much your quad weighs and then comparing this to the maximum weights on a winch.
They range in size from 1,500 pounds up to 5,000 pounds so you should be able to find something suitable in that range. Look for a winch that can pull at least 1.5 times the max loaded weight of your ATV.
It's also worth considering the terrain, weather, and other conditions you'll be riding in. This will give you the best idea of what to look for.