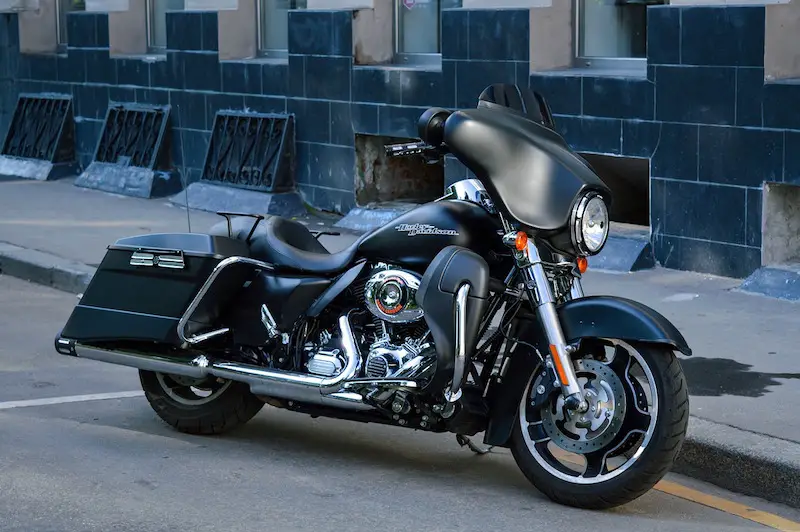 Depending on the Harley you're riding, it might be a good idea to install and use a dedicated oil cooler. This is a basic system that uses air to cool the oil that's passing through your engine.
Some of these systems even come with an additional fan to help keep the oil at a cool temperature even when your bike is idling. This is a great Harley upgrade to keep the engine cooler and to prevent overheating if you're on an air-cooled bike.
The problem with heat is that as the engine heats up the heat spreads from the combustion chambers across the aluminum or iron block. Most modern engines come with integrated cooling systems to cool the engine down and to keep it running in optimal condition.
Unfortunately, some bikes run into issues with overheating, especially the air cooled Harley Davidsons. That's why it's a good idea to use one of the best oil cooler for Harley Davidson bikes you can find.
In this post, we'll be looking at some great options for Harley oil coolers that you can use on your own bike. Let's jump right into it!
The Best Oil Coolers for Harley Davidson Motorcycles
Jagg Horizontal 10-Row Oil Cooler Kit (Best Oil Cooler for Harley Davidson Overall)

The Jagg Horizontal 10-Row Oil Cooler Kit is our top recommendation as the best oil cooler for Harley bikes overall. This is a cooling kit that's designed to perform well and keep the engine cool at low speeds and in stop-and-go traffic.
Installation is simple and everything needed to install this kit is included. In the kits there is a cooler, sealed motor fan, oil hoses, necessary mounting hardware, wiring harness, and an automatic thermal fan.
For keeping the engine and oil cool the fan automatically turns on at approximately 205 degrees Fahrenheit. Once it turns on it starts pulling air across the cooler to work towards decreasing the oil temperature.
Enough air gets pulled in to drastically cool down the engine and to prevent it from overheating. This is a great upgrade for air cooled bikes and any Harley engines that tend to run particularly warm, especially during the summer months.
Overall, the Jagg Horizontal 10-Row Oil Cooler Kit is our top recommendation as the best Harley oil cooler. It's well-designed, great for cooling down the engine, and easy to install on your own bike.
Jagg Vertical 6-Row Cooler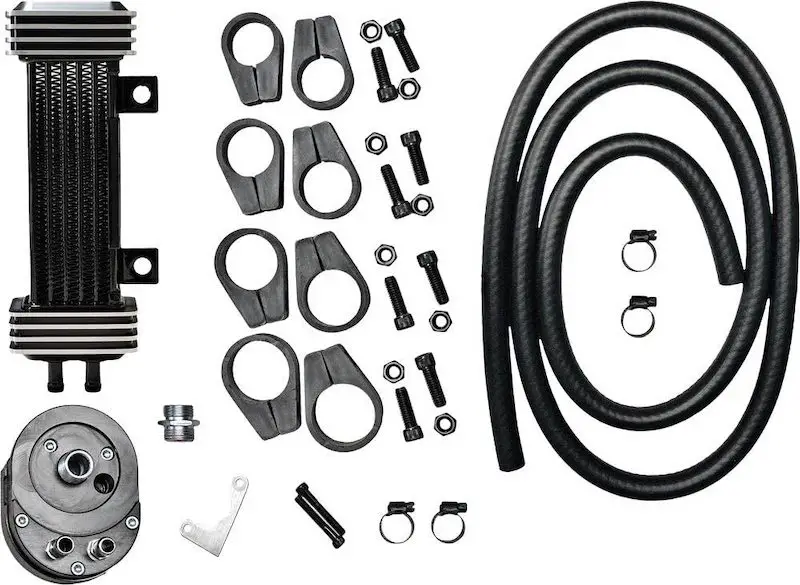 This is one of the first oil cooler models from Jagg and is specifically designed to be installed on bikes with vertical frame tubes. With the included mounts this cooler is designed to maximize airflow for both the engine block and the oil cooler.
Like with most of these kits, installation is simple with everything needed included in the kit. The Jagg Vertical 6-Row Cooler is designed to mount between the oil filter mount and the oil filter so there is a lot of efficient oil cooling going on.
Once installed on to the left frame down tube, the included mounts are designed to absorb shock and vibrations from your daily riding. This helps to keep the cooler in place and prevents it from getting knocked around when you're riding.
As for the design, the Jagg Vertical 6-Row Cooler features a two-pass, six-tube layout that delivers ample surface cooling. It comes with inline tabulators that help to reduce oil pressure so the oil can continue to flow freely through the engine.
It's also safe to say you can rely on the overall build quality of this oil cooler. The body is made from aluminum alloy fins with billet machined end caps for better durability and longevity.
Overall, the Jagg Vertical 6-Row Cooler is another great choice if you're looking for the best Harley-Davidson oil cooler. It's easy to install, reasonably priced, and well-designed for cooling down the engine on your bike.
Finned Billet Oil V-Cooler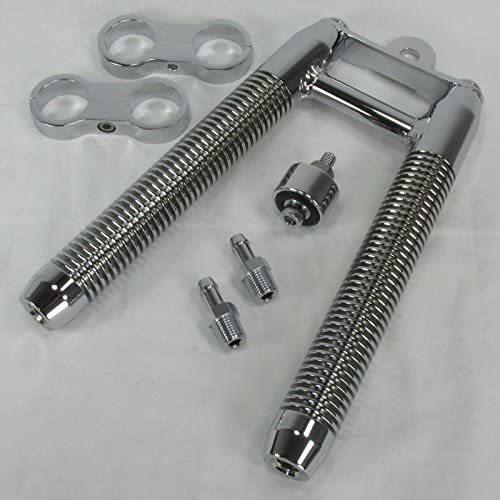 The Finned Billet Oil V-Cooler is a great choice if you're looking for a cheap oil cooler for your Harley Davidson. While it doesn't come with some of the features that the other recommendations do, it's still a suitable option for cooling down the oil and your engine.
This cooler features a high-quality and durable billet aluminum construction. It comes with a chrome plated finish that helps to ensure effective cooling, corrosion prevention, and long-term durability.
Installation is rather simple and there are fittings for the top mounts and downtube clamps included. There's also a vibration-resistant top mount and barbed fittings to help with the installation process.
While it doesn't come with a fan or any special accessories, the Finned Billet Oil V-Cooler is still a good choice for cooling down the oil on your Harley. Overall, we'd definitely recommend it if you're looking for an affordable cooling setup for your bike.
How to Install an Oil Cooler on Your Bike
Step 1 – Drain the oil. This is also a good excuse to use your favorite motorcycle oil to do an oil change.
Step 2 – Disconnect any wire harnesses that are in the way. Remove them so they don't hinder the installation process.
Step 3 – Unscrew the lock on-bolts for the old oil cooling system. Disconnect the oil hoses so that the area is prepared for the new cooler.
Step 4 – Follow the manufacturer installation instructions and install the new oil cooler. If you're having trouble, you can always refer to YouTube for some helpful videos.
Step 5 – Once the cooler is installed, inspect all of the installation parts. Double check the fasteners and make sure they are properly secured with the right torque.
Step 6 – Reinstall all of the hoses back on to the oil line. This is easy and requires sliding the clamps onto the hose, lubricating the inside of the hose, and sliding the hoses back on to the receiving nipple. When you're done, close the clamps and make sure they are properly secured.
Step 7 – Perform the oil change using fresh oil and a new oil filter. Refer to the maintenance manual for your bike if you're not sure how to do this.
Step 8 – Turn the bike on and let it idle while the engine warms up. Keep an eye on the oil temperature and look for any leaks.
Step 9 – At this point you're done with installing the oil cooler on your Harley Davidson. Double check the oil level and add some oil if necessary.
Frequently Asked Questions
Do You Need an Oil Cooler on Your Harley?
Ultimately, it's up to the rider to decide whether they want to use an oil cooler on their bike. There are some benefits to using one that might make sense if you're regularly riding your Harley.
These benefits include peace of mind, less heat-related problems, and increased overall performance. With that in mind, it's probably worth it to install one of these coolers and avoid any possible issues in the future.
How Do You Keep Your Harley Cool?
Using an oil cooler is one great way to keep your Harley running at a cooler temperature. Another good idea is to make sure the bike is moving as much as possible.
With air cooled bikes, if you aren't moving then the engine isn't getting cooled down. While using synthetic oil will help, there are some other strategies you can take advantage of to keep everything cool.
Try to avoid idling too long and keeping the bike running without any airflow for extended periods. Instead of sitting in stop-and-go traffic, try to find a route where you'll be moving at a better pace.
It doesn't hurt to remove any unnecessary weight from the bike as well, as this will reduce the stress on the engine. While it's unlikely you could ever damage your bike from it overheating, these things do happen so it's better to be proactive.
Is an Oil Cooler Worth It?
Depending on the conditions you're riding in and how old your bike is, a dedicated oil cooler can definitely be worth it. They're easy to install, decently priced, and will definitely help to cool down your bike.
The main benefit to these coolers is that they reduce engine wear and help to keep your engine running smoothly for years. Not only do they prevent the engine from overheating, they ensure the oil is kept in better condition as well.
When oil gets too hot it starts to rapidly grade. Using a cooler keeps it in better shape so it's still working efficiently as a lubricant when it's time for the next oil change.