Hitting the open road and exploring new places is what riding a motorcycle is all about. Nothing compares to the freedom your bike gives you with the fresh air and beautiful scenery around you.
What if you want to share these memories and the beautiful sights you see with your friends and family? That's where having the best motorcycle helmet camera comes in.
When it comes to these helmet cams, how do you know which one is going to provide you with the footage you want? Well, that's why I put this post together to help you find the best motorcycle camera to use on your rides.
So instead of stopping every time you want to capture something, you can start capturing videos and photos while you're riding. In this post we'll look at some great cameras as well as a buyer's guide to help you make the most informed decision.
Let's jump right into it!
The Best Motorcycle Helmet Camera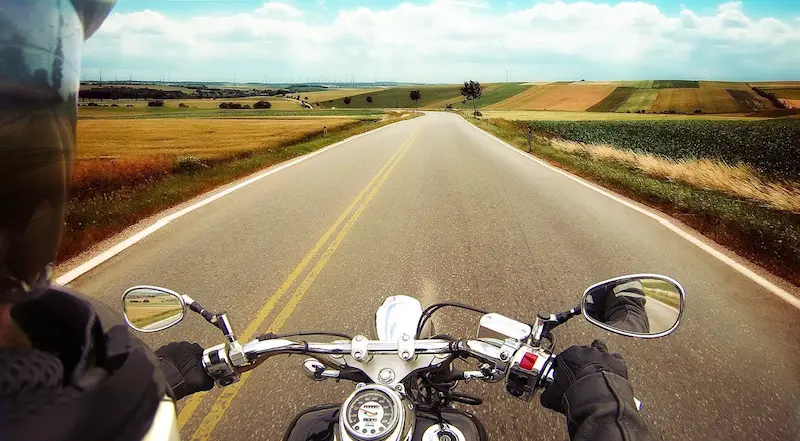 Our Top Recommendations
If you're in a hurry, you can check out our top recommendations right away. These three cameras are what we recommend as the best motorcycle helmet cameras for most riders.
GoPro Hero 8 Black

. This camera comes packed with features and delivers a near professional level of video quality. It's easy to use thanks to the touchscreen on the back, allowing you to effortless change settings and switch modes. The streamlined design makes it simple to mount the camera anywhere on your helmet or motorcycle. Also, since it's a GoPro, there's a huge community behind the camera you can rely on for filming tips and advice.

GoPro Hero 7 Black

. This is another great camera in the GoPro lineup. We like it because it comes with nearly the same features as the Hero 8, but at a more reasonable price.

Campark ACT74

. This is the best GoPro alternative. It's affordable and still comes with amazing features for recording your rides. There are plenty of accessories available with this camera. You can also check reviews for yourself to see why this is such a great motorcycle helmet camera for most riders.
Now that you have a better idea of our top recommendations, let's dive further into the reviews!
GoPro Hero8 Black (Best Motorcycle Helmet Camera Overall)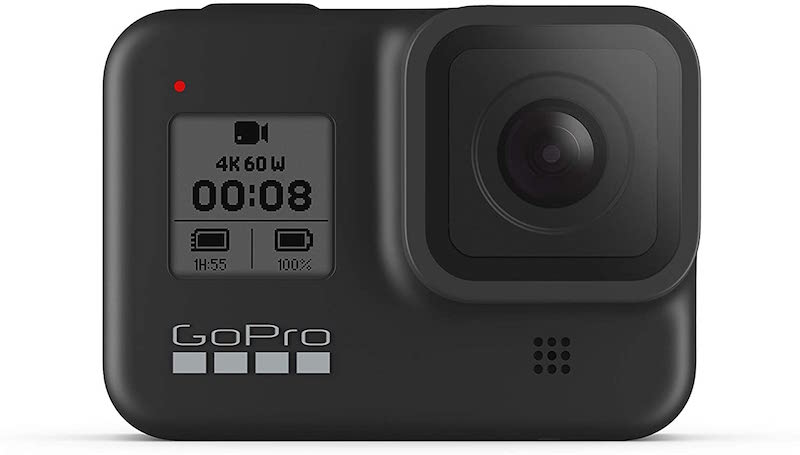 The GoPro Hero8 Black stands as our top recommendation as the best helmet camera for most riders. This is a highly advanced action camera that's loaded with features and capable of capturing extremely high quality video footage.
The Hero8 Black is the latest and greatest from the popular line of GoPro cameras. Not only do you get a high-quality and durable device, there's also a huge community of GoPro enthusiasts that you can rely on for help, tips, and support.
As for the camera itself, the latest Hero8 model comes with a portable, streamlined design. It's easy to handle and can be effortlessly mounted anywhere on your helmet or motorcycle.
When it comes to the specs, the Hero8 Black is capable of recording video footage at a resolution of 4K and 60FPS. This is more than enough for creating vibrant and highly detailed videos
With a battery life of 2+ hours, you're able to create content for hours on end without having to worry about the camera dying on you. Not only that, it comes with hundreds of different accessories, including batteries, that can enhance your filming and recording experience.
Other features worth mentioning include the 1080p live-streaming, TimeWarp 2.0 for super stabilized time lapse videos, and the HyperSmooth 2.0, which offers the three levels of stabilization. When it comes to recording your rides with the best possible quality and features, it really is hard to beat the GoPro Hero8 Black.
Overall, we would definitely recommend the GoPro Hero8 Black as the best motorcycle helmet camera for most people. This device is loaded with features, is capable of recording extremely high video quality, and is durable enough for all of your riding experiences.
GoPro Hero 7 Black

The GoPro Hero 7 Black is another great choice as the best motorcycle camera for most riders. Personally, I've used the GoPro's for years and have found them to be perfect for riding with.
For starters, the GoPro cameras come with tons of different accessories and mounts. You can mount them on your bike in just about any way you could imagine. This gives you a unique POV that's perfect for capturing your rides.
There's also the different shooting modes that suit motorcycle riding. Between recording video or using time-lapse mode for photos, the GoPro Hero 7 Black can capture everything on your ride.
The camera itself is small with a streamlined design. For me, mounting it on the front of the helmet provides the best POV. Other rides like to mount it on the side or top – it's completely versatile.
These cameras come equipped with touch screens, built-in video stabilization, and are capable of recording up to 4K quality. They capture photos in 12MP and come with a range of settings that can be changed depending on your preferences and style.
Other great features include the decent battery life, hands-free voice control, and overall ease-of-use. After 4+ years of using GoPro cameras they continue to surprise me.
The GoPro Hero 7 Black is a great choice if you're looking for a reliable and durable motorcycle camera. It's easy to use, captures amazingly high quality video footage, and can be mounted to your bike or helmet in dozens of ways.
For capturing your favorite scenic motorcycle rides, I doubt you'll find a better camera than the GoPro Hero 7 Black. This is a great choice if you're looking for a premium device that's durable and reliable.
GoPro Hero Session (Best Cheap Motorcycle Helmet Camera)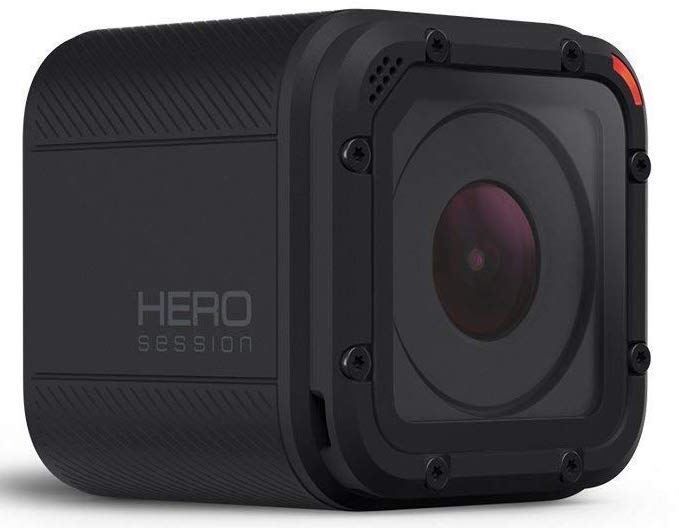 The GoPro Hero Session is a smaller, more portable version of the Hero 7 Black. While it doesn't come with the same features, it's completely capable of capturing your scenic rides.
This little GoPro Hero Session weighs a surprisingly lightweight 2.6-ounces. Combined with its small profile, you'll barely notice it mounted on your helmet or bike. As it's a GoPro camera, all of the different GoPro mounts and accessories can still be used.
When it comes to capturing footage the Session can record up to 1440p resolution at 30 frames per second. It can also do 1080p at 60 frames per second depending on your preferences.
The Session captures photos at 8 megapixels which is good enough for Facebook and Instagram. You can even use the time-lapse mode for shots taken between 0.5 and 60 seconds.
Using this camera is simple. There is an easy one-button control for recording videos or photos automatically. After your ride, pop the micro-SD into your computer or use the app to get everything you recorded.
Compared to the Hero 7 Black, the GoPro Hero Session is a better choice if you're looking for something affordable and even easier to use. This is a great camera for capturing rides without worrying about different buttons and settings.
For the price, I would definitely recommend the GoPro Hero Session. It's small, portable, lightweight, and easy to use for even the most technologically-challenged rider.
Campark ACT74 (Best GoPro Alternative)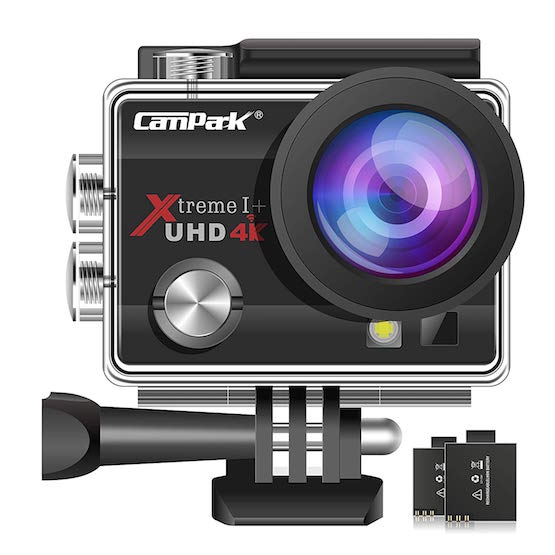 The Campark ACT74 is an affordable alternative to the GoPro line of action cameras. It comes with nearly the same features and it's another great choice for recording your rides.
While there aren't as many mounts or accessories available for the Campark ACT74, it does have some other benefits.
Included with this camera are two rechargeable batteries with up to 90 minutes of battery life each. With the GoPro only a single battery is included.
For capturing footage the Campark ACT74 is able to record at up to 4K resolution, though 1080p will be more than enough for most riders. It also has an image resolution of 16 megapixels, slightly better than the GoPro Hero 7.
The 170-degree wide angle lens on the front captures everything going on in front of you. It's possible to adjust the angle view with the settings depending on your preferences.
On the back is a two-inch HD screen for using the controls and changing settings. Unfortunately, it doesn't come with any voice control, although it can be controlled with your phone using a wifi connection.
Not only do you get two batteries with the Campark ACT74, it also comes with a variety of mounting kit accessories. In case you're worried, this is a completely waterproof motorcycle camera that you can take on even the wettest rides.
Overall, the Campark ACT74 is an affordable action-camera that makes a great alternative to the GoPro Hero 7 Black. I'd recommend checking this out if you're looking to get into recording your rides but you don't want to spend much to start.
Sony FDRX3000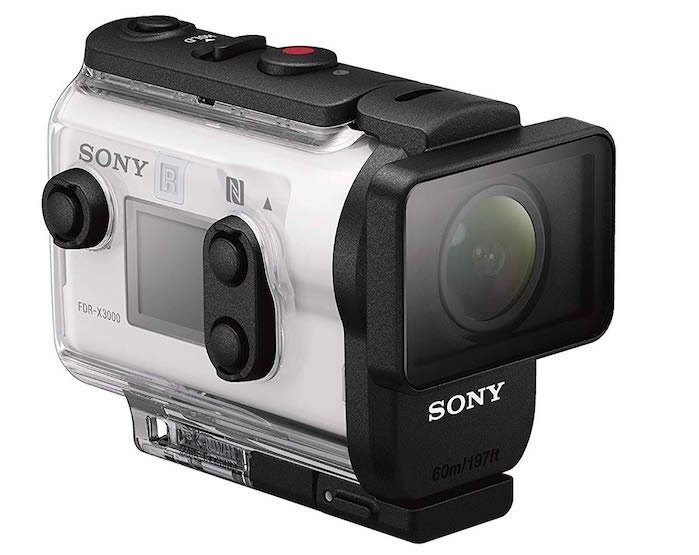 The Sony FDRX3000 s a popular choice among riders looking for a durable, waterproof, and versatile motorcycle camera. This is a great choice because of the streamline design and Sony name behind it.
With the Sony FDRX3000 you can capture footage up to 4K quality. For photos this bad boy will capture images at 12 megapixels.
The streamlined design is perfect for mounting to the top or side of your helmet. It's thin and narrow so there isn't as much wind buffeting or resistance compared to the square, boxy GoPro.
On the top of the Sony FDRX3000 are the power and recording buttons for easy access. Is a small screen on the side where you can change the settings.
Other great features of the Sony FDRX3000 include the adjustable FOV, zooming capability, built-in image stabilization, and the included waterproof housing. It's possible to upload your footage through wifi, Bluetooth, or by connecting the camera directly to your computer.
The Sony FDRX3000 camera is a great choice for riders looking for a waterproof motorcycle camera that's easy to use. This action cam is suitable for capturing your most scenic rides in stunning, high resolution detail.
APEMAN Action Camera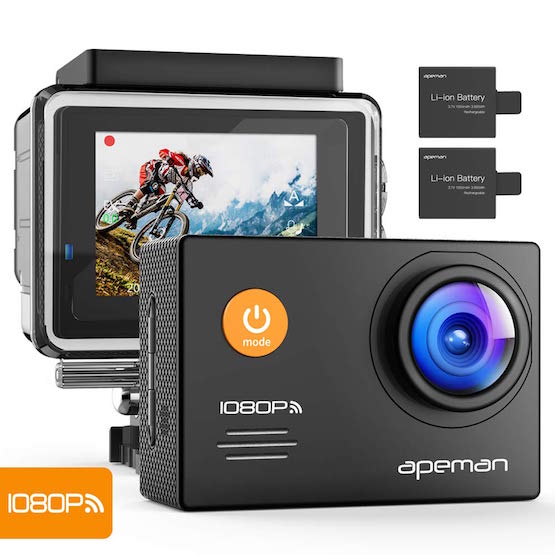 The APEMAN Action Camera is another affordable GoPro alternative. Despite a maximum recording resolution of 1080p, this helmet cam comes with just about everything you need for recording your rides.
What I love about the budget motorcycle cameras is that they're nearly as capable as the devices that cost 8-10x more. With the APEMAN you can take advantage of all the action camera features, without paying such a high price.
The APEMAN Action Camera captures at 1080p and 30 frames per second. This is more than enough for most modern applications. The video footage will look great playing back on your smartphone or smaller TV.
Photos can be captured at up to 14 megapixels. There's even a time-lapse mode just like with the GoPro.
On the back of this camera you'll find a 2-inch touch screen display. A pair of 2 rechargeable batteries along with a full accessories kit is included in the box.
Those of you looking to get started recording your rides will definitely want to consider the APEMAN Action Camera. This is an affordable, easy to use device that won't break the bank and has all the accessories you need to start.
Garmin VIRB Ultra 30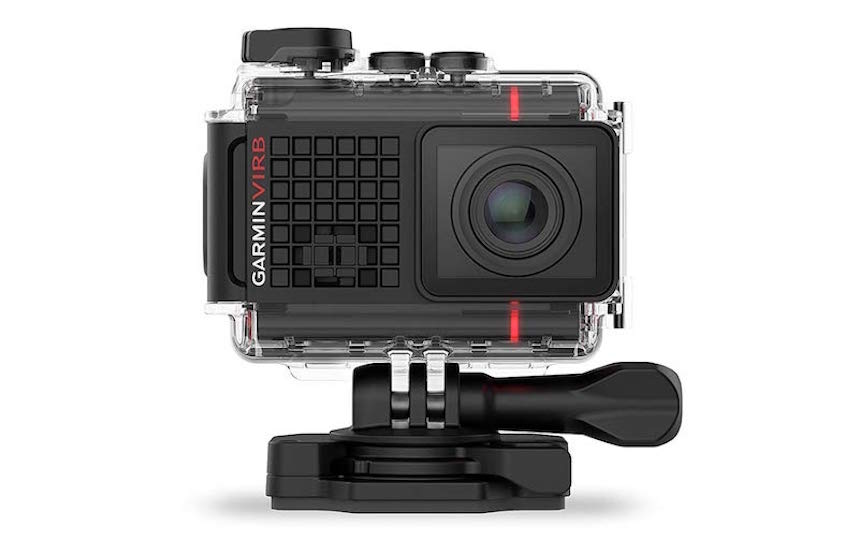 The Garmin VIRB Ultra 30 is just like the GoPro with its square, boxy design. With the base model it's possible to capture ultra-HD video at up to 4K resolution. This is more than enough for your motorcycle scenic ride needs.
What's most interesting about the Garmin VIRB Ultra 30 is its 3 axis image stabilization. This results in smooth, professional looking footage for the best video results.
On the back of the Garmin is a large, 1.75-inch display. This lets you see what your recording and easily change settings on the go.
My favorite feature is the hand-free voice control. This makes it easy to start and stop recording even with your motorcycle gloves on.
You can't bring up the Garmin VIRB Ultra 30 without mentioning the built in GPS. The G-Metrix system can be connected to Garmin devices to give you data on your speed and elevation. This makes for an interesting way to track your rides.
Take a look at the Garmin VIRB Ultra 30 if you're interested in an action camera that's loaded with features. It's waterproof, easy to use thanks to the touchscreen and voice controls, and suitable for mounting to your helmet.
AKASO V50 Pro

The AKASO V50 Pro Camera gives you the ability to capture professional-quality video on an amateur level budget. This device can capture 4K videos at 30 frames per second. Even more impressively, you can capture photos up to 20 megapixels in resolution.
As a smaller, lightweight motorbike camera the AKASO V50 Pro is well suited for mounting to the front, side, or top of your motorcycle helmet. It's possible to adjust the view angle for the best possible view during your rides.
To help with shaky footage, the AKASO V50 Pro is equipped with a 6-axis built-in electronic image stabilization. This results in smooth, stable videos that you'll be happy to share.
Speaking of sharing, this device has built in wifi for quickly uploading your videos and photos. There's also an HDMI output for sharing directly to your TV.
On the back is a built-in 2-inch touch screen. This can be used to quickly change settings or review your footage on the go.
Included in the box are 2 rechargeable batteries, a remote control, and some additional accessories. You could even mount the remote control to your bike to easily start and stop recording your rides.
The AKASO V50 Pro Action Camera is a great choice if you want to record your favorite motorcycle rides in high-resolution video. It's also hard to go wrong with the 20 megapixel camera giving you great images and video to share with your friends and family.
Motorcycle Helmet Camera Buying Guide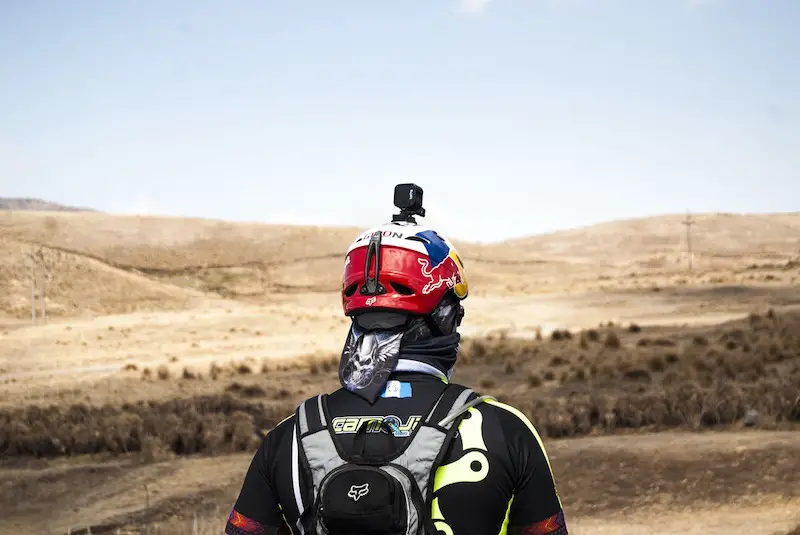 Features to Consider
When looking for the best motorcycle helmet camera for recording your rides, they all come with different features, benefits, and drawbacks.
Here are some of the different features to consider before making your purchase.
Resolution
Personally, the camera resolution is more important than its size. With modern devices a minimum resolution of 1080p is what you should be looking for.
Lower resolutions will look OK on your smartphone, but won't be as enjoyable to watch on your computer/laptop screen or TV. All of the cameras i've recommended have a minimum resolution of at least 1080p.
Depending on what you're doing with the footage, 4K might be overkill for your needs. However, this is a great resolution for crystal clear images on bigger TVs.
When it comes to photos anything above 8 megapixels is ideal. Photos at this quality will look great on your TV, smartphone, and laptop screen. These can be used for Instagram and other social media platforms.
Size
Most modern motorcycle cameras are small, lightweight, and perfect for mounting to your motorcycle helmet. Avoid going with any cameras that are too big, bulky, or heavy.
Mounting something heavy and bulky to your helmet can affect your balance and posture. It can also result in a less comfortable riding experience.
After mounting the camera, you shouldn't be able to tell that it's attached at all.
Mounting Capability
Before settling on any device check that it has the mounting capabilities you need.
For example, the GoPro's come with a wide range of different mounts. These can be used to attach the camera to your helmet, motorcycle, or anywhere else you want a POV recording of.
The best type of mount is the adhesive mountings that you stick onto a smooth, flat surface. These hold the camera in place while allowing you to adjust the angle to your preferences.
Ease of Use
It's not easy, and in some places it's illegal, to operate your camera while riding a motorcycle. You also don't wan to be fumbling around with the little device as you're riding along.
Some helmet cams can be operated through wifi or voice controls. These are easy and safe to use when you're on the bike (though not riding).
With these you can start recording just before you take off. Then, at your destination, you can quickly stop recording. Avoid using your camera while you're operating the motorcycle.
Capture Settings
Think about what your recording requirements are.
Do you need to capture video in 4K or is 1080p good enough? Is image stabilization important or do you have decent video editing skills?
Decide what you need for recording your rides before settling on a specific camera. This will save you money and make it easier for you to find the right device.
Sound
Sound quality isn't as important for recording on your motorcycle. The wind noise above 30 miles per hour will drown out your voice and any engine sounds.
Even if you're interested in moto-vlogging, you'll have to pick up a dedicated microphone for the best quality sound. For recording rides and taking cool photos this isn't a requirement.
Screen
Most of the better quality cameras come equipped with a built-in touch screen.
These screens make it easy to access the settings. They also give you the ability to watch your footage when you're on the road.
Unless you get something smaller like the GoPro Session, most devices will have a screen on the back.
Built-In Storage vs Micro-SD
Running out of storage halfway through a ride isn't there something you want to experience. Devices that have built-in storage should be avoided.
Instead, look for cameras that record to a micro-SD card. These cards are inexpensive and can be used to record hours of footage.
Battery Life
Rechargeable batteries give you the ability to switch the battery during your ride. When one battery dies you can quickly popping a fresh one to keep recording.
Some cameras, like the Campark ACT74, come with more than one battery. Others, like the GoPro models, only come with one so you'll have to buy spares.
You can expect between 90 minutes and 2 hours of recording time per battery. Just gives you loads of time to record your favorite scenic routes.
Sharing Capability
Most modern cameras give you the ability to share your video footage and photos wirelessly. This is done either through an app or the device itself.
The wireless sharing capability makes it easy to get your videos and photos online. Then you can quickly upload them to social media or share with your friends and family.
Alternatively, you may have to remove the micro-SD card so it can be plug into your computer. With this method the photos and videos need to be manually uploaded onto your device.
Durability
All of the cameras recommended in this post are durable, well-reviewed, and suitable for recording your motorcycle adventures.
Look for devices that are waterproof and that come with a rugged, durable case. Keeping your devices protected from the elements is important if you're riding in a range of weather conditions.
The Benefits of Motorcycle Helmet Cameras
Even if you're not interested in recording your scenic rides, there are other benefits to using a motorcycle helmet camera.
Sharing Your Rides with Other Riders
Just about everybody is using social media these days. Sure, you can tell people about your favorite rides, but wouldn't it be easier to show them?
With a motorcycle helmet camera you can easily record your best routes and share them on social media. This way all of your riding buddies can enjoy the same places you're exploring.
Instead of having to write out directions or refer to Google Maps, you can easily share your videos with friends and family online.
Remember Your Experiences
For me personally, i've gone on countless rides that i've probably already forgotten about. Since I started recording it's easy to watch old footage and remember all the amazing experiences I've had.
Digital cloud storage and physical hard drive storage is cheap these days. You could go on hundreds of rides and still never fill up a single external hard drive.
It's always fun to go back and relive those incredible rides.
Safety
If you're ever involved in an accident having the footage to backup your claims is priceless. You never want to be involved in a scenario where you don't have evidence of what happened.
Recording your rides can protect you during any altercations on the road. It's also going to make the insurance process smoother should you be involved in any accidents.
Improve Your Editing Skills
Riders already interested in filmmaking can improve their editing skills by recording their rides. Some people will never do anything with the footage, but others will upload to Youtube.
Instead of uploading the raw footage, video editing can make your rides seem even more interesting and exciting. You can cut out the boring parts and share only the highlights of your riding experiences.
Through creating videos and sharing your experiences it's only inevitable that your editing skills will slowly improve. You never know – you might one day be able to start making money from motorcycling.
Convenience
It can be annoying to stop and get off your bike just to take a photo of the scenery. With a motorbike helmet camera this is done automatically so you can keep riding.
Before you hop on it's simple to start recording. After you get back everything you saw will be recorded.
This way you can share the footage you want from the places you visit without having to constantly stop.
Types of Motorcycle Helmet Cameras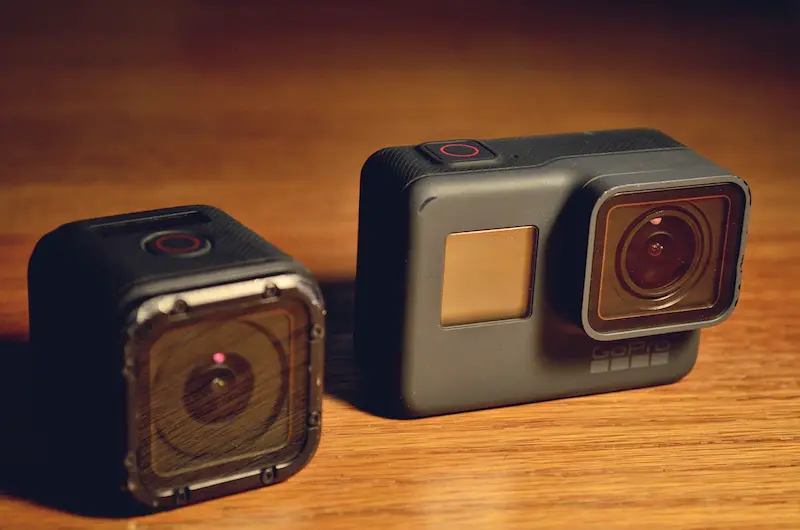 Single Unit
These would be the most basic type of motorcycle helmet camera. Single units offer riders only the ability to capture video.
They come with basic recording options and typically shoot in lower aspect ratios. This type would be ideal for riders that want to capture video to playback or edit later.
Integrated
Most of the best motorcycle helmet cameras that we recommended are integrated units. This means they come with an array of different features that can improve the recording experience.
Some of these different features include GPS, 4K resolution, and WiFi capability. Another benefit to integrated cameras is that they can be mounted to various areas, such as onto your motorcycle.
These tend to be bigger than single-unit devices. However, the drawback of size is worth having all of the additional features.
Motorcycle Helmet Camera Pricing
$60 and Under: In this price range you'll be able to find some high quality motorcycle helmet cameras. These cameras would be equipped with standard video recording features and capable of capturing video in at least 1080p resolution. They also might come with some additional features including various camera angles, GPS, and Wi-Fi.
$60 to $100: In this price range, you'll be able to find motorcycle helmet cameras with some more functionality. This could include 4K resolution video, touch screen capability, longer-lasting batteries, and wider camera angles.
$100 and Up: In this price range is where you'll find some of the best motorcycle helmet cameras currently available. These would come with all of the features mentioned above, as well as some additional ones. Cameras in this price range tend to be more streamlined and more robust, ideal for motorcycle riding. They might also come with low-light recording capabilities and some Bluetooth connectivity options.
Other Considerations
Weather
When you're looking for a helmet camera, think about the weather conditions you'll be riding in. If you're riding in the rain or wet weather conditions regularly, you'll definitely want a waterproof helmet camera.
Battery Life and Batteries
Even the best cameras will only last up to 2 hours of recording time. It will be even less if you're recording at higher resolutions or turning the camera off and on regularly.
Take a look at the stated battery life for any of the options you're interested in. Check to see if there are extra batteries available. It's possible you'll need more than one battery to make it through your ride.
Best Motorcycle Helmet Camera FAQ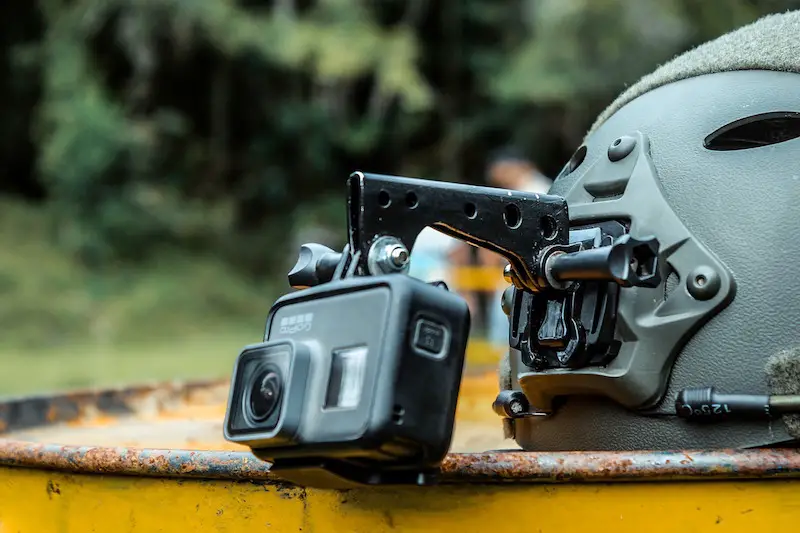 Are Motorcycle Helmet Cameras Legal?
In the United States and Canada you are 100% allowed to mount your camera to your helmet. While some laws prevent you from modifying your motorcycle helmet, attaching a mount isn't a modification.
Modifications would include drilling holes or removing key components from the helmet that would make it less safe. Attaching a camera using an adhesive mount doesn't fall under an unsafe modification.
Keep in mind that I am not a lawyer. It's important for you to research your own local laws and bylaws to determine the legalities behind these cameras.
The best place to start is with a quick Google search. Alternatively, contact your local police or bylaw office with any questions you might have.
How Do You Mount a Motorbike Camera to Your Motorcycle Helmet?
Almost every camera comes with accessories that can be used for mounting it to a variety different surfaces. The most common mount is an adhesive mount, also known as a sticky mount.
These are small, lightweight, plastic pieces with a sticky bottom that you can attach to any smooth surface. After the adhesive sets these mounts tend to stay stuck on their respective surface.
Apart from adhesive mounts, there are also straps and different styles of mounts that can be used. Look online for the different mounts and accessories available from the manufacturer and third parties for the specific type of camera you choose.
How Do You Protect the Camera While it's Mounted?
Motorcycle helmet cameras can be expensive. It's important to protect them and prevent them from getting damaged while you're riding and recording.
To start, make sure you invest in a device that's durable and well-reviewed. Any helmet-mounted camera you're interested in should be waterproof to avoid getting damaged in inclement weather.
You'll also want look for cameras that come with a dedicated protective case, or housing. These cases protect the camera from rocks, branches, and other debris that gets kicked up from the road when you're riding a motorcycle.
Helpful Tips
Clean the camera lens before each ride. This results in a clean shot whenever you start recording. Check the lens regularly to make sure it's not dirty.
Shoot in a lower resolution. While most cameras can capture 4K video, this resolution isn't necessary in many cases. It takes up the largest amount of space and drains the battery faster. Capturing in 1080p will get you a longer battery life and more space on your SD card.
Using the waterproof casing is a good idea to protect your device from rain and other weather elements. However, it's not going to be protected from a major drop or accident. Consider upgrading to a more durable camera case that will protect the device, especially if you're riding in rough conditions.
If you're recording a lot, consider investing in a larger SD card. With more space, you'll be able to record more video and take more photos. SD cards aren't expensive, so it's worth picking up a bigger one for your camera.