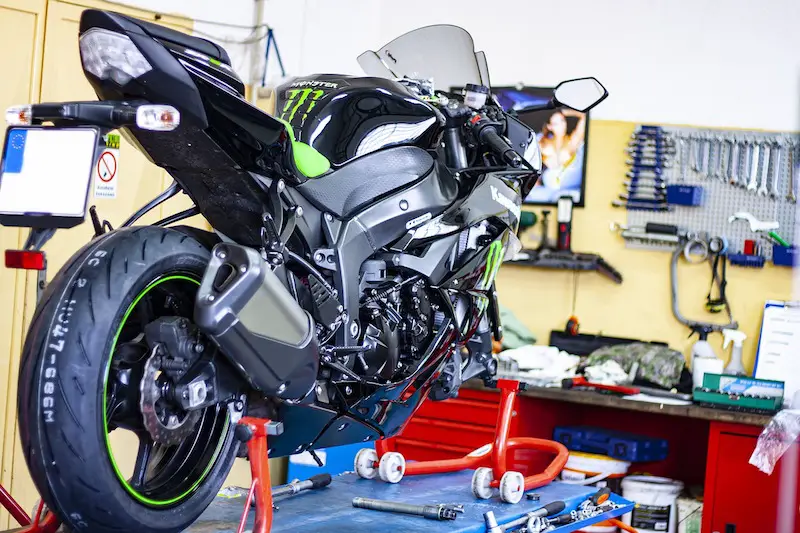 With a small garage, or cramped parking space, using a motorcycle dolly can be beneficial. These are like ramps on wheels that can be used to easily maneuver your motorcycle.
To help you find the best motorcycle dolly, we put together this helpful list of our top recommendations. Each of these motorbike dollies is well-reviewed and a practical choice for moving your motorcycle around.
Towards the end of this post we also put together a helpful buyers guide with tips and an FAQ. With that in mind, let's take a look at some of the best motorcycle dollies on the market. Let's jump right into it!
The Best Motorcycle Dollies
Condor Motorcycle Garage Dolly (Best Motorcycle Dolly Overall)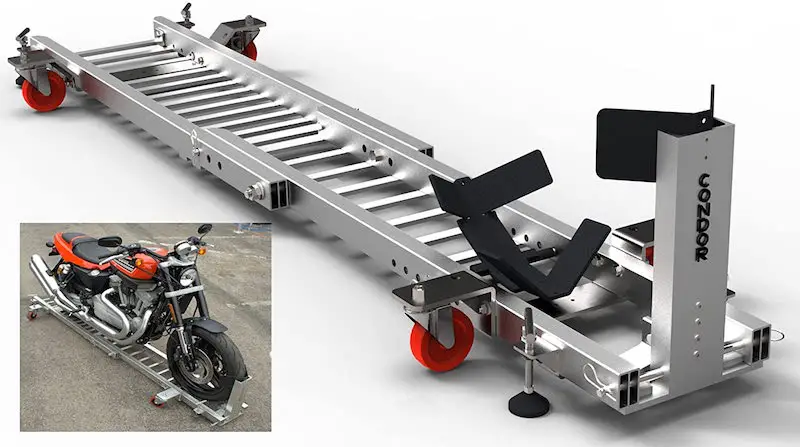 The Condor Motorcycle Garage Dolly is our top recommendation as the best motorcycle dolly for most riders. This is a dolly that's able to accommodate most motorcycles, ranging from smaller dirt bikes up to heavy cruisers.
For a durable construction, this dolly is made from thick, strong aluminum and steel. This results in a load capacity of 1,300-pounds, more than enough for most bikes.
With the multi directional wheels on the bottom, it's easy to maneuver this dolly, even when it's fully loaded. Thanks to the low ramp height on the loading end, it's also easy to get your motorcycle loading onto the platform without much difficulty.
Once loaded, the motorcycle is held in place with the built-in wheel-chock at the front of the loading platform. This prevents the bike from wobbling around while you're working on it or moving it around your garage.
When there's no need to move the dolly, the wheels can be locked. There's also a lifting mechanism that will lift the front and back of the platform off of the ground, for easier access and storage.
The main drawback to the Condor Motorcycle Garage Dolly is that can be slightly difficult to get the motorcycle loaded, especially if you have a heavier bike. It's also one of the higher-priced models, although the value is apparent with the features and build quality.
Overall, we would definitely recommend the Condor Motorcycle Garage Dolly as the best motorcycle dolly for most riders. It's easy to use, has a durable build quality, and designed to make it easy for you to reposition your motorcycle.
Extreme Max Standard Motorcycle Dolly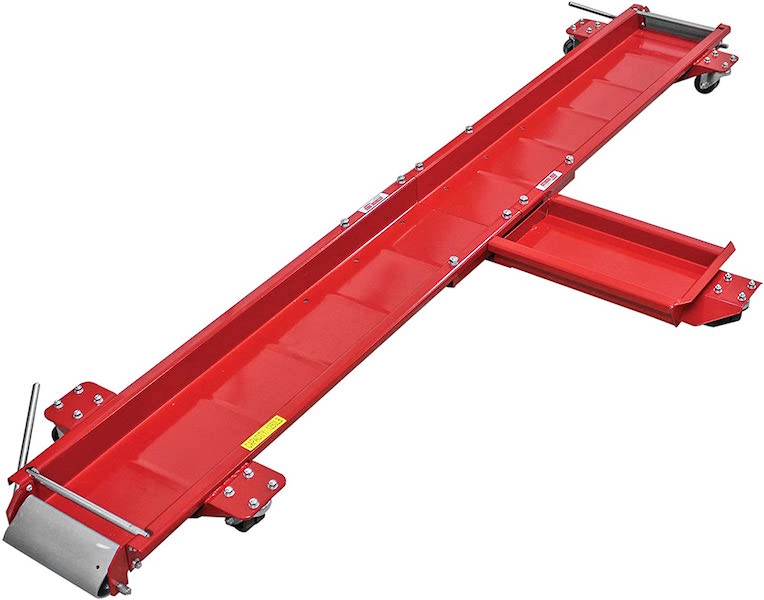 Up next we would recommend the Extreme Max Standard Motorcycle Dolly as our second favorite choice. This is a great dolly because it comes with a low profile design, making it easy to load or unload your motorcycle.
With a weight capacity of 1,250 pounds, this dolly can be used with just about any bike. It even has an adjustable side tray, meant for the kickstand to help to keep your bike mounted on the platform.
For longevity, this dolly has been powder coated for rust and corrosion resistance. This makes it ideal to leave in your garage or parking space, even if it's a damp or humid location.
At each end of the dolly is a flip-up carriage. When engaged, this keeps the dolly in place, and allows you to move it once it's disengaged.
The main drawback to this model is that it's not recommended for motorcycles with extra wide tires or long wheelbases. It can also be difficult to move if the floor is gritty and covered in debris.
Overall, the Extreme Max Standard Motorcycle Dolly is still a great choice if you're in the market for the best motorcycle dolly. This is a simple, lightweight, and more affordable way of being able to maneuver your bike in tight spots.
BikeMaster Adjustable Motorcycle Dolly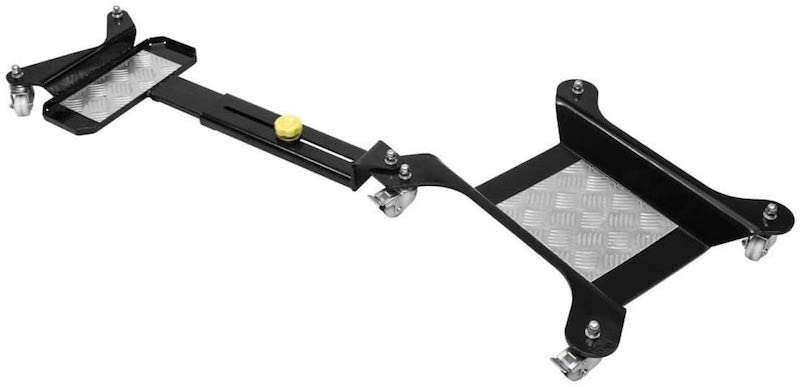 The BikeMaster Adjustable Motorcycle Dolly is adjustable, making it a suitable choice for parking your bike in tight spaces. It's easy to use, simple to assemble, and makes it a breeze to spin your bike around or move it in tight spaces.
With a load capacity of 1,100 pounds, this dolly can be used with most motorcycles. Keep in mind that it can accept rear tires up to 10 in wide, so double check your tire width beforehand.
As for the build construction, it's made from heavy duty, laser cut plate steel. This makes it durable and reliable for mounting your motorcycle on to the loading platform.
One great feature worth mentioning is the kickstand arm. It can be easily adjusted to the point where your motorcycle kickstand naturally sits, resulting in your motorcycle standing in a more stable position.
When the dolly isn't needed, the adjustable design allows it to be folded up. Once folded, it can be stored out of place and out of the way of everything else in the garage or parking space.
The main drawback to this dolly is that some people have mentioned it can be difficult to load a heavy bike with one person. You'll just need to have a second person around to help you load your bike.
Overall, the BikeMaster Adjustable Motorcycle Dolly is another great choice if you're looking for a cheap motorcycle dolly. This one is durable and ideal for smaller spaces, thanks to the adjustable design.
Black Widow Steel Motorcycle Dolly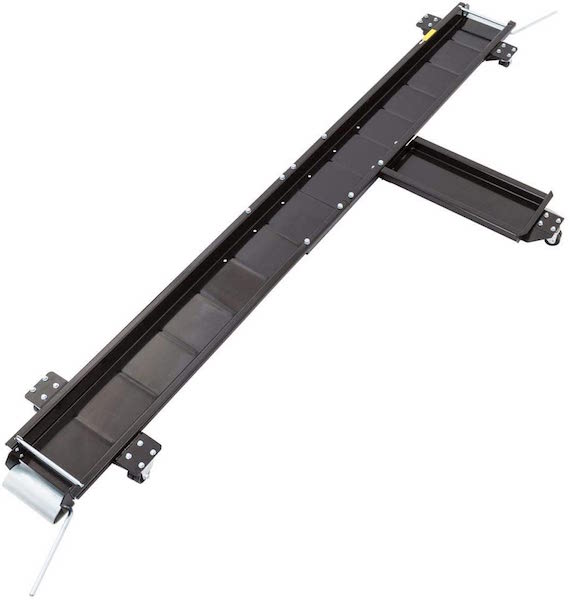 The Black Widow Steel Motorcycle Dolly is another option that takes advantage of the simple, streamlined design. With a weight capacity of 1,250 pounds, this model can be used with a wide range of different motorcycles.
Thanks to the strong, 12 gauge steel design, this is one of the most durable motorcycle dollies in our list. It's equipped with 5 double caster wheels easy maneuverability around your garage or parking space.
Other features worth mentioning include the integrated loading ramp, which allows for easily loading your motorcycle. It also comes with an adjustable kickstand plate and wheel safety pins, to prevent the dolly from rolling around with the motorcycle loaded.
With the small profile design, it's possible to ride on and ride off of this dolly. This is made even easier thanks to the ramp handles on either end of the loading platform.
The main drawback is that it can be difficult to move the dolly on the ground or garage floor if it's dusty or covered in debris. This can be easily remediated by cleaning your workspace before loading the bike.
Overall, the Black Widow Steel Motorcycle Dolly is just one more option for you to consider. It has a streamlined design, it's easy to load your bike, and it's durable enough for most motorcycles.
What is a Motorcycle Dolly and Why is it Important?
A motorcycle dolly is one of the best motorcycle accessories or maintenance tools you could have in your motorcycle shed or garage. It's designed for a motorcycle to be mounted onto the platform, where it can be easily moved into tight spaces.
This makes it easy to perform all of your motorcycle maintenance without the need of a motorcycle lift or other type of platform. Once you're done with maintenance, it's easy to roll the bike out of the way so it's not taking up as much space in your garage.
These are ideal to have in smaller garages or tight parking spaces. As a motorcycle owner, you may have already realized it can be difficult to move and position your bike, especially if you're only relying on the kickstand.
To conclude, dollies help to clear up space and make it easier to maintain your bike. They also help with parking in smaller areas and moving your bike around more effectively.
Best Motorcycle Dollies Buying Guide
If you're looking for a new motorcycle dolly, there are a number of factors to consider. Start by narrowing down what the most important features are you looking for.
These features would include the weight capacity, durability, the weight of the dolly itself, and its overall maneuverability. Of course, it also needs to be compatible with your particular motorcycle.
Do you have a lot of room for your motorbike, or are you looking for something that will help you park and work on your motorcycle in tighter spaces? Is your motorcycle heavy, or can you use a dolly with a smaller overall weight capacity?
These are the questions you need to be asking yourself when you're shopping for the best motorcycle dolly. Let's take a further look at the key features to keep in mind when you're making your choice.
Weight Capacity
This is one of the most important features to consider before deciding on the best option. It's important to purchase a dolly that is capable of handling the weight of your bike.
Try to find one that best matches the weight range of your motorcycle. There's no need to go overboard, as this will result in a heavier dolly and make it more difficult to move around.
You also need to consider what you'll be using the dolly for in the future. Are you going to be buying a bigger, heavier bike or will you be working on your friends bikes?
Most dollies have a weight range between 1,200 and 1,500 pounds. This is more than enough, even for the heaviest of cruisers. If you're looking for something lighter, you may want to consider using a motorcycle lift instead.
Weight
Along with the weight capacity, the overall weight of the dolly needs to be considered. It's important to find one that you can move around on your own, so that you don't need to ask for help for maneuvering your bike.
Every one of our recommendations is equipped with wheels on the bottom of the loading platform. These make it easy to push the dolly and arrange it in the position you want.
When you're looking at the different product recommendations, take a further look at the description or manufacturer specifications. This is where you'll find the overall weight of the dolly that you're interested in.
Most of them will fall in the 40 to 60 pound range. Expect the larger, more heavy duty dollies to be heavier in weight and harder to maneuver.
Compatibility
It's important to remember that not every motorcycle dolly is compatible with every motorcycle. Each has their own dimensions when it comes to tire sizes and weight.
When you're looking at the different dollies, keep the weight, tire width, and wheel-base length of your motorcycle in mind. These are the different specifications that will help determine a dolly that is compatible with your bike.
The biggest issue here is wheel-base, with some of the models not being suitable for longer motorcycles. Double check the product specifications to see the wheel-base length compatibility of any of the options you're interested in.
Construction
The construction and overall build quality is the last feature to consider. For such an investment, it's important that the model you decide on is durable and reliable enough for long-term use.
Start by looking for models that take advantage of a full steel construction. These tend to be the most durable, reliable, and heavy duty, all of which results in better longevity.
The main drawback to the steel construction is that these dollies will be heavier and harder to manoeuvre. If you're looking for something lightweight, keep an eye out for models made using aluminum.
Don't forget to check reviews to see what other people have to say. This is where you can find helpful information about the specific models you're interested in.
Types of Motorcycle Dolly
When you're browsing the difference dollies, you'll probably come across three main types. These would be the fixed, adjustable, and scissor center stand dolies.
Each offers their own benefits and drawbacks. Choosing the right option depends on the space you have and what you need to use the dolly for.
Fixed
Fixed motorcycle dollies come with a larger frame and bigger weight capacity. These are ideal for bigger, heavier motorcycles such as cruisers and touring bikes
The fixed models are suitable for smaller storage spaces, where you need to move your bike around easily. They come with limited moving parts and offer the best platform for motorcycle maintenance or long-term indoor storage.
Adjustable
With an adjustable motorcycle dolly only the rear wheel and kickstand are mounted. This allows for your bike to be securely positioned for maintenance or parking.
It also makes it possible to easily maneuver the bike into the desired position. Adjustable models are a great choice for tight parking or easier maintenance in small spaces.
Scissor Center Stand
Motorcycle scissor lifts are slightly different than dollies, although they perform the same function. These are lifts that come with wheels and pick up the bike from the centre stand or middle of the frame.
The main drawback to this style is that they come with more moving parts. This results in a lower weight capacity, making them ideal for dirt bikes or smaller sport bikes.
With a scissor center stand, it's still easy to store, wash, maintain, or move your motorcycle. These also tend to be more affordable than full-sized dollies.
Helpful Tips
Double check the weight capacity of the motorcycle dolly you're interested in. Make sure that it can hold the weight of your bike. Not every dolly is designed to support every motorcycle. Some of them have a weight limit of as low as 500 pounds.
Keep in mind that some types of dollies are easier to maneuver than others. Fixed ones can be difficult to reposition, although they're a better choice for larger bikes. Adjustable and center stand dollies are easier to move around, although they come with a lower weight limit.
Always read the included instruction manual before using a dolly with your motorcycle. Properly assemble the model and test it out with your own weight before putting the bike on it. Failing to do so could put your motorcycles safety at risk and lead to damage.
Frequently Asked Questions
What Type of Motorcycle Dolly Do I Need?
Choosing the right dolly depends on the weight of your bike. For a heavier bike, you would you better off with a fixed model. For a lighter weight bike, a scissor stand dolly is ideal. Adjustable dollies are the best choice for medium-weight bikes.
Do You Need to Strap Your Bike When Using a Dolly?
It's never a bad idea to use additional motorcycle straps for securing your bike. These can be wrapped around the front tire or through the frame for better stability. It also might give you more peace of mind using the straps to secure your bike.
Can the Sidewalls Get Damaged?
With your motorcycle loaded onto a dolly, it's possible for the cradle to compress the sidewalls. There's no need to be worried if this happens. There shouldn't be enough pressure on the bike to damage the tires. The cradle is only there to hold the bike in place and prevent it from wobbling.