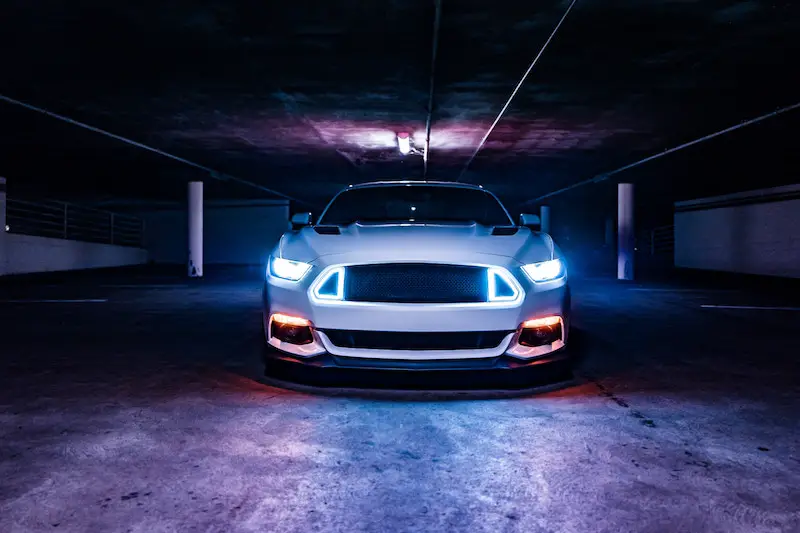 The best LED headlights not only look cool, they offer better lighting and visibility when you're driving in low light conditions. If you're often driving in the dark, or you're interested in an easy car upgrade, installing LED headlights can make a world of difference. Compared to your old halogen bulbs, it might seem that switching to LEDs is an expensive change.
Thankfully, most modern LED conversion kits for headlights are affordable and readily available online. LED headlights are nearly 80% more energy efficient and last longer than the standard halogen bulbs. This helps to keep money in your pocket and doesn't require as much ongoing maintenance.
If you're looking to switch your car lighting, we've put together this helpful guide just for you. In this post, you'll find our recommendations for the best LED headlights currently available. You also see why we recommend each set of lights and how you can benefit from installing them.
Don't forget to scroll to the bottom of this post helpful buyer's guide and FAQ. We've also included some tips on installation to make the process easier for you. Let's jump right into it!
The Best LED Headlights (Reviews) in 2021
Cougar Motor LED Headlight Bulbs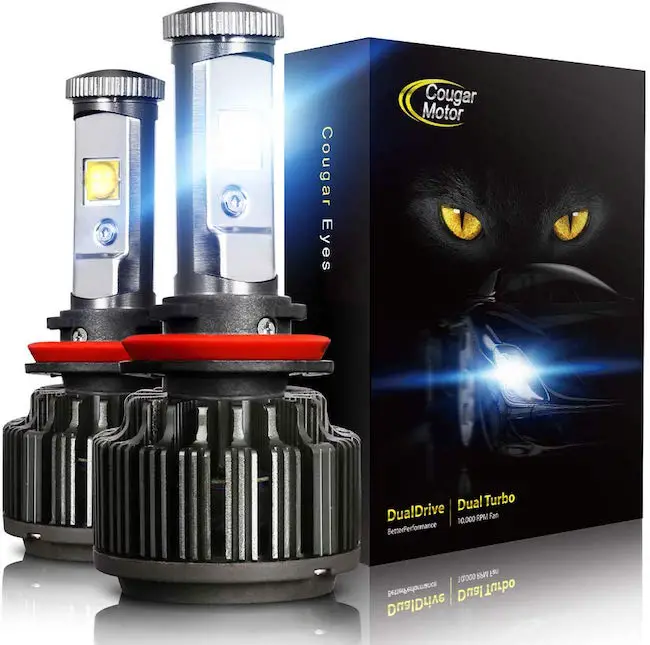 The Cougar Motor LED Headlight Bulbs are an all-in-one conversion kit for easily adding LED headlights to your car or truck. These are our top recommendation for the best LED headlights overall, and let us tell you why. Not only are the Cougar bulbs easy to install, they're long lasting, and offer plenty of brightness for illuminating your journey.
When it comes to installation, these are essentially plug-and-play LED bulbs. On many vehicles installation can be done in under 30 minutes, depending on your skill level. It's as simple as unplugging the old bulbs, unscrewing them out, screwing these in, plugging them in, and you're good to go. As always, contact a local mechanic if you don't possess the necessary skill level for installation.
As for brightness, these bulbs are typically up to 200% than many stock halogen headlights. This keeps you safer on the road by better illuminating what's in front of you. It also lets other drivers see you more clearly. No more getting run off the road or getting nervous driving at night due to lack of proper illumination.
For durability, drivers can expect more than 50,000 hours of continuous light from this set. Thanks to the TurboCool fan, the bulbs are unlikely to overheat and will keep a continuous output while you're driving. The rainproof driver, fan, and housing keeps everything dry and free from moisture buildup. Whatever the conditions, drivers will be able to rely on these bulbs for keeping everything illuminated.
Overall, the Cougar Motor LED Headlight Bulbs are what we recommend at the best LED headlights for most cars, trucks, and other vehicles. They're easy to install, offer improved lighting, and add a modern look to your car.
HIKARI LED Headlight Bulbs

The HIKARI LED Headlight Bulbs are a great conversion kit for easily switching your headlights over to LED's. These bulbs offer a clean and bright light giving you more visibility in a wider range of driving conditions. With better light utilization and improved focus, you'll have the visibility you need without blinding oncoming drivers.
Depending on your requirements, these can be used for your low beam, high beam, or fog light lighting system. With a light output of 9600lm, the HIKARI LED's are up to 220% brighter than stock and OEM bulbs. If brightness and better low-light vision is what you're after, you'll find it with this HIKARI headlight set.
When it comes to reliability, these have underground a number of rigorous tests. Whether you're coming into high heat weather, extreme cold, or riding in rough conditions, these lights are designed to withstand adverse conditions. It's possible to get more than 50,000 hours of lifespan with these waterproof HIKARI headlights.
This HIKARI LED headlight set is compatible with most OEM headlights. However, don't forget to check the fit before buying them for your car. Installation is straightforward, with an in-depth guide and helpful videos online available as well. Finally, once installed, the beam can be easily adjusted to your driving preferences.
SEALIGHT LED Headlight Bulbs Conversion Kit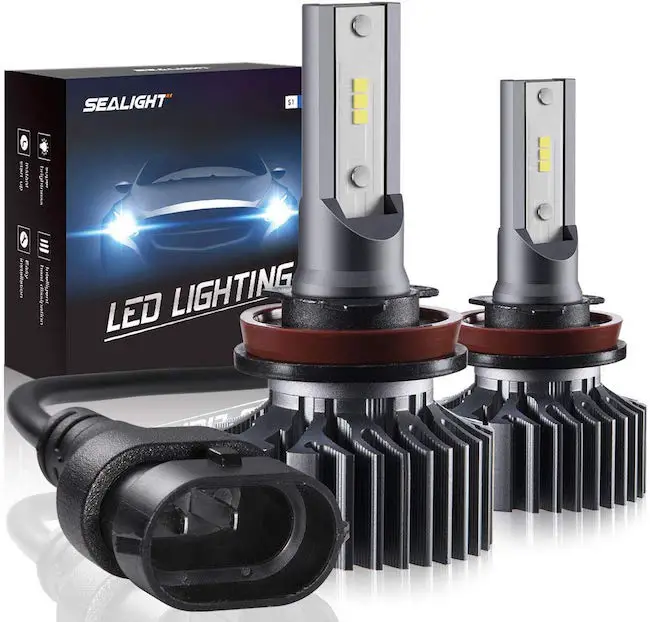 The SEALIGHT LED Headlight Bulbs Conversion Kit can make for a great upgrade if you're looking to improve the headlight quality on your vehicle. This is a universal headlight set designed to be easily installed without the need of special tools or expensive visits to the mechanic.
For starters, these SEALIGHT LED's offer improved visibility and focus over standard OEM headlights. You're looking at 40W of power and 6000lm of output. While not the highest in either standard, these lights will provide a noticeable improvement over older, OEM lights.
When it comes to day driving, the 6000K of output will make your car more visible to other drivers on the road. Thanks to the safe beam, you won't have to worry about glares in oncoming traffic, any dark spots, or any shadowed areas. The lights have also been designed to work properly in all weather conditions including snow, haze, fog, and rainy days.
Where some LED headlight kits are tricky to install, the SEALIGHT LED's are essentially "plug and play". No tools are required to get these installed in your vehicle. Simply remove the old bubs, plug these into the power supply socket, and you'll be good to ride.
As for durability, these lights provide a more than 30,000 hours lifespan and are completely waterproof. If you're looking for an LED conversion kit that's easy to install, durable for a range of driving conditions, and that will improve your visibility – it's the SEALIGHT LED headlight conversion kit that we'd recommend.
BEAMTECH H11 LED Headlight Bulbs (Best Value LED Headlights)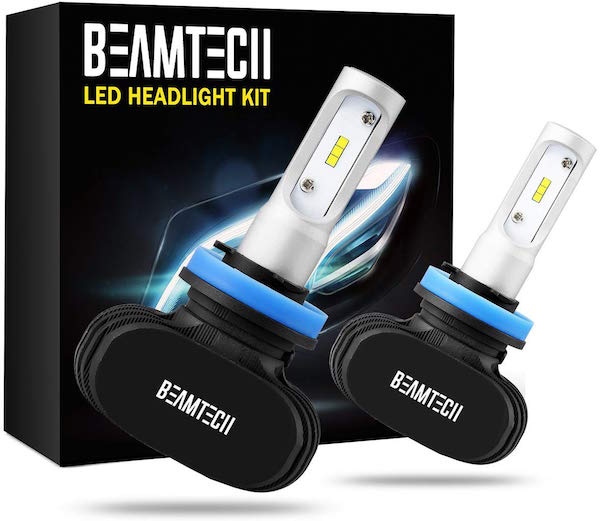 The BEAMTECH H11 LED Headlight Bulbs are a reasonably priced and easy to install solution if you're looking for LED headlight bulbs. These are highly rated, boast a super long lifespan, and provide drivers with a good light beam pattern for a better view.
When it comes to output, you can expect an impressive 8000 lumens. This provides better safety for nighttime and low light driving. With the 6500K xenon white color, you're much better off with these than with your standard halogen bulbs.
As for the lifespan, you can expect up to 30,000 hours of life from this set. Some people have even reported more, showing that they are great value for the cost. Generating just 25W of power each, these bulbs are able to keep up their output for such a long period of time.
Another great benefit of the BEAMTECH H11 LED Headlight Bulbs is their low lamp heat. They produce much less heat than your standard halogen bulbs. This also helps to increase their lifespan and reduce your vehicle maintenance costs in the long run.
Finally, thanks to the impressive light beam pattern, you'll have plenty of illumination for night time and low light driving. The BEAMTECH H11 LED Headlight Bulbs are easy to install, basically plug and play, and can improve your driving experience immediately.
OPT7 FluxBeam Choice LED Headlight Kit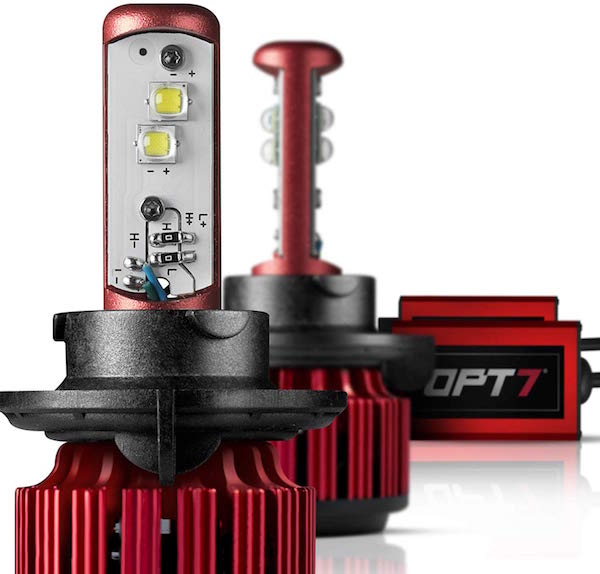 The OPT7 FluxBeam Choice LED Headlight Kit is our final recommendation for the best LED headlight conversion kits. This set features a leading edge technology that helps the LEDs emit a bright, accurate beam pattern. Thanks to their durable design, you can also expect a reasonable lifespan of use from this conversion kit.
These LED's take advantage of a unique design that make them different from others on the market. They focus on the lumens, light projection distance, and the amount of light being reflected while you're driving. This combination focus has resulted in a high-quality and durable set of LED lights for your vehicle.
With the OPT7 FluxBeam Choice LED Headlight Kit you can expect a minimum output of at least 4,500 lumens. This is plenty for Illuminating the road ahead of you and lowlights and dark driving conditions.
Everything you need to install this kit is included in the box. Generally, it's a simple installation, but double check with your manual so that you order the correct bulb size.
As for durability, these bulbs have a final assembly in the USA. This results in a higher standard of quality and durability from this kit.
Overall, the OPT7 FluxBeam Choice LED Headlights are a great choice if you're looking for something easy to install and reliable for long-term use. These will provide you with plenty of light and illumination for your driving conditions.
Best LED Headlights Buying Guide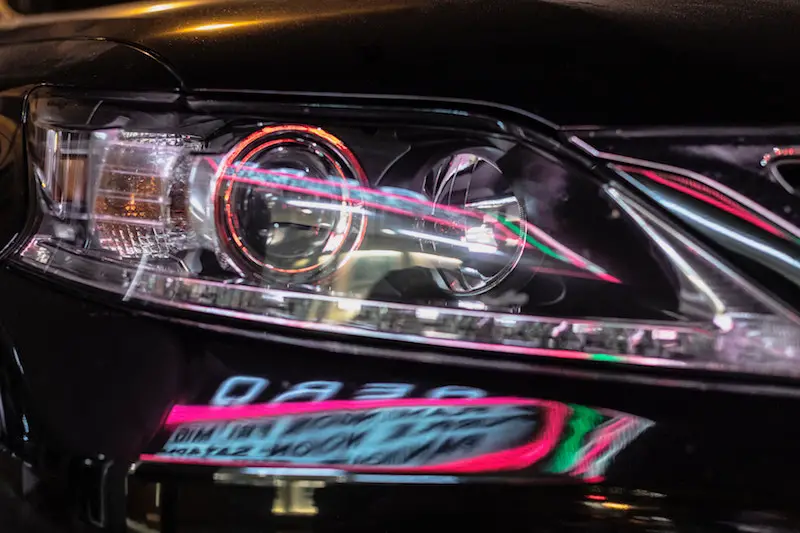 Factors to Consider When Buying LED Headlights
Despite seeming similar, many LED headlights come with different features that make them unique. It's a good idea to familiarize yourself with the key factors for choosing the right LED headlights for your driving style and preferences. Let's take a look at some of the main LED headlight features that you should keep an eye out for.
Compatibility
Depending on your vehicle, you might have to upgrade the entire headlight set to install LED headlights. Alternatively, many vehicles come with a simple conversion kit for getting the headlights installed.
Before buying anything, inspect your headlights to get a better idea of the installation process. If the bulbs are easily removed, you'll likely need a conversion kit. Headlights that are difficult to remove, or that require special tools, will require an entire headlight set.
This information can typically be found in your vehicles owners manual. Most of the headlights available also have a compatibility guide. This will help determine which are the best LED headlights to fit on your vehicle. Should you have any issues, don't hesitate to bring your vehicle to a local, trusted mechanic.
Legality
Each state, province, and country will have their own laws and regulations regarding the legality of LED headlights. Typically, they're acceptable is the headlight beam projects it's visibility from 50 up to 100 meters ahead.
When it comes to the laws, it's important that your headlights are bright enough to be seen. On the other hand, they can't be too bright that they are blinding other drivers. Double check with your local rules and regulations to avoid any issues with the law.
Along with brightness, there are also regulations that dictate the direction the headlights need to be pointed in. When installing new headlights, they must be pointed slightly downwards and away from the direct eyesight of oncoming traffic. Installing bulbs that are not properly aligned can cause problems for other drivers and can result in a traffic ticket.
If you're looking to install HID headlights, instead of LEDs, you're legally required to buy a conversion kit. This ensures that you have the proper angle of the headlight beam and that it's not blinding oncoming traffic. Whether you're using LEDs or HID headlights, you should always ensure that they're properly installed and pointed in the right direction.
Bulb Color
Measuring bulb color is done through a unit of measurement called Kelvin. This unit is meant to describe brightness on a scale. Lower Kelvin measurements result in a "warmer" color, while hire measurements result in a "colder" color.
Headlight colors typically start between 3,500 and 5,000 Kelvin. This rating is bright enough to illuminate the road in front of you. It's also not bright enough to distract oncoming traffic. You'll typically find this rating on lower priced and entry-level LED headlights.
Most of the headlights recommended in this post are coming in at a rating of 5,000 Kelvin or higher. This rating results in LED headlights that give off a cooler, or daylight white, color that's pleasing to the eye while still providing ample illumination.
The higher Kelvin headlights, especially those in this post, provide a wide view and offer better visibility. When in doubt, always choose a headlight set with a higher Kelvin rating. This is especially the case if you live in rural areas without a lot of outdoor lighting.
LED Light Lumens
Another measurement that's important to consider are the lumens emitted by headlights. This is the intensity of the light that's being emitted. These units are also on a similar scale to the Kelvin measurements that we just discussed.
At the entry-level range you're looking at headlights with a smaller intensity. These have an output between 6,000 and 6,400 lumens. At this rating drivers can enjoy a decent level of light for up to 500m directly ahead of them.
Getting into the mid-range headlights, you can expect an output of up to 8000 lumens. This output will provide illumination up to 700m distance. Despite being rated as medium intensity, these headlights are powerful enough for most drivers.
At the high end of the output range you can expect to find headlights with an intensity of up to 10,000 lumens. For most drivers, this is excessive illumination and not required in most driving conditions. Another issue with such a high output is that it's possible to distract or temporarily blind oncoming traffic. That's another reason why it's important to have your headlights properly installed and aligned before driving on the street.
LED Headlight Life Expectancy
Even though they're not that expensive to buy, you're probably wondering about the typical LED headlight life expectancy. In most cases, you're looking at up to 30,000 hours of lifespan for most LED bulbs. This is incredible, especially compared to the 6,000 hours you can expect with standard Halogen bulbs.
For 30,000 hours, you're looking at a three-year lifespan from a set of LED headlights. This isn't a fixed amount, it can range up to 5 years depending on maintenance and you're driving schedule.
Premium LED headlights, such as those using a cooling fan or some other heat dissipation technology, have a lifespan of up to 50,000 hours. These can last for 6 or more years, making them cost-effective for most drivers. This is thanks to the powerful fans and heat dissipation that helps to increase their lifespan.
When it comes to choosing LED headlights, it depends on your budget and how much night driving you're doing. Those of you spending a lot of time in the car, especially driving at night, will want to consider a higher-end pair of bulbs. In this case, the life expectancy means you don't have to worry as much about maintenance costs.
Headlight Warranty
When buying LED headlights, look for any warranty that's offered. Most models, especially online, come with a two-year warranty. In normal conditions it's unlikely for something to go wrong with your headlights, especially if they were properly installed and maintained.
Higher-end headlights, and those from premium manufacturers, may offer a three-year warranty. Don't forget to keep your receipts in case you run into any issues with your headlights. While the warranty helps for replacements, most manufacturers provide free technical support if you have any questions or concerns.
Price
Finally, headlight price is the last thing to consider. If you've done your research you probably discovered that LED headlights are slightly more expensive than standard halogen bulbs. That's usually because they last longer and offer better visibility on the road.
While not always the case, the higher-priced LED headlights tend to be a more premium product. With low priced models you won't have as high of a light intensity. The budget options are also likely to have a shorter life span.
Higher-priced, premium LED headlights will have greater lumens and a longer life-span. They're also designed using better quality components, so you're less likely to run into issues. As always, don't forget to read the reviews online to see what other people have to say.
Why You Should Use LED Headlights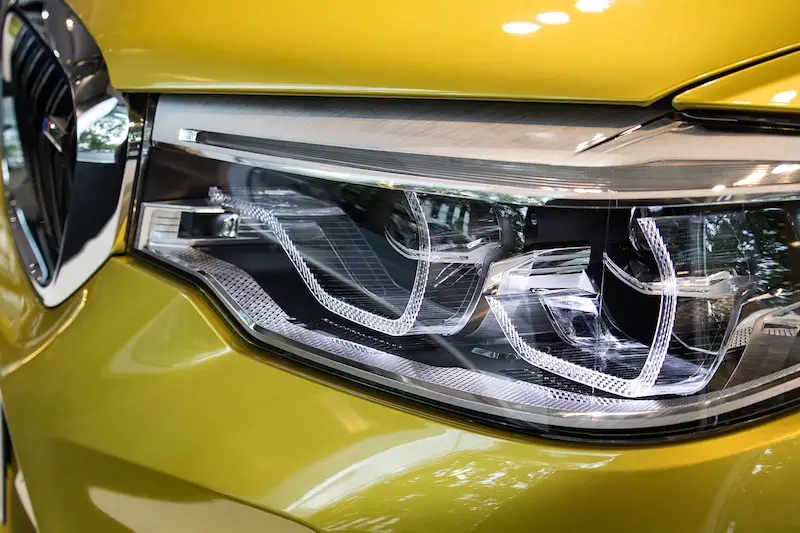 Over the past few years, most new cars are coming with LED headlights installed as standard. If you have an older car, or if your vehicle doesn't come with LED's, it's possible to use a conversion kit. This is an easy upgrade that provides you with better illumination and safer night time driving conditions. Let's take a look at the different advantages of LED headlights.
Longevity
By design, LED headlights will outlast even the best Halogen bulbs. With some of the better quality sets, you can expect up to 30,000 hours of lifespan or more, depending on the brand and your driving conditions.
While LED headlights cost more upfront, they last multiple times longer. Many even come with warranties that guarantee their longer lifespan. This way, if something happens to go wrong with your bulbs prematurely, you can have it dealt with through a warranty.
So while you may be paying more upfront, you end up saving money in the long run. This is because LED bulbs come with heat dissipation to keep them cool and running at top performance. Standard bulbs tend to overheat and the constant temperature changes wear them down more quickly.
Energy Efficient and Low Power Consumption
You probably have started switching out your light bulbs at home for the LED versions. Just like in your home, LED light bulbs for your vehicle are more efficient and better for the environment.
These bulbs consume less power and are more efficient for the power they are using. Thanks to this design, they won't have to be replaced as often and won't drain your car's battery as quickly. This saves you money and it's better for the environment in the long run.
Easy to Install
One of the best features with LED headlight bulbs is their installation process. With most vehicles, it's a simple plug and play setup to get the new bulbs installed. Some vehicles, such as luxury European brands, might have a trickier install process.
For the most part, you should be able to install your LED bulbs in 20 minutes or less. Most sets come with detailed instructions. Alternatively, you can check out videos online if you need help with the installation process.
Even if you've never changed headlights before, you shouldn't have much trouble installing an LED conversion kit. Don't forget to ensure that your headlights are properly aligned. This way they won't blind oncoming drivers and will provide you with the best illumination of the road ahead.
Better Illumination
Speaking of illumination, this is just one more of the better features you can expect with LED headlights. Compared to your standard halogen bulbs, LEDs are able to illuminate the road ahead of you for a greater distance.
This is really helpful in low light and dark conditions, especially in the suburbs or on country roads. It's even better to have LED bulbs if you live somewhere with long, dark winters where having great lighting is important.
Most of the best LED headlights provide illumination up to 100m, or 300ft, ahead of you on the road. For many people, this is more than enough and provides a safer driving experience.