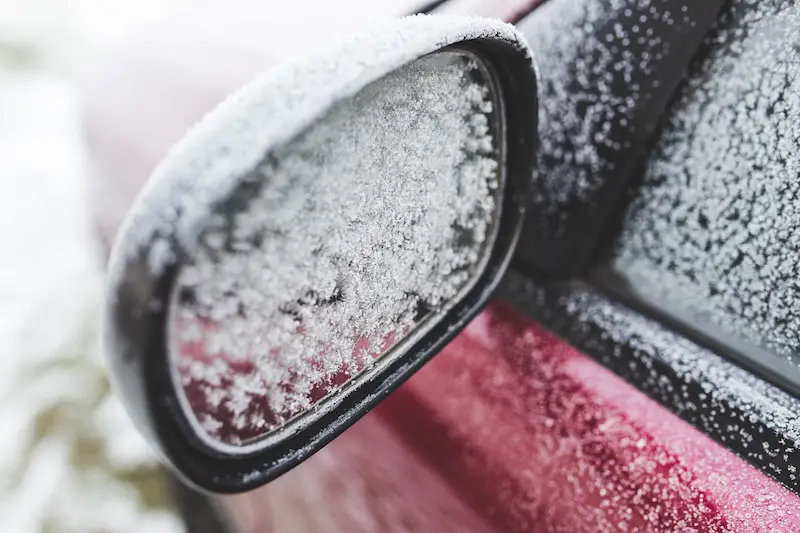 Driving your car during the spring, summer, and fall is a blast. Usually, the weather is great and you don't have to worry about anything except for rain. As long as you have a good pair of windshield wipers and quality car tires, there's nothing to worry about.
Unfortunately, driving during the winter becomes infinitely more difficult. Black ice, poor visibility, slippery conditions, and extreme weather events can make the roads treacherous on even the best of winter days. Another issue that you've probably dealt with is removing snow and ice from your vehicle, the windows, and the windshield.
As long as you're careful, and using the best snow brush and best ice scraper you can find, removing all the white stuff from your car is a breeze. Sure, you might be cold and it's possible you could end up covered in snow. However, with the right tools, you'll be able to quickly get your vehicle cleared so you can start your day.
In this post, we're going to look at the best snow brushes for your car as well as the best ice scrapers. Having both makes the snow removal job a lot easier. Once you're properly equipped you'll no longer worry about not being able to see through your windows because of built up snow. Let's jump right into it!
The Best Car Snow Brush
AstroAI 27" Snow Brush (Best Snow Brush Overall)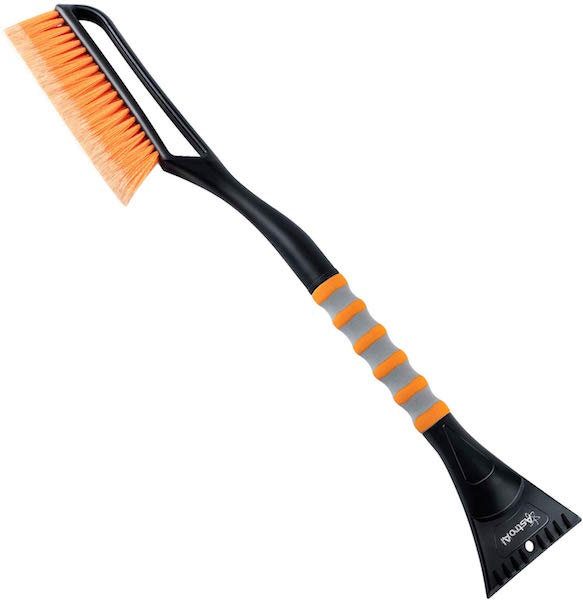 The AstroAI 27" Snow Brush is our top recommendation as the best snow brush for most people. With its basic, durable design and ergonomic grip, this brush is excellent at removing snow from your car. It's also conveniently equipped with a removable ice scraper making it easy to remove even the thickest ice from your windshield.
At the one end, the AstroAI 27" Snow Brush is equipped with four rows of layered bristles. These are designed to brush the snow off your vehicle without damaging or scratching the paint on the body panels. The firm, layered design is versatile whether you want to push the snow off, or brush it towards you.
The design itself is durable and ergonomic. This brush is made with a high-strength ABS shaft along with a soft, cotton handle. The handle offers plenty of grip and makes it so you don't have to hold on to the cold plastic while you're removing snow. Thanks to the durable design, this snow brush can be used reliably during heavy snow storms and extremely freezing temperatures.
At 27-inches in length, there's plenty of reach for removing the snow on your car. As for brush itself, there's 7-inches of length there which helps to get plenty of snow off per sweep. Finally, it's easier than ever to remove ice from your windshield thanks to the removable ice scraper.
Overall, it's hard to go wrong with the AstroAI 27" Snow Brush. It's ergonomic, comfortable to use, and the detachable ice scraper is a great feature for those cold winter days. Despite its basic design, this is definitely the best snow brush for cars that we would recommend for most people. This is one of those winter car accessories you've got to have ready for when the cold weather hits!
Drivaid Car Snow Brush (Best Extendable Snow Brush)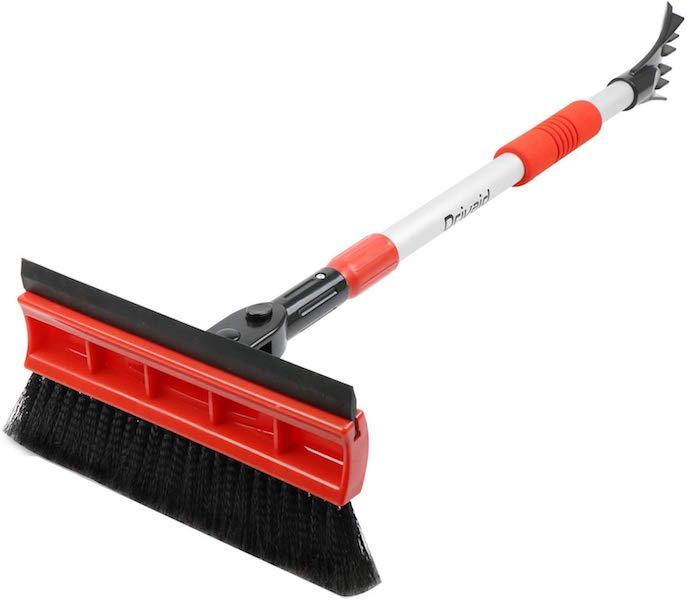 The Drivaid Car Snow Brush is another great choice if you're looking for the best extendable snow brush for removing snow and ice from your vehicle. As an extendable brush, we recommend this one for drivers with larger vehicles, trucks, SUVs, and minivans. Thanks to the extendable design, it's easy to remove snow and ice from those hard-to-reach areas.
With its extendable, telescopic design, the Drivaid Car Snow Brush can be extended up to 46.5-inches in length. This is great for getting the tops of vehicles that you can't normally reach with a standard size brush.
For removing snow, the thick bristles help you to quickly remove snow from the windows and windshield. They're designed not to damage your car or scratch the paint. On the other side of the brush is a squeegee for removing any leftover snow or moisture from your windows.
At the other end of the handle is an ice scraper. This is great for removing any built-up ice or frozen snow from your windows and windshield. There's even a foam handle for better grip and ergonomics while you're using the brush.
When it comes to build quality, the Drivaid Car Snow Brush is durable and lightweight. It's easy to stash in your car until you need it for removing snow or ice. Despite seeming basic, it's equipped with everything you need for clearing your vehicle and safety driving down the road during the winter.
AmazonBasics Car Snow Brush and Ice Scraper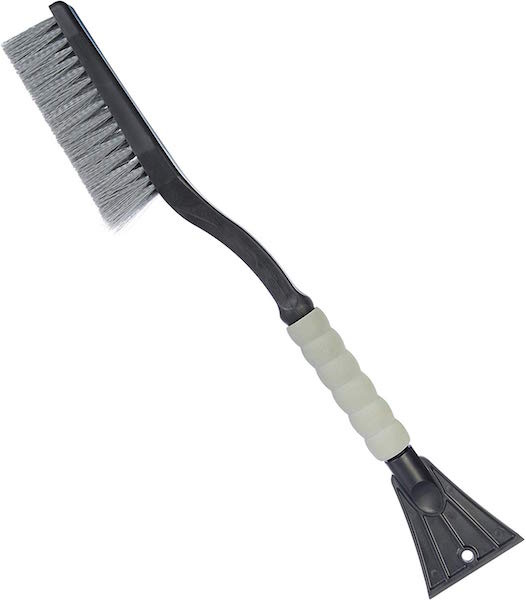 It shouldn't be surprising to see the AmazonBasics Car Snow Brush and Ice Scraper as another one of our top recommendations. We're big fans of the AmazonBasics brand and happy to recommend most of their products to our readers. The same goes for this snow brush – it's one of the best car snow brushes for most drivers.
Thanks to its basic design, the AmazonBasics Car Snow Brush and Ice Scraper is sturdy, durable, and reliable. It's easy to grip, thanks to the comfortable foam grip, and you can use it with or without gloves for removing snow and ice from your vehicle. The lightweight design and smaller profile makes it easy to store when not being used.
At one end you'll find an 8-inch snow brush in a fixed position. There are multiple rows of thick bristles that are effective at removing all types of snow from your windows and vehicle. At the other end is a 4-inch ice scraper integrated into the handle. This is great for quickly removing ice and frost from the windows and windshield.
Like we mentioned, we're big fans of the Amazon house brand it's easy for us to recommend the AmazonBasics Car Snow Brush and Ice Scraper as one of the best snow brushes for cars. The lightweight, durable, and practical design makes it one of our favourites and a great choice for winter driving.
RevHeads ICE Scraper (Best Ice Scraper)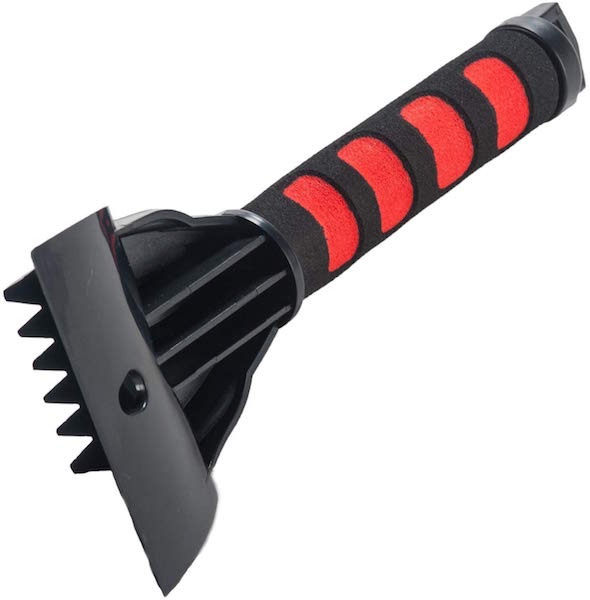 If you don't need a snow brush and you only wants an ice scraper, it's the RevHeads ICE Scraper that we would definitely recommend. This is one of the best ice scrapers for most drivers that you'll find. The durable, lightweight, and practical design makes it a great choice for removing built-up ice and frost from your vehicle windows and windshield.
The RevHeads ICE Scraper was designed with harsh winters and cold conditions in mind. It was built to be extra durable, considering you don't want to be spending any more time outdoors then you need to when the weather is bad. Thanks to the design, you can scrape as hard as you can to quickly and efficiently remove ice and frost.
With the 6-inch handle you'll have a great grip on the scraper whether you're wearing gloves or using it with your bare hands. It's equipped with a foam handle providing you a better grip and more comfort for scraping. This also gives you better leverage for scraping on those frigid winter days.
Thanks to its smaller profile, it's easy to store the RevHeads ICE Scraper in your vehicle. You can stash it in your trunk or even leave it in your glove box for easy access. Combined with a snow brush, you'll have everything you need for removing snow and ice from your vehicle. Finally, despite its smaller profile, this brush is equipped with a 4+-inches wide chisel for removing more ice on your standard scraper.
Overall, the RevHeads ICE Scraper would be our recommendation for the best ice scraper. it's durable, lightweight, and perfectly designed for removing ice. This is definitely one of those must have winter car accessories for drivers.
Best Ice Scraper & Snow Brush Buying Guide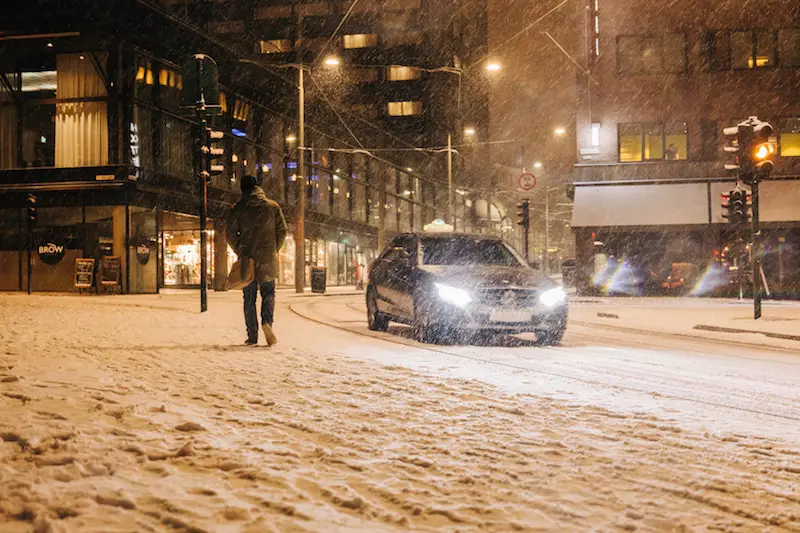 Tips For Buying Snow Brushes and Ice Scrapers
There are plenty of options to choose from when you're looking for a new snow brush or ice scraper. It's not difficult to find one, but it can be tricky to know what makes them durable, reliable, and practical for removing snow.
Here are some helpful tips on how to find the best snow brush or ice scraper for your vehicle. This way you're the most prepared the next time we get hit with a light dusting or a storm!
Build Quality and Materials
For starters, consider the materials and build quality of the brush and scraper you're interested in. Most of the scrapers and brushes are made from ABS, or a high-density, hard plastic material. This will hold up during the long, cold stretches that they're left in your vehicle for.
Foam ergonomic grips and PVC bristles are also other features to look out for. The foam helps with comfort and prevents your hands from getting cold if you forgot your gloves. PVC bristles are soft and aren't likely to damage your vehicle paint or windows.
Handle
There are two main types of snow brush handles – fixed and telescoping.
Fixed handles are well-suited for smaller vehicles and heavier loads of snow. They provide better control and more input when they're being used. The main drawback of fixed handles is that they aren't as convenient and you'll have to move around a bit more.
Telescoping handles are better suited for larger vehicles, such as SUV's, trucks, and vans. The telescoping handle makes it easy to brush snow off the roof and reach those higher spots. With this style of brush, however, you lack the control you'd have with a fixed handle.
Blade
For the ice scraper, the best blades are sharp and sturdy. The blade should feel sturdy to the touch. It should not bend or flex in your hands or while you're applying pressure.
Even budget-friendly ice scraper blades are suitable for most uses. Consider buying a dedicated ice scraper if you live in a climate with a lot of ice buildup on vehicles. As always, read reviews to see what other people have to say.
Broom Head
There are two components to look for with the broom head – a bristled brush side along with a squeegee. While not necessary, the squeegee makes it easier to remove all the powdered snow from your windshield. This provides you with a clear, unobstructed view of the road ahead for safer driving.
Look for bristles made from multiple layers of PVC. This design is the most effective at removing snow. The softer, PVC bristles are also unlikely to scratch or damage your car.
Ice Chipper
Some brushes come with an ice chipper attached. This is an option attachment and not something necessary for removing snow and ice.
The chipper is a great tool for when there's a lot of ice buildup, or hard ice. Running your car for a few minutes before removing snow can negate the need for a dedicated ice chipper.
Why You Need a Snow Brush and Ice Scraper
Both snow brushes and ice scrapers are important tools for keeping your windshield clear during the colder winter months. Without these tools, you'll be waiting for the defrost setting to melt away the snow or ice. You might also get stuck using your hands trying to remove the snow.
With the snow brush and ice scraper you can quickly, easily, and efficiently clear your windshield. This provides you a clear, unobstructed view of the road ahead while you're driving. Having a clear view results in improved road safety when the conditions are poor.
Ice scrapers make it easy to remove ice and frozen snow from your windshield and windows. The snow brush allows you to easily remove built-up snow from your windows and vehicle. Not only are you giving yourself a clear view, you're preventing snow and ice from flying into the windows of those around you.
It's a good idea to avoid cheap and poorly made scrapers and brushes. These can damage your windows and vehicle paint if they're improperly designed. While you can use other tools, such as a broom, you're better off using the ones properly made for winter snow and ice removal.
How to Remove Ice and Snow From Your Windshield
Never attack the ice and snow that's built up on your windshield and windows while it's still cold. It's possible to remove everything, but you're making it a lot harder on yourself. Even with the right tools, there's an easy process to follow for efficient ice and snow removal.
To get started, turn on your engine and let it idle for 10 or 15 minutes with the defrost setting on. You can also turn the heat on to warm up the interior of your vehicle. Avoid pouring warm or hot water on the windows. This might seem like an easy way to remove the snow and ice, but it can crack your windows depending on the temperature.
If you're in a rush, use a room temperature mix of water and rubbing alcohol in a spray bottle. For this mix, combine it with a ratio of 1:2 water to alcohol. You can also add some dishwashing liquid to the bottle to help balance everything out. Spray it on your window and let it sit for a few moments before starting to remove the ice.
Alternatively, it's possible to purchase de-icers better made specifically for the windows on your vehicle. These solutions won't damage the windows and are great to use if you're in a pinch. Keep in mind that these solutions won't completely melt the ice, they'll just make it easier to remove.
Finally, it's time to use your ice scraper and snow brush. These tools are the easiest and most effective ways of removing ice and snow from your windshield. Start by using the snow brush to remove any loose or built-up snow. Next, gently used the ice scraper against the windows to remove any of the built-up ice.