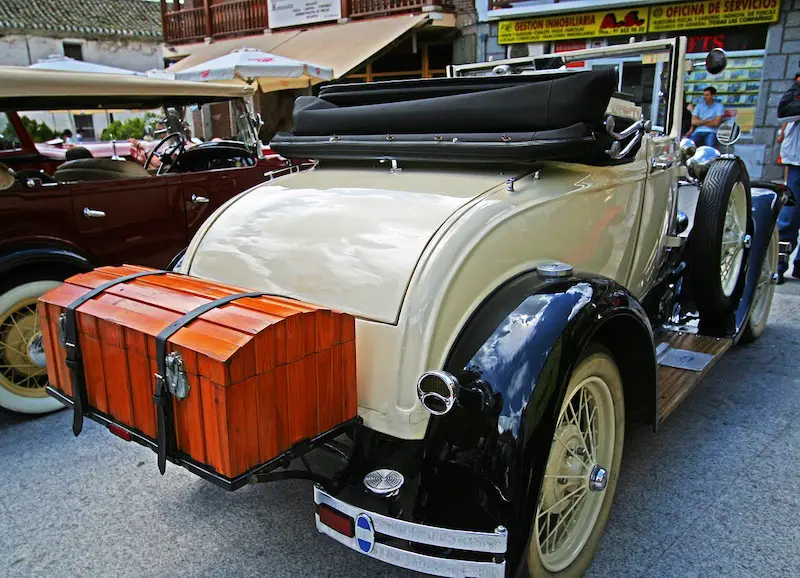 Car trunk organizers make it easy for you to keep your trunk clean and organized. With an organizer, everything is kept in one place. There's no need to worry about the objects in your trunk flying around while you're driving. Not only does this make a mess, but it can also be dangerous.
Regardless of what you're looking for, there are a number of different organizers available to choose from. Small, portable storage boxes all the way up to solid, reinforced organizers that come with coolers can easily be found online. Whether you're looking for something to organize your belongings, keep your groceries fresh, or just store everything in one place, you're bound to find an organizer that meets your requirements.
In this post, let's take a look at some of the best car trunk organizers currently available. After our recommendations, we've put together a helpful buyer's guide that should make your purchasing process a bit easier. Don't hesitate to leave any comments if you have any questions or concerns. Let's jump right into it!
The Best Car Trunk Organizer
FORTEM Car Trunk Organizer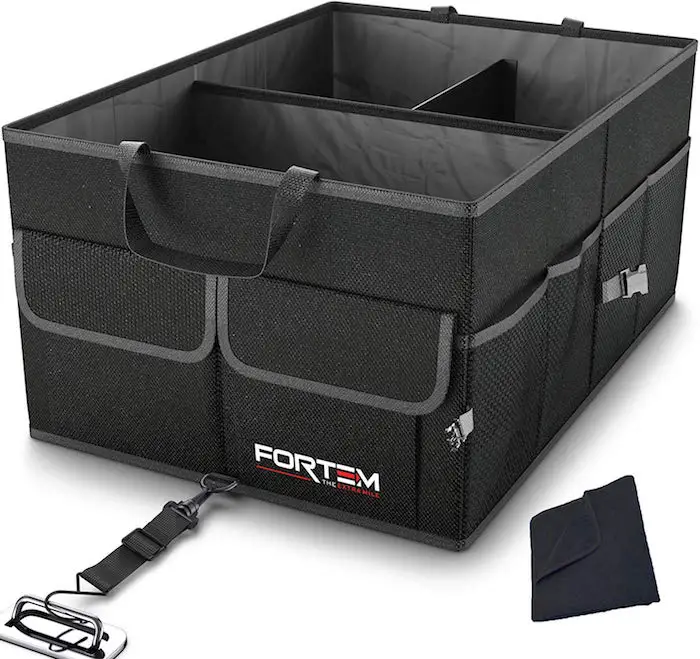 The FORTEM Car Trunk Organizer is our top recommendation as the best car trunk organizer for most drivers. What it lacks in appearance, this FORTEM organizer makes up for in practical features for storage and organization. Boasting a durable design, this is one of the best choices for keeping your trunk organized with everything inside easily accessible.
Starting with durable design, the FORTEM Car Trunk Organizer uses reinforced base plates and sturdy side walls. This keeps everything in place with no need to worry about floppy or droopy walls. It even comes with carrying handles that make it a breeze to move the organizer in and out of your vehicle.
When it comes to storage, the FORTEM Car Trunk Organizer can hold quite a bit. Thanks to the multiple compartments, everything can be organized that you're storing inside. Keep groceries in one side, car products in the other, and you won't be fumbling around looking for anything. You can even remove the divider if you're travelling with larger items. When it's not being used, this organizer can be folded down and stowed away in the trunk.
On the outside of the trunk organizer are a number of different pockets. Some of them are mesh pockets, for easy access, while others come with a lid for better storage. With the adjustable straps it's simple to strap the organizer to your trunk to prevent it from moving around while you're driving. To further help keep it in place, there are no slip strips on the bottom.
With all of these great features, it's easy for us to recommend the FORTEM Car Trunk Organizer as one of the best trunk organizers for cars. The durable design, organizational capabilities, and basic features make it an ideal choice for keeping your trunk organized.
Trunkcratepro Collapsible Portable Trunk Organizer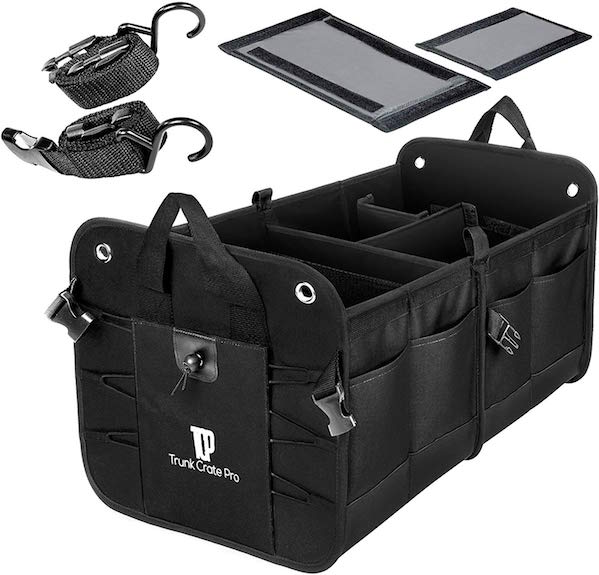 The Trunkcratepro Collapsible Portable Trunk Organizer is a versatile and practical way for keeping your trunk organized. Not only can it be used as an organizer, you can also use this as a foldage bag for easily carrying your groceries. In our opinion, we recommend this as one of the better trunk organizers available. Let's take a look at its features to see why.
For starters, the Trunkcratepro Collapsible Portable Trunk Organizer is made from durable, heavy-duty materials. The Oxford polyester fabric is able to withstand the rigors of regular use. It's also lightweight and portable enough for leaving in your trunk or regularly bringing indoors.
When it comes to organization, it's hard to beat this organizer. On the inside it can be arranged for up to 4 different departments.The removable subdividers make it easy to organize everything however you prefer. There's also 11 different pockets in total, giving you plenty of options for organization and easily accessible storage.
On the bottom of this organizer is non-skid padding that helps keep it in place in your trunk. For transportation, it's equipped with heavy duty strap handles making it easy to carry. Finally, when it's not being used, you can collapse the organizer and put it away until you need it.
Overall, the Trunkcratepro Collapsible Portable Trunk Organizer is durable and great for organization. It's a great choice if you want to keep your trunk organized or you want to cart groceries from your car into your home. The non-skid bottom, 4 different pockets, and secure, durable design make it a great choice for trunk organization.
Car Trunk Organizer Buyers Guide
Why Should You Use a Car Trunk Organizer?
Have you ever opened up your trunk and been disappointed in yourself by how messy it was? With everything you're travelling with in your vehicle, it's easy for the trunk space to get unorganized and cluttered.
Items like windshield washer fluid bottles, jumper cables, basic car tools, antifreeze bottles, and everything else you're driving with can be easily organized using a car trunk organizer. This makes everything easier to find and you won't hear these items rattling around the trunk when you're driving.
Those of you driving with tools and sports equipment can especially benefit from using a trunk organizer. You'll spend less time looking for what you need. Thanks to the organizer, your tools and equipment aren't going to be rolling around and getting damaged. Along with using the best car vacuum you have, an organizer keeps the interior of your trunk looking clean.
Using a trunk organizer can also prevent liquid spills and unnecessary messes. That's because these organizers help to keep liquid storage containers upright and in a secure position. They're perfect for getting groceries or transporting items regularly but you don't want rolling around the trunk.
Finally, your car will benefit from better handling. Believe it or not, having items rolling around can impact your vehicle control and its handling capabilities. Using an organizer keeps heavy objects centered and provides your vehicle with a better center of gravity. There's really no reason not to use a car trunk organizer!
Features to Look For in Car Trunk Organizers
Purpose
One of the most important factors to consider when you're buying a trunk organizer is its purpose. Different organizers have different uses. Depending on what you're doing, there's likely to be a specific trunk organizer best suited for your situation.
By knowing the purpose why you need a trunk organizer, you'll be able to better find one that fits your requirements. For example, if you're looking for a grocery trunk organizer then you'll want one that's sturdy, secure to the vehicle, and that comes equipped with handles.
On the other hand, if you're transporting sports equipment or camping gear, you'll have different requirements for the organizer. You need to decide whether you want a small one, a large organizer, and what other features you want before buying one.
Collapsible or Foldable
Trunk organizers come in all different shapes and sizes. The two most common types are foldable and collapsible trunk organizers. Each offers their own benefits and drawbacks depending on what you're looking for.
Collapsible trunk organizers can be collapsed down into a smaller, streamlined shape. They're better for smaller trunks and vehicles. If you won't be using the organizer very often, the collapsible ones are a great idea. These can be easily put away and stowed when they're not being used.
Foldable trunk organizers offer a slightly better capability for storage. While they can be folded and put away, they also can be used as a shoulder bag. These are better for bigger cars and if you want to use more than one organizer at a time.
Ultimately, the differences between the two types are miniscule. However, it's still important to consider these differences when you're shopping for a new trunk organizer.
Materials
Another one of the most important factors when you're buying a trunk organizer are the materials they're made from. Some materials are more durable, while others are more lightweight. This goes back to the purpose of the organizer that will help you decide which materials are best for your needs.
The best trunk organizers for cars and trucks are typically made from polyester materials. You want to avoid cloth, or other ultra-lightweight materials. These lightweight materials aren't as durable and hold up as long to the rigors of the road.
Organizers made with better materials are more durable and sturdy. You don't want the organizer collapsing in your trunk while you're driving along. Depending on what you're travelling with, you want the best quality materials for keeping your items protected and secure.
Size
Trunk organizers are available in a wide range of different sizes. Before buying anything, double check the specifications. This will let you know if the organizer will fit in the trunk. You'll also have a better idea of the overall size and what can be secured inside.
Many organizers come with straps to help you secure it to the inside of your vehicle. If not, consider buying more than one. This way, they can be arranged side-by-side for a better fit in your trunk. Also, the smaller the organizer, the less it can carry.
Adjustable
Versatility is important when it comes to keeping the items in your trunk stowed and organized. Look for organizers that come with various compartments, especially those that can be adjusted.
It might not seem like it at first, but an adjustable trunk organizer offers quite a few benefits. You never know what you'll be travelling with and how it needs to be organized in the trunk. The adjustable models offer great versatility when it comes to storage and organization.
Number of Compartments
Speaking of adjustability, the number of compartments in an organizer needs to be considered. More compartments gives you a better organizational capability. This makes it easy to separate different items while keeping them securely in place.
If you're using the organizer for just one or two reasons, say groceries or laundry, then you may not need many compartments. However, if you're using it for trunk storage as well as the reasons just listed, if you're using it for trunk storage as well as the reasons just listed, having more compartments will be beneficial.
Some organizers come with adjustable compartments. These make it easy to adjust the storage capability for better organization.
Durability
Always read reviews before settling on any specific car trunk organizer. This will give you a better idea of its durability. You'll also be able to quickly determine what people don't like about the organizer you're interested in.
The main benefit to choosing a durable trunk organizer is its longevity. Those built with better, higher quality materials typically last longer than the cheaply made models. As mentioned above, look for options made from polyester, hard plastic, and other quality materials.
Carrying Capabilities
If you'll be moving the organizer in and out of the trunk frequently, look for one that has reliable carrying capabilities. This means something that's lightweight and equipped with handles or straps. Portability is important if you'll be using your organizer to bring groceries inside, transport laundry, or moving anything in your trunk.
Many organizers come with handles that make them easy to lift in and out of your vehicle. There are also some available with straps. Ultimately, the box design of most organizers makes them easy to carry. Choosing straps or handles should be a secondary thought.
How Much Weight Can Trunk Organizers Support
Different models of trunk organizers can support different amounts of weight. At the lighter end, you're looking at around a 20-pound weight limit. This is for smaller, portable, and lightweight trunk organizers.
The bigger, heavier duty, and more bulky trunk organizers can support up to 100-pounds, or more. These are better suited for grocery hauls, sports equipment, and heavier tools. Always look at the product description or manufacturer specifications to find an exact weight limit.