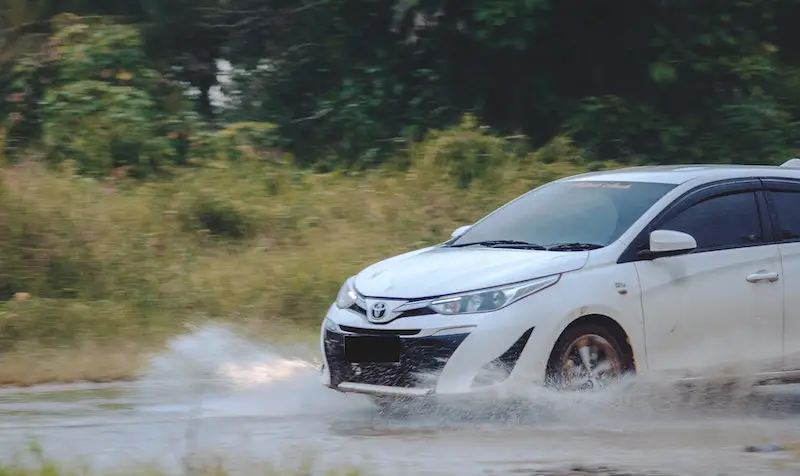 There's a reason why the Toyota Corolla is one of the most popular and best selling cars of all time. The budget friendly price, overall reliability, and general availability of affordable parts make the Corolla a great option for thrifty drivers.
Not only that, but they also come with great fuel economy, they're easy to work on, and provide a smooth and comfortable ride. To help with that comfortable ride and long-term reliability you're going to want to use a great set of tires on the Corolla.
With so many options to choose from, it can be hard to find the best Toyota Corolla tires if you're looking for something new or different on your car. That's why we put together that's helpful post to make it easy for you to find the right tires for your Corolla.
Whether you're looking to upgrade or try something new, this in-depth guide is a great place to get started. Don't forget to scroll past our recommendations for a helpful buyers guide and FAQ section.
With that out of the way, let's jump right into it!
The Best Tires for Toyota Corolla in 2021
Ohtsu FP7000 All-Season Radial Tire (Best Toyota Corolla Tire Overall)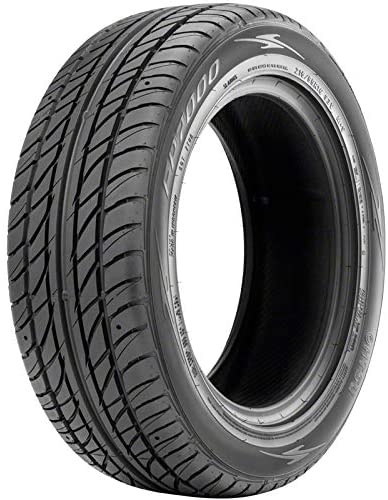 The Ohtsu FP7000 All-Season Radial Tire is our top recommendation as the best tires for Toyota Corolla vehicles. This is a great option because it's reasonably priced, easily available online, and suitable for most driving conditions.
If you're looking for the best all season tires for Toyota Corolla vehicles then you'll definitely want to check this one out. The Ohtsu FP7000 comes with a non directional tread design that offers suitable all season performance along with a quiet, comfortable ride.
To help with reducing tread noise, these are made with a variable shoulder tread block design. This keeps road noise to a minimum, even when you're driving at high speeds.
For improved wet weather performance, these are designed with high-volume circumferential grooves. This gives you better traction when the conditions are wet or slippery while helping to prevent hydroplaning.
When it comes to longevity, these are made with dual steel belts. This provides better tread rigidity, improved grip, and increased structural strength.
For the price, it's hard to go wrong with the Ohtsu FP7000 All-Season Radial Tire if you're looking for a Toyota Corolla all season Tire. These have some great reviews, they are affordably-priced, and a great option if you're looking for a safe Tire to use in a wide range of driving conditions.
Hankook Kinergy ST H73 All-Season Radial Tire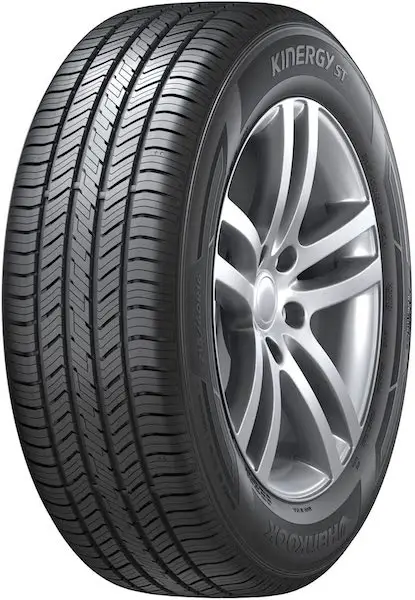 The Hankook Kinergy ST H73 All-Season Radial Tire is another great option if you're looking for a cheap, all-season Toyota Corolla Tire. Whether you're commuting long distances in various conditions or just driving around town, this one is a great option.
This tire comes with a number of different features that make it ideal for most drivers. To help with handling and performance it has been designed with 2 wide steel belts on the inside.
This along with the full cover reinforced belt results in better strength and improved stability, even at higher speeds. As for longevity, these tires feature an abrasion-resistant tread compound, making them last longer.
For better steering response there is a stiff sidewall, which also gets you better control when you're driving on the road. Considering they are all season tires, these are plenty for getting you through most driving conditions.
Overall, the Hankook Kinergy ST H73 All-Season Radial Tire is another great option as a Toyota Corolla all-season Tire. They're Affordably priced, well reviewed, and bound to improve the handling, comfort, and ride of your car.
Goodyear Ultra Grip Winter Radial Tire (Best Toyota Corolla Winter Tire)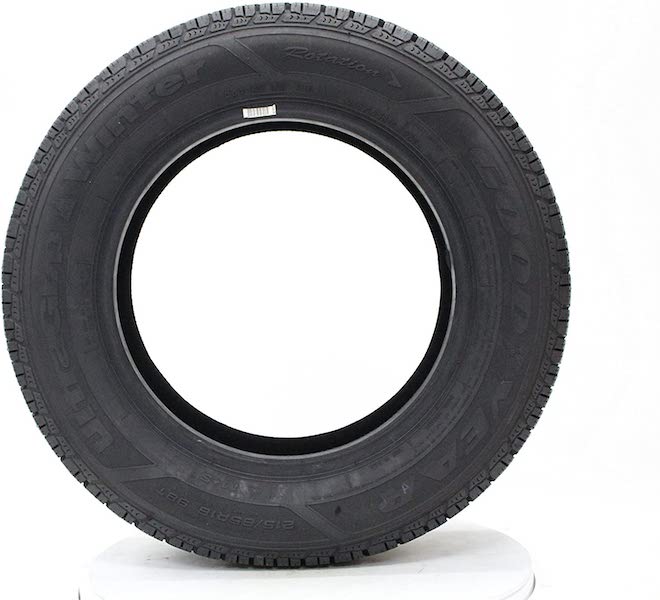 The Goodyear Ultra Grip Winter Radial Tire is our recommendation as the best winter tire for Toyota Corolla vehicles. This one is a great option if you're doing a lot of winter driving in wet, snowy, and slippery conditions.
Considering how important safety is during winter driving, you'll definitely want a quality winter tire that can stop shorter in the snow than the competition. This is what you'll find with the Goodyear Ultra Grip Winter Radial Tire.
These are able to provide drivers with strong grip and confident selection during slippery winter conditions. The wide tread grooves are designed to push snow and slush out of the way so that your tires can safely grip the road.
There are even multiple biting edges that continue to help provide grip when the roads are covered in snow or ice. Thanks to the strong shoulder blocks, you're going to have confidence handling as well as even treadwear for better longevity.
The directional tread pattern was optimally designed to provide drivers with better traction in the snow. Considering how affordable these are, they should be an easy choice when it comes to Toyota Corolla winter tires.
Overall, if you'll be doing a lot of driving in the snow or harsh winter conditions, it's the Goodyear Ultra Grip Winter Radial Tire that we would recommend. These offer ample grip in snow and ice and are optimally designed for winter weather driving.
Why You Should Upgrade Your Toyota Corolla Tires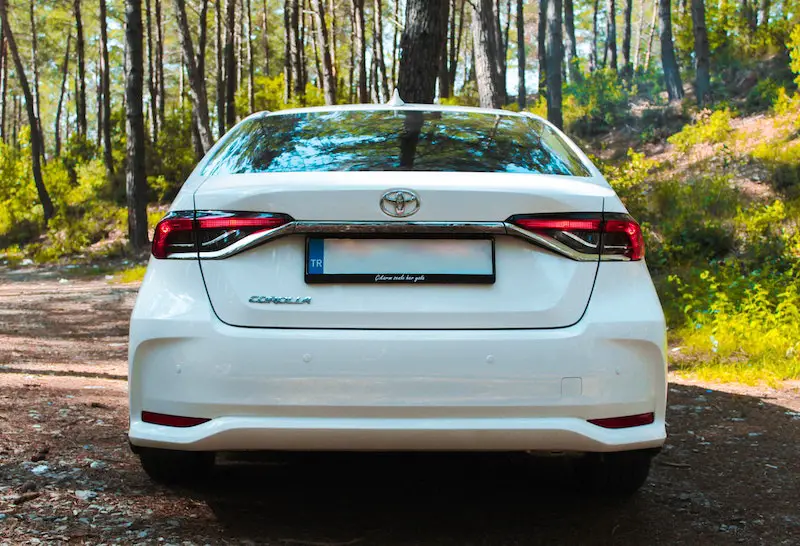 Better Performance
One of the main benefits of going with new Toyota Corolla tires is that they will increase the overall performance of your car. With the deep, new tread you'll have better grip and a slight boost in horsepower.
The ride is bound to be smoother, quieter, and newer tires will improve your Corolla's fuel economy. Considering how affordable they are, it's not a bad idea to be replacing the tires before it gets too late.
More Safety
New tires provide better handling and are more responsive when you're driving. You'll also have a better braking distance and improved grip in slippery conditions.
This results in increased safety for you and your passengers when you're on the road. Considering you can't put a price on safety, it's better to be safe than sorry and go with a set of new Toyota Corolla tires.
Improved Traction
Another benefit you'll see when you go with new tires for your Toyota Corolla is improved traction. This will be especially noticeable in wet and slippery conditions.
Fresh, new rubber along with deeper grooves on the tire make it easier for the tire to grip the road effectively. You'll be more comfortable and have better traction in the various conditions you'll be driving in.
Reduced Stopping Distance
You never know when you're going to have to jump on the brakes. When this happens it's important you're using a high-quality set of Toyota Corolla tires.
New tires will reduce your stopping distance as well as stopping time. This makes it safer if you have to jump on the brakes and could even prevent an accident.
Types of Toyota Corolla Tires
All-Season
Depending on where you live you may be able to use all season tires throughout the entire year. These are designed to work on most road surfaces and in most weather and road conditions.
All season tires are versatile, affordable, and a great choice for everyday use. The tread on these tend the last longer and they typically provide a comfortable, quiet ride.
Keep in mind that you will want to still use winter tires if you live somewhere with a lot of snow. On the other hand, all season tires would be a great option for places that don't get a lot of snowfall or icy conditions on a regular basis.
Performance
Take a look at performance tires if you're looking for speed and power. With this type of tire you'll have better handling, improved control, and better maneuverability on both wet and dry roads.
If you like control and precision when you're driving then you'll want to look for Toyota Corolla performance tires. These offer the best mobility, cornering, and overall performance when you're driving in most conditions.
All-Terrain
Generally, you won't be looking for Toyota Corolla all terrain tires. These are designed to provide traction both on-road and off-road in rough and tricky conditions.
While these can be used on normal roads and highways, there would be excessive road noise and humming, which would be detrimental for comfort inside the vehicle. Unless you have somewhere that these tires would be necessary, it's better to avoid them altogether.
How Much Do Toyota Corolla Tires Cost?
$50 to $150
You'll definitely be able to find some good quality, well reviewed tires in the $50 to $150 price range. There will be all season, performance, and even winter tires available for this price.
When you're buying new, most drivers will find suitable tires at this price point. Don't forget to check out reviews to see what other drivers have to say about the particular tires that you're interested in.
$150+
At this price point, especially for a Toyota Corolla, you would be looking at some high-end premium tires. Generally, most Corolla drivers won't need to spend as much on a single tire.
For this price, especially in the United States, you'll typically find larger tires, racing tires, or high performance tires you wouldn't want on a Corolla. It's a good idea to stick to the entry to medium level price range to get the most bang for your buck.
Toyota Corolla Tires Key Features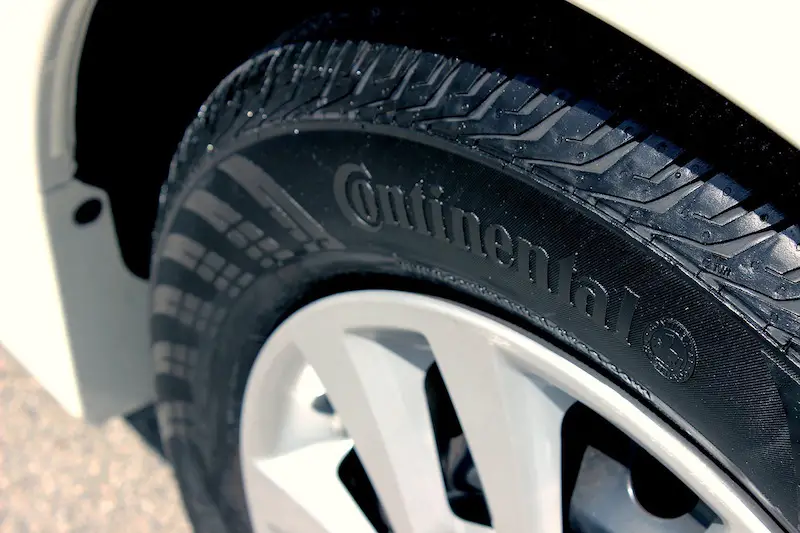 Size
When you're looking at purchasing new tires, the overall size is one of the most important factors. It's important that the tires fit on your Corolla wheels, otherwise you're going to run into issues with rubbing or they might not even be able to be installed.
Start by checking the owner's manual or maintenance manual for the specific Toyota Corolla tire size so your vehicle. The size will also be stamped on the sidewall of the tires already on your car, so you can check that if you're having difficulty finding the size.
Tread Pattern
Another important thing to consider when you're looking at new tires is the tread pattern. Generally, there are three different patterns, which are the symmetrical, asymmetrical, and unidirectional patterns.
When it comes to longevity, it's a good idea to go with a symmetrical tread pattern. This type lasts the longest and can generally be found on summer or all season tires.
On most newer vehicles you'll find unidirectional tread tires. These are designed to roll in a single direction, although they will need to be rotated more frequently.
It's unlikely that you'll find the asymmetrical pattern when you're looking for Toyota Corolla tires. This pattern is more suited for high-performance vehicles that need better performance and grip.
Load Capacity
While you probably won't be towing or carrying anything heavy, it's still a good idea to double-check the load capacity of any tires you're interested in. This gives you a better idea of how many pounds a specific tire, or set of tires, can carry efficiently.
It's recommended to look for tires that come with a slightly higher load capacity than the overall weight of your vehicle. This gives you a buffer for the vehicle weight as well as any additional load from people or gear.
Shock Absorption
Check for tires that can absorb bumps, potholes, and poor road conditions more easily. This is information you can usually find in the reviews, either online or on YouTube.
Tires with better shock absorption are going to last longer and provide a more comfortable ride. They're also going to offer better comfort and handling, all of which improves your driving experience.
Helpful Tips
If you're unsure about the tire size or PSI, take a look at the owner's manual or service manual for your Corolla. This information can also be found on the sidewall of the tire or inside the drivers door somewhere on the inside frame. Use a tire inflator to keep the tires at the right PSI.
It's always a good idea to regularly check the tire air pressure. This can increase the longevity of the tires and gives you more safety and traction when you're out driving. Consider using a digital tire pressure gauge or a tire pressure monitoring system to make this easier.
Before packing too much weight in your vehicle, double check the carrying capacity of the tires. This lets you know how much you can safely carry before overloading the tires and possibly making it unsafe to drive. Driving with too much weight also can wear the tires down quickly, which isn't ideal for your budget or driving comfort.
Frequently Asked Questions
What is the Best Toyota Corolla Tire Pressure?
Toyota themselves recommends going with a PSI between 30 and 35. This would depend on the model year of your vehicle and whether it's the front or back tires.
You can find this information in the owner's manual, service manual, or inside the door on the inside frame. Regularly check the tire pressure to make sure the vehicle can continue to perform optimally.
How Often Should You Rotate the Tires?
Although most people don't follow this, it's a good idea to rotate the tires every 5,000 to 7,000 miles. This helps to even out the wear and can make it easier to spot any issues before they become a serious problem.
You can expect the front tires to wear faster than the rear tires, as it's a front wheel drive vehicle. That's why it's a good idea to rotate the tires on a semi-regular basis, similar to motorcycle tires.
Do All Four Tires Need to Be Replaced at Once?
Although it's a good idea, it's not always necessary to replace all four tires at the same time. However, it's recommended to place either the front or rear sets if you're needing to replace any.
Replacing two at the same time will help to maintain comfort and handling. It's also going to keep uneven wear at a minimum.