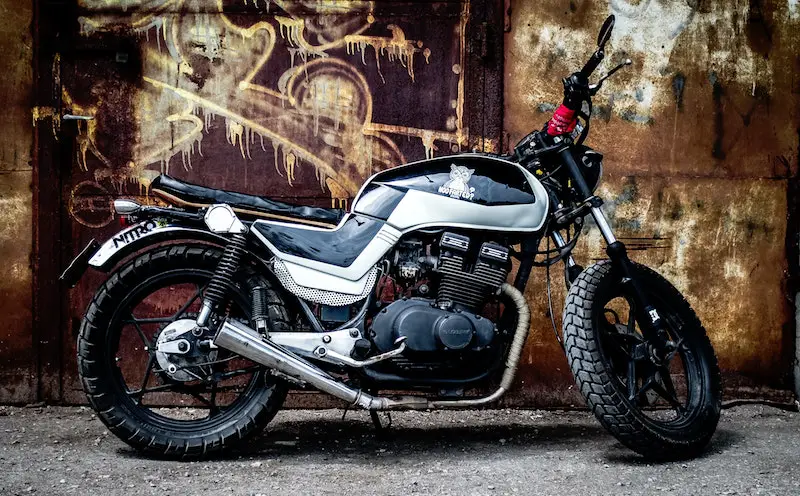 Some bikes, especially cruisers and sport bikes with bigger engines, can get really warm when you're riding. It's not only the engine, but the exhaust, that can make you comfortable or burn your leg.
With a hot motorcycle exhaust you always have to be careful getting off the bike, especially when you've been riding for a while. Thankfully, there's an easy solution that helps to better manage the heat the exhaust is giving off.
Motorcycle exhaust wraps can improve performance while preventing your lower leg from getting burnt. It also helps to give your bike a more unique look so it doesn't look like every other bike on the road.
In this post, we put together a list of the top exhaust wraps for motorcycles that you can find online. Don't forget to scroll past our recommendations for a helpful buyer's guide and FAQ.
Otherwise, let's jump right into it!
The Best Motorcycle Exhaust Wraps
SunplusTrade Black Exhaust Heat Wrap (Best Motorcycle Exhaust Wrap Overall)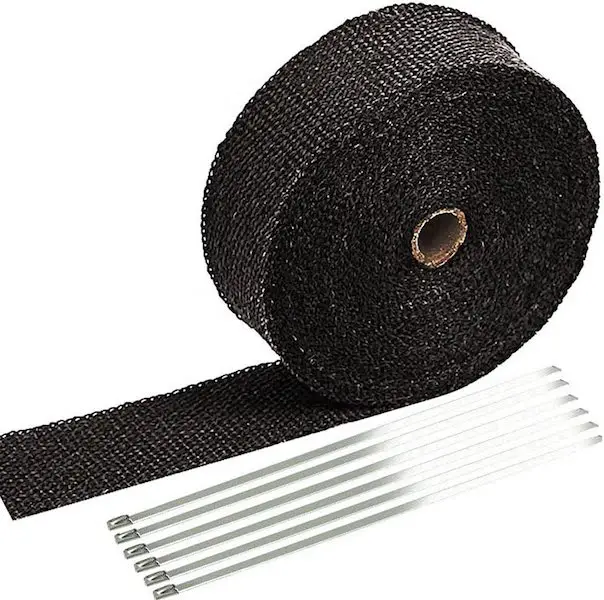 The SunplusTrade Black Exhaust Heat Wrap is our top recommendation as the best motorcycle exhaust wrap for most riders. This one comes with everything you need to wrap your motorcycle exhaust, including the heat wrap and stainless steel locking zip ties.
Inside the SunplusTrade Black Exhaust Heat Wrap package is a roll of 2-inch by 50-feet heat wrap. This is more than enough to cover most standard exhausts on smaller to mid-size motorcycles.
There's also a six-pack of 12-inch stainless steel locking zip ties. These make it easy to secure the wrap to the exhaust without having to use any sprays.
The wrap itself can withstand direct heat up to 1400 degrees Fahrenheit. It's able to withstand radiant heat up to 2000 degrees Fahrenheit.
Once the exhaust is wrapped, this thermal heat wrap can reduce the heat coming through the pipes by up to 50%. This keeps the engine cooler and prevents your legs from getting burned when you get on and off the bike.
The material is also highly resistant to abrasions, oil spills, vibration breakdown, and higher temperatures as mentioned. It's easy to install on the exhaust with everything needed for the installation included in the package.
Overall, it's the SunplusTrade Black Exhaust Heat Wrap that we recommend as the best motorcycle exhaust wrap. It's well reviewed, reasonably priced, and comes with everything you need to get the wrap set up on your exhaust.
LEDAUT Titanium Exhaust Wrap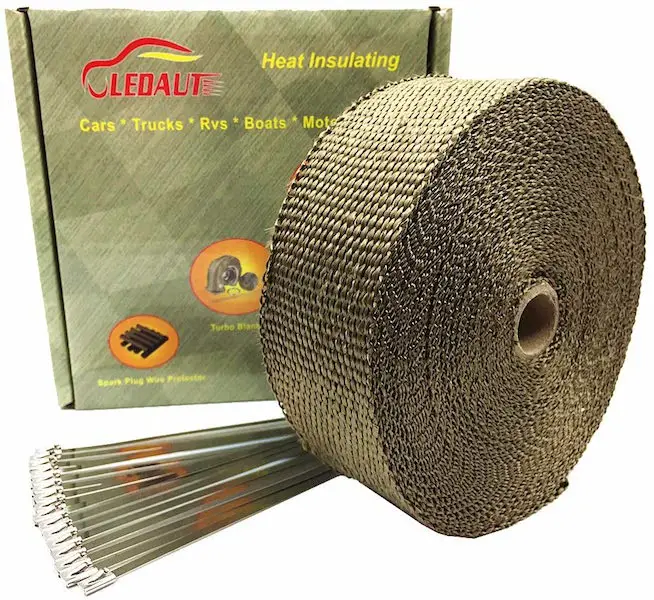 The LEDAUT Titanium Exhaust Wrap is another great option if you're looking to wrap the exhaust on your motorcycle. This one also comes with stainless steel locking ties so you don't need anything else for installation.
The LEDAUT Titanium Exhaust Wrap is made from crushed volcanic rock and is highly effective as a heat shield for your motorcycle exhaust. It's also highly resistant to vibrations, vibration break down, high temperatures, and oil spills.
Once installed, this thermal heat wrap can withstand temperatures up to 1400 degrees Fahrenheit of direct heat and 2000 degrees Fahrenheit of radiant heat. It will definitely help to reduce the heat coming through the exhaust and radiating into the engine, which keeps things running more efficiently.
As for installation, the stainless steel locking ties you need to secure this wrap are included in the package. The titanium wrap itself is 2-inches wide with 50-feet of wrapping length.
Overall, the LEDAUT Titanium Exhaust Wrap is another great choice for wrapping your motorcycle exhaust. It's easy to use and ideal for mitigating the higher temperatures that your exhaust gives off.
ARTR Titanium Lava Fiber Exhaust Header Wrap Kit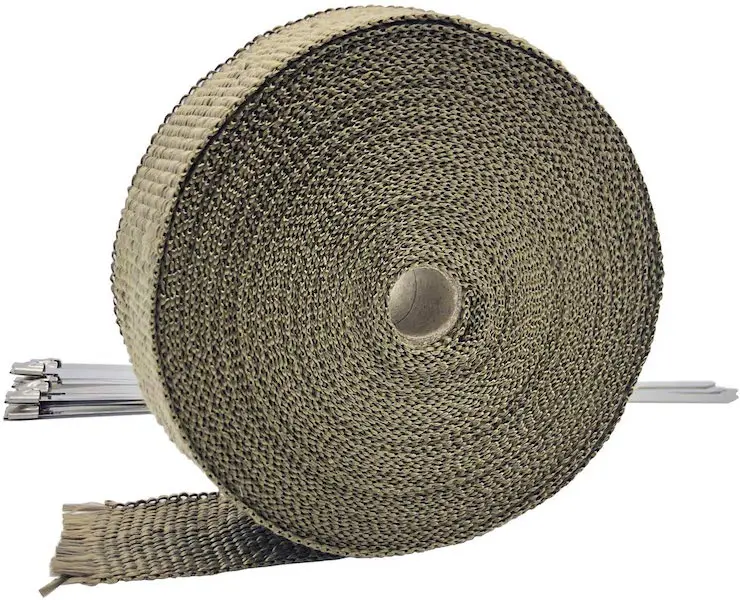 The ARTR Titanium Lava Fiber Exhaust Header Wrap Kit is a high-quality exhaust wrap. It's a great choice for wrapping your exhaust for better keep management.
The wrap itself is made from crushed lava rock and is said to outperform the less expensive colored fiberglass tape insulation wraps. Ince installed, it will promote increased flow for better performance while reducing temperature and vibration break down.
Installation is simple and there are stainless steel locking ties included in the package to help secure everything. Before getting started, it's a good idea to soak the wrap in water and use gloves while installing it on the exhaust.
The package comes with a 2-inch by 50-foot roll of wrap. It's capable of withstanding direct heat up to 1,800 degrees Fahrenheit and intermittent heat up to 2500 degrees Fahrenheit.
Overall, the ARTR Titanium Lava Fiber Exhaust Header Wrap Kit is another great choice if you're looking for a high-quality motorcycle exhaust wrap. Everything you would need is included in the package and it will definitely help improve the overall performance of your bike.
Design Engineering Exhaust/Header Wrap Kit (Best Exhaust Wrap Kit)

The Design Engineering Exhaust/Header Wrap Kit is an all-in-one kit that comes with everything you need to get the exhaust wrap installed on your motorcycle. This is a great choice for beginners or someone looking for a complete kit to professionally wrap the exhaust.
Along with two rolls of exhaust wrap and 12 stainless steel locking ties, this kit also comes with a can of silicone coating spray. With so much wrap, it's a good choice for bigger bikes or if it's your first time and you think you may make some mistakes.
What's unique about this kit is that it comes with high-temp silicone coating spray. This coating provides lasting protection for the hot surfaces of the exhaust and seals the materials so it's all protected from road grime, oil, and dirt.
Once wrapped, this kit helps to efficiently manage the heated coming through the exhaust while allowing the engine to run more smoothly. Just the coating alone provides lasting protection on hot surfaces for up to 1500 degrees Fahrenheit and it's even better with the wrapping done.
Overall, the Design Engineering Exhaust/Header Wrap Kit is a great kit for doing a premium job of wrapping your own motorcycle exhaust. Having the spray is a nice feature and it's easy to do with everything included in the kit.
What to Consider When Buying a Motorcycle Exhaust Wrap
What Materials is the Exhaust Wrap Made Of?
Most wraps are made from highly resistant materials. Typically, you'll find them made from titanium interwoven with fiberglass and pulverized lava rock.
These are highly resistant and durable materials that are malleable and specifically designed to insulate the exhaust system on your motorcycle. When you're browsing the different options, look for these materials for the best quality and long-term durability.
How Much Heat Can the Wrap Withstand?
Since the main purpose of the exhaust wrap is to pull heat from the exhaust, it needs to be able to withstand a lot of heat. Keep an eye out for wraps that can withstand temperatures over 1,500 degrees Fahrenheit.
They should also be able to deal with temperatures up to 2500 degrees Fahrenheit, depending on the conditions you're riding in. Don't settle for anything less or the wrap won't be nearly as effective as it could be.
Do You Care About the Motorcycle Appearance?
Not everybody likes the appearance and design of the bike once an exhaust wrap is installed. The main problem is that it hides the chrome exhaust and can start to look sloppy once it has been installed for a period of time .
For those of you that don't want to use a wrap, take a look at white fiberglass wraps for a more fashionable finish. You can also consider investing in a long-lasting ceramic coating, which is still effective at retaining and dissipating heat while maintaining the perfect finish on your motorcycle.
What is a Head Wrap and Why Do You Need One?
There are a number of reasons to wrap the exhaust headers on your motorcycle. Here are some reasons why you should invest in a header wrap for your bike.
Unique Look
Whether your bike is old and covered in scratches or you just want to give it a unique appearance, wrapping the exhaust can look aesthetically pleasing. This is an option that many cafe racers use to make their bike look older and more unique.
It can hide an old, rusted, or otherwise damaged exhaust and give it to a better appearance. It's even possible to choose different colored wraps that specifically match the appearance of your bike.
Better Performance
Another reason to wrap the headers is that it can provide the motorcycle an increase in horsepower. This is due to the engine being able to operate at full power for a longer period of time, since the throttle will be cooler.
Those of you that are racing or looking to get the best performance out of your motorcycle will find this to be an easy improvement. The exhaust wraps can also make your motorcycle sound louder, which no one's going to complain about.
Save Money
The final reason why it's a good idea to wrap the exhaust is to save money for long term motorcycle ownership. Wrapping headers can increase the longevity of your bike by reducing the heat getting into the engine through absorption.
The exhaust will also be protected from scratches and dings, which is helpful if you're riding a lot in rough conditions. This is a cheaper alternative than using a ceramic coating on your headers as well.
Helpful Tips
When you're searching for an exhaust wrap, choose the strongest one possible. Going with a more durable wrap means it will last longer and offer better long-term protection on your bike. This helps to save you time and money in the long run since you don't have to buy new ones or replace it as regularly.
One great way to secure the exhaust wrap to the pipes is to use metal locking ties. Some of them even come with zipper locks or silicone sprays, which help to provide a better seal.
When you're installing the wrap on the motorcycle exhaust, make sure to wear protective equipment. Use gloves and safety glasses since the materials in the wrap, such as fiberglass, can irritate your skin.
Depending on the bike, the pipes could overheat when you're using an exhaust wrap. This is more of a problem with titanium exhaust systems. Avoid using fiberglass exhaust wraps with titanium exhaust systems so you don't run into any problems.
Frequently Asked Questions
How Much Exhaust Wrap Do You Need For Your Bike?
The amount of wrap you will need depends on the type of exhaust on your motorcycle. Standard bikes typically use wraps that are 50 ft long and 2 inches wide.
On bigger bikes you can expect to use a wrap that's as long as 100 feet. It's a good idea to check online, such as in bike related forums, to see if anybody has any suggestions for the length you would need.
How Long Do Motorcycle Exhaust Wraps Last?
Depending on the quality of wrap and the type of riding you're doing, it's possible for it to last several months up to a couple of years. High grade wraps, assuming they're installed correctly, should last a full riding season at the minimum.
For off-road riding you'll have to replace the wraps more often. However, you probably won't need to use one if you're spending most of your time off road.
How Do You Install an Exhaust Wrap?
Every wrap will come with specific manufacturer's instructions. Start by reading these to get a better idea of how to install an exhaust wrap.
It's not a bad idea to look up some helpful videos on YouTube as well. Next, clean the pipes and follow the instructions on how to prepare the wrap.
Follow up by rolling the wrap around the exhaust header or pipes. Finish by securing the wrap using silicone spray or stainless steel locking ties.