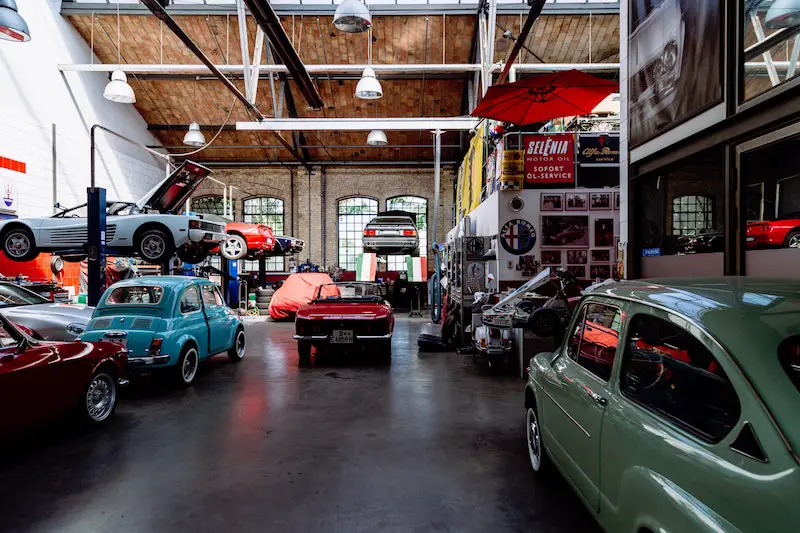 Whether you're working in your own motorcycle shed or puttering around in an attached garage, it's hard to get work done if the lighting isn't any good. It's not easy to see with poor lighting and you'll constantly find yourself wishing for a better setup instead of working in the dark.
In that case, it's a good idea to invest in the best garage lighting that makes sense for your workspace and garage. This way you'll have a bright and steady source of light for whatever you're doing.
To make things easier for you, we put together this in-depth guide to help you find the best lighting for your garage. This will definitely help to improve your garage or outdoor shed experience, as long as you have a power source for the lighting.
Don't forget to scroll past our recommendations for an in-depth buying guide and FAQ. Otherwise, let's jump right into it!
The Best Garage Lighting
Hykolity LED Shop Light (Best Garage Lighting Overall)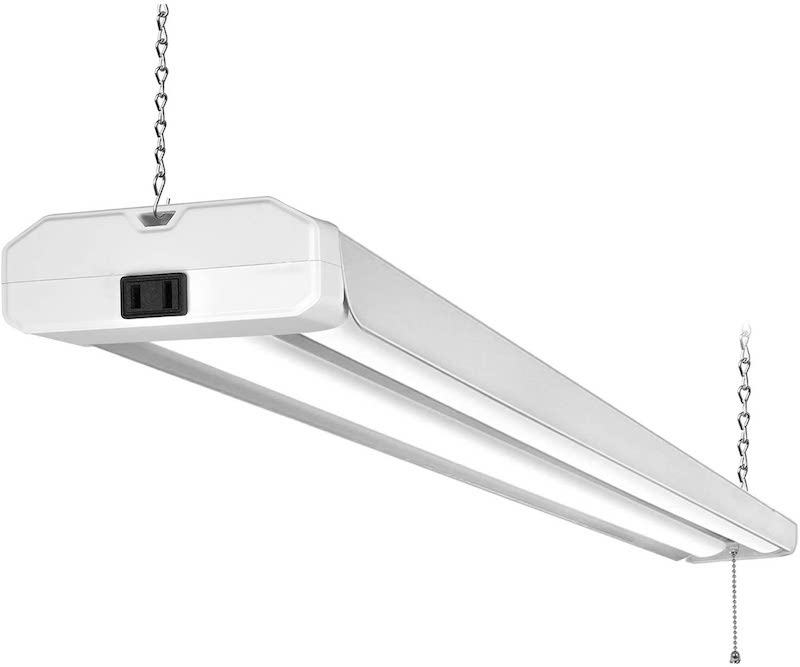 The Hykolity LED Shop Light is our top recommendation as the best garage lighting solution for most people. These lights are a great way to improve the brightness of your garage workspace, shop, or outdoor storage area.
This is a 4-foot LED shop light that features 4200 lumens of brightness. It's equipped with 5000K daylight white LED bulbs, which use only 40W of power each.
Each of the lights is ETL certified, resulting in better quality, safety, and reliability. As for reliability, you can expect up to 50,000 hours of light before any maintenance is needed.
Installing the Hykolity LED Shop Light is simple thanks to the plug and play design. It comes with a 59-inch power cord and other small accessories that make it easy to mount and connect the lighting setup in a practical and accessible area.
Another interesting feature is that this lighting system is linkable for up to 4 other pieces. This makes it easy and convenient to connect more than one of these lights for total coverage in your workspace or garage.
For the price, it's hard to go wrong with the Hykolity LED Shop Light and these are definitely our top recommendation. This is a reliable lighting setup that's bright enough for most applications, easy to install, and reliable for long-term use.
Tanbaby LED Garage Light (Best Shop Light for Garage)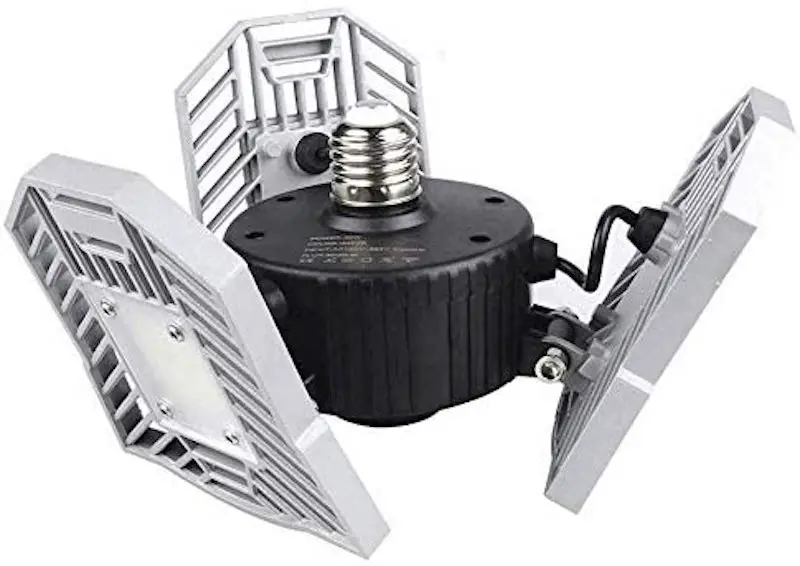 The Tanbaby LED Garage Light is a great choice if you're looking for the best LED shop light for your garage or work space. This one is awesome because it connect directly to the standard bulb input and doesn't require any wiring or difficult installation.
The Tanbaby LED Garage Light comes with an ultra bright and adjustable aluminum LED head with LEDs giving off a total of 6000 lumens. For a 60W shop light it's surprisingly energy-efficient and has a maximum lifespan of over 50,000 hours.
What makes this light such a great choice is that it's so easy to install. It hooks up directly to an existing light bulb connection so there's no need for any wiring or difficult installation processes.
On the other hand, this could be a slight disadvantage if you're looking to cover a lot of space with the lighting setup. That's why we would recommend this option for smaller spaces and areas with existing light bulb ports for easy installation and coverage.
Once installed, it's easy to adjust the lights since each of the wings can be adjusted up to 90 degrees. This can cover a 360-degree area of space so that you have perfect garage lighting distribution.
It's also worth mentioning that the Tanbaby LED Garage Light features an advanced cooling system. The die cast aluminum build speeds up heat dissipation and there is a unique cooling system design under each of the lamp beads to prevent overheating.
Overall, the Tanbaby LED Garage Light are another great choice if you're searching for the best LED shop light. This system is easy to install, offers plenty of coverage, and has great long-term reliability regular use.
Barrina T5 LED Utility Shop Light (6-Pack)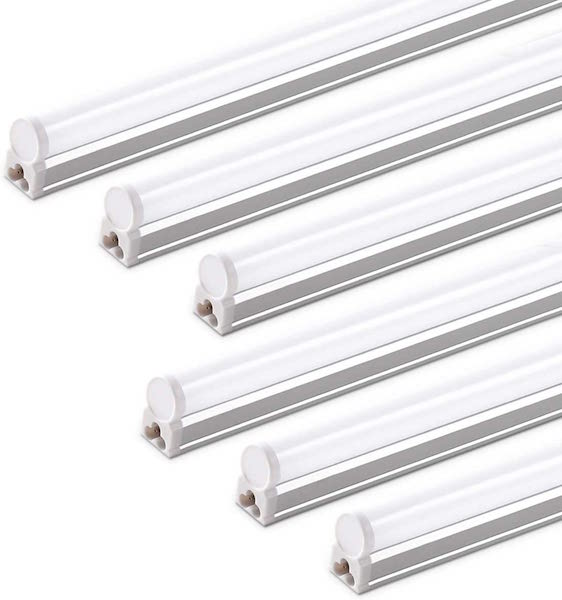 The Barrina T5 LED Utility Shop Light comes in a six pack, which is great for fully illuminating your garage, shed, or workspace. Those of you looking for more than just one set of lights will find this to be a great option.
Each of the lights in this set have a brightness of 2200 lumens with an output of 20W each. Along with the 6500K of color, this set of six lights will illuminate any dark spaces while saving up to 65% on your electric bill over fluorescent lights.
Installation is simple thanks to the plug and play design. Each of the lights can be easily linked to one another with the included 20-inch connecting cord and plugged into a normal outlet.
To make installation even easier there are installation accessories included in the kit. They're designed to be mounted to a flat surface, although you could use chains or some other method for hanging them if that's what you prefer.
These lights come with a three-year, unlimited warranty and can be easily replaced if there's any issues. With the durable and high-quality aluminum design, it's unlikely you'll run into any issues with regular use.
Overall, the Barrina T5 LED Utility Shop Light are a great choice if you're looking for the best shop light that's easy to install. These are affordable, well-reviewed, and perfect for illuminating your garage, work space, or storage shed.
Ghustar LED Garage Lights (2-Pack)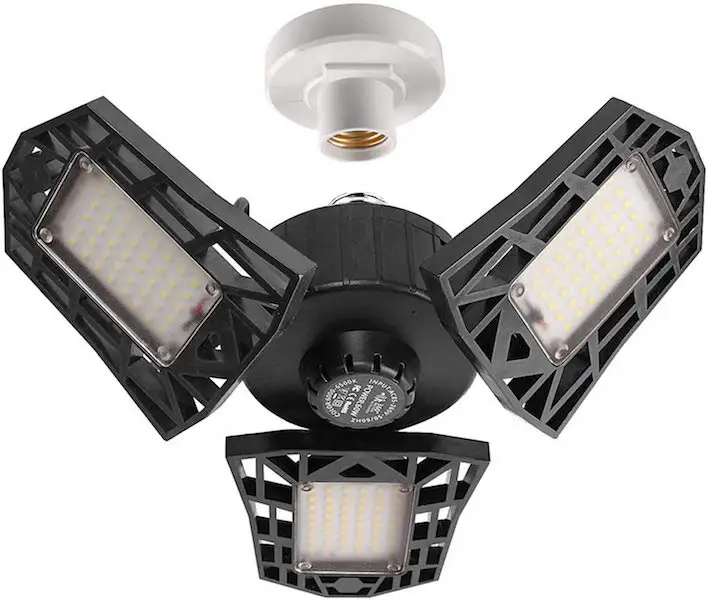 The Ghustar LED Garage Lights is another set of lights that's ideal for spaces where this setup can be installed. Having both of the adjustable lights can really help illuminate a dark garage, workspace, or storage shed.
The Ghustar LED Garage Lights are designed to be installed into an existing light bulb port. This makes them easy to install, assuming you have the ports, and there isn't any tricky wiring or special tools needed.
Once installed the lights with their LED wings can be folded up to 90-100 degrees and provide up to 360-degrees of lighting for an indoor space. It's easy to adjust the LED wings for them to illuminate any particular areas in your workspace, garage, or shed.
The ultra bright LEDs give off a brightness of 6000 lumens with a low power consumption of just 60W. Thanks to the 6500K color you can enjoy a daylight level of brightness in your indoor space.
When it comes to durability, the Ghustar LED Garage Lights can be used for up to 50,000 hours before needing to be replaced. The high durability and longevity is thanks to the lightweight design and effective heat dissipation.
Overall, the Ghustar LED Garage Lights are a great choice if you're looking for a set of LED garage lights. These are bright, easy to install, and perfectly reliable for long-term use.
Best Garage Lighting Buying Guide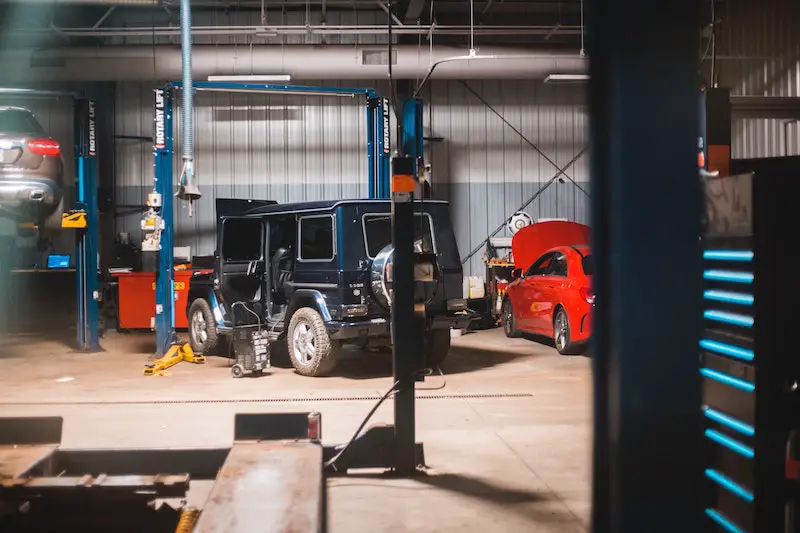 Features
Brightness
The first thing to consider when you're shopping for garage lighting solutions is the brightness strength of the bulbs. This is a rating measured in lumens that reveals how strong the brightness of light bulbs are.
Be careful choosing a lighting setup with the highest lumens rating. If the light is too bright, it can hurt your eyes, lead to extreme reflections, and make it uncomfortable to work with the light on.
When you're shopping for an LED light for garage purposes, look for a brightness of around 4000 lumens. While it's possible to find bulbs that are double the brightness, it's better to buy multiple bulbs and spread them evenly throughout the garage.
This way you won't have a single, strong source of light. Having the lights spread out throughout your workspace will result in better lighting conditions
Color Temperature
Along with the brightness, the color temperature is another future to consider. This is a measurement based in Kelvins with ratings between 1,500K up to 12,000K.
The color temperature has to do with the overall color of the lighting you're using. For example, if you want the lights to resemble daylight, look for bulbs between 4000 and 5000 Kelvins.
Setups with lower color temperatures give off a light that is somewhat more blue. On the other hand, higher Kelvins will look more orange.
Energy Efficiency
Some people, while shopping for the best garage lighting ideas, look for the most efficient options. In most cases, LED bulbs are the best choice, but different bulbs will consume different amounts of energy.
If you're looking for something energy-efficient, check the labels and look for the power consumption. This is a measurement based in watts that can be used to determine the overall energy efficiency of a lighting setup.
For example, with a brightness strength of 4,000 lumens, you can expect that the light bulb will consume 40 watts of power.
Safety
It's important that the lights are properly installed and connected to a power source. Always follow the instructions and refer to local bylaws for power source connectivity.
Also, check that the bulb has the required safety certifications. These would be either the ETL or UL certifications. This is a safety certification that shows the bulbs were tested and meet important safety regulations.
LED vs Fluorescent Lighting
When it comes to garage lighting, you can pick either LED or fluorescent lighting solutions. Initially, LED garage lights were expensive and not easily accessible.
With the advancement of LED technology, these lights are more accessible, more affordable, provide better energy efficiency, and are the most popular choice. Now, you won't find too many people using fluorescent lights, with most homeowners opting for LED lighting.
Compared to a fluorescent bulb, most LED light bulbs are around 30% more efficient. This saves you money on your electric bill and gives you more options when you're searching for lighting.
Another benefit is that LED light bulbs can work for 50,000 hours or more, offering an impressive durability. This is in stark contrast to fluorescent lights, which typically don't exceed a lifespan of 15000 hours. With LEDs you can expect a lifespan that's up to 3.5 times greater, which also saves you money in the long run.
It's also worth mentioning that LED bulbs don't have any heat usage and aren't made with mercury or give off UV. Since fluorescent bulbs need heat for delivering light, they use more energy. They also admit UV and some of them are made with mercury.
Overall, you're always better off going with LED garage lighting. With how readily available and affordable it is today, there's no reason to look at the alternatives.
Best Garage Lighting FAQ
How Many Lumens and Kelvins is Best for the Garage?
The most important consideration for choosing the right amount of lumens is the size of your garage space. Typically, it's a good idea to choose one Lumen per square feet when you're shopping for garage lighting.
This is a general recommendation and you can always go brighter or darker depending on your preferences. Thankfully, it's easy to change bulbs into something else if you're not happy with your original setup.
What's the Difference Between Watts, Kelvins, and Lumens?
While we touched on this earlier, you still might be confused with all the lighting terminology. Knowing these particular terms will make it easier for you to find the right shop lights for the garage.
Watts is a measurement of power in a lighting system. While the watts don't directly relate to the performance when it comes to LED lights, it gives you a better idea of what you can expect with fluorescent bulbs.
Kelvins are the color temperature of the light bulb when it's working. It's a measurement for how warm or cold a particular lighting system is.
Lumens are a measure of the brightness of a light bulb. Typically, going with higher lumens is a better choice, especially if you want a brighter workspace or garage.
Can Dimmable LED Light Bulbs Work WIth a Non-Dimmable Light Switch?
Yes, LED light bulbs will work with a non-dimmable switch. While it's not possible to adjust the level of brightness, they will work at their optimum capacity when the switch is turned on.
Unfortunately, things aren't so easy when it goes the other way. You may experience some buzzing or flickering when you're trying to adjust the brightness level on a non-dimmable bulb.