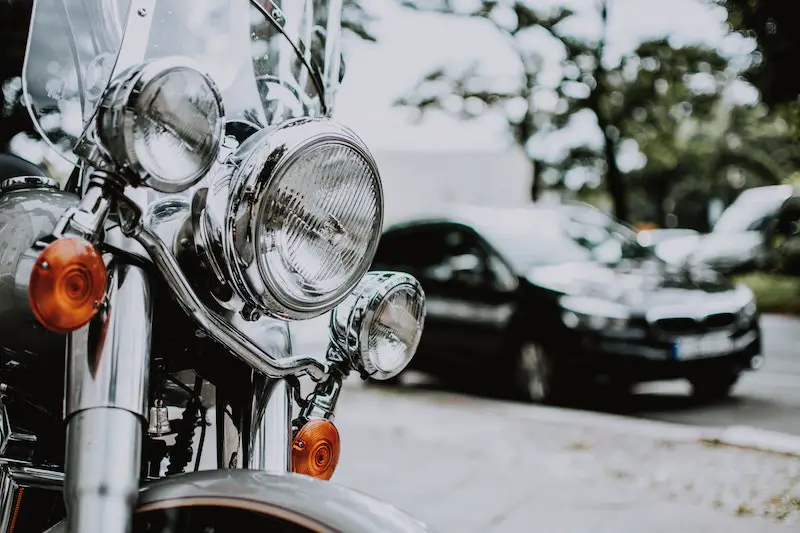 Motorcycle headlights are a key component of your motorcycle. Despite how essential they are, some are better than others.
Stock headlights work great, but if you're riding in the dark a lot you may be looking for an upgrade. Thankfully, headlights are an affordable upgrade and easy to install.
New headlights can make a big difference when it comes to illuminating the road ahead, especially at night. They're a great way to improve your vision and line of sight while riding your motorcycle.
In this post we'll be looking at the best motorcycle headlights for most riders. We did the research to help save you time and make it easy for you to find the best motorbike headlights on the market.
Don't forget to scroll to the bottom part of this post for an in-depth buying guide and FAQ. With that in mind, let's jump right into it!
The Best Motorcycle Headlight
SUNPIE 7″ LED Headlight
The SUNPIE 7″ LED Headlight is a great upgrade for cruisers looking for better elimination. This is a light that will fit on most Harley-Davidson bikes along with other Honda and Yamaha cruisers.
Compared to most stock headlights, this one provides up to 400% more light and illumination. The projector LED gives riders better light performance and can light up the road up to 150 yards ahead.
With this LED motorcycle light, riders are able to enjoy 4x the power of a normal halogen. This is just a low beam with the high beam being equally impressive.
When it comes to design quality, the SUNPIE 7″ LED Headlight features a classic design with a treated lens and long lasting LED. The frame is waterproof, designed from aluminum, and comes with a clear lens that never fades.
As for the light, it emits a natural daylight low and high beam. It has been properly set up so it keeps the light on the road and not in the eyes of oncoming drivers.
Everything needed for installation is included. It also comes with a few extra components that ensure the lights works on any motorbike with 7 inch round headlights.
Overall, the SUNPIE 7″ LED Headlight is our recommendation as the best motorcycle headlight for most riders. It's easy to install, compatible with a wide range of bikes, and offers impressive illumination.
SUPAREE 7" LED Motorcycle Headlight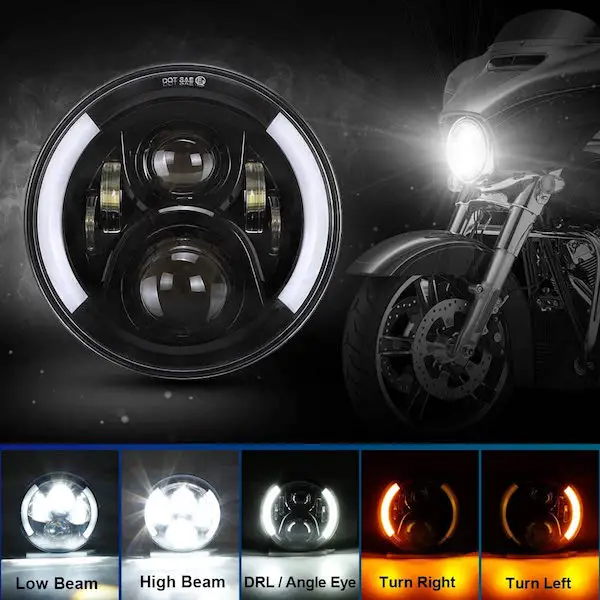 Our next recommendation is the SUPAREE 7" LED Motorcycle Headlight. This is another great headlight loaded with features that's designed for cruisers with the 7-inch headlight sizing.
Let's start with the features. Along with the normal low beam/high beam setting, this light also has the angle eye, right turn, and left turn signal lighting.
These features make it safer for driving. They also add value to the light since it offers a lot more than just a standard headlight setup.
The light itself is brighter, more durable, and lights up the road better than most stock headlights. It helps provide riders with a longer beam distance, reduce glare, and better visibility in low light conditions.
The headlight unit is designed from a waterproof aluminum material. It's also equipped with a clear lens that never fades to keep your headlight shining strong for years to come.
Installation is simple as long as your motorcycle is equipped with a 7-inch headlight. Everything is included for insulation, such as the converting wiring harness to get all the lights running.
This is essentially a plug and play headlight installation. Once installed, the light will have up to 50,000 hours of lifespan before needed to be replaced.
Overall, if you're looking for a brighter and more durable upgrade to your stock lights, it's the SUPAREE 7" LED Motorcycle Headlight that we recommend. It's well reviewed, easy to install, and can be used on any motorcycle with the 7-inch headlight.
Wisamic LED Headlight
The Wisamic LED Headlight is a great choice for bikes with the 5.75-inch headlight. This is a motorcycle headlight that offers bright performance, outstanding durability, and easy installation.
The Wisamic LED Headlight is brighter and whiter in color than most stock headlights. It increases brightness, and therefore visibility, by more than 400%.
Installation is simple with the essentially plug and play design. After removing the stock headlight, this one fits directly on to any H4 headlight setup.
Once installed, the new headlight offers brighter performance and a superior light pattern over standard incandescent lamps. This makes it safer to ride at night and increases your visibility to other drivers.
When it comes to durability, this headlight features a shock and vibration resistant projector lens. Everything is housed in a waterproof and durable aluminum housing which boasts more than 50,000 hours lifespan for the light.
Overall, the Wisamic LED Headlight is a great choice for Harley-Davidson bikes and other cruisers with a 5.75-inch headlight. it's durable, easy to install, and will definitely provide a brighter riding experience.
TRUCKMALL LED Headlight With Fog Passing Lights
The TRUCKMALL LED Headlight With Fog Passing Lights is an interesting headlight kit for motorcycles. Along with the main 7-inch headlight, it also comes with a set of 4.5-inch fog passing lights.
This is a great set of headlights for Harley-Davidsons and other cruisers with a similar lighting setup. The new LED light will definitely improve your view and visibility for night riding.
When it comes to installation, this set is essentially plug and play. Everything needed to install these lights is included in the kit, along with detailed instructions.
The lights themselves have a stated longevity of more than 50,000 hours. As for the build quality, the casing is a durable aluminum and everything is waterproof for inclement riding conditions.
Overall, the TRUCKMALL LED Headlight With Fog Passing Lights is a great choice if you have a bike with this kind of lighting setup. They're easy to install and will definitely improve your view and visibility out on the road.
ROCCS LED Halo Headlight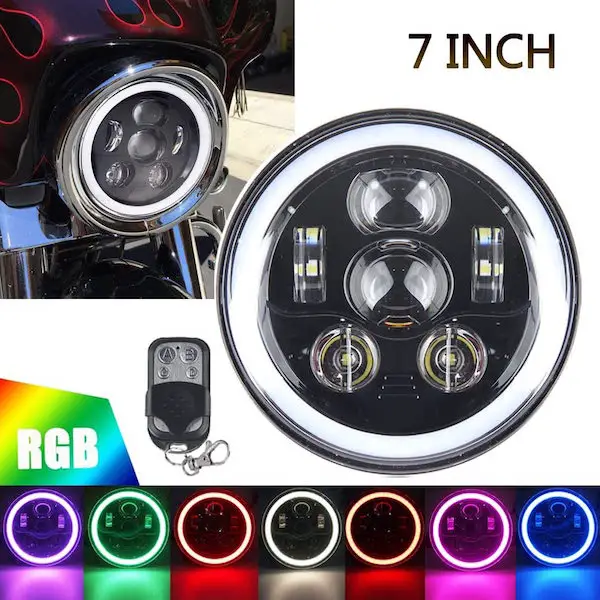 The ROCCS LED Halo Headlight is our final recommendation. This is a headlight that fits on most 7-inch stock headlight setups and comes with a number of interesting features.
The most interesting feature is the different color modes. This headlight comes with 15 solid color modes, 2 color cycle modes, and 3 strobing modes. It's great to use with a motorcycle underglow kit to make your bike even more unique.
As for the light itself, it's easy to install with a simple plug and play design. Everything needed for installation is included in the package, including the H4-H13 adapter harness. It even comes with a wireless remote control for controlling the light colors.
The headlight has both a high-beam and low-beam setting that provides improved illumination and visibility over the stock headlight. Everything is enclosed in a waterproof aluminum alloy housing.
Overall, the ROCCS LED Halo Headlight kit is a great choice for 7-inch motorcycle headlights, especially if you're looking for something fun and unique. This set is easy to install, durable, and will definitely improve your view and visibility in low-light riding conditions.
Best Motorcycle Headlights Buying Guide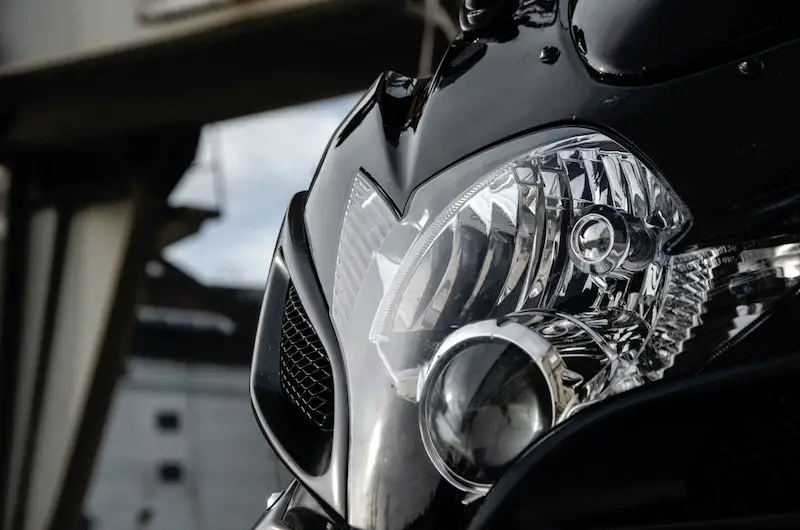 Features to Look For in Motorcycle Headlights
Type of Motorcycle
The motorcycle you're riding will have the biggest impact on the compatibility of motorcycle headlights. Some headlights have a universal fit, others only work with specific motorbikes.
Whenever you're looking at headlights, it's important to look at the specifications and check if you have the right connectivity. If you can't find your bike in the list of suitable bikes, you'll have to look for a different option.
Headlight Size
The next factor to consider is the size of the headlight. This has to do with how well the light will fit into position on your motorcycle.
Most models available come in the standard 7-inch size. There are also headlights available in the 5.75-inch size.
With so many options available to choose from, it's likely that you'll be easily able to find the right light for your bike. Typically, there isn't any need for a new housing unit.
Brightness
Brightness is the level of light that your new motorcycle lights will give off. This is measured in "lumens" and will be listed in the product specifications.
The greater the lumens, the brighter the headlights. Check to see what the lumens are on your stock headlights so you can find options that are brighter.
Most LED headlamps will be brighter than their stock, halogen counterpart. Always refer to the lumen count for an accurate representation of brightness levels.
Installation
As a new rider or someone without much mechanical experience, you may be nervous thinking about motorcycle headlight installation. Considering how many of the lights are plug and play, there's really no need to worry.
For the most part, it's as easy as removing the old headlight and installing the new one in the same place. Some kits will come with a wiring harness adapter depending on the bike.
Generally, it shouldn't take longer than 20 to 30 minutes to install the new headlight. If you're having any trouble, don't hesitate to visit your local mechanic or ask one of your mechanically savvy friends.
Length and Spread
The spread and length the headlight hits it is just as important as the lumens, or illumination of the light. Each of these has an impact on the effectiveness of the headlight that you're using.
The spread is the amount of road in front of you that the headlight is covering. A low spread will not cover enough of the road and fail to provide a safer riding experience.
The length of the headlight illumination is equally important. This is how far ahead your headlight reaches on the road.
If it only lets up the road 10 feet ahead, it doesn't matter how bright it is. It's important to give yourself plenty of visibility on the road while making yourself seen to other drivers.
Safety and Certification
When you're looking at new headlights, keep an eye out for models that are certified or approved. There are three main types of approval – DOT, SAE, and E-Mark.
The DOT approval comes from the Department of Transportation. Headlights for motorbikes need to be DOT approved for them to be legally roadworthy in the United States.
The SAE certification comes from the Society of Automotive Engineers. This is a certification that holds each model to specific engineering and technical standards.
Finally, the E-mark certification is an assurance that the headlights passed through a thorough testing process before being released. This means that they're perfectly safe to be installed onto your motorcycle.
Keep an eye out for these certifications and approvals when you're shopping for new motorbike headlights. These can give you peace of mind and allow you to be more confident in your purchase.
Headlight Features
For the most part, motorcycle headlights are designed to do one thing. That's to illuminate the road ahead of you for a safer riding experience.
There are a number of different models that come with extra features and accessories. These can be a benefit to riders looking for a little more bang for their buck.
Some of these extra features include ring adapters, wire harnesses, additional lights, and durable build quality. Refer to the product description to see which features are included.
Wire harnesses can make it easier to install the lights depending on your current motorcycle headlight setup. Additional lights can be a fun extra feature if you're already using underglow or want a unique ride.
When it comes to build quality, look for models that are waterproof and shockproof. Clear lenses that never scratch are another great feature to keep an eye out for.
Different Types of Motorcycle Headlights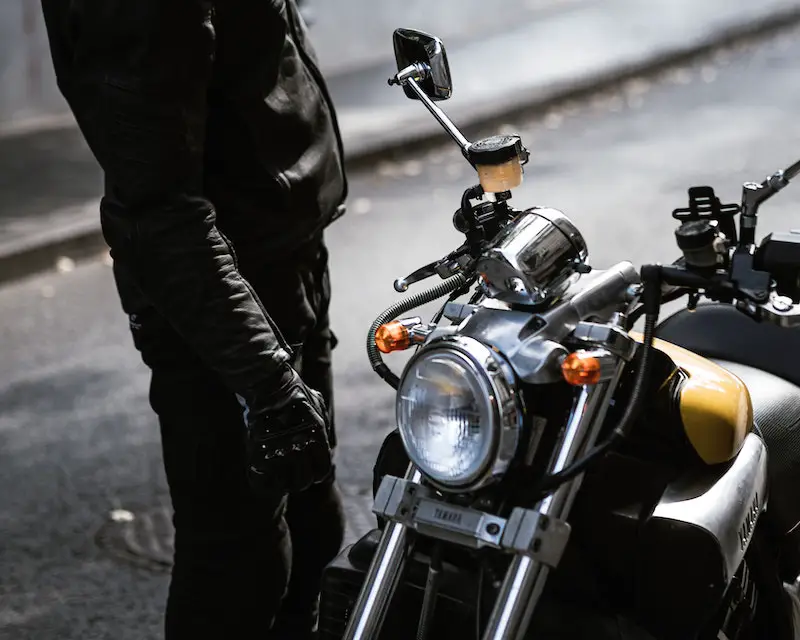 There are a few different types of motorbike headlights. Each of them has their own benefits and drawbacks.
Projector Headlights
This type uses a magnifying lens to protect the light wider and further. Compared to traditional reflector headlights, these are more expensive.
Despite their higher price, this type is smaller and provides a greater power of light. It's also possible to direct the headlight beam. These features make projector headlights a great option for many riders.
Reflector Headlights
This is a simple type that's designed with a Tungsten filament bulb. The light emitted from the bulb is then reflected by the surrounding mirror housing unit, pushing the light forward onto the road.
This is one of the oldest types of headlamps. They're cheap to make but burn out quickly and use a lot of energy. Riders will find this type on old motorcycle and should look to upgrade as soon as possible.
Multi-Directional LED Headlights
This is the newest and most technologically advanced option for headlights. They come in a compact size, produce a powerful light, are energy efficient, and provide a longer service life.
The main drawback to this style is that the light needs to be completely replaced when it burns out or overheats. Thankfully, this is something that happens after tens of thousands of hours.
How to Replace Motorcycle Headlights
Switching out your motorcycle headlights and installing a new one is an easy process. If you're having difficulty you can always refer to YouTube for a helpful video walkthrough.
To get started, get your bike in an upright position using either a motorcycle stand, center stand, or motorcycle lift. With the bike turned off you can follow these steps:
Loosen any screws and bolts to access the stock bulb. If you remove any screws or bolts, put them somewhere safe and remember the location and order they were removed.
Remove any covers or assemblies surrounding and protecting the headlight.
Remove the bulb. Next, remove the entire headlight assembly.
Find the beginning location of the wire from the headlight to your motorcycle. Once located, remove the plug.
Locate the wiring of your new headlight.
Install the new wiring plug into the headlight socket on your motorcycle.
Replace any of the covers or assemblies and screw everything back in the order you removed them.
Turn the back on and test your new motorbike light
Best Motorcycle Headlights Frequently Asked Questions
Can You Convert a Halogen Headlight to LED?
Yes, but an LED conversion kit is required. First, determine the type of bulb your bike uses and find a compatible kit.
Once you have the right kit, remove the old bulb and replace it with the new one. All of the instructions for this process should be included in the conversion kit.
How Do You Aim a Motorcycle Headlight?
Start by parking your bike on a flat surface about 25-30 feet away from a wall or garage door. Decide on a proper spot on the wall.
Turn your bike on and see where the light beam hits. Adjust the light until the beam hits the spot on the wall that you're aiming for.
How Do You Make a Motorcycle Headlight Brighter?
For a brighter light, start by checking the electrical system on your bike. headlight brightness can be affected by poor wiring or a weak dynamo.
Another option is to clean and restore the headlights. This is the cheapest and easiest way to get a brighter light.
To do this properly you'll want to use a restoration kit for the inner components of the headlight. For the lens, some soapy water can remove any built-up grease, dirt, and grime.
If you can't find any obvious issues replacing the bulb with a stronger one is another easy solution. You'll be able to find some great headlight recommendations in this post.
How to Clean Motorcycle Headlight?
Cleaning the exterior of your motorbike headlights is simple. The cloudiness you might see is from dirt, debris, and other stuff kicked up from the road.
UV damage is also a possibility. In this case, it's a good idea to buy an official headlight restoration kit.
To clean the inside of the lens, all that's needed is rubbing alcohol and a good quality microfiber cloth. Give the lens a clean and wipe away any remaining dirt or mist before replacing it.
How Often Should You Replace Motorbike Headlights?
Each headlight bulb will have its own lifespan. Before they fully die out you can expect for them to lose some brightness.
Depending on the model you can expect anywhere between 25,000 and 80,000 hours of lifespan from a bulb. This can be lowered depending on vibrations, wear and tear, and temperature.
For basic motorcycle maintenance it's a good idea to change the motorbike headlamp every 2 to 3 years. This will provide you with the optimal brightness levels and visibility you're looking for out on the bike.