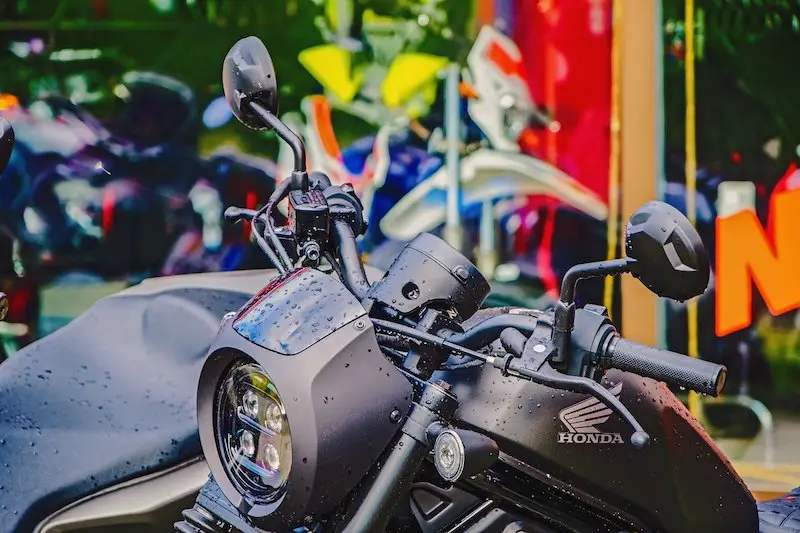 With how popular electric vehicles are becoming in the automotive industry, it's not surprising to see electric motorcycles breaking into the scene. While electric bikes have been in development for over a decade, they're now just entering the apex of their popularity.
If you can overlook the growling of the exhaust and lack of rumbling between your legs, an electric motorcycle is worth considering. Not only that, but you'll be saving on fuel costs and doing a favor for the environment as well
Most of us are familiar with the Harley Davidson and Zero electric motorcycles, though there are some lesser-known brands breaking into the space. Bikes from Arc, Cake, and Tarform are beginning to garner attention for their performance, design, and versatility on the road.
In this post, we'll be looking at some of the best electric motorcycles currently available on the market. Whether you're looking for something performance-oriented to hit the street or lightweight and nimble for commuting, you're bound to find an electric motorbike that pushes your buttons.
Each of these bikes is unique and different from the rest. For example, the best electric motorcycle for commuting is going to differ hugely from the most stylish electric motorcycle and the fastest electric motorcycle. What they all have in common though, are the perks of ownership, low maintenance requirements, and accessibility.
Let's take a look at the current lineup of electric motorcycles you need to check out!
The Best Electric Motorcycles in 2021
Harley Davidson LiveWire (Best Electric Motorcycle Overall)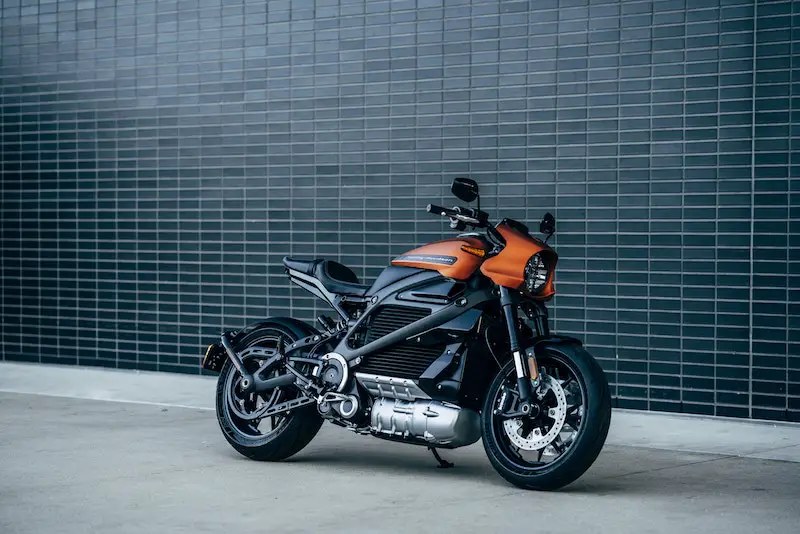 If you have the money to spend, the Harley-Davidson LiveWire is one of the best electric motorcycles currently on the market. With all of the engineering from Harley-Davidson, this is a bike that's just as powerful and performance-oriented as any gas-powered superbike.
The LiveWire started out as a Harley Davidson concept motorcycle. It ended up being passed off as another baseless platform that would never hit the streets.
In 2019 the world of motorcycle enthusiasts was surprised when the Harley-Davidson LiveWire entered production for release in August of that same year. After production started, the LiveWire recaptured the interest of the electric motorcycle community, with its legendary brand name, powerful electric motor, and eye-catching bodywork.
When it comes to speed, the LiveWire rockets from 0 to 60 in just under three seconds. This is thanks to the electric engine, powered by a 15.5kWh battery, making it one of the fastest cruiser motorcycles available.
With a top speed of 95 miles per hour, it's going to blow your socks off, but it is electric after all. It's even capable of producing around 74 horsepower, with a 1 hour charge time and 140 mile range.
Even with its higher price tag, starting at around $30,000, the Harley-Davidson LiveWire stands as one of the best electric motorcycles available. If you're a Harley fan and looking to pick up one of the most impressive electric cruisers, you definitely won't be disappointed with this bike.
Zero SR (Best Cheap Electric Motorcycle)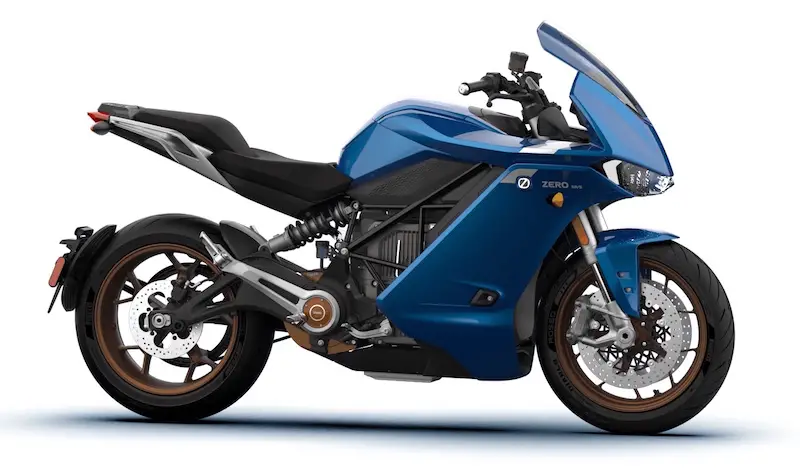 The Zero SR is a great choice if you're looking for a subtle, yet reliable and cheap electric motorcycle. It's one of the most competitively priced on the market while offering a high level of reliability and performance.
Starting at just $12,998, it may not be the cheapest overall, although it definitely offers the best value. The pricing makes the Zero SR a great choice if you're looking to break into the electric motorbike world without burning through all your cash.
This beautiful electric motorbike offers the ideal blend of handling, power, and aesthetics. With a 220+ mile range, it's more than capable enough for commuting, day trips, and short rides in your local area.
It's also capable of keeping up on the highway, with a top speed of a 102MPH. All of this made possible with the bikes 14.4 kWh battery that has a slightly-long charge time of 9.8 hours.
Easy to handle and nimble, the Zero SR weighs in at only 458 pounds. Since it's electric, there's no need to worry about fuel adding additional weight and bogging down your bike.
The Zero SR is one of the most well-known electric motorcycles for good reason. It's reliable, dependable, fun to ride, and one of the best choices if you're looking to break into the electric market.
Arc Vector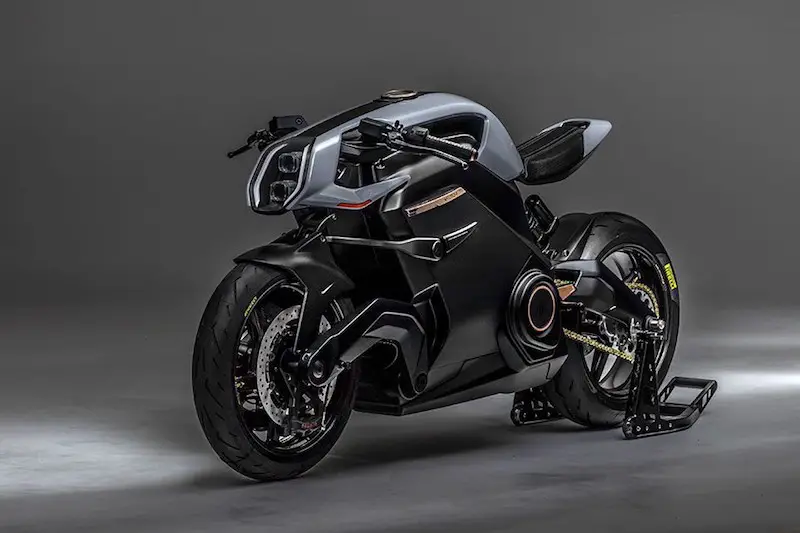 The Arc Vector is, by any standards, the most premium electric motorcycle currently available. It's also the most expensive electric motorcycle, with a price tag clocking in at a jaw-dropping $110,000.
Owners will expect a lot spending this kind of money – and that's exactly what you'll find with this bike. It's ideal for both urban riding and highway speeds with a number of variable power modes and cruise control features for easy riding.
The bike itself takes on a neo cafe racer design and features an innovative chassis technology. It's both eye-catchingly beautiful and suitable for riding in a wide range of different conditions.
When it comes to the important features, the Arc Vector has a range of 380+ miles in urban areas. On the highway, at higher speeds, it'll go 230+ miles before needing to be recharged.
With a top speed of 125MPH, the bike will have no problem keeping up with traffic. It'll even do 0-60 in about 3 seconds, so you'll blow by just about everything on the road.
What makes this bike so fun to ride or the number of impressive technology features that is stuffed with. This includes the automatic transmission, cruise control, highly sophisticated chassis, and upgraded piggyback shock. There's even navigation and a rear-view camera.
The batteries inside the Arc Vector are Samsung's own 21-700 batteries. These are some of the most powerful batteries available for electric motorcycles and offer the most longevity. With this setup, the bike has more power than any other electric bike on the market.
If you're looking for a premium electric motorbike and money isn't a factor, you'll definitely want to check out the Arc Vector. This is one of the most impressive bikes on the market and an industry leader when it comes to styling, design, and technological features.
Vespa Elettrica (Best Electric Scooter)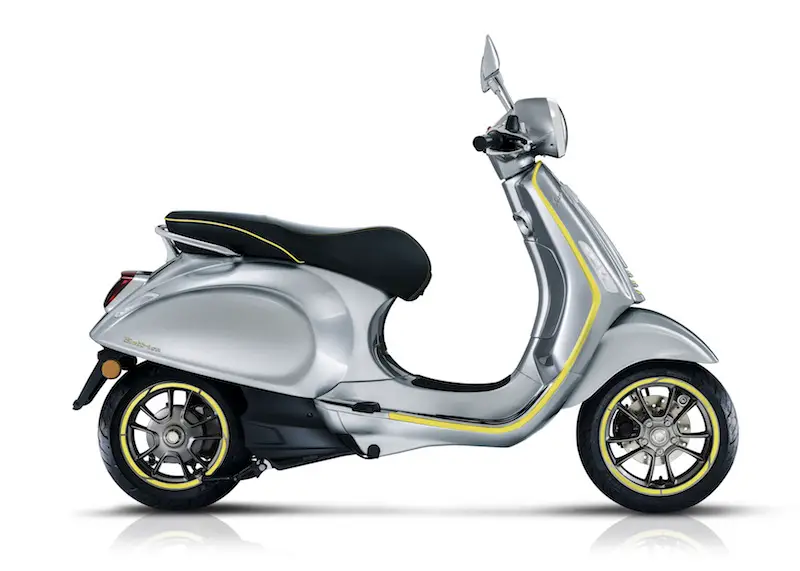 Here at R&R we love everything that's on two wheels. That's why we need to mention the Vespa Elettrica as the best electric scooter, as an alternative to our electric motorcycle recommendations.
There are a number of "e-bikes" roaming around cities, but none of these match the quality and sophistication of the Vespa Elettrica. This is a fully electric scooter that's completely capable, light-hearted, and fun to ride in urban areas.
With one of these, you'll do a lot better than a 50cc scooter, especially if you're looking for something practical and hassle-free. As it's completely electric, there's no need to worry about a carburetor, fueling up, or a tricky engine – just plug it in and you're ready to ride.
The Vespa Elettrica is capable of up to 60 miles on a single charge. It's stylish, smart, and delivers zero emissions giving you a guilt-free riding experience.
The electric motor is powered by a compact lithium ion battery. It's possible to charge the battery in just 4 hours, which means less time charging and more time riding.
What's the top speed of either 30MPH or 50MPH, depending on the model, you won't be breaking any speed records. However, it's definitely fast enough to keep up with urban traffic all while looking stylish and hip.
Not everybody needs a fully electric motorcycle that's capable of highway speeds. In that case, if you're looking for comfort, style, and plenty of storage, then take a look at the Vespa Elettrica.
KTM Freeride E-XC (Best Electric Dirt Bike)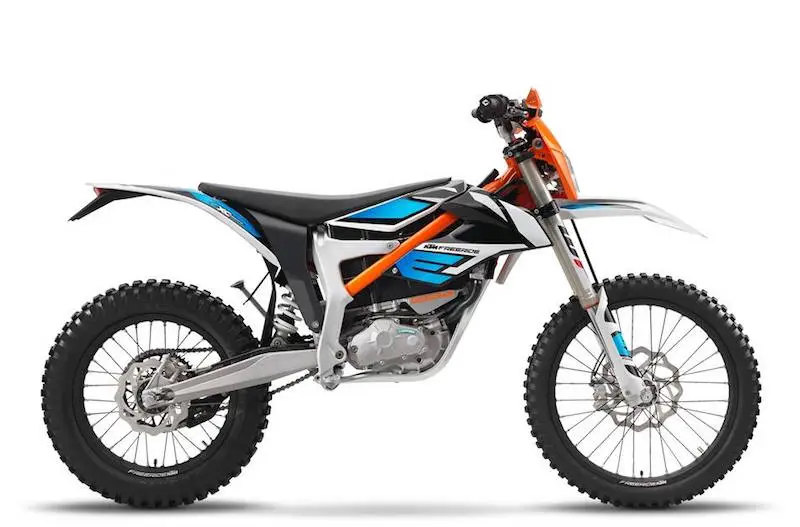 It's hard to look past the KTM Freeride E-XC when you're shopping for the best electric dirt bike. This is a battery powered dirt bike that's more than capable off-road with an ability to easily switch out the battery and keep riding.
The beauty of the KTM Freeride E-XC is that there is significantly less maintenance compared to a standard dirt bike. While it might not have the power of a carbureted or fuel injected dirt bike, you're not going to be worried about that when you're blasting along the single-track without the drone of the two stroke engine in your ears.
The KTM Freeride E-XC isn't exactly one of the cheapest dirt bikes either. With prices in North America starting at around $8,600 USD, there are definitely some more affordable alternatives.
However, with this bike there's a lot less annual maintenance or fuel costs. you won't ever have to spend money on pistons, clutch plates to, air filters, fuel, rings, or any gas at all. This definitely helps to make it a lot more affordable than most higher-maintenance dirt bikes out there.
As for capability, the KTM Freeride E-XC is just as capable as any of its competitor dirt bikes. It'll cruise flawlessly along dirt roads and handle single-track or technical trails without complaining.
The KTM Freeride E-XC is arguably the best electric dirt bike currently available. It's definitely what you're going to want to check out if this is the type of ride you're looking for.
Which Electric Motorcycle is Best For Your Lifestyle?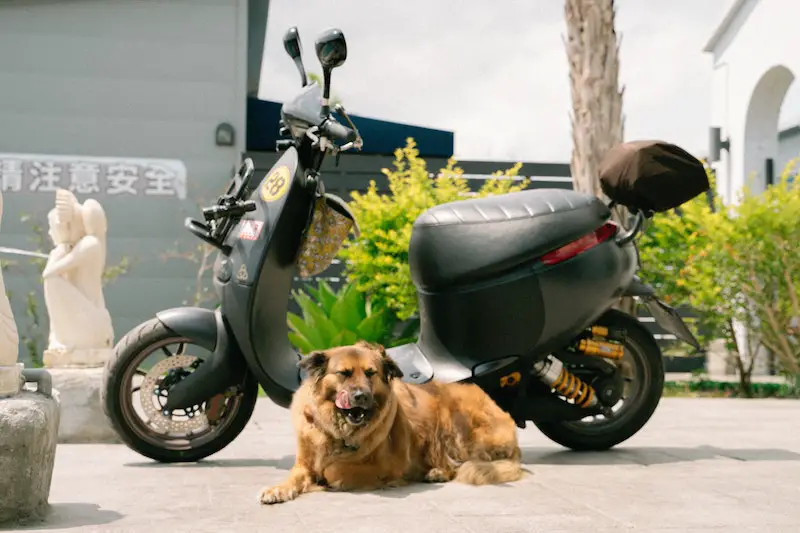 Electric motorcycles are the best of both worlds between electric cars and electric bicycles. With electric cars still priced rather high and electric bicycles still pretty dinky, getting an electric motorbike can satisfy both urges.
These are a great choice if you're looking for a faster journey while remaining nimble on the road. They're also cheaper than electric cars and easier to maintain than a standard motorcycle.
However, with so many different electric models to choose from, there are a few factors that need to be considered. This makes it easier to find the right electric motorbike for your riding style and preferences.
For starters, the range of the motorbike is the most important feature. If you'll be motorcycle commuting or going on shorter, urban rides, then range isn't as big of a deal. On the other hand, if you're planning on longer rides or highway trips, you'll need to look for something with a longer range.
The comfort and style of the seat, any storage space, as well as the position and flexibility of the foot pegs need to be considered as well. Don't forget to look at the battery charging time, necessary upgrades, and other related features when you're electric motorcycle shopping.
It's always a good idea to head to YouTube and look at in-depth, video reviews about any of the bikes you're interested in. This will help give you a more accurate representation of what you can expect with a specific model.
Electric Motorcycles FAQ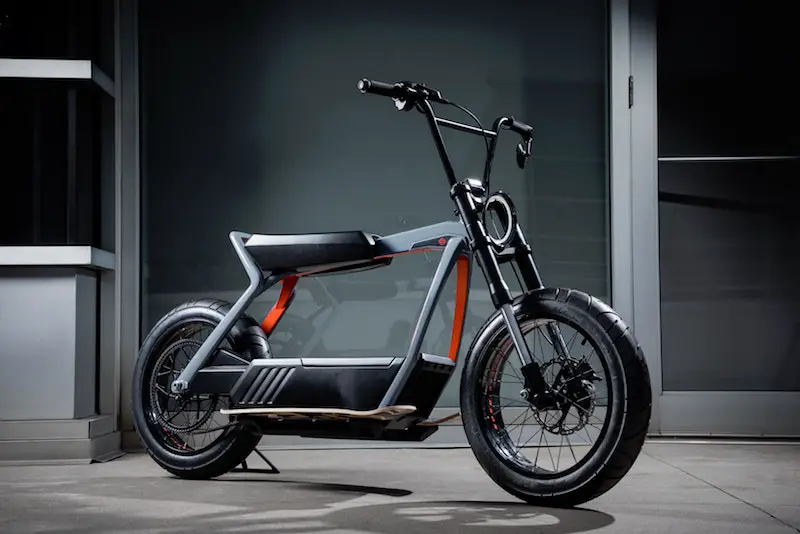 Who Makes the Best Electric Motorcycles?
It's hard to pick a specific motorcycle brand that's currently manufacturing the best electric motorcycles. However, there are some industry leaders with quality, durable, and reliable bikes being produced.
These Brands would include Harley-Davidson, Zero, Vespa, and Lightning. The different bikes from these brands are well known for their high-quality workmanship, battery life, and impressive range.
What is the Best Electric Motorcycle for the Money?
The answer to this question depends on your budget, riding style, and personal preferences. You'll need to take another look at our recommendations and do your own research on each specific bike to find the right one for your budget.
What might be best for one person could be the totally wrong bike for another. That's why it's a good idea to do your own research to find the right bike for your needs.
What is the Fastest Electric Motorcycle?
If you're looking for speed, look no further than the Lightning LS-218. This is the fastest electric motorcycle in the world with the top speed of 218MPH.
Depending on use, this bike has a top range of about 120 miles. It will also do 0-60 in 2.2 seconds, faster than almost everything on the road.