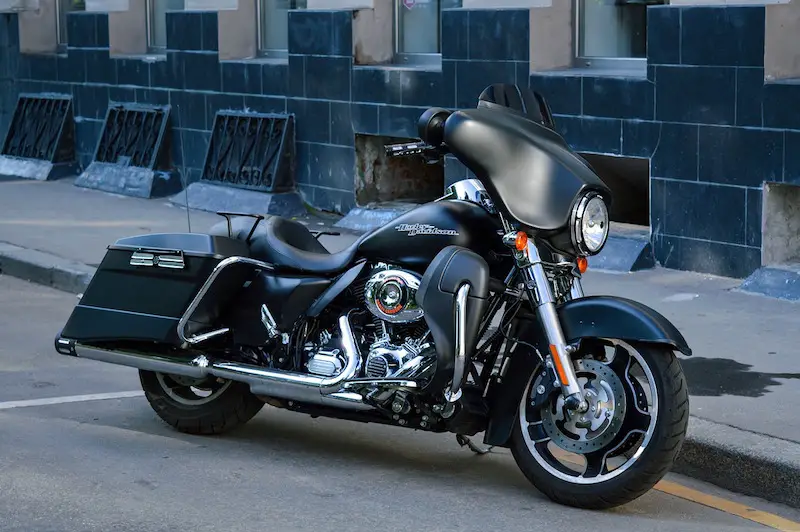 Whether you're a tourist or you live somewhere in the province – it's not easy to find Ontario motorcycle rentals. For the places that do offer rentals, you can expect to spend $100+ for a day rental. This doesn't include the security deposit, which for some companies can be upwards of $2000. So, make sure you have room on your credit card if you're hoping to rent a motorcycle in Ontario!
Apart from some cash, you'll also need at least your M2 Ontario motorcycle license. An equivalent is suitable if you're coming from the USA, another province, or somewhere else internationally. It's also a good idea to have experience riding different bikes. Mostly cruisers, and specifically Harley Davidson cruisers, are what you'll find available.
In Toronto you'll have options for renting different types of bikes. For the most part, however, it's going to be bigger bikes available for rent.
Don't forget to bring your helmet and other motorcycle safety gear. Otherwise, you'll probably have to pay more to rent this equipment. You'll feel more comfortable riding with your own gear anyways.
Ontario Motorcycle Rentals: Renting a Motorcycle in Ontario
Depending on where you're visiting there are some amazing Ontario motorcycle routes for you to discover. if you're still interested in renting a bike, let's take a look at some of the most highly recommended Ontario motorcycle rental companies!
Cruisers and Touring Motorcycle Rentals
The roads and highways in Ontario are best explored on a cruiser or touring bike. In Southern and Southwestern Ontario most of the scenic routes are long and flat. There aren't too many curves or twisty routes to write home about – unless you know where to look.
In the Northern and Eastern part of the province, there are better options for riding. The cities are less busy, further apart, and there's more for you to explore. Due to the longer distances see, it's still better to have a cruiser or touring motorcycle.
For these reasons comfortable cruisers and upright touring bikes are the best for exploring.
GTA Exotics (Toronto Motorcycle Rental)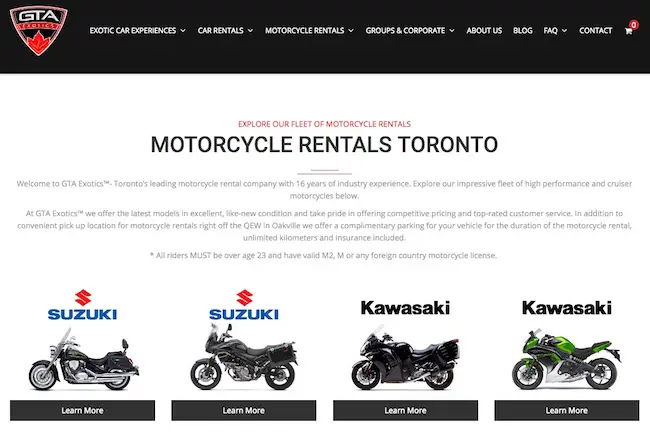 If you're visiting Toronto then GTA Exotics is the best place to rent a motorcycle. This is an exotic automotive and motorcycle rental agency in Toronto. They offer a number of high-end motorcycles and cars available for daily rentals.
The best thing about GTA Exotics is the wide range of different motorcycles available to choose from. Different bikes they offer include the Suzuki Boulevard, Suzuki V-Strom, Kawasaki Ninja 650, and the Yamaha FX6R. They even have smaller bikes, like the Honda CBR300R, which is perfect for beginner riders. Their selection is the best in the city when it comes to Toronto motorcycle rentals.
When it comes to pricing, you can expect to spend a minimum of $150 per day, plus taxes, renting a bike through GTA Exotics. There are weekend packages available starting at around $450.
As for the rental requirements, riders need to be over age 23. A valid M2, M, or equivalent motorcycle license is also required. You'll need to contact GTA Exotics in advance if you're looking to rent a motorcycle through them. For more information, visit their detailed FAQ page.
Brown's Harley Davidson (Toronto Harley Davidson Rental)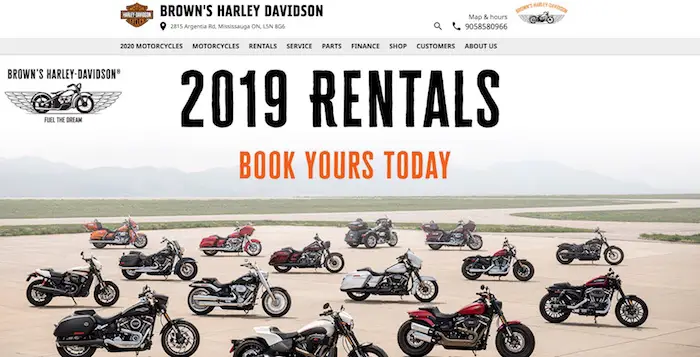 When it comes to the best Harley-Davidson rental in Toronto, look no further than Brown's Harley Davidson. This Harley-Davidson retailer is actually located in Mississauga, but it's easily accessible from downtown Toronto. They offer the best selection of Harley-Davidson Cruisers available to rent in Southern Ontario.
When it comes to pricing, motorcycle availability, and included features, it's hard to go wrong with Brown's. Prices for their Harley-Davidson rentals start at $125 (plus tax) per day. This includes 200 km of mileage with the possibility to upgrade to unlimited mileage for $25. Rates for 24-hours start at $250 and weekend rates start at $600.
When it comes to included features, every rental package comes with a Harley-Davidson helmet and rain suit. Brown's is also a full-service Harley-Davidson retailer. They are well equipped for handling any of your Harley-Davidson and local Ontario motorcycle cruising needs.
To rent through Brown's you'll need your full motorcycle license. A security deposit of $2,500 will be charged to your credit card. It's also a good idea to contact them at least 48 hours before booking so your needs can be properly accommodated.
Motorcycle Rental Toronto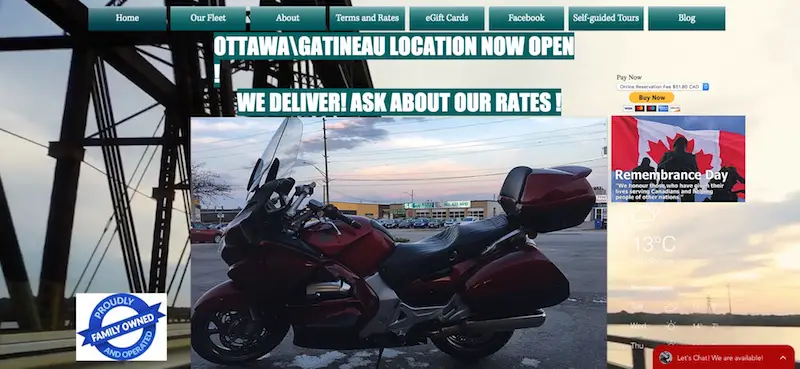 Yes, the company is called Motorcycle Rental Toronto. This is another motorcycle rental company in Toronto with reasonable prices and a decent selection of bikes.
This rental agency has some great bikes to choose from whether you're planning a day trip in Toronto or a longer, multi-day ride. Their fleet is made up of a Honda NC700X, Honda Shadow VT750, Honda CB500X, Moto Guzzi Stelvio, Honda ST1300, Suzuki V-Strom DL1000, and a Yamaha V-Star 1100.
While there aren't any sport bikes, these are some great options for comfortable, longer rides. Along with bikes available in Toronto, they also have a location in Ottawa/Gatineau.
When it comes to their rates, the prices are standard to what you would find in the area. Of course, the longer you book the better rate you're able to secure.
Motorcycle rentals start at $149 per day for rental periods of 2 days or less. The price ranges up to $90 per day for rentals longer than 90 days.
Gear rental is also available. For shorter to mid-length rides, these guys are a great choice.
MotoSport Plus (Eastern Ontario Motorcycle Rental)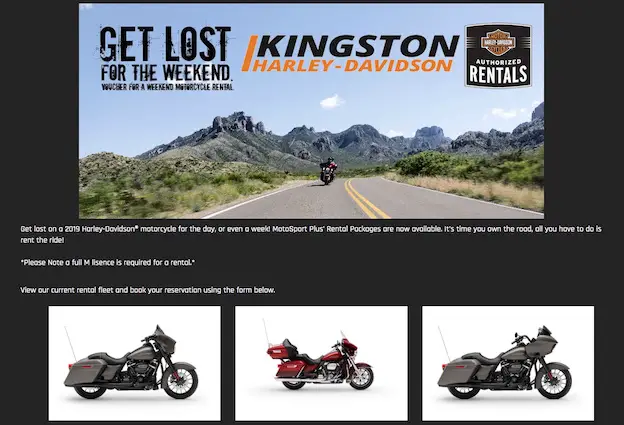 Toronto isn't the only place in Ontario where you can rent a motorcycle. Making your way east across the province, MotoSport Plus in Kingston has a few Harley-Davidson bikes available for rent. Despite a small selection, the prices are reasonable. There's no need to miss out on a great riding experience if you're not staying in one of Ontario's biggest cities!
At the time of posting, MotoSport Plus has three different Harley-Davidson cruisers available for rent. Prices start at $269 for a 24 hour rental period. It's even possible to rent a bike for a full week with prices starting at $1,614. The rental packages available include unlimited mileage, so you can explore the province to its full extent.
With MotoSport Plus in Kingston, a full M license or equivalent is required. You'll have to fill out a form to get more information about renting a bike through this company. Keep in mind that MotoSport Plus is closed on Sundays. You will also need to bring your own motorcycle safety gear if you're renting a motorcycle here in Kingston.
Freedom Harley Davidson (Ottawa Motorcycle Rental)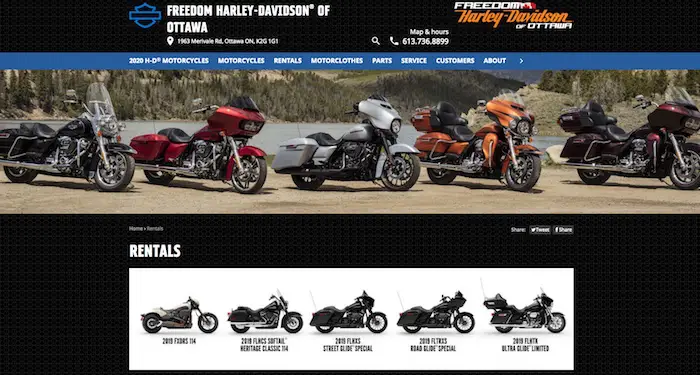 Freedom Harley Davidson is the best place for renting a motorcycle in Ottawa. This is another Harley-Davidson retailer with rental services available. Visitors to Ottawa will be able to choose from a selection of 5 different Harley-Davidson cruisers available for rent here at Freedom.
Ottawa offers some of the best Ontario motorcycle routes. Whether you're visiting from out of province or you're a local looking to explore somewhere new, the options for riding are limitless in the nation's capital. Highlights include the Calabogie scenic route, the Gatineau hills, and the Ottawa River Valley.
Prices for daily rentals at Freedom Harley-Davidson start at $269. Weekly rentals are available starting at $1,614. Both of these rates include unlimited mileage. You'll need to contact Freedom in advance for more information and to reserve your bike. As always, don't forget to bring your own motorcycle safety gear.
MotoSport Plus (Harley Davidson Rentals in Kingston)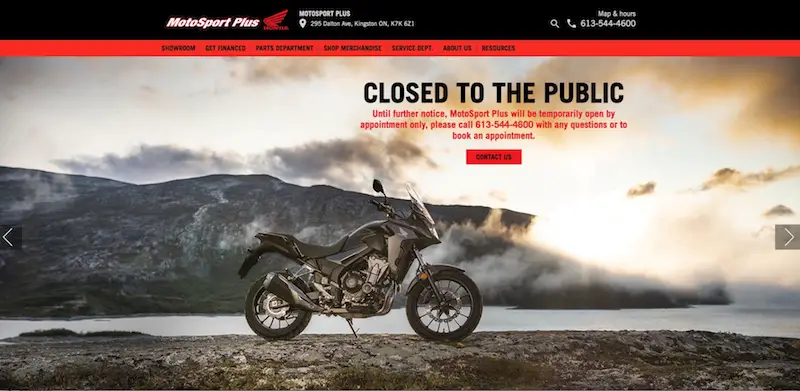 If you're looking to explore some of Eastern Ontario on two wheels, MotoSport Plus in Kingston has got you covered. They have some Harley authorized rental agents working there to help you find a bike for your trip.
There aren't any prices or rental information on the website. Instead, you'll have to contact them directly.
Eastern Ontario has some amazing riding roads, including the famous Calabogie road. It's also a great part of the province to escape the crowds and bigger cities you'd find in the GTA.
For information on rentals, you could email MotoSport Plus at rentals@motorsportplus.com. They should be able to help you with all necessary details.