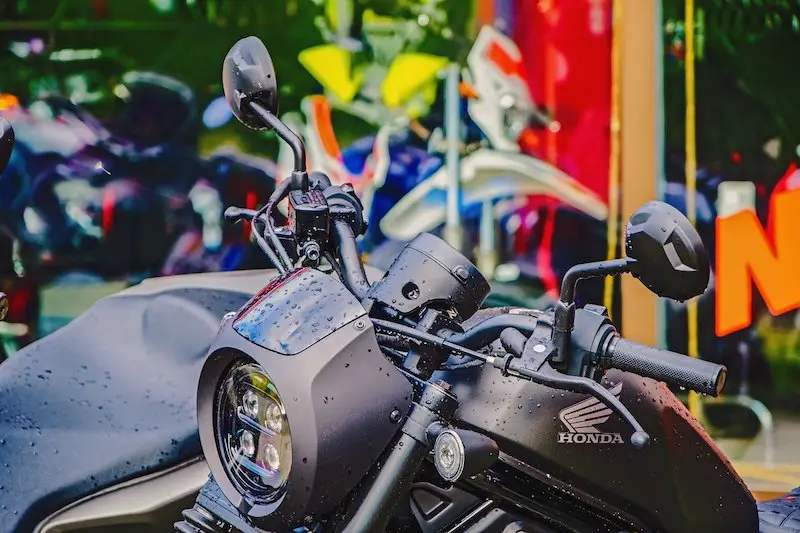 It doesn't matter what you're riding, most of us can agree that it's important to have a smooth, comfortable ride. We want our bikes to handle well over bumps, potholes, and rough terrain without rattling our helmets off.
Enjoying a smooth ride on your motorcycle has to do with the suspension, specifically the shocks. It's the shocks that absorb bumps and make it easier to ride over potholes and terrible roads.
Some bikes come equipped with low quality shocks while others don't absorb as much as they could. That's why many of us start our search for the best motorcycle shocks so we can upgrade our bikes.
In this post, let's take a look at some of the best shocks for motorcycles that you can find online. These are definitely bound to be an improvement over your stock shocks and provide you with a more comfortable and enjoyable riding experience.
Let's jump right into it!
The Best Motorcycle Shocks
Progressive Suspension 412-4080B Rear Suspension Shocks (Best Motorcycle Shocks Overall)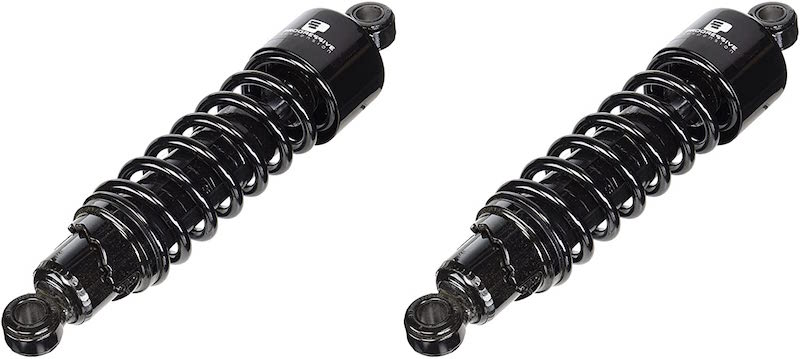 It's the Progressive Suspension 412-4080B Rear Suspension Shocks that we recommend as the best motorcycle shocks for most riders. If you're looking for a durable pair of shocks that will definitely improve your riding experience, you'll want to check these out.
This is a set of heavy duty shocks that make a great upgrade from the factory air set up on your motorcycle. If you're usually riding on rough, bumpy roads or if you're a larger individual that wants a more comfortable ride, these are a great upgrade.
The Progressive Suspension 412-4080B Rear Suspension Shocks are designed to improve the performance of your motorcycle suspension. This is done through the double wall, steel body construction that efficiently absorbs and dissipates the shocks, bumps, and impacts from rough roads and potholes.
They also feature a multi-stage, nitrogen charged velocity-sensitive valve for an even smoother ride. Depending on your weight and riding references, these shocks can be adjusted five ways. As for their size, these shocks are 14.25-inches in length, so double check that they fit on your bike before installing.
Speaking of installation, these are easy to install and can be installed on most bikes in as little as fifteen minutes depending on your skill level. Once installed, the bike will be a bit lower, so it will handle better and feel more comfortable on rough roads, especially for heavier individuals.
Keep in mind that these may be stiffer than you would expect. It's also worth noting that they could be too small for some Harley-Davidson models and other bigger cruisers. Finally, while they have an adjustment for spring compression, it's not possible to adjust the dampening.
Overall, the Progressive Suspension 412-4080B Rear Suspension Shocks stand as our top recommendation as the best motorcycle shocks for most riders. They're reasonably priced, easy to install, and a great choice for improving how your motorcycle feels when you're riding in rough conditions.
Burly Black Slammer Shocks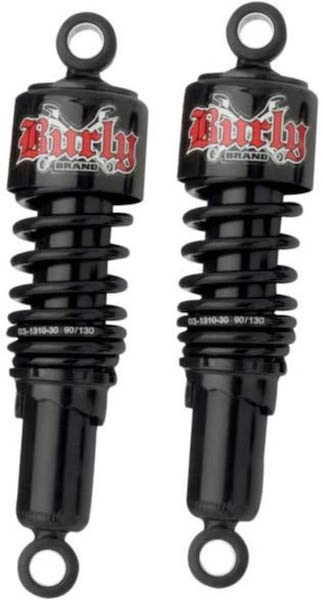 The Burly Black Slammer Shocks are another great choice, especially if you're looking for the best Harley-Davidson shocks. These are designed for Harley-Davidson Sportsters, although they fit other HD models as well.
Upgrading to these dropped fork springs and stubby shocks will provide a huge performance improvement over the stock shocks. Depending on the bike, they can lower the seat height by as much as 2-inches, which is ideal for shorter riders and gives you more stability on the ground.
This is one of the best Harley-Davidson upgrades when it comes to shocks. As for installation, the Burly Black Slammer Shocks are designed to be used with the stock mounting hardware.
They come with several different bushings and instructions for installation. There's even a spring adjuster wrench that you can use to set the springs to your own preference for your weight and riding style.
Really the only downside to these shocks is that they're all black and might not match the overall style and appearance of your Harley Davidson motorcycle. They also might be a bit stiffer than the stock shocks, although many would find this to be a performance upgrade.
If you're riding on a lot of rough terrain and worried about the suspension bottoming out, the Burly Black Slammer Shocks make for a great upgrade. They're easy to install and are a huge upgrade compared to the stock shocks on your Harley Davidson Sportster.
Progressive Suspension PS 944 Shocks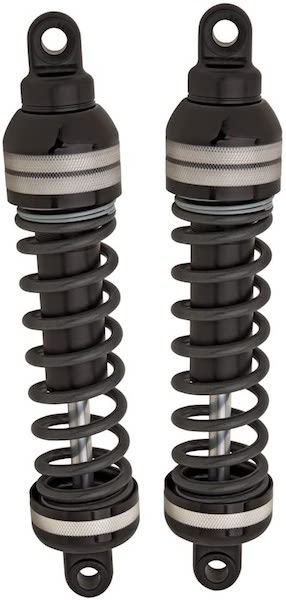 The Progressive Suspension PS 944 Shocks are another great choice if you're looking to improve the suspension on your motorcycle. These are designed to deliver a comfortable ride at a 1-inch lowered stance for a more enjoyable riding experience.
The Progressive Suspension PS 944 Shocks are designed for cruisers and bigger touring bikes. Despite their simple design, they're able to provide a more plush ride while improving your comfort over bumps and rough terrain.
Installation is rather simple, although it might take you awhile on your first try. It will require lifting the bike and removing the current shocks so that they can be replaced with these.
Once installed, it's easy to adjust the spring preload by hand. There isn't any special tool required and you can quickly adjust the preload depending on your weight and riding conditions.
Don't forget that these shocks will deliver a lowered ride height. This means the height will be lower while the bike is being ridden and also while it's on its side stand.
Overall, the Progressive Suspension PS 944 Shocks are another great choice if you're looking for the best motorcycle shocks for your cruiser. These are reasonably priced, easy to install, and bound to improve your riding experience.
Why You Should Upgrade Your Motorcycle Shocks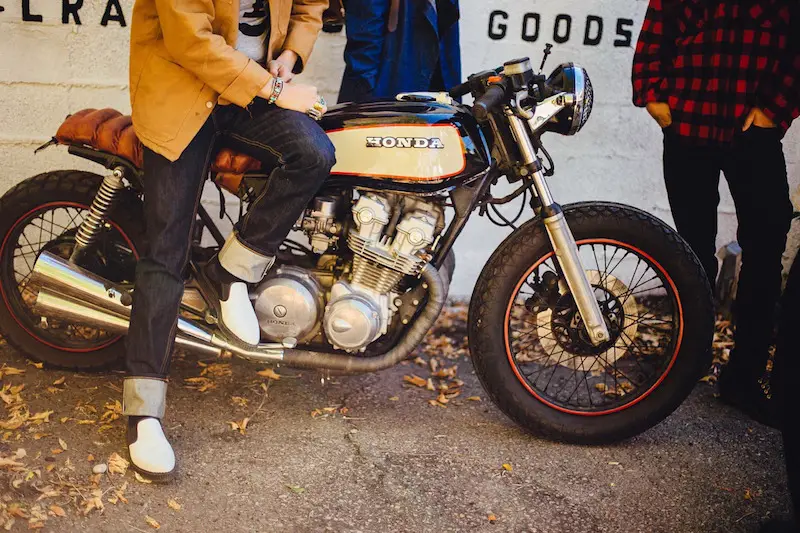 If you stumbled onto this post you probably already have an idea why you want to upgrade your shocks. Here are some of the main reasons why must people upgrade:
Improved Handling
The best aftermarket motorcycle shocks have a huge difference when it comes to bike stability. This is especially noticeable when you're riding on rough roads and uneven terrain.
With a new set of shocks your bike will feel smoother, especially over bumps and potholes. They're designed to absorb more of the impacts, rather than sending the vibrations through the frame and into your body.
New shocks are a great idea for older bikes and heavier riders. They can really have a noticeable difference on your riding experience.
Better Support
The rear shocks on your motorcycle are designed to support the weight of the bike. This is done with a spring that softens the impacts, bumps, and vibrations.
The same spring controls the suspension through damping, which prevents the motorcycle from bottoming out every time you bounce or hit a bump.
With a new set of motorcycle shocks you'll be able to enjoy better support on the bike. The ride will feel more planted, firmer, and give you a better response when you're riding on bumpy or rough terrain.
Lower Position
Depending on your preferences, you may want a lower seat height for your motorcycle. This can also be done with the best motorcycle shock upgrades.
Not only can shocks provide a better riding experience, they can lower your bike so it's more comfortable for shorter riders. This is something to consider if you're having trouble flat-footing or you just want to be able to get on the bike easily.
Types of Motorcycle Shocks
Coil Shocks
Coil motorcycle shocks feature a large metal spring placed outside of a telescopic tube. These are most often found on lower quality, less expensive motorcycles.
To adjust the shock based on riding style or rider weight, the entire spring needs to be changed for one that is heavier or lighter. Depending on your mechanical ability, this can be a difficult process, and requires a new spring.
Riders riding on rough terrain typically prefer coil shocks because they're more durable, smoother, and more plush than air shocks. It's also easier to change them out depending on the terrain you'll be riding on.
Air Shocks
Another popular type are air-sprung shocks. These have a compressed air spring sitting inside the body of the shock.
This style is lighter than coil shocks and preferred by riders that want a lighter bike. These are commonly found on most modern motorcycles and are easy to adjust.
The benefit of them being easy to adjust is that they can accommodate different rider weights and style preferences by using a shock pump. This is done to increase or decrease air pressure or make the shock more or less firm.
Key Features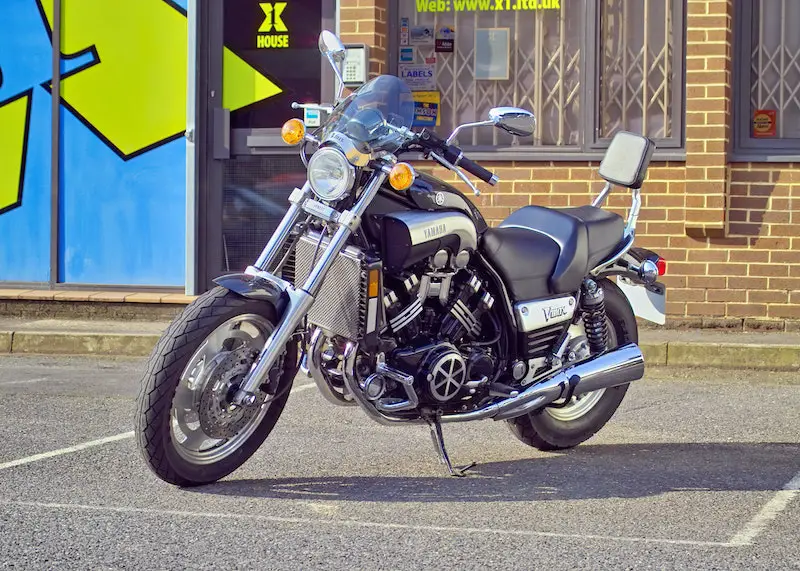 Size and Type
Arguably, the most important thing to consider when you're upgrading the suspension on your motorcycle, is the size and type of shocks you're using. It's important that you purchase the correct shocks for your bike and that they can be properly installed.
They should be the right size and compatible with the make and model of your motorcycle. Don't forget to double-check the specifications to verify that they're appropriate for your bike.
Build Materials
Another feature to consider is the materials that the rear suspension is made from. Since motorcycle shocks take a lot of abuse, it's important that they're designed from quality materials, such as durable steel.
When you're browsing the different options available, you'll find some painted black or with a chrome coating. This is more about preference for the appearance, rather than quality itself.
The construction itself is more important since you want something durable that will hold up to rigorous daily use. As always, don't forget to look at reviews to see what other people have to say about the shocks you're interested in.
Performance
There's no reason to swap out your stock shocks for another set of OEM ones. You're much better off upgrading to performance shocks.
These higher end shocks are designed to absorb vibrations and bumps in the road that you encounter when riding. With the best motorcycle rear shocks you'll have better handling and a smoother ride compared to the factory shocks.
Frame Compatibility
The last thing to consider is the compatibility of your motorcycles frame with any of the shocks you're interested in. For this, check the stroke length of the shock to verify that it will fit with your motorcycle frame.
It's also important to use the right connecting hardware. This includes the end bushings and bolts that are meant to attach the shock to the frame.
Helpful Tips to Consider
If you're upgrading your shocks, it's a good idea to do some other maintenance as well. This could include replacing leaky seals, changing the fork oil, or lubricating the bushings. Always double-check with your motorcycle maintenance schedule to see what motorcycle maintenance needs to be done.
For bikes with more than 20,000 or so miles, especially older bikes, it's the right time to consider a rebuild for the suspension. With a new suspension, the bike will perform better and be safer to ride. It will also be more comfortable, especially if you're riding over rough terrain.
The last thing worth mentioning is that you should always pre-adjust the shocks depending on the conditions you're riding in. For example, if you're riding on the street, you'll want a more plush and comfortable suspension, which is especially helpful on rough roads.
How Much Do Motorcycle Shocks Cost?
There is a wide range of motorcycle shocks available depending on your budget. While some can be found for under $100, you can expect to spend up to and more than $300 for a quality set of shocks.
Let's take a look at some standard pricing.
Under $100
Motorcycle shock absorbers in this price range are available in a variety of styles. This range is where you'll find cheap motorcycle shocks.
These shocks tend to be made from aluminum alloy and might come with corrosion protection. If you're on a budget, these can be a great choice, though make sure to read reviews.
$100 to $300
It's in this price range you'll find most of the best motorcycle shocks. These mid-range priced options are some of the most readily available.
For this price, you'll find high quality shocks that work on a wide range of different motorcycles. Most brand names, like Progressive Suspension, sell shocks in this price range.
Over $300
In this price range you'll find some high-end motorcycle shocks. Specifically, you'll be able to find air shocks and pressurized gas and oil shocks.
For the money, this will get you ajustable shocks that provide excellent handling and are fully capable of holding heavy loads. If you're looking to find the best motorcycle shocks for the money, this is what you can expect to spend.
Motorcycle Shocks FAQ
Do Aftermarket Shocks Improve the Ride of Your Motorcycle?
Yes, upgrading your motorcycle shocks or the best way to improve the handling and comfort of your bike. They can also improve the braking and make it more comfortable for you going over bumps and potholes.
Upgraded shocks are great for those of you riding in cities with rough roads. They'll provide a smoother ride and absorb more of those butt-numbing bounces you sometimes get.
When Should You Change the Shocks On Your Bike?
Changing the shocks depends on your riding style, riding conditions, and personal preferences. For starters, if you find the forks bottoming out, it might be a good idea to install new shocks.
This is an upgrade you should also consider if the bike is squatting or sliding on hard acceleration. Finally, if you can't feel changes in the road surface, you'll probably want to upgrade the shocks.
Another aspect to consider as if you're riding a dual sport or a dirt bike in rough terrain. The suspension is one of the best ways to improve how the bike feels and for giving you a better experience in technical conditions.
How Do You Measure the Rear Shocks on Your Motorcycle?
Depending on the bike, this information can be found in your owner's manual or service manual. Otherwise, you'll have to measure the shocks manually.
To measure the shocks on your bike, measured from the center of the mount holes at the full extended length. It's a good idea to measure using a motorcycle lift or motorcycle stand to make sure there isn't any pressure that affect the shocks when you're measuring.