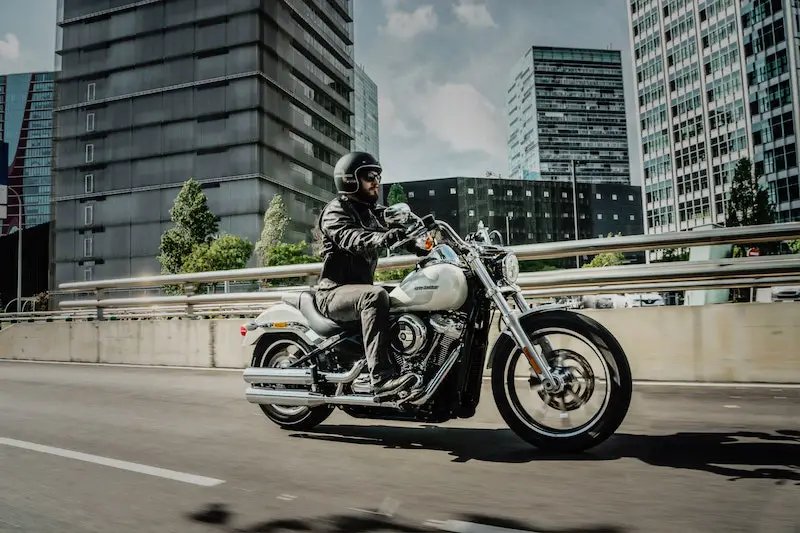 No matter where you are in Ontario, you're bound to have some great motorcycle routes nearby. There are plenty of places to explore in the province, even more if you're on two wheels. In this post, we're going to look at the best motorcycle routes in Ontario.
Whether you're looking for a short day trip, or you want to spend a week away, here are some of the best riding routes from around the province! Feel free to comment below with some of your own favourite routes if I happened to miss any.
In this post, we'll be covering the best motorcycle routes in Ontario for you to discover. From day trips to multi-day adventures, this in-depth guide has got you covered with the most amazing Ontario motorcycle routes.
The 10+ BEST Motorcycle Routes in Ontario
#1 – Calabogie (Eastern Ontario)
The iconic Calabogie Road in Eastern Ontario offers some of the best riding for motorcyclists in the province. Incredible scenery, well-maintained road conditions, and amazing twisties make this our top choice for riders looking for a memorable riding experience.
Here in the Ontario Highlands it's almost impossible to drive in a straight line. This is especially true here in Calabogie, where you can ride for 50+ kilometers without more than a few hundred meters of straightaways. Sprawling forests, vast lakes, and cliff faces make up some of the scenery highlights you'll enjoy along the way.
There's no shortage of small towns and interesting places to explore in Calabogie as well. During my visit, I started the route in Ottawa and spent the day cruising around. Don't forget to check out the Calabogie Motorsports Park – the longest public track in Canada! No matter which direction you take, you're going to have a memorable ride.
#2 – Niagara River Parkway (Southern Ontario & Niagara Region)
The Niagara River Parkway in Southern Ontario is another one of Ontario's best motorcycle routes. It also happens to be one of my favourites. Following the Niagara River, this scenic parkway stretches from Fort Erie on Lake Erie all the way to Niagara-on-the-Lake on Lake Ontario.
The parkway follows the Niagara River from start to finish bringing you through a number of interesting places. There's also incredible scenery along the way. Regardless of which direction you take, it's easy to spend the day riding and exploring the best that Niagara County has to offer.
On this route you can check out Fort Erie, Niagara Falls, Niagara-on-the-Lake, and everything in between. Along with natural attractions, there's also some great places to eat, plenty of hiking opportunities, and even interesting tourist excursions. During the summer this route is loaded with motorcyclists so you'll want to arrive early to beat the traffic.
#3 – Algonquin Park Loop (Near Northern Ontario)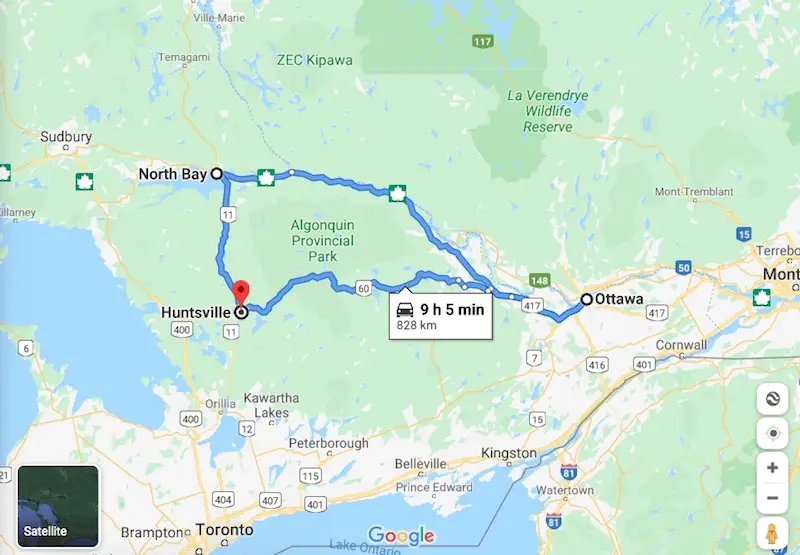 Algonquin Park is one of the treasures of southern Ontario. Many believe it to be the border between the southern and northern parts of the province. Thanks to the geography, Algonquin Park and the surrounding area make for some of the best motorcycle roads in Ontario.
For this particular route, it doesn't matter where you start. What's important is that you take the opportunity to ride along Highway 60 as it meanders through Algonquin Park. If you're lucky you'll get a chance to see some wildlife including deer, moose, and bear.
Many riders start their trip in Huntsville or Gravenhurst and ride east to Whitney, Arnprior, or Ottawa. Alternatively, you can turn it into a multi-daytrip visiting Calabogie and North Bay on a large loop around the park. Make sure to fuel up whenever the opportunity arises – gas stations can be few and far between.
#4 – Cruise the Coast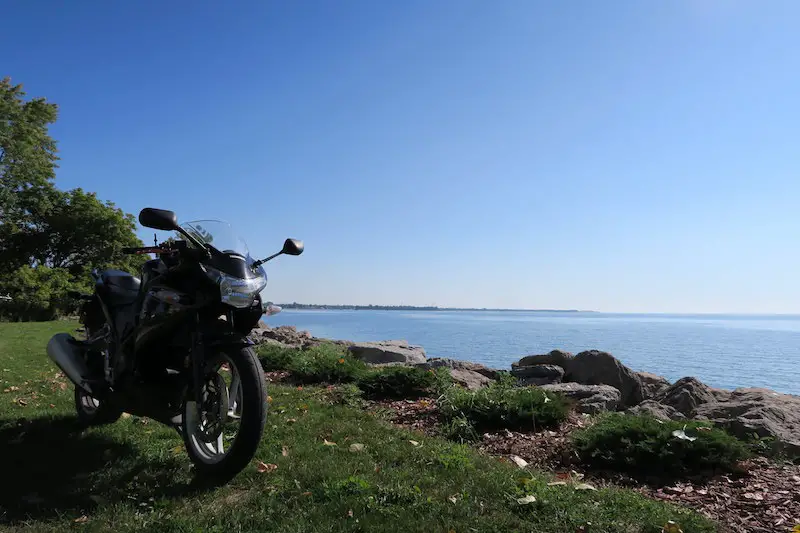 Along the Lake Erie Coastline, from Windsor to Niagara Falls, are a number of different motorcycle routes for riders to follow. The area has become so popular for riders that the region has earned its own name for motorcyclists – Cruise the Coast.
This is a collection of different scenic routes and other points of interest along the coast and close to Lake Erie. There's plenty of breweries, local shops, cool hotels, and countless warm water, sandy beaches waiting to be explored.
Ontario's Southwest region has become a popular riding destination, especially for riders living in the region. It makes for great riding if you're looking to escape city traffic, relax, and enjoy the scenery.
Head over to the Cruise the Coast website to get a closer look at the different routes they have. It's even possible to plan a multi-night motorcycle trip to really discover everything that Ontario's Southwest region has to offer.
#5 – Lake Erie Loop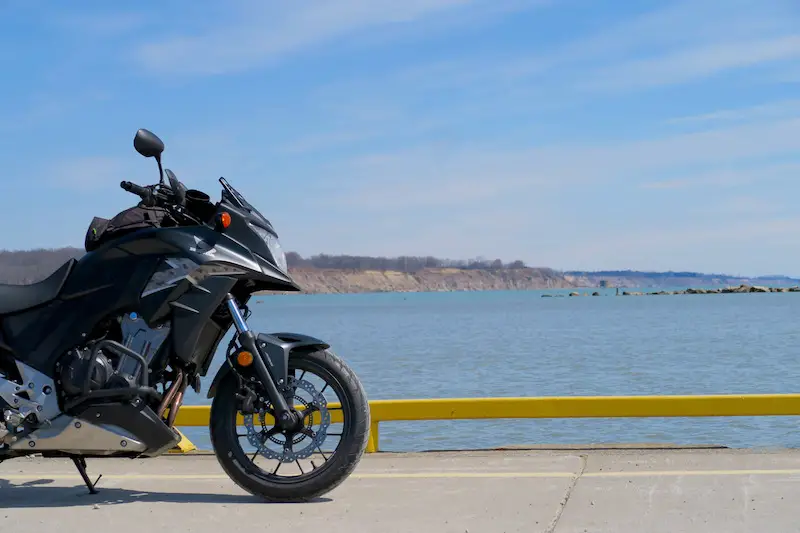 Since we're on the topic Lake Erie, the Lake Erie Loop is another popular Ontario motorcycle route. This is a ride that takes you around the entirety of Lake Erie, giving you the chance to explore both the Canadian and American sides of the lake.
While it's not the most twisty ride, you'll be blessed with light traffic, great scenery, and picturesque country roads. Along the way you can stop in interesting, bigger Towns, such as Buffalo, Niagara Falls, Cleveland, and Detroit.
There are also a number of small towns and historic sites that you can explore during your ride. The icing on the cake is that Lake Erie is never too far, always accessible for a jump in to cool down.
With the popularity of this route, there are a number of options for bed and breakfasts and small hotels. There are also plenty of places to go camping, if that's more your thing.
For the most part, avoiding any major highways and taking the scenic route will provide you with the best that this route has to offer. Don't forget your passport, since you'll be crossing the border twice when you're leaving and re-entering Canada.
On the American side you'll be cruising through four different states. In Canada, you get to explore Ontario's Southwest Region as well as the Niagara Region.
#6 – Discover the Bruce
Not too far from the hustle of the Greater Toronto Area is Bruce County. This is a beautiful spot in Southern Ontario that's nestled between Georgian Bay and Lake Huron.
As part of the Niagara Escarpment, riders will be rewarded with great scenery and a number of elevation changes. While the main road in is fairly straight, there are a number of scenic roads branching off from Highway 6.
This provides riders with a number of different opportunities to explore the Bruce Peninsula on two wheels. At the top of the peninsula is the famous National Park, the Bruce Peninsula National Park.
This is a popular choice for riders interested in hiking and experiencing the Niagara Escarpment in a natural setting. Tobermory is also the starting point for riders that want to head to Manitoulin Island on the ferry.
For many riders in Southern Ontario, riding the Bruce Peninsula can be a longer day trip. Alternatively, it's possible to go camping and keep running North to discover more of this area of Ontario.
Once the beautiful rolling farmland starts to break, riders will be rewarded with the crystal clear, azure blue waters of Georgian Bay. On the Lake Huron side are a number of small towns to explore as well as plenty of beaches for swimming.
For more information check out the Riding Routes over at Explore the Bruce. There you'll find two amazing scenic routes that will take you to some of the highlights on the Bruce Peninsula.
#7 – Ride the Explorer's Edge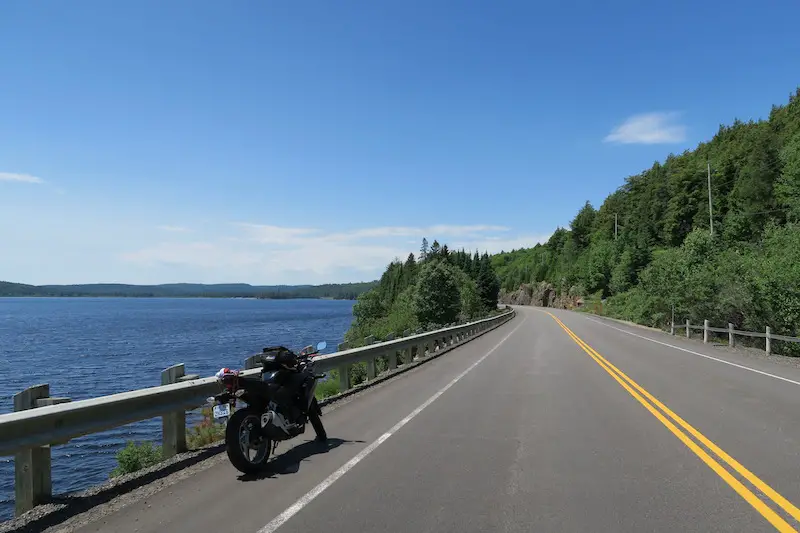 Cutting through the heart of Southern Ontario's Cottage Country is the Explorer's Edge Loop motorcycle route. This is a series of roads that winds through near-North Ontario, including regions such as Muskoka and the Kawarthas.
Riders looking for well-paved and decently maintained backroads will want to make this route a priority, especially during the warmer summer months. It's also a great place to explore in the fall, when the fall colours really start to pop.
Keep in mind that during the summer the main routes in these regions can get fairly busy. There are thousands of cottage goers heading up north on Friday afternoons and making their way back on Sundays.
Riding outside of this timeframe would provide the least amount of traffic and the best time to carve up the curves while enjoying the scenery. You'll also want to be a little careful in the spring, as there tends to be some leftover gravel in some of the corners.
Those of you looking for super scenic roads that are in great shape will find the Explorer's Edge Loop to be a great choice for riding. It's also full of small, friendly tourist towns that are loaded with everything from local bakeries and breweries to great eateries and affordable accommodation.
#8 – Ride the Highlands Loop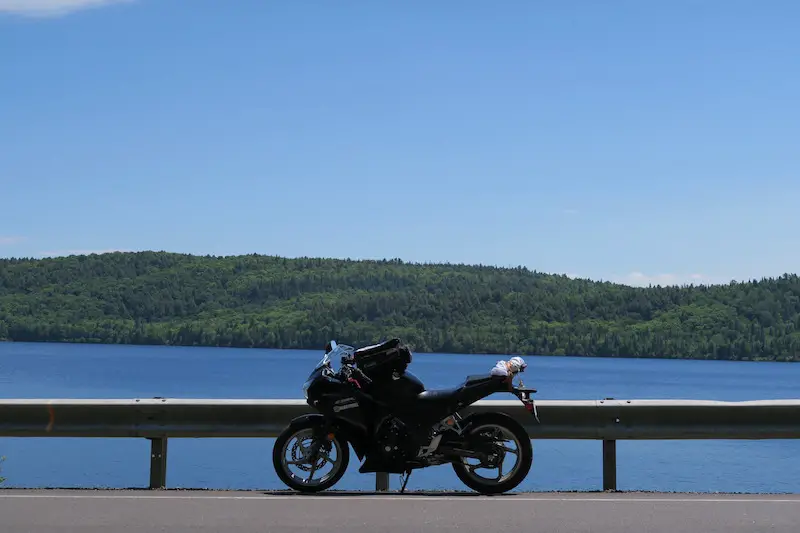 The Calabogie road mentioned earlier is part of the infamous Ride the Highlands Loop in Eastern Ontario. This is where you'll find some of the best eastern Ontario motorcycle routes.
Along this route you'll also find Ontario's only full speed hairpin turn. It's a great choice if you don't want to venture out of the province and you still want to partake in a day or two of adventurous riding.
This is a route that will provide riders with a full tour of Ontario Highlands. It rips across Incredible roads, cruises through small towns, and passes by countless breweries and great restaurants.
Some of the highlights of this Loop include the Ottawa River, Rideau Canal, Calabogie, Algonquin Park, the small town of Tweed, and the Centennial Lake Road. Given its length of more than 1,000 kilometres, you may want to spend the day (or three) experiencing everything that the Ontario Highlands have to offer.
Before venturing out, head over to the Ride the Highlands website. It's loaded with helpful information, scenic routes, the best roads in the area, and anything else you could want to fully discover the Ontario Highlands.