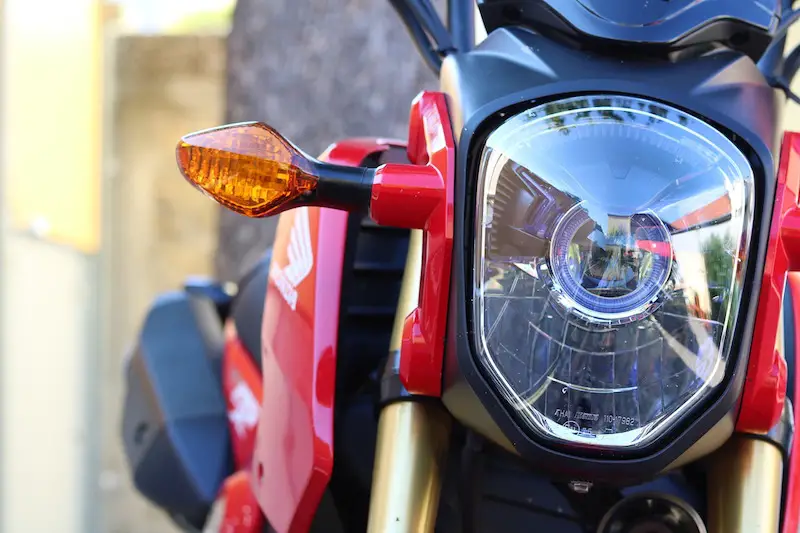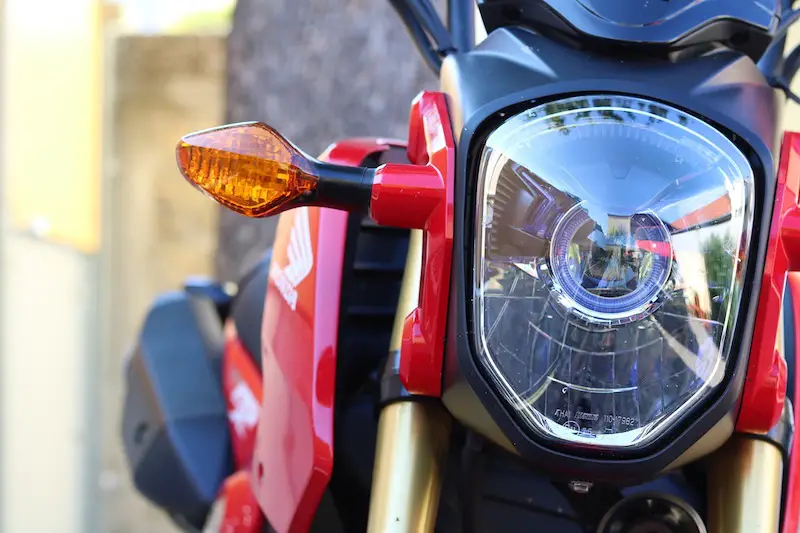 Using a motorcycle wheel chock is necessary to prevent your bike from moving when it's parked or you're working on it. The chock holds the front wheel in place and stabilizes your motorcycle.
They can also be used for additional safety when you're working on your bike using a motorcycle lift. The main purpose of wheel chocks is to stabilize your bike and prevent it from any unwanted or unsafe movements.
If you're working on your bike a lot, or you want it securely parked, it's a good idea to use the best motorcycle wheel chock that you can afford. In this post, we take a look at some of the best bike wheel chocks to help you find the right one for you to use.
Don't forget to scroll towards the bottom of this post for an in-depth buying guide and FAQ. Otherwise, let's jump right into it!
Extreme Max Standard Motorcycle Wheel Chock (Best Motorcycle Wheel Chock Overall)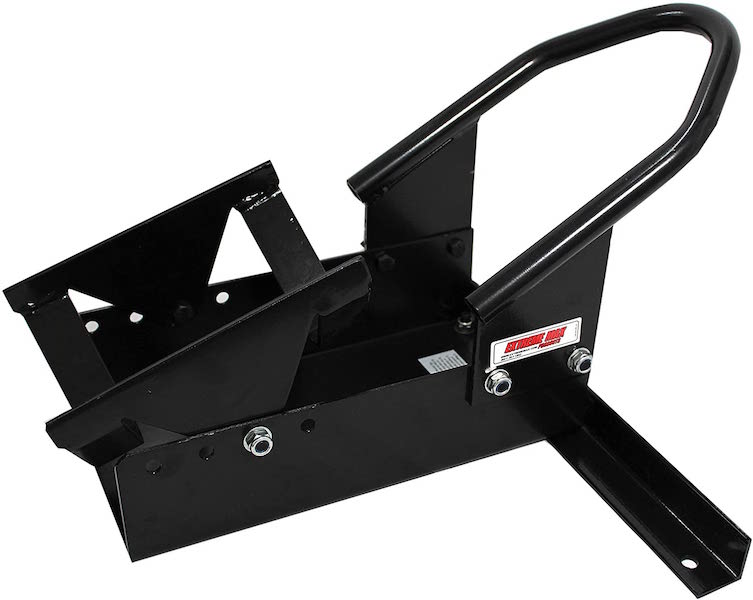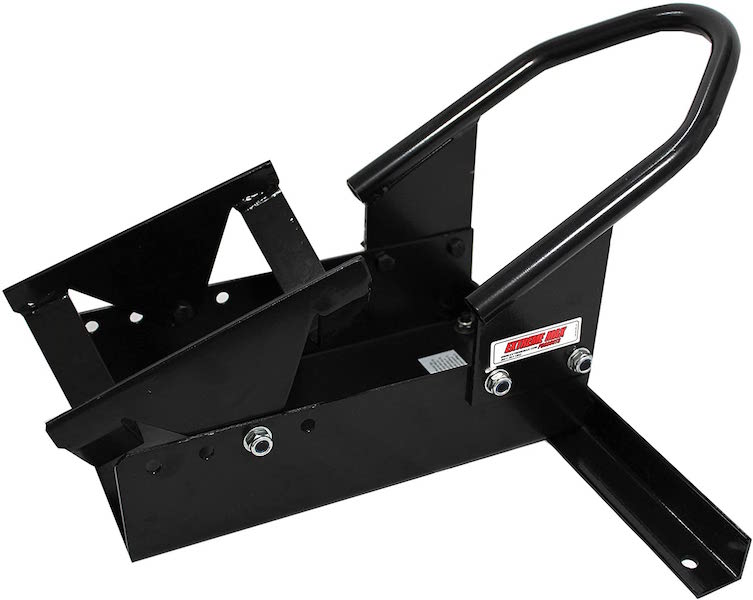 The Extreme Max Standard Motorcycle Wheel Chock is our top recommendation as the best motorcycle wheel chock for most riders. This is a standard motorcycle wheel chock that provides a stable platform for your motorcycle.
The Extreme Max Standard Motorcycle Wheel Chock takes advantage of a simple, yet sturdy and minimalistic design. It helps to keep your motorcycle stable while it's parked or you're working on it, without worrying about it tipping over.
The chock itself is made of pure steel and comes with a semi gloss black powder coating. It's equipped with a high-strength front bar and boot for added durability and stability.
Thanks to the multiple layer wheel cradle adjustments, there's no need to make any adjustments to fit the chock on your wheel. it's designed to accommodate different wheel sizes, making it easy to use with whatever motorcycle you have.
The unique V-shape design is meant to cradle motorcycle tires ranging in size from 17 to 21 inches. It's hard not to be impressed by the wide stance of this chock, which enhances its stability and keeps your motorcycle upright in place.
Also worth mentioning is the ability to easily unlock and lock the wheel in this chock. It can be operated by just one person, so you can do everything on your own.
The main drawback of this motorcycle chock is that it may be too wide for some motorcycles tires. This could affect sideways stability, resulting in a bike that's less stable if it has thinner tires. It's also not designed to hold bikes with low fenders, such as Harley's or other cruisers.
Apart from a few small drawbacks, the Extreme Max Standard Motorcycle Wheel Chock still remains as one of the best motorcycle wheel chocks for most people. It's designed using durable materials, features a sturdy design, and it's easy to use.
MaxxHaul Motorcycle Wheel Chock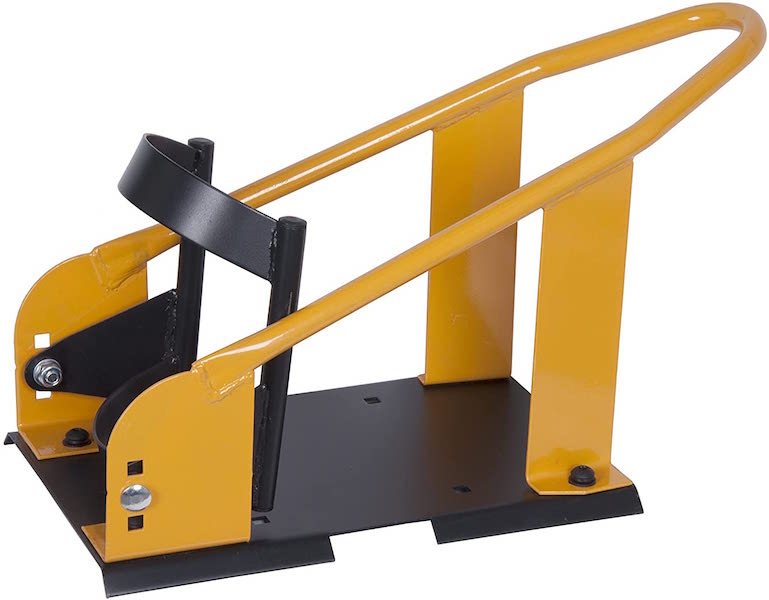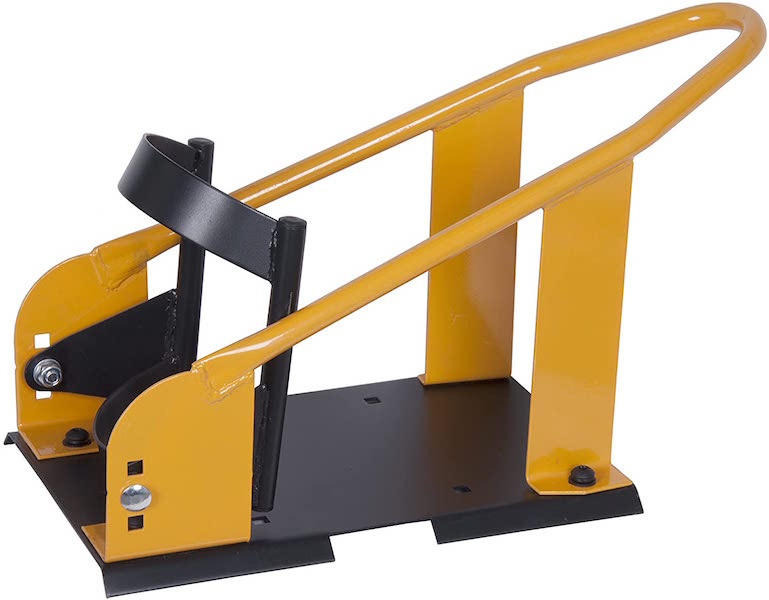 Up next we'd like to recommend the MaxxHaul Motorcycle Wheel Chock as another great choice if you're looking for the best motorcycle wheel chock. This is an affordable alternative to our top recommendation that gets the job done nearly as well.
The MaxxHaul Motorcycle Wheel Chock features a heavy-duty, steel construction. To help promote the lifespan of the chock, it has an elegant powder coated finish, which looks nice as well.
With its pivoting cradle, it's easy and efficient to load, unload, and lock a motorcycle. Locking the wheel in place is just as easy, thanks to the automatic and rotating tire-lock, which effortlessly pivots over the back end of the wheel.
When it comes to sizing, there are three-position adjustable holes for different motorcycle and trailer wheels. It even comes with a raised base for added stability as well as bolts that allow the chock to be mounted on the garage floor or any other flat surface.
The main drawback with this model is that it can be difficult to unload the motorcycle after it's locked in. That's because the automatic lock gets a surprisingly strong hold of the wheel, making it difficult for some people to get it off.
Otherwise, the MaxxHaul Motorcycle Wheel Chock is an affordable alternative to our top recommendation and another great choice if you're looking for the best motorcycle wheel chock. It's easy to use, well-designed, and ideal for securing your motorcycle in place.
MaxxHaul Heavy Duty Adjustable Motorcycle Wheel Chock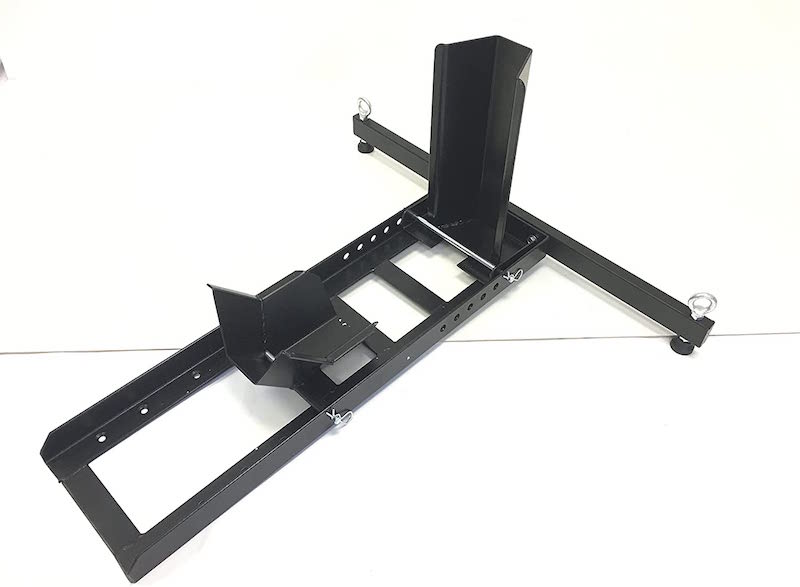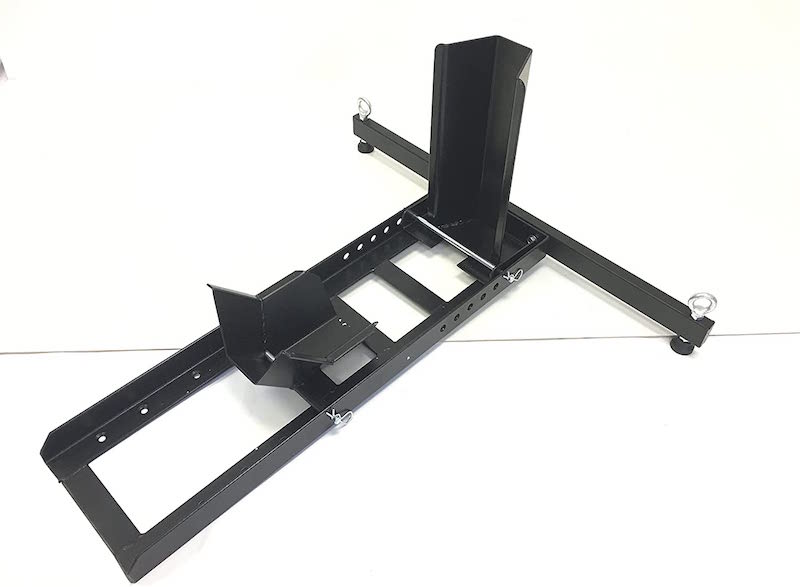 The MaxxHaul Heavy Duty Adjustable Motorcycle Wheel Chock is a great choice if you're looking for something heavy duty and ultra-durable. This chock comes with a capacity of 1,800 pounds and can accommodate most wheels between 3 and 5 inches in width.
The heavy-duty design is thanks to the durable steel construction. It comes with a black powder coat finish, which helps to resist rust and corrosion for a longer lifespan.
Securing the motorcycle tire is simple, thanks to the pivoting cradle. This allows the bike to be rolled onto the chock and easily locked into place.
When it comes to stability, the heavy duty steel construction and wide design keeps the base stable and in place while it's being used. There are even additional anchor points for added stability, which allow the chock to be mounted onto a flat surface.
Depending on the size of your motorcycle wheels, there are six different cradle adjustments and settings for wheel width. This allows for a secure fit to be achieved, keeping your motorcycle securely in place while it's parked or being worked on.
The main drawback of this chock is that it's not suitable for smaller motorcycles with thinner tires. Unfortunately, the supports won't offer much stability for smaller tires and it's difficult for them to become locked in place.
Otherwise, for bigger bikes such as Harley's and cruisers, the MaxxHaul Heavy Duty Adjustable Motorcycle Wheel Chock is a great choice. It's extremely durable with a heavy duty design that's easy to use.
Extreme Max Economy Motorcycle Wheel Chock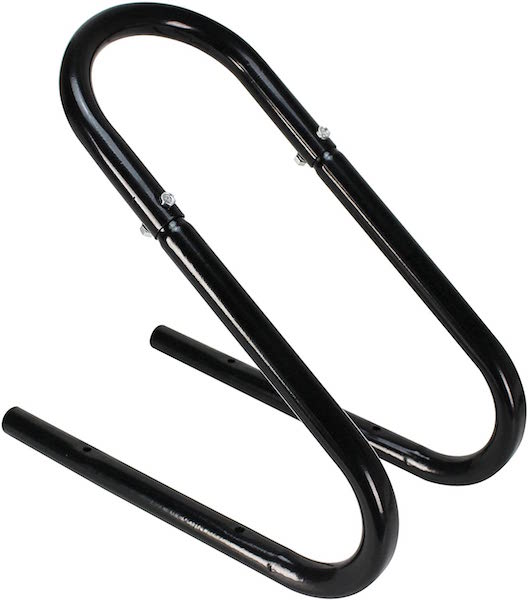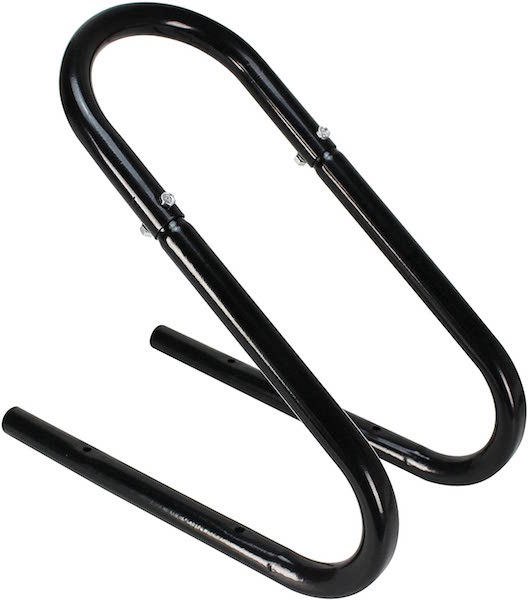 The Extreme Max Economy Motorcycle Wheel Chock is a great choice if you're looking for a cheap motorcycle wheel chock. This one doesn't come with any fancy features, although it can work in a pinch as long as it can be mounted.
Those of you looking for a cost-effective way to stabilize your motorcycle will find this chock to be ideal. It can be used for motorcycle tires up to 5-inches in width and won't take up too much space in your truck, trailer, or garage.
The chock is made from a tubular steel that has been powder coated to help it resist rust and corrosion. Thanks to its lightweight design, it's easy to use by just one person and can be easily transported wherever it's needed.
In order to use it effectively, the Extreme Max Economy Motorcycle Wheel Chock needs to be mounted onto a flat surface. It comes with a four-hole mounting pattern where hardware can be used.
The main drawback with this model is that mounting hardware isn't included, which means you'll have to supply your own. It also doesn't have any nifty features, like a locking mechanism, so you'll need to secure your bike with straps.
Apart from that, the Extreme Max Economy Motorcycle Wheel Chock is a great choice if you're on a tight budget and still want to secure your bike. It's reasonably priced with a simple design and does the job.
Why You Should Use a Motorcycle Wheel Chock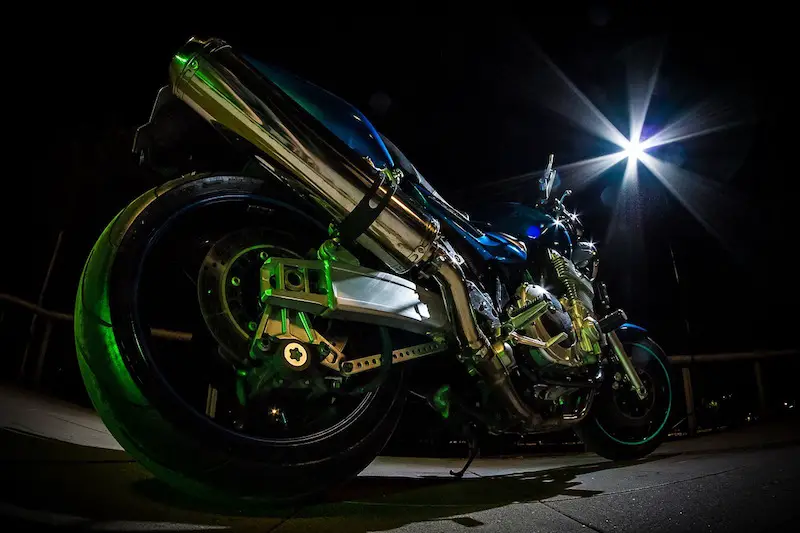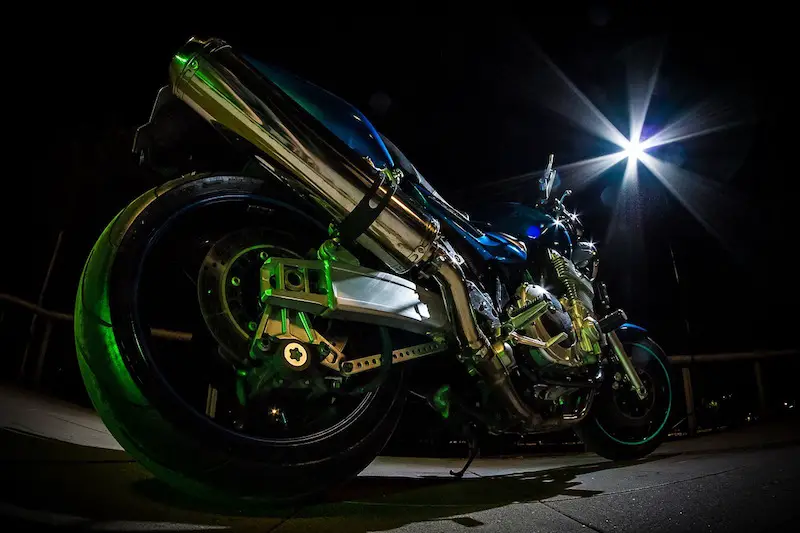 There are a number of benefits to using a motorcycle wheel chock depending on what you're doing with your bike. In this section we'll look at the benefits and discuss why this is a great tool to be using.
Motorcycle Stability
Do you ever feel uncomfortable when you're parking your motorbike on a slipper, uneven, or wet surface? Is your driveway, motorcycle garage or parking spot slanted, full of gravel, or otherwise not ideal for parking your bike?
In that case, you would benefit from using a wheel chock. They're designed to stabilize the motorcycle and keep it firmly anchored to the ground.
This way you could leave your bike unattended without worrying about it tipping over. Investing in a wheel chock can save you the stress and hassle of fixing your bike if it ever happens to tip or fall.
Safety
In addition to using the brakes, a wheel chock is an added precaution. They prevent your bike from getting damaged or moving when a force is accidentally applied to it.
For example, someone may bump into your bike in the garage and accidentally tip it over. With a motorcycle chock, this is extremely unlikely to happen.
It also helps to keep your bike in an upright, stable position when you're doing motorcycle maintenance or repairs. Rather than using a dedicated motorcycle lift, chocks can also be used for stability and easier access for maintenance.
Efficient Parking
Depending on where you park your motorcycle, a wheel chock helps to keep it in place. It prevents the bike from accidentally rolling into another space or tipping over and hitting a car.
They also prevent other people from moving your bike without your knowledge. This can help give you peace of mind for added security when the motorcycle is out of your sight.
Different Types of Motorcycle Wheel Chocks
Pivoting Bracket Wheel Chock
This type of chock is designed to automatically lock the motorcycle wheel once the bike is rolled into the cradle. Having this style is easier to use and more secure, especially for clumsy riders.
As the weight of the bike is added to the cradle, this triggers the bracket to lift and lock onto the wheel. This is easy for one person to use the chock on their own.
Adjustable Cradle Wheel Chock
This style allows riders to adjust the position of the wheel cradle depending on the size of the wheel. Extra bolts and hardware are required for the wheel to be properly secured.
Instructions are included for how to mount and assemble the chock. This kind requires a little more effort, although it's effective at keeping the motorcycle stable and in place.
Recessed Flip Up Wheel Chock
The recessed flip-up style of chock implements a neat, tray-like, and space-saving design. These are good to use inside trailers or small garages where space is at a premium.
This style also helps to keep the motorcycle away from any obstructions on the ground that might get in the way of maintenance or repairs.
Extruded Rubber Chocks
This is a style of chock that's most often used with cars and trucks. However, it can also be used to prevent the movement of a motorcycle wheel while it's parked.
Rubber chocks utilize a simple pyramid design. The rubber offers an excellent grip on the wheel and the pyramid design keeps the motorcycle in place.
One main drawback to these rubber chocks is that they can lose their grip in extreme temperatures. They're also not as durable or practical in most applications as our other recommendations.
Top Chock Brands
Extreme Max
This is an American automotive and marine parts manufacturer. They're based in Minnesota and well known for their automotive, marine, and motorcycle equipment.
Along with chocks, Extreme Max also manufactures cables, motorcycle lifts, J-hooks, dolly wheels, and a wide range of other products. This is a great brand to look for if you're in the market for the best motorcycle front wheel chock stands and other styles of chock.
Pit Posse
Based in St Petersburg, Florida, Pit Posse is a motorsport accessory company. They create motorcycle lifts, motorbike stands, as well as high-quality wheel chocks.
While their products are sold globally, Pit Posse has their operating facilities mainly based in North America. This results in high-quality and durable goods with a high level of quality control.
Depending on what you're looking for, Pit Posse has a wide range of wheel chocks available. They offer everything from cheap rubber chocks up to the permanent and heavy duty permanent models.
MaxxHaul
You probably noticed the recommendations in our list coming from MaxxHaul. This is a company based in China, with a wide distribution network of automotive and motorcycle accessories in the United States.
Along with wheel chocks, MaxxHaul also products bicycle racks, motorcycle ramps, mounts, and towing products. They're well known online for their affordable, user-friendly, and high-quality automotive and motorcycle gear.
Motorcycle Wheel Chock Pricing
Under $100
At or under this price range you'll find a wide variety of durable steel motorcycle chocks. There are also a number of simple, rubber chocks in this price range as well.
Generally, it's the security features and locking features that help to determine the price of a specific model. For example, the cheaper ones are good for preventing the wheel from spinning, although they may not prevent the motorcycle from tipping over.
In this price range, you have a good chance of finding a self-locking wheel chock that you can use for your motorcycle maintenance, parking, and repairs. These are more than capable enough of holding the bike upright and preventing of the wheel from rotating.
Over $100
At or above this price range is where you'll find some of the best motorcycle wheel chocks. The models in this range are made from premium materials, including alloy, stainless steel, or aluminum.
Most of these chocks can be safely mounted to any platform, including trailers or garage floors. They're designed to be adjustable, easily used by one person, and will hold the motorcycle wheel security.
At this price point you'll also find chocks capable of holding heavier, larger bikes up to 3,000 pounds or more. Some of them even come with tie down straps or unique locking mechanisms for better stability.
Best Motorcycle Wheel Chock Key Features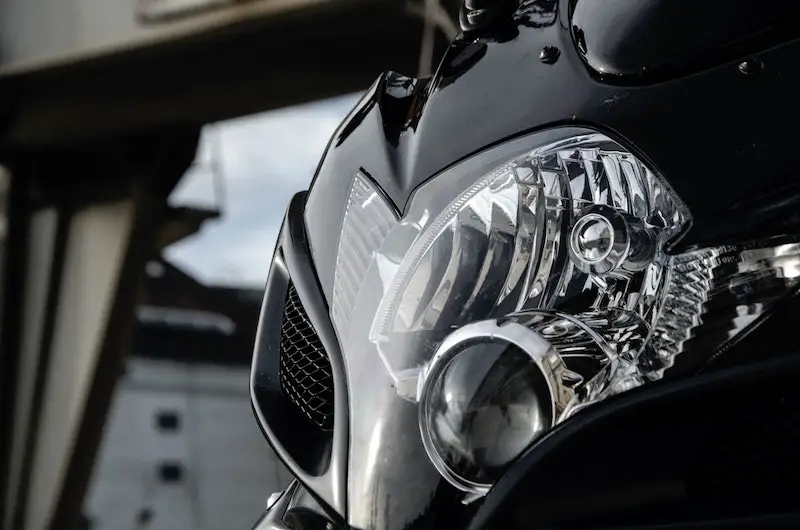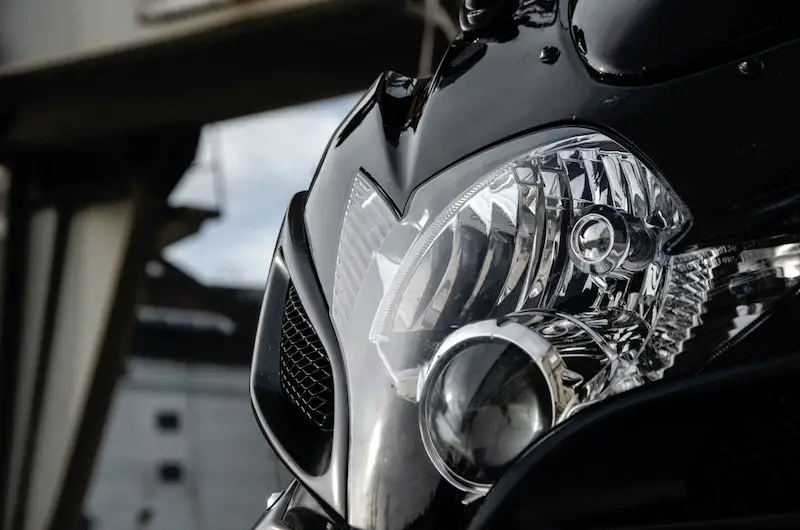 Design Materials
The best motorcycle chocks are usually made of steel or alloy frames. They typically come with base plates that weigh 35 pounds or less.
Steel and alloy are high-quality, durable materials. They're usually powder coated for extra durability, rust resistance, and a better resistance against corrosion.
Some of the higher end shocks are made using aluminum, which is durable enough and lighter than steel. Cheaper models use rubber and wood, which should generally be avoided.
Size and Capacity
The wheel chock that you use should be a perfect fit for your motorcycle wheel. This is necessary so that the bike doesn't wobble or shift after being locked into place.
Those of you with cruisers should look for a model with a wide base. Mounting holes or any other extra stability features are also good to have.
Those of you with sport bikes or smaller bikes should look for a model with a narrow base. These bikes aren't as likely to tip over and it's easier for a chock to keep them upright.
Double check the weight of your motorcycle and to check the products specifications or description to see what the weight limit is. Look for a chock with a capacity that exceeds the weight of your bike to make sure it can hold your motorcycle properly.
Keep in mind that the heavier and higher capacity, the less portable the chock will be. Depending on your bike, it may need to be permanently installed to get you the proper stability.
Adjustability
If you plan to upgrade your tires or wheels, or if you're using the chock with different bikes, adjustability is an important feature to have. Look for models that are equipped with adjustable cradles.
This feature allows you to change the width of the cradle to accommodate different tire sizes. It also makes it easier to fit the tire in any position that's most convenient for you.
Security
One more thing to look out for is a chock that locks the wheel automatically after it's rolled onto the bracket. This takes away the need for you to manually lock the bike into place, which could cause it to tip over if you're not careful.
Don't forget about the models with a pivoting bracket. The bracket pivots to the other side once the wheel is rolled in and locked into place.
Motorcycle Tire Chock FAQ
How Long Does it Take to Install a Wheel Chock?
It can take anywhere from 20 minutes up to 1 hour to install a motorcycle chock. The time length depends on the included hardware as well as your skill level for the installation.
Most models have only a few components that need to be installed and assembled. It's as easy as assembling the parts, screwing in the bolts on the mounting stand, and rolling your bike on to the chock.
However, depending on the model, it may take longer to install. Don't hesitate to refer to the included directions or head to YouTube to see if there are any helpful tutorials.
Can a Rusty Wheel Chock Damage the Tire Treads?
Yes, it's possible that a wheel chock could damage the treads on your motorcycle tires. Keep in mind that this is a worst-case scenario. You would have to leave your motorcycle parked for a long time for this to happen.
The bigger issue with a rusty chock is that it's not as sturdy. It's possible that some parts could snap off, release your tire, and cause the bike to tip over.
Avoid using old and rusty chocks if at all possible. When you're in the market for a new one, look for rust resistant features such as powder coating or a durable design.
Is One Front Tire Chock Enough to Secure a Motorcycle?
Yes, a single wheel chock is typically enough to prevent your bike from wobbling around or tipping over. They are even more effective if they're equipped with a wheel locking mechanism, which prevents the motorcycle tire from spinning.
Chocks are also sturdy enough to keep your bike in place while you're performing maintenance or repairs. If you're ever worried about stability, consider using extra tie down straps as an additional method for stability.
Finding the Right Motorcycle Wheel Chock for Your Bike
A good quality motorcycle wheel chock is an essential tool for any rider who wants to securely transport or store their motorcycle.
When choosing a wheel chock, it is important to consider factors such as stability, durability, and compatibility with your specific motorcycle model.
Popular brands for motorcycle wheel chocks include Condor, Pit Bull, and MaxxHaul.
Wheel chocks can help to stabilize the motorcycle during transport or storage, reducing the risk of damage or injury.
They can also be used in conjunction with other tie-down straps or equipment to further secure the motorcycle. With the many options available on the market today, riders can find the perfect wheel chock to meet their needs and budget.
Overall, a high-quality motorcycle wheel chock is a valuable investment for any rider who wants to protect their motorcycle and ensure safe and secure transport or storage.
By choosing a reliable and sturdy wheel chock, riders can enjoy the peace of mind that comes with knowing their motorcycle is well-protected and secure.