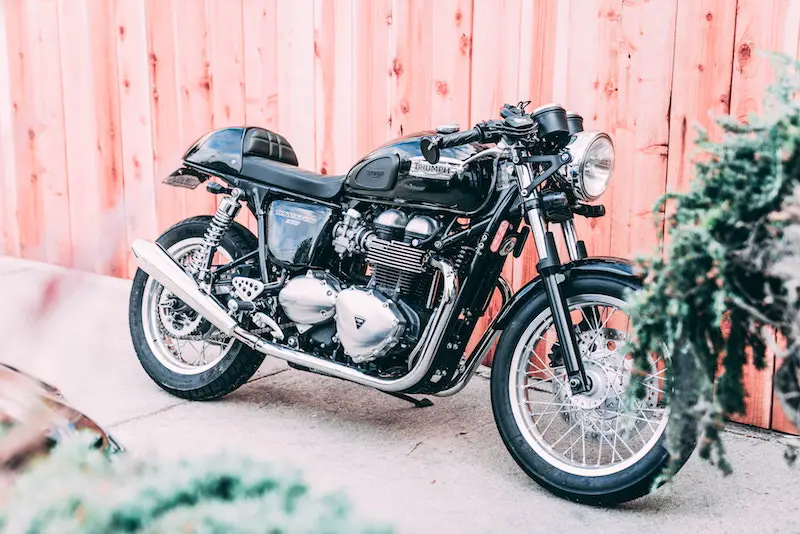 Knowing how to buy a used motorcycle can save you 30% or more compared to dealership prices.
Even the local used motorcycle market can be 10% to 20% more expensive compared to buying locally.
With used motorcycles buyers get more for their money. Doing your research and following up with due diligence will make the transaction process easier and you'll avoid getting burned on a lemon bike.
In this post we want to go over some helpful tips for buying a used motorcycle and walk you through the buying process.
For your first bike it's best to buy used. You're going to drop it and beat it up. There's no point in learning on something brand new and expensive.
Whether you're a first-time rider or looking to upgrade your current ride, this is the best time to buy a used motorcycle and start riding something new to you!
Where to Buy a Used Motorcycle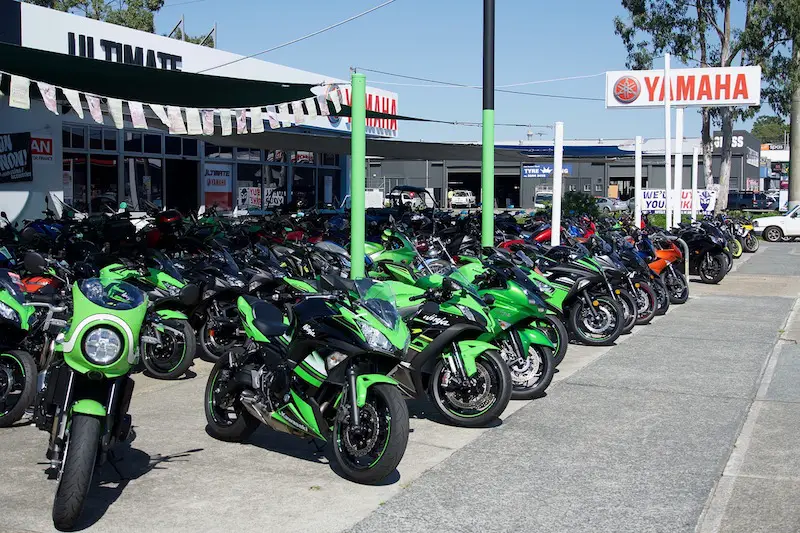 There are two options for buying a used motorcycle – privately or through a dealership.
Most private motorcycle sales can be found online through your favorite online marketplace. This includes sites like Craigslist, Kijiji, and eBay.
Sales through a dealer typically take place in person at a dealership location.
Let's take a look at the drawbacks and benefits to both purchase options:
Price
Private sales will usually have better prices than dealerships.
The difference is even more noticeable on older bikes with higher mileage.
Unfortunately, there are no warranties or guarantees offered through private sales.
Value & Quality
Dealerships, while more expensive, typically have better quality and better maintained motorcycles for sale compared to private sellers.
Other benefits of buying your bike through the dealership include financing or lease options, warranties, mechanical support or recommendations, and the expertise of the dealership.
Thanks to platforms like Google Reviews it's easy to find reliable and honest motorcycle dealerships locally.
Now compare this to a private motorcycle sale where you inspect the bike, hand over the money, and do all the paperwork on your own.
Most private sellers don't let strangers test ride their bikes. There aren't any warranties, options for financing, or many other benefits from buying privately apart from the price.
For a first time buyer, especially one without any previous motorcycle or automotive experience, I'd recommend getting a used bike at a local dealership.
Experienced riders able to work on their own bikes can take the chance and save money on the used motorcycle market.
Yes, there is a premium, but you're able to take advantage of all the other benefits that dealerships offer.
Used Motorcycle Checklist
Click here to download and print your own used motorcycle checklist PDF.
Before going to see the motorcycle in person, let the seller know to leave the motorcycle cold. It's important for you to inspect the bike before the engine has been turned on and warmed up.
Starting issues can be easily hidden with a hot engine that has been idling.
For example, a cold motorcycle with a worn battery won't start well or might not start at all. If the bike is warmed up you're not able to see this issue when you start it on your own.
There are a number of other things to check over when you're inspecting a used motorcycle for the first time.
Bring this checklist with you and don't hesitate to take your time inspecting the bike. Any honest seller won't mind waiting while you inspect the bike and helping you out along the way.
Here are the other parts of any used motorcycle to look at before buying:
Engine
Visually inspect the engine for any damage or wear on the engine block or outside cases. Look for any fluid leaks below the bike and where different components are joined. Check the gasket seams for oil leaks, and the top of the engine for coolant leaks.
Frame
Inspect the frame and look for any corrosion or missing paint. This could lead to rusting or visible aesthetic damage. Check for cracks or missing pieces in the frame. Look for any unusual or unnecessary modifications.
Suspension
Check the shocks and struts for any leaking seals. These will need to be replaced. There should not be dirt in the protective boots. Evidence of dirt or debris would reveal there are cracks or issues with the suspension. Check the bushings connecting the suspension. Verify that they're not cracked, dry, and are in working order.
Bearings
This is a low maintenance motorcycle part. Bearings come sealed. They should not be leaking or greasy on the exterior. Listen for any noises while moving each bearing. This might indicate that the bearing needs to be replaced, or regreased.
Fluid Leaks
Like we mentioned above, look around the motorcycle for any indications of leaking fluids. Dark or wet spots on the ground underneath or around the motorcycle might reveal a leak. Bend down and look into the engine compartment. There shouldn't be any moisture or liquid visible anywhere.
Chain and Sprocket
Chain maintenance is one of the most important parts of maintaining a motorcycle. A properly maintained chain will be clean and recently greased. Look at the chain closely for any buildup of dust, dirt or, debris. A chain that's greased, but dirty, isn't cause for concern but reveals more about the seller. Take a look at these sprockets as well. Both the front and back sprockets should be clean with sharp teeth. There shouldn't be any visible cracks or bent/broken teeth.
Cables & Wiring
Look at the cables connected to the Dash panel, brakes, and clutch. These cables should not have any signs of fraying, damage, or neglect. Squeeze every lever and listen for any unusual sounds. The squeezing motion should be smooth and fluid without any resistance.
Tires
Expect to replace the motorcycle tires within one or two seasons after buying a used bike. Buying tires and installing them is expensive. Seller aren't going to sell their bikes after spending hundreds of dollars on a new set of tires. With this in mind, check the wear indicator to determine how much tire life is left. Consider negotiating the price if the tire life indicates below 50%.
Bodywork
The body work, or fairings, are easy to inspect on the motorcycle. Ask the seller is the bodywork parts are stock. If not, ask what happened to the stock parts. Expect general wear and tear with higher mileage bikes. Look for signs that the bike was dropped, wheelied, or slid.
Handlebars & Footpegs
These parts ensure safe and smooth operation of the motorcycle. Get on the bike and operate the handlebars and foot pegs the best you can while stationary. Everything should feel sturdy and properly connected to the bike. Look closely at the handlebar ends and foot pegs. Scratched bar-ends or bent foot pegs indicate the bike was dropped.
Forks
Look down at the forks while you're on the bike. They should look straight and should easily move up and down with pressure. There should not be deep scratches, dirt, or debris on the fork tube or in the seals. Check the seals and ensure they're not leaking or cracked.
Battery
Underneath the seat is where you'll find most motorcycle batteries. Ask the seller to remove the seat so you can inspect the battery. Each battery comes with a service date that indicates when it was first used. A date that matches the motorcycle year should mean that the battery is stock. A more recent date might indicate that you're looking at a newer battery. The battery and surrounding area should be clean and free from any dust or debris. There should not be any signs of corrosion on the battery terminals or the connections. All the connections should be type.
Brake Fluid
Each motorcycle gives you the ability to check the level and condition of brake fluid. there is a brake fluid reservoir with a sight window indicating the fluid level and color. Check online or research the motorcycle manual to find the appropriate amount of fluids needed. Most sellers won't be aware of the brake fluid applications of their bike – this is something typically left to mechanics.
Fuel Tank
Grab the fuel tank and give it a rattle when you're sitting on the bike. Unlock and open the fuel tank cap. Look inside and check for any rust or corrosion. There should not be any dust, debris, or discoloration inside the fuel tank. The tank should be firmly secured to the motorcycle frame. Check each mounting point to ensure the rubber mounts are installed and operational. Any mounts, clamps, or hoses that are cracked or leaking need to be replaced.
Lighting System
Ask the seller to turn the motorcycle on so you can inspect the lighting system. Most modern bikes allow you to turn on the lights independently from starting the engine. Check that the signals work, the dashboard gauge lights up, and the high beams are operational.
Visual Inspection
After going through this used motorcycle buying guide, one more visual inspection is necessary. Step back and take a moment to visually inspect each part of the bike. Don't hesitate to ask the seller any questions or bring up anything about the bike that concerns you.
Test Riding a Used Motorcycle
Most private sellers won't let you take their motorcycle on a test ride.
Don't take this personally. Motorcycle insurance is strict and cheaper rates are available for riders that only have coverage for themselves and their bike. For example, your bike will not be covered if someone else damages for crashes your motorcycle on a test ride.
Some private sellers will be happy to let you take their bike for a spin. You will likely have to leave a deposit, identification, or something else to satisfy the demands of the seller.
Most used motorcycle dealerships allow test rides. In some cases a dealership employee will ride with you on a different bike. Their insurance offers broader coverage so they're able to allow test rides.
Don't worry if you're not able to test ride the bike. People buy motorcycles every day without riding them first. Following the checklist above should get you 90% of the way in finding the best motorcycle for your riding needs.
For the test ride itself, pay attention to how well the motorcycle runs. Listen for any rattles, squeaks, or loose components.
If you've ridden a bike before then you probably know what to look for. Otherwise, judge to the best of your ability by the bike you're riding is mechanically sound.